Many congratulations to our friend Paula, Max's Mom, whose essay she submitted to the dog magazine "Just Labs," won first place in the magazine's contest. Paula graciously allowed us to reprint her award-winning essay in its entirety here.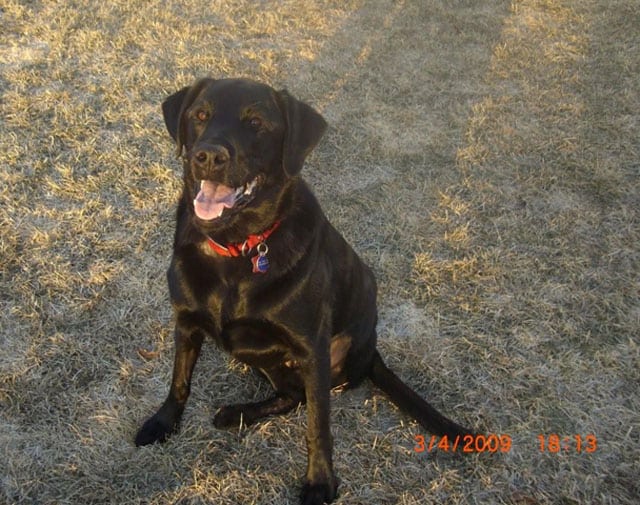 "We argued, as most married couples do, about goofy things like whose turn it was to pick up kids or what was for dinner. Lately, the arguments had been a little closer to the heart over something missing from my life for much too long.
I longed for my own and only one would do, a Black Labrador Retriever. One that I could wrap my arms around and bear hug and play with! My husband on the other hand, being abused by the neighborhood German Shepherd as a paper boy, wasn't fond of any dog. I had been working on him since the day I met him. I would ask "How can you not love a dog"? I guess when they are chasing you down the street and you are pedaling for dear life, scared to death, it affects you.
Honestly, we really weren't in a place in our lives where a dog fit in. A dog in my home would be a member of the family and not just a pet, and we were so busy running our 3 boys around and working full time jobs that it would have been unfair. So for now, I conceded and got my dog fixes through everyone else's dog! Fortunately for me there were 4 other Labs of all colors in our extended family. I got lots of fixes!
The years flew and the boys grew. Out of three, only one remained at home. Alex, just like his father, was constantly on the go. Baseball, basketball, you know the drill. I had always worked outside the home and was used to being on the go as well, but now found myself coming home to an empty house. I chose my time wisely and brought the subject up again. We got into a discussion that only 2 people who love each other could have. Who would pick up the dog poop? I assured my husband that I would be responsible for that and he laughed like I had said I wouldn't spend money for a month! I'm more than willing to pick up my share of dog poop and to this day do the majority if poop duty at our house!! The discussions varied in fervor and length until I finally thought that maybe I had worn him down. It's a skill born only to a woman!
That summer we attended a fundraiser for a 12 year old boy in our community with brain cancer. The community rallied to hold an auction to raise money for his medical bills. We walked in the building and sitting in front of me was a tiny puppy. I asked the woman where it came from and she said it was being auctioned off. I took the puppy out of the crate and knew at that moment that the little Black Lab had found his forever Mom. Trust me; there was no discussion besides some inaudible mumbling on my husband's part and teenage text messaging had cell phones beeping everywhere. Dude! Your mom got a dog!!!
We named him Max and for the next 19 months, he was the center of our world. We took him everywhere…. Even to North Carolina on vacation. His favorite place was our lake home in Northern Wisconsin where he learned to swim and retrieve. He loved to chase geese….and occasionally they would chase him!
In the fall of 2008 Max was diagnosed with a torn posterior cruciate ligament and had TPLO surgery at the University of Wisconsin Veterinary Teaching Hospital. What an amazing place. The recovery went well until week 7. In less than 2 days Max took a serious turn for the worse. We went back to the hospital and they diagnosed Osteosarcoma in that same leg.
Mentally, I was extremely unprepared for this diagnosis. A broken bone, a dislodged screw, yes, but not cancer!! I was crying hysterically as they talked about amputation and chemotherapy. Amputation would take Max's pain away and chemo would help prolong his life. AMPUTATION? I couldn't say the word. My handsome, proud boy, only 19 months old and so full of life…. you want me to cut off his leg? I was horrified. What I felt equaled my emotion when we discovered that my Dad had cancer. Four years previously we lost him to lung cancer that metastasized to the bone. I was all too familiar with this disease. Disbelief, anger, and helplessness were swimming around in my head. I had to leave Max, so a biopsy and some x-rays could be done. The lungs are where this very aggressive cancer typically spreads and unfortunately, the younger the dog the more aggressive the cancer. Our Max was only 19 months old. Crying uncontrollably, I gave Max hugs and kisses, told him how much I loved him and left him with Dr. J.
I strongly believe in canine euthanasia. The doctors were telling me that by amputating, the pain would be gone, but would Max have a good quality of life? Should we put him through another surgery? Were we keeping with our philosophy of doing what's right for Max, or would that be selfish?
The next morning brought news of the x-rays. They saw no evidence of metastasis in the lungs and biopsy results would not be back for 2 days. We were thankful for the news and Dr. J made sure we understood that just because we couldn't see anything on the x-ray didn't mean it wasn't there. She suggested we talk to an oncologist about the chemo. I agreed wanting to be sure we had explored all of the available options.
We spoke with the oncologist and he too was positive about the combination of amputation and chemotherapy. Chemo affects dogs differently than humans. They don't lose their fur, they don't get as sick as humans, and very often, have no reaction to the chemo. Each dog is different, but after treatment many dogs can have a good quality of life, living a year or sometimes more. Timing was important though, because at Max's age this type of cancer is voracious.
At home, Max and I had finally settled down. I was lying next to him trying my best not to cry. He could sense something was wrong and I hated to upset him. The phone rang and I ignored it. I was not in the mood to talk. Since my son was at a game with friends, I had a change of heart and picked up. The person on the other end introduced herself as our orthopedic surgeons (Dr. J) supervisor and the person who would perform the surgery with her. She spoke to me about the benefits of amputation surgery. She listened to my concerns and assured me that whatever our decision, they supported us. She said because of Max's age she felt compelled to tell me about all of the success stories she had seen. I asked the obvious question "What would you do"? Without hesitation; she said "I would absolutely do the surgery". Her call gave me the strength to make a decision that only a few hours before had me in tears. It was like someone had taken 1000 lbs off of my shoulders. I slept with Max on the floor that night. I curled up on his bed next to him and listened to him breathe. He licked my face as if to say "good job Mom, let's do this". I called the next morning and scheduled the surgery. That afternoon, I loaded Max up once again and drove to Madison. I left him in Dr. Js capable hands and drove home in tears and praying for the best.
It has been 7 weeks since Max's amputation and he is doing great. He has a wonderful oncologist and has had 2 chemo treatments with very little side effect. He is back to chasing his tennis ball and going on walks. The walks are shorter but we enjoy them all the same. Max goes everywhere with us, and is very patient with all of the people who ask questions. I think Max understands that he is doing his job as a Tripawd, helping people understand that canine cancer is a serious matter.
We owe so much to the wonderful doctors at the University of Wisconsin Veterinary Teaching Hospital for their guidance and support. For anyone going through this emotional journey www.tripawds.com is highly recommended as a resource. An oncologist at the hospital suggested it to me and it has been invaluable. I and others on the site are dedicated to giving back what helped us through the dark times.
Max will soon have his 3 month chest x-ray to look for lung metastasis. We pray for the best and cherish every minute we have with him. The Good Lord willing, Max will be 2 years old in May."
Update: Since this essay was written, Max and Paula received the news no pawrent wants to hear; the cancer has metastasized in Max's lungs. But, in true Tripawd spirit, Max continues to live each day one pawstep a a time. Never give up Max, you are a real hero.