At the risk of being politically incorrect, we'd just like to wish every one here a very Merry Christmas! Oh, and Happy Hanukkah!
Many thanks to Gunner and his good people for sending us this special greeting to share with all our tripawd friends …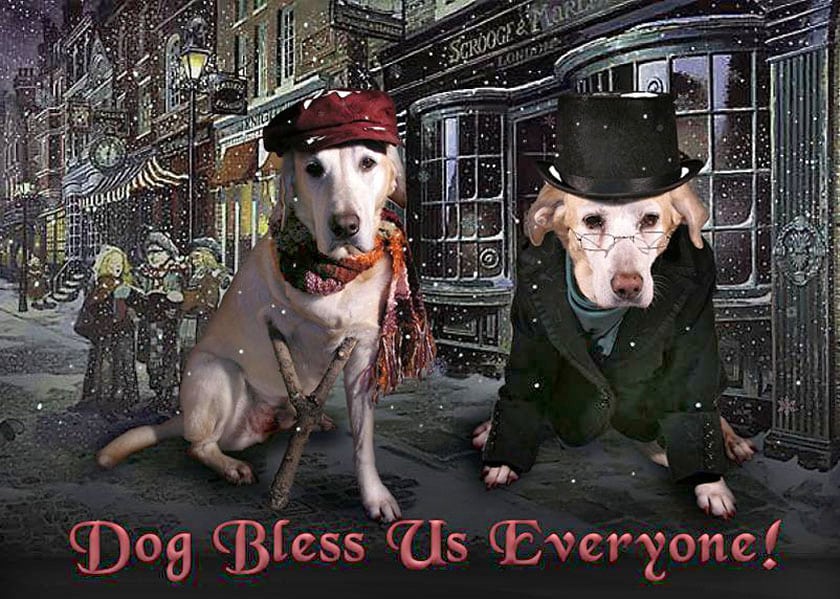 Gunner (Tiny Tim) is 9 1/2 yrs. old and  had his right front leg amputated in July. His people wanted us to know …
Your website helped me so much through the recovery process. Gunner is doing great on his three legs – recovered so much quicker than I ever thought he could. The picture is what we are using this year for our company holiday cards. Each year I have the dogs on the front on the card and this year Tiny Tim seemed to be the perfect role for Gunner to play. Our other dog (4 legs) is Dakota and she is 13 1/3 yrs. old!
Whatever holiday you celebrate this time of year, may it be happy and full of cheer.
And with the end of the year upon us, perhaps it's time to consider a new Tripawds Tribute Wall Calendar, some thank you cards, or other gifts and apparel that support the ongoing maintenance of this website.