My girlfriend in Israel sent me a St. Patrick's Day greeting. She is so sweet.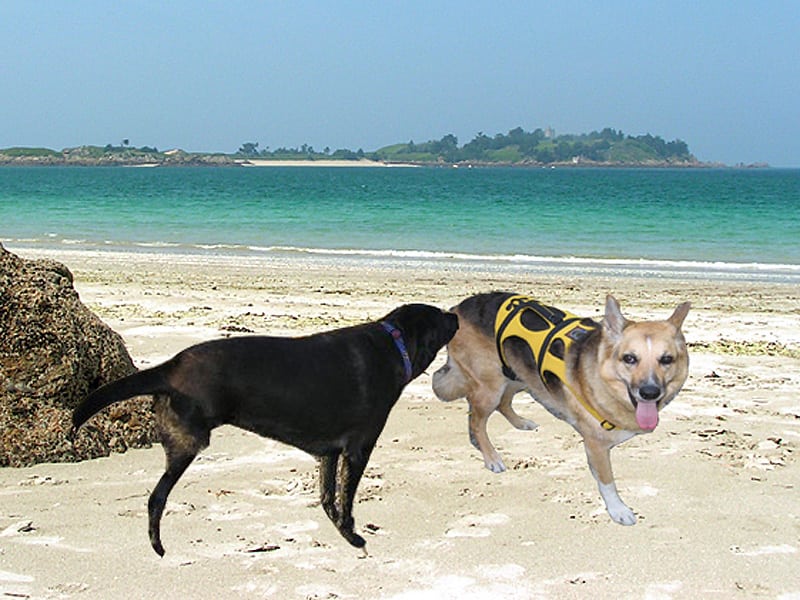 It featured us on a beautiful, dreamy beach. As in her dreams. Like I said. Isn't she sweet? And cute too. But she's a bit far away, unfortunately. And I must have been in everyone's dreams lately.
I'm always chasing rabbits while I sleep with one eye open. But Jim barely slept the night before we left Los Angeles. I entered his dream to help him out. But here's how he tells it …
We were all walking through the woods. Everything was kinda animated. And a big bad wolf started stalking us and giving us a hard time. He was dirty and nasty, baring teeth, slobbering, the whole thing. As he followed us, he got closer and more threatening. More scary.

Jerry just lunged and took off after the beast. He barked and ran it off like the little collie inside him as if the wolf was a sheep. It persisted but Jerry wouldn't let up.

The evil creature never came close again, as our tripawd hero took big sweeping runs around us with his own teeth snapping.
Let him think that the dream is a positive sign. That I will fight to the death to be happy together with my people. Why not, that's why I couldn't let my human's silly subconscious get the best of him. After all, I know they would do the same for me. Rabbits, rabid wolves, whatever. As long as I get to run in my dreams.