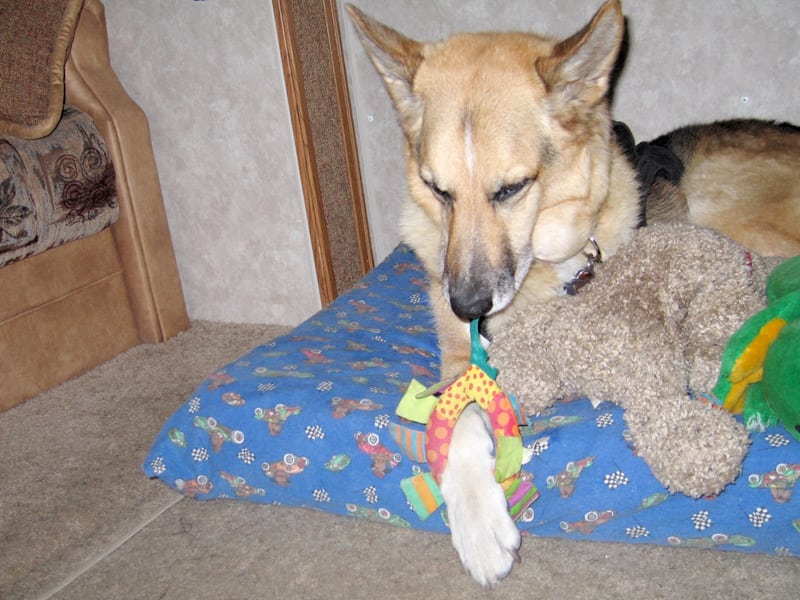 Jim just spent a whole lot of time in front of his computer, when I wish he would have been playing with me!
But we heard from some people about how this site had certain layout issues. Issues, never problems, as I like to say!
So I sat by while Jim worked away, knowing that it was for the good tripawd lovers everywhere.

You might first notice my new picture in the header. Charming, ain't I? That was at Bottomless Lakes State Park in New Mexico. It wasn't a very long hike, but I finally got to go hiking like I used to – scrambling up rocks while René freaked out. A good time was had by all. Hopefully you will also notice the new Random Tripawd Pics in the header. Send us your photo and you might just find yourself in the loop!
We'll get around to updating my gallery page with this new album feature eventually. For now, it has some pretty still old pictures. But we have some serious Frisbee time to catch up on. In the mean time, here's a slideshow of recent pictures…

The rest of the recent site changes might be a bit less noticeable, but none the less exciting. Schyeah, right.
There is now a thingy in the sidebar that shows the most recent posts in the Tripawd Discussion Forums. This I actually do find exciting. It shows that other tripawds and their people are sharing their questions, comments and concerns about cancer in dogs. And that's exactly why my people developed this online community!
Anyway, if you're one of the few who had trouble with our sidebar overlapping content on some pages. That should be fixed. It is fixed if you use the Firefox or another worry-free web browser. This site is best viewed using Firefox. Internet Explorer may still cause some of those pesky "issues" – mostly aesthetic though.
If you are still using IE for some reason, there's still hope … those new tiny little icons in the upper right can now be used to toggle display of the sidebar on and off, or collapse the post/page content.
Oh well, this has got to be one of my most boring blog posts ever. But if you're still reading, you must really care more than I do. Like I said, we've got some serious Frisbee time to catch up on … but I may need a new one. I've been chewing on mine real good, since no one's been throwing it for me lately.