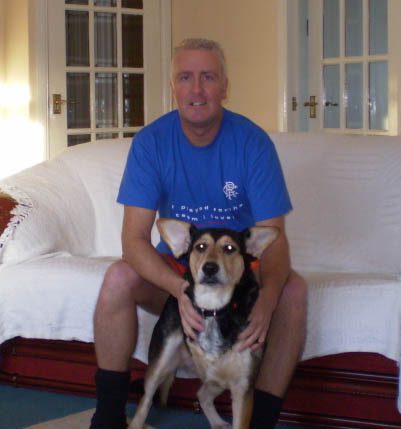 Tripawds are hopping to my site from all over the globe, and I feel so lucky to meet them! Here's another great three legged dog who wrote to me all the way from Scotland! Now my Mom is trying to teach me Gaelic. Those words above are supposed to say "Long Life to You, Cooper!" How did we do?
Cooper has a great story . . .
One day, there was this really nice man named Gary who was helping out at his local animal shelter. He was walking by the kennels, when one beautiful, brown eyed dog looked his way, and it was love at first sight.
"I just couldn't resist her big brown eyes and even bigger ears. I have always been a sucker for a hard luck story and often joked with my wife that the sorrier the animal the likelier the chance i have of coming home with it," he said.
When Gary saw that she had thee legs, that sealed the deal, and she went home to be with her new family forever and ever.
She was named "Cooper" in memory of a famous Scottish football player (that's soccer, for you Yanks out there). Davie Cooper was a superstar player for the Glasgow Rangers in the 1980s and 1990s, until his tragic death at the age of 39.
Cooper is about five years old, and her Dad says that she's:
"a great friend to everyone with the sweetest nature you could ever want to meet. We have no idea how she lost her front leg, however the vet has said that it has definitely been amputated so possibly she was hit by a vehicle when she was younger. It certainly doesn't hold her back however and she loves playing with a ball and obviously doesn't realise she only has three legs."
Thanks for writing Cooper, we send our love and dog bones all the way from America!