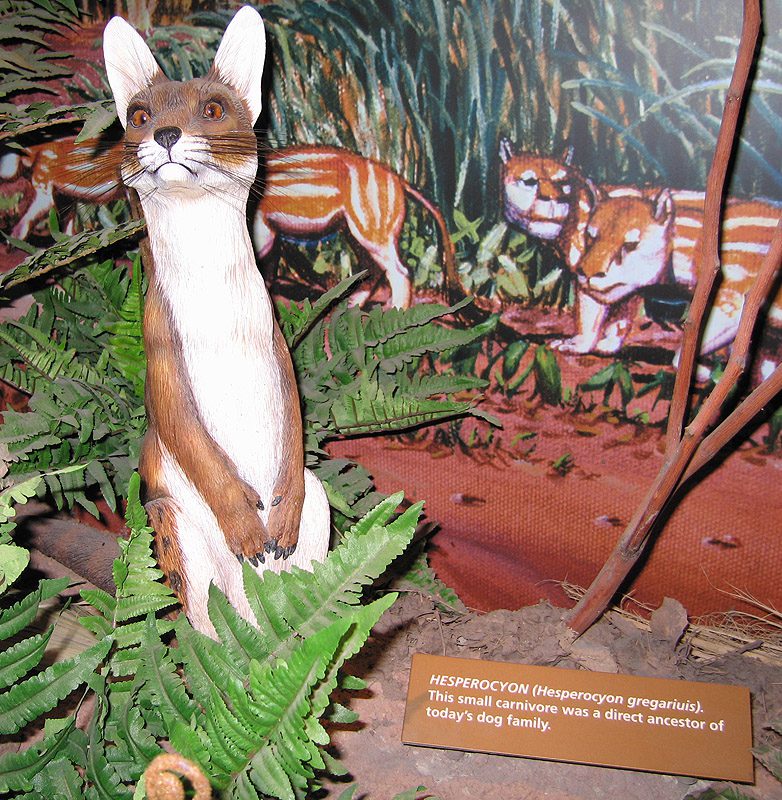 This is supposedly one of my distant ancestors. Looks like a stiff to me. But not bad for being 37 Million years old! My people took this picture of Hesperocyon Gregarius at the Badlands Visitor's Center. From the heat outside, I don't think I missed much. I stayed in the trailer which remained pretty cool while they were gone.
They said it was the best interpretive center they've seen at any National Park. It was an impressive little natural history museum. I suppose that's why they stayed to watch the short informative movie that showed there, or maybe it was the nice air conditioned theater.
Later that evening we went and listened to a ranger talk about the Badlands, and its history at an outdoor amphitheater next to the Cedar Pass campground where we spent the night. The next morning, Jim gave me a bath with our trailer's exterior utility shower to empty the fresh water tank he had filled up the day before in preparation for the heat.
It was certainly hot, but tolerable even though there was nowhere to swim. Our trailer cast a big shadow for us, there was a nice steady breeze, and the view was incredible.
We would have posted this sooner, but we've been driving a lot the past few days through lots of farmland. And we didn't have internet access at our last stop at Roy Lake because of all the trees. The swimming wasn't that great since there was no beach for easy access, but I did have fun chasing all the jumping frogs! I'd never even seen a frog before. We'll upload a movie of that as soon as we get the chance.
The highlight from this part of our full-time RVing road trip adventure, however, had to be going to see the great big faces carved in the rock at a place my people called Mt. Rushmore. This is another one of those silly National Park places where dogs are not allowed for whatever reason. (But kids can run around free and toss juice boxes on the ground! I'll never understand that.)
But as a sly social experiment, Jim put on his sunglasses, held me close by the harness and grabbed Rene's arm with his other hand. He tilted his head slightly as if listening intently as we walked right into the park past rangers and other people who would jump out of our way.
It was quite interesting to see people's reactions as they grabbed their children out of the way and seemed to feel sorry for us – and not just because I have three legs for once!