I'm gonna miss my friend Zeus… My people and I are finally leaving town, and off on our way with this crazy new adventure! I knew we'd be leaving soon when all the strangers came and took all the boxes and furniture out of our big old house. I got so excited I ran through all the rooms barking and tossing my toys.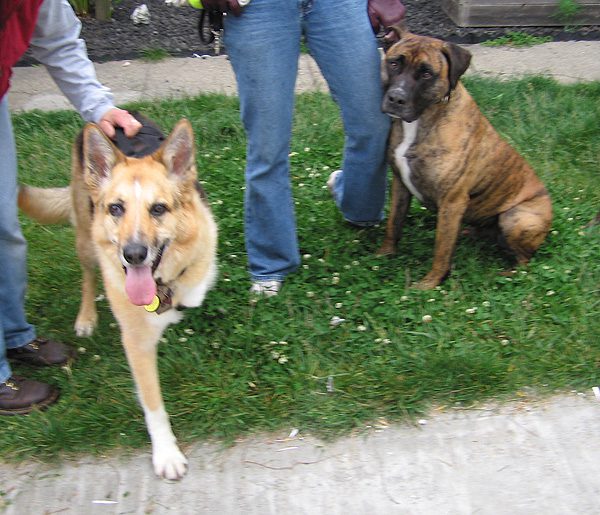 We just had to have Zeus over one more time this morning to say goodbye. We gave him a few of my favorite toys, some treats, and his favorite Tug and Toss Jolly Ball
of mine that he quickly proceeded to eat.
We'll post a new movie soon so you can see how high that crazy big dog can jump! As you can see, we could barely stand still for a photo. We had fun as usual… you can see movies of our previous play dates on my videos page.
We spent last night — our firt real night in the new trailer — parked at the curb in front of the house. Today we took off and stayed at the Mad River Rapids RV Park in Arcata, CA. Lots of my people's closest friends came by to say hi, and bye. Tomorrow I hear we're heading South. I'm just happy to be heading anywhere.
I love to travel, especially in our new truck where I can spread out and enjoy the ride. I enjoy meeting all the new dogs and their people. And I especially like our new home on wheels and the big couch I can call my own.
Stay tuned for more news from the road, photos, movies, and more. Right now, my people are tired. I think we may all just sleep for a couple weeks. That's fine with me. But after that you can follow my three-legged adventures here, and theirs on the full-time RV travel blog they started at liveworkdream.com.