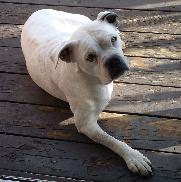 I got some great news this week. My friend Chloe in Illinois, is doing much better after her amputation surgery three weeks ago. She had a rough go of it, but now I hear she even went swimming last week!
Read on for more more about Chloe and my latest adventures.
Chloe – a babe in Illinois – is one of my virtual pet pals I've met online. Her Dog Mom Karen wrote to me because Chloe got osteosarcoma too. Karen was really worried before and long after the amp surgery, because Chloe took a while to get moving along again. But then we got some great news that I want to share with you, so that you'll see that there is hope after your own pup's diagnosis. Here's what Karen said:


"Well good news!!! the x ray showed that Chloe has arthritis in her hips and probably had hip displasia when she was a pup. I never thought that arthritis would be a good thing to hear!! I started her
on the Rimadly and glucosamine yesterday !! hope that will help
her out!!

I did decide to do the chemo, after lots of research and talk with the people on bonecancer dogs it seemed the right thing, she is other wise very healthy so I went for it. She had her first dose on Tuesday, and has had no side affects as of yet.

Yesterday she was my old Chloe back, we played "rock" at the park, she likes to chase rocks not balls!! and she went swimming!! hopefully we can now be on our way of having as many good times as we have left for as long as we can."
— Karen & Chloe, Illinois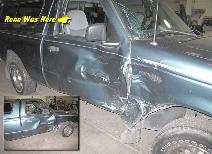 On another note, you probably won't be seeing any movies of me on the beach for a while … A few weeks ago I was heading fishing with my people early one morning when some stupid driver ran a red light and slammed into us. Our truck was totalled! Luckily, we're all OK.
I was in the back and just got scared a bit. I'm just bummed we didn't get to go fishing! Anyway, I've got some cool new movies of me playing around the house and in the 'hood — Be sure to check out my first Greatest Hits Movie in the YouTube playlist on my Videos page!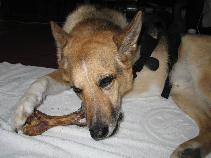 Happy St. Patrick's Day!