Join The Discussion
Learn about life on three legs in the forums below. Browse and search as a guest or register for free to take advantage of member benefits:
Instant post approval.
Private messages to members.
Subscribe to favorite topics.
Join the Live Chat and more!
Best Dog Beds for Tripawds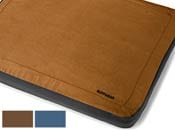 Give Tripawds the comfort they deserve! See which dog beds are best and why.
A
A
A

Here and Now

Forum Posts: 11217
Member Since:
25 April 2007

Offline
marvelousmax said:
If it works, I'll post pics and a recipe 🙂
Please do! We'll share it in the Tripawds Nutrition blog.

Las Vegas, Nevada
Forum Posts: 4344
Member Since:
14 August 2009

Offline
We used the peanut butter method.    I used a plastic picnic utensil (the handle part) and when they opened up, I scraped the back of their teeth with it.  It works with Rocket (aka monkeybutt) and he's a finicky eater.
Comet - 1999 to 2011

She departed us unexpectedly  January 23, 2011 at the age of 12 1/2.

She was born with a deformed front leg and a tripawd all of her life.


My heart lives at Rainbow Bridge
Forum Posts: 3754
Member Since:
28 November 2008

Offline
Ok, Ge I have to ask - Did you have two plastic utensils or did you stick the same one back into the peanut butter jar?!


Shanna & Spirit Trouble ~ Trouble gained her wings 3/16/2011, a 27 1/2 month cancer survivor, tail wagging. RIP sweetheart, you are my heart and soul.  Run free at Rainbow Bridge.
The November Five - Spirits Max, Cherry, Tika, Trouble & Nova. 11/2008 - 3/2013 An era ends as Queen Nova crossed the Bridge.


Forum Posts: 27
Member Since:
12 June 2011

Offline
I'm having to laugh about the techniques & experiences shared! Funny 'cause it's all so common & easily understood. "Wearing the pill on his chest" - hilarious!!! Been there, done that!
right now Gracie's just happy gulping whatever. So I smush her pills in little squares of American cheese. I get a store brand that's softer than Kraft so it smushes easier & sticks to the pills nicely. She hears me opening the pill bottle & runs in, sits & eagerly watches till I pop a smush ball into her mouth - gulp! gimme another!

Chicago, IL
Forum Posts: 8
Member Since:
6 April 2009

Offline
hugapitbull said:
Ok, Ge I have to ask - Did you have two plastic utensils or did you stick the same one back into the peanut butter jar?!
I had to laugh at this. We usually have two jars of peanut butter. The dog peanut butter is a smaller jar, always creamy instead of chunky, and marked "DOG." Hilarity, or something, ensues when someone grabs the "DOG" PB by mistake 🙂

California
Forum Posts: 337
Member Since:
16 January 2011

Offline
Riley is so dang picky and gags like a spoiled child when we would TRY and give her meds that I finally gave up hiding the pills in food -
I got one of those pill popper things that you open their mouth and stick it down their throat - works wonders......it is followed up (of course) with chicken livers, gizzards and hearts.  I do mix the K-9 immunity and all the supplement stuff with her food and make that nice and tastey with shreaded meat from the crockpot and she inhales that!!!!
I too am wondering about the spoon in the pnut butter.............
Orange County, CA
Forum Posts: 226
Member Since:
2 January 2010

Offline
We had the pill popper as a last resort for Max, because he had a tendency to get wise to cheese or whatever we were using to disguise his meds. Lot of good advice for alternates here, and I would only add that it sometimes helps to stick the meds in different things so the dog doesn't associate pills with any one treat. Also, if you switch to a different treat, don't put meds in it for a few days. Let her realize this treat isn't loaded with something she doesn't want so she won't get suspicious of it beforehand.

Forum Posts: 1
Member Since:
4 April 2011

Offline
My Tutu girl gets all of her Herbsmith supplements in her food with NO problems!  She eats a variety of forms of raw, fresh, dehydrated or freeze dried.  I always change it up so she never knows what to expect.  Somedays I just mix it in with her organic greek yogurt or canned pumpkin.  And when in a hurry I just dip the pills in peanut butter and VIOLA! down the hatch it goes!!  The Stella & Chewy's freeze dried dinner patties work like a charm, break a piece off and shove the pill in it and go!!
Forum Timezone:
America/Denver
Member Stats:
Guest Posters: 989
Members: 11576
Moderators: 2
Admins: 3
Forum Stats:
Groups: 4
Forums: 23
Topics: 14528
Posts: 204327