Join The Discussion
Learn about life on three legs in the forums below. Browse and search as a guest or register for free to take advantage of member benefits:
Instant post approval.
Private messages to members.
Subscribe to favorite topics.
Join the Live Chat and more!
Help Your Tripawd Swim!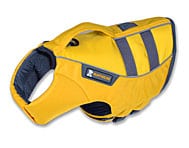 Three legged dogs swim safer and have more fun with the K9 Float Coat from Ruffwear!
A
A
A

Forum Posts: 1
Member Since:
18 January 2017

Offline
Hello, I just wanted to share our story and our journey through feline amputation in hopes that it might help someone else. I apologize in advance for a long post. For starters let me just say that deciding on amputation is never an easy thing to do but if it turns out to be the right choice for your pet then It can greatly increase their quality of life and such is the case for our tiny Tumbles.
I'll never forget the day I met Tumbles; I was a vet tech at a cat specialty hospital and a woman brought him wrapped in a towel, covered in blood saying she found him on the side of the road and rushed him over. I quickly pulled her into a room and went to get the doctor; upon examining him she found that he was either hit or thrown out of a car; he was underweight; had an eyelid laceration, bleeding from the nares as well as a paralyzed front leg. He was also covered in fleas; the little black and white wonder never stopped purring. The woman left him with us for the day as she had to return to work but did tell us she couldn't keep him and told us if we knew of anyone who took rescues to let her know.
We set him up in a cage with a heating pad. Cleaned his face and gave him a sponge bath. The vet estimated him to be about 10 weeks old and weighed in at just over a pound and a half. He laid on his side in the cage kneading with his one good leg. I decided to ask my boyfriend if we could make our kitty trio a quartet; I fell in love with this snotty, bloody little motor boat of a cat. I called the woman who had left him to let her know I would be adopting him. I decided to call him Tumbles.
Once that was settled the vet recommended x-rays to check out his front right leg which he couldn't support weight on. It was intact so she gave me antibiotics, eye ointment and pain medication to give every 8 hours. He also had a respiratory infection.
We went home for the weekend packed with medications and chicken baby food. He stayed on a dog bed surrounded by blankets and pillows for the night and I got up every 3 hours to syringe feed him water and baby food as he was too weak to even hold his head up unassisted.
Over the next 2 days his spunk started showing as did his fear of people; he would cower in a corner and try to hiss but as soon as he was picked up he'd start purring. He loved snuggles and snacks (especially cheetohs dust.) On Monday he went to work with me and looked well enough that the doctor thought we could FIV/FELV test him as well as do a thorough exam. His test was negative meaning he could be part of our kitty clan and upon exam the vet decided he probably had radial nerve damage. This means that the nerve running from his neck and into his paw was either damaged or severed and only time could tell if it would heal or not. If not amputation would be a kind option as kitties with nerve damage can still injure the limbs. We took it with a grain of salt and decided to let the games being.
The plan was to start MLS laser therapy which stimulates cell mitochondria which promotes healing as well as to do passive range of motion exercises to stretch the muscles so they would contract. At home he was treated for fleas and we continued his meds; he walked by hopping like a tripod while dragging his right front leg, often tripping over it. After a couple of weeks and about 6 laser treatments we had to put baby socks on the leg to keep him from wearing scabs into it.  We learned that he has a fear of not only people but mostly men. He wouldn't let my boyfriend near him even if he was on my lap. He'd take off like he was going to hit him with another car.
After about 2 weeks it was time to introduce him to the other cats. Yuma our Bengal matriarch was less than pleased but our other two boys Urien and Moose met their new best friend. We learned he likes feather toys and bottle caps. From the day we freed him from the bedroom he never stopped moving and that included scaling the 10-foot cat tree. He tore around the house like no cat I had ever seen. All he did was eat hard, play hard and sleep hard just like kittens should.
Around his 13-week birthday he started moving his little toes on his right paw; putting weight on it. The laser treatments were helping. The vet made me a tiny splint so he could straighten and bear weight more often. Everything was going so well for him. His purr box never stopped and he finally found his tiny squeaky meep. He was still afraid of people and cars but he loved his mommy time.
Things took a turn around week 14 when his paw started buckling over again. Even with the laser treatments. Even with the splints. Even keeping him confined again. The vet once again mentioned amputation. Our little Tumbleweed continued walking on the leg even though he was using his wrist instead of his paw. He started landing jumps on his wrist. He would cry out sometimes and fall over like he had been caught in a bear trap. We decided to repeat x-rays to make sure everything still looked ok from an orthopedic standpoint. X-rays looked fine. She did another exam and told me that his leg muscles had started to contracture and tighten up causing the paw to pull under. That is shoulder muscles were starting to atrophy from him not using the leg as much. She suspected he had some neuropathy since he had never really had full use of the leg but that we could continue to watch and wait and see if he turns it back around. We waited. I couldn't put this little love bucket through that if there was still a chance he could get better. The vet debriefed me about him potentially damaging the leg if he wasn't careful so we moved all of the big cat trees into a bedroom away from the cats for now.
As the days continued he used the leg less and less. My answer came at around 1 am October 10th. I was studying for an exam. The cats were all happily playing. Tumbles was on a short cat tree and jumped. He landed square on his wrist, screamed and ran off down the hallway. I found him in a closet licking and chewing his leg. After that he wouldn't let it touch the ground. I called my boyfriend and talked to him and we decided to schedule the surgery.
I spoke with the vet regarding the type of amputation and she thought that non-scapular was beast meaning that she would amputate to his mid-humorous. She said because he was so young and there was no reason to involved the scapula that it should be ok and it would probably help his weight distribution and his getting around.
His amputation was performed on October 14th at 4 months old with myself assisting. She cut the bone mid-humorous and wrapped muscle around the end so that there would be padding around the stump. He did great; when he came to he flipped out from the anesthesia and we had to give him a sedative to calm him back down. He went home that night with antibiotics and pain medication. I slept in the floor next to him on the dog bed for 3 nights. He recovered and healed very well and had all of his stiches removed 2 weeks later. After that he was zooming around the house so fast you couldn't tell he only had 3 legs. He was more social, more playful, more everything. Everything was awesome. He purred and loved to nub rub everything. He never completely stopped using the nub; when he would play you would see the little nub move around like it was going to catch the bird or he'd prop himself up on it.
Over the next few weeks he learned to steal dog food and get on the counter tops. He learned he liked lo mein noodles after I accidentally dropped one on the floor. He was the absolute joy he always was. He liked making biscuits (kneading) with his one front paw. He was a great little tripod and ran and climbed better than our four legged cats. He had an absolute blast playing at full speed and showing off to everyone else including our dog.
We had thought his journey was over and that everything from his accident had healed. His big boy teeth were coming in and he was happy as a 3-legged clam. But I had noticed his teeth making odd sounds when he chewed. I took him back to the vet with me and she noticed his top adult molars weren't in all the way and the gums were swollen.
He had his second surgery December 9th to remove his 3 molars on his right upper side. We sedated him and she did dental x-rays to see what was wrong and the adult teeth that should have come in fine were crooked as well as missing crowns. She thinks that they were forming under the gums around the time of the accident and might have been damaged then so they were removed. More pain meds, more antibiotics. More healing and of course he did great. The worst part of his healing is watching Urien pace the house looking for his best buddy. The dog missed him too.
We were finally done fixing his problems; we were so relieved. He could finally be a kitten. I quit my job and moved 2 hours away with my boyfriend taking all of our fur children with us including little Tumbles who was now a whopping 6 pounds at 5 months old. They all loved the new house, the space and the screened in porch. Tumbles ran around the house like he was on fire 24/7. I went home to see my family for the week and left the cats with my boyfriend. Tumbles kept his fear of strangers and men so Matthew didn't see him very much but he did come out to eat and use the litter box.
I came home a week later greeted by meows and Tumbles tiny squeaks; he joined me on the couch that night for study snuggles. That's when I saw the spot. There was hair loss and redness on his nub. Over the next couple of days, I watched him use the nub more and more while he scooted around on the floor. I added rugs under the cat trees for padding so he would jolt it when he landed. The redness turned into a scab. The beautifully healed skin becoming scarred again. I scoured the internet for reports of tripods insisting on using their amputated limbs and found nothing. No helpful insight. I went and bought infant preemie onesies and sewed the right armhole shut and made him wear one to keep the nub from rubbing the ground and set up an appointment for him with his doctor. I kept doing research hoping that someone had some answers but still came up empty. He was very persistent on using his nub now.
By the time his appointment got there the wound had opened up and there was now a hole in his nub. I drove him 2 hours to his vet as I wanted her to keep seeing him as she always did a great job with him. She had never seen anything like this in her 31 years of practice. She felt around and said that because he was so young at his original amputation that the bone may have grown a little more and had poked through the muscle padding and that was encouraging him to use it. The plan…. Another amputation. This time removing the entire humorous joint. We scheduled it for January 17th. Until then. More antibiotic and bandaging. She said that she would discount the surgery since it was her decision to leave the original stump and she didn't feel that we should have to pay for her mistake which cut the bill down to 1/5 the price. She was always an awesome doctor.
We had to keep him wrapped in bandages 24/7. He hated those and the baby shirts but he purred it all out. The hole was now leaking through 3-4 gauze pads and his shirts every day. I dropped him off at the vet the night before and picked him up yesterday evening. They saved the bone for me just in case. The original cut end was jagged as if it had kept growing. They said he had a quiet recovery and even ate after surgery. He was wrapped in a bandage. No stitches but she did put a Penrose drain in to keep it open to let any excess fluid drain out. He goes in a week to have it taken out. The vet debrided the extra tissue and drilled his shoulder blade to make sure it was smooth and there wouldn't be any sharp points. The 2-hour drive home was quiet as was last night. Today he's hopping around looking for a way out of the bedroom.
This journey has been a long one even though it's only lasted 6 months. Tumbles has had 3 surgeries in 3 months at 6.5 months old. He's a little trooper and is still the happiest cat in the world. His trip has been difficult and full of questions and hopefully it helps someone else who is in the same boat. Making all of these surgery appointments was never easy but it was our best shot to give this kitten a good quality of life. Hopefully this will be his last surgery and we have fixed everything from the initial accident. Why anyone would want to do anything mean to this cat id beyond me but honestly, we're glad he came to us. Were there things we could've done differently? Probably. But just like all of you pet parents out there we want the best for them so we do the best we can. Best of luck to all of you pet parents out there recovering or preparing for amputations.

Livermore, CA


Forum Posts: 3006
Member Since:
18 October 2009

Offline
Welcome! Your future posts will not have to wait for approval.
Tumbles! I love his name! 
What a trooper and survivor.  He's been through so much already I'm sure he will fly though this recovery (hopefully not literally!).
Karen and the Spirit Pug Girls
Tri-pug Maggie survived a 4.5 year mast cell cancer battle only to be lost to oral melanoma.
1999 to 2010

Forum Posts: 55
Member Since:
22 December 2016

Offline

Forum Posts: 2000
Member Since:
14 February 2016

Offline
What a great story, thanks for sharing it (and for being such a wonderful parent for Tumbles!).
Otis - 106 pound lab/Dane mix, lost his right front leg to osteosarcoma on Febuary 9, 2016.  Four rounds of carboplatin completed in April, 2016.  Lung mets August 25, 2016.  Said goodbye too soon on September 4, 2016.   Lost his adopted sister, Tess, suddenly on October 9, 2016. likely due to hemangiosarcoma.  
Wherever they are, they are together.

Virginia


Forum Posts: 15720
Member Since:
22 February 2013

Offline
Tumbles is ABSOLUTELY ADORABLE! You have a good looking cat and dog pack!!
And thank goodness this Kitty Warrior has you for his furever home!! What an unbelievable journey!!
I'm glad the Vet helped you with the costs. We jave found here that, if a Vet does leave a stump, it almost always ends up in a second full amputation surgery for the reasons that you sited with Tumbles.
We are all cheering for this amazing kitty and hope, hope, hope he can now get on with living a full and happy life without interruption!!!
Let us k ow how recovery js going. It can be a bit rough for a week or two, but it sounds like the worse is alreay over.
Extra hugs to you a d to all the pack!
Sally and Alumni Happy Hannah and Merry Myrtle and Frankie too!
Happy Hannah had a glorious additional bonus time of over one yr & two months after amp for osteo! She made me laugh everyday! Joined April's Angels after send off meal of steak, ice cream, M&Ms & deer poop!

Michigan

Forum Posts: 1562
Member Since:
11 July 2016

Offline
Hi & Welcome,
Tumbles is adorable ! You all have had a rough 6 months!
He found the perfect human & fur family to love and take care of him! 
So glad you are his human!
Couple more weeks Tumbles will be back and hopping on in his new life! 
Keep us posted 
Hugs
Holly & Purrkins


Germany
Forum Posts: 505
Member Since:
14 December 2016

Offline
Hello Tumbles and welcome!!
You are so cute and inspite of all that you've been through in your still-young life you look like so much fun! All the best on your road to complete recovery!!
Hugs to you from
Manni and Tina
Guardian of Manni the Wonderdog. -Or was it the other way around?
Osteo and amputation in Dec 2015. Second, inoperable, primary osteosarcoma found in June 2017.
The end of our adventures came Dec 10, 2017. 2 years to the day.

The Rainbow Bridge

Forum Posts: 23092
Member Since:
25 April 2007

Offline
Hey Tumbles, how are you today? I hope life is good!
We just wanted to bump your post to let your humans know that your photos have disappeared. We'd sure love to see them so if your humans have time to update them we would be ever so grateful to see your gorgeous face and find out how you've been.
3-paws up coming your way my friend.
Forum Timezone:
America/Denver
Most Users Ever Online: 597
Currently Online: Codie Rae, luke4275
53 Guest(s)
Currently Browsing this Page:
1 Guest(s)
Devices Used: Desktop (52), Phone (3)
Member Stats:
Guest Posters: 993
Members: 11815
Moderators: 2
Admins: 3
Forum Stats:
Groups: 4
Forums: 23
Topics: 14630
Posts: 205568