Join The Discussion
Learn about life on three legs in the forums below. Browse and search as a guest or register for free to take advantage of member benefits:
Instant post approval.
Private messages to members.
Subscribe to favorite topics.
Join the Live Chat and more!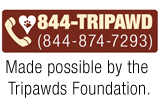 Want to talk with a friend who understands? Call the toll-free
Tripawds Helpline
!
A
A
A
Forum Posts: 1
Member Since:
9 June 2016

Offline
Our Golden Retriever, Loki, now belongs to the three-legged dogs club. Six weeks after surgery, I can say that we would do it again, given the same choices and options. But, I think it's important for anyone going down this road to understand what to expect and what not to expect. People on this website have shared their stories and we read so many of them before making our decision to amputate Loki's front leg.  Every story and experience is different.  We offer ours in the event it helps someone with this agonizing choice.
 Loki is a 10 year old bundle of sunshine and joy.  He is the oldest of our 4 dogs and has been nursemaid, mother, trainer and companion for every puppy (and kitten) we ever brought into our home.  He is our good boy who just wants love, a ball and, if possible, a lake to swim in.  He started limping on his front left leg in mid-March.  Within weeks, we had a joint tap done followed by a biopsy of an extraordinarily swollen elbow (baseball size).  He was in pain.  Not a complainer, he expressed it by moving around frequently, panting and removing all weight from that leg.  Tail was down.  He was hurting.  We hoped for it to be some kind of random infection but somehow we knew it was going to be bad news and it was – histiocytic sarcoma.  We were told that this is an aggressive form of cancer but that, currently, Loki showed no signs of metastasis to any other part of his body.
 The surgeon spent a lot of time with us explaining the different options and possible outcomes.  He recommended amputating the leg – remove Loki's pain and give him a chance at living longer since there still were no signs of cancer elsewhere.  Our doctor was very careful to warn us though that removing the leg would not cure Loki.  His cancer would not be gone from his body entirely but the primary source would be gone and the pain would be gone.  We may give him some extra time that would not be burdened by that terrible pain in his leg. Or, we could just make him as comfortable as possible while the cancer spread and euthanize him when the time was right.
 He had a Fentanyl patch and was taking Tramadol and Rimadyl.  Even with all that medication, he was still in pain.  Without the amputation, we probably were not looking at long before we would have to put him down.  He was in agony.  And so were we.  We talked to the vets. Scoured the internet.  Talked to family.  We were assured that many other dogs had gone through amputation and done extremely well; that dogs don't have an emotional attachment to their limbs like we do; that it was his best chance at survival.  We worried about his size and age.  He is tall for his breed.  He's older. We worried about him waking up at the vet's office without his leg, being scared and confused. 
 We know that the cancer is going to catch up to him but we wanted to give him the best chance for the longest possible, pain-free, highest quality of life that we could give him.  For us, that meant that we decided to go forward with the surgery.  Nonetheless, after we dropped him off for surgery, I sobbed like a baby in the parking lot.  It just broke my heart that our happy go lucky little boy was having to go through this.  Just did not seem fair.
 Two days later, we went to bring our boy home.  When we saw him walking down the hallway toward us, part of the weight was lifted from our shoulders – he's walking.  When he went potty outside in the grass – another weight lifted – he can do that for himself.  Our surgeon had Loki wrapped in bandages and recommended keeping those bandages on until about 10 days later when the staples would be removed.  I understand different vets have different philosophies on this. For us, it worked well.  1) It helped reduce the shock to us (no visible angry incision) and that's important – the calmer we are, the calmer our dogs will be; 2) he could not scratch at the wound; 3) he could not get it dirty; and 4) the other dogs could not get to it.  Also, when the bandages were removed and the staples taken out, his incision was beautiful.  Perfect.  No infection. No puckering.  No issues with that.
 First two days home – the Pros - he ate and drank water just fine. He was able to handle the two steps out front to go out to the yard to go to the bathroom.  He was walking.  We was able to sit and get back up.  His pain seemed to be well controlled with the Fentanyl, Tramadol and Rimadyl.  He wasn't crying out in pain and seemed able to sleep.  He wasn't trying to get at his incision. The other dogs were good with him, giving him his space.  The Cons – he was in a drug-induced haze.  There was no Loki inside those eyes.  He was out of it which was probably good because he slept a lot but don't expect your dog to come flying out of surgery, wagging his tail like nothing happened.  This is major surgery and it took a lot out of him.  He would wag his tail slightly when we talked to him but it never lifted up and his eyes – ugh – looked so sad and tired.
 First week home – complete roller coaster.  There were times when my husband and I both worried that we had done the wrong thing.  He could not figure out how to lie down.  Once he got down, if he rolled to the wrong side, he struggled like a turtle on his back to get up.  When he would start circling to lie down in his bed, my husband and I would both watch, holding our breath, until he finally could lay himself down.  He did not seem like himself. He was out of it.  He had no interest in his favorite toy (a green spider that we call his frog).  He always carried that around the house and would bunch it up underneath himself and lay on top of it.  He didn't even look at it.  He would just sit, pant and stare vacantly.  Then he would lay down, pant and stare. 
 He developed a hematoma on his rib cage – harmless but we were terrified until was knew what it was.  We thought he had another tumor.  We talked to the vet about the panting.  We're not talking just panting like he was hot – we're talking about rapid crazy panting where his ribs and muscles pumped up and down constantly.  The vet suspected it might be a side effect of the Tramadol but he told us we needed to decide what we wanted – adequate pain control and some panting or no panting and for him to be in pain.  We continued the Tramadol. 
 Also, our strong independent dog who would generally jump up on the couch to get some love from you and then get down on the floor to stretch out became needy and clingy in a way that he had never been – not even as a puppy.  He had to be with one of us at all times. We're fortunate because my husband was able to be home during the days.  Loki now wanted to be on the couch right next to us. Most disturbingly, Loki used to be fine when we left the house and left the dogs behind.  The first time that my husband tried to leave the house without Loki, Loki howled and cried and I mean cried.  It was like no sound we've ever heard come out of him.  He did not want to be left behind without one of us in the house.
 Then there was the very strange behavior of abruptly fleeing from his food.  Weird.  So, he'd be eating and then all of a sudden, he would turn from his food dish and bolt into the next room like he was being chased by the devil.  We'd have to coax him back to the food dish and then he'd finish.  We still have no idea what to make of that. He does not do that anymore.
 Our goal with the amputation was to give him a pain-free better quality of life for as long as possible.  He seemed tortured. We really worried that we had done the wrong thing and that the rest of his life would remain a former dim shadow of what his life had been.
 Second week – a little better. He got his sutures off and all the bandages came off.  Our surgeon gave us the green light to stop  being over-protective parents and to just let Loki be a dog.  If he fell, which he would – he would be ok.  It would not hurt him.  The incision looked fantastic and you could tell that Loki was relieved to have all of that off of him.  Most importantly, no more Fentanyl or Tramadol.  With those drugs removed from the mix, we started to see Loki's personality start to return.  He was "smiling" a little more, wagging his tail (still low but wagging).  He was getting around just fine.  He would trot to the door.  He was managing to get up and get down better.  He was eating and drinking.  He was going to the bathroom just fine.
 We had bought some slings for him prior to his surgery but ended up not needing them with him.  As for mobility, he really did amazingly well all on his own.  He could jump up on the couch and into my husband's 4Runner.  My husband still lifts him down from the back of the 4Runner. We just worry about him injuring his one good front leg jumping down. 
 But my husband and I both agree – he was depressed.  We know everyone says that dogs don't have the same emotions that we do.  We know that our hesitation to have the amputation was in large part based upon our own fears and emotions but we do believe dogs are emotional.  Others may disagree – these are just our opinions.  Our boxer will pout if she gets yelled at and then she will sulk until she's given the go ahead to give kisses.  Dogs aren't spiteful or mean-spirited.  But they can be filled with joy, sensitive to emotions around them, frustrated, confused and depressed.  He was depressed.  You could see it in his eyes and the way he carried his tail.  Now, whether he was depressed because his leg was gone, because he had surgery, because he had been in pain, because he could not do the same things he could do before with the same ease – I don't know.  I can't even pretend to know but we know he was different and we know he was not happy, happy.  He was eh, Ok.  That really worried us.  What had we done to him?
 In the meantime, we met with the oncologist who recommended 7 monthly doses of CCNU for chemotherapy.  CCNU is given as a pill.  We decided that we would proceed with the chemo but that if we saw any sign that it was making Loki sick or uncomfortable or impacting his quality of life, we would stop. Period.  He has had one dose.  So far, so good on that.  Last time we were at the vets, there was a shadow on his chest xray in his lungs that wasn't there before.  We will get him rechecked soon.  Fingers crossed.
 Loki's mood and affect really did not start turning around until week 3 or 4 and it was gradual.  We are now at a point (6 weeks post surgery) where we are thankful that we went forward with it.  But, to those that say that their dogs are just the same as they were or that the dog doesn't know they are missing a leg – that has not been our experience with Loki.  He knows it's gone.  He cannot move as fast as he did, his gait has changed entirely, he is not able to hold things between his paws, he has completely had to readjust his bathroom stance, he doesn't wrestle with the other dogs like he used to.  Make no mistake about it, he has suffered a loss.  We will never let him jump out of the car onto the one good leg.  He is not quite as clingy as he was, but he's still different in that way.  He still needs to be closer to us.  He is still jumping up on the couch to lay with us.  He is still fighting to push out the door to go along with us anytime we have to leave the house the together.  We take him with us more often than not now if we can.
 All that aside, his depression does seem to have lifted. He is happy and loved.  My husband took him swimming before we were told that was a no-no by the oncologist during chemo.  He loves the water.  He chases his ball outside.  He wags that tale (and it's up).  He smiles.  He plays a little tug of war with the other dogs.  He rolls around in the grass – on his back – and has no trouble getting up or down.  He is Loki.  He's back and he's not in pain.  And while we wish this hadn't happened, he's probably doing as good as or better than could really be expected and we've hopefully given him more quality time on this planet.  I guess what I'm trying to say is this – there are going to be changes to your dog.  Do not expect him to be exactly the way he was – physically or emotionally.  But with love and support, your dog can have a full life with joy and love and without pain.  It's not the end of the world, it's just a change. 
 Also, let me be clear – we do not regret the amputation one bit. We worried. We were scared at times. But Loki is beautiful and strong and happy. He is back to his old self 100% mood-wise and there is no depression, confusion or sadness in his eyes. He rolls around on his back flailing his legs in the air when he's in the grass just like he used to do. He is chasing balls in the yard and running back with them in his mouth. He is good. He is silly and loving. If we had to go back, we'd make the same choice that we did. He has some physical limitations now but he has dealt with them with courage and grace – which we had hoped he would but worried he wouldn't at times. Loki will be with us until he can't be anymore.  In the meantime, we hope for the best and spoil the hell out of him.  The "old man" gets the top spot and the other dogs follow in line. 
 Just know that if you are in that 1-3 week period where things look a little dim, it will get better.  It will and they will.  We were in that spot and both worried that we had done the wrong thing. We didn't. Loki is living proof of that. Have some faith, take a deep breath and just keep moving forward. It will be okay. Your dog will be physically altered but they will still be the same loving dog they were before the surgery. They will still love the same things. In our case, Loki is the same as he was except that he still wants a little more closeness with us than he did before. That's A-OK with us. We wish everyone facing this decision the best and send lots of love to all the puppies and kitties out there that need to adjust to their new lives.
 P.S. A note on vets.  This isn't our first cancer rodeo.  Last year, we lost one of our dogs to prostate cancer.  Suffice it to say, it's a long story but here are the important points for anyone else – if you are not comfortable with your vet, if you feel like your vet is not spending time to explain things to you or to listen to your concerns – find another one – immediately.  Our vet was dismissive of us, treated us as though we were being overactive parents when we expressed repeated concerns about strange symptoms our dog had, made us feel like we had 5 minutes at best each visit to voice our concerns, and pretty much just lectured us in response as to what she thought we should or should not do.  End result – our dog was diagnosed with cancer too late to do anything about it.  We lost him in a blink of an eye. 
 The vets who have cared for Loki – amazing.  Live and learn.  We are fortunate to have found a vet hospital that operates like a hospital – oncologists, surgeons, internal medicine, cardiologists, etc. – under one roof.  More importantly, our surgeon and oncologist have each at various visits spent no less than 45 minutes talking to us about the diagnosis and the options and answering any questions we could throw at them.  They were not judgmental and did not try to push us one way or the other in making our choices about what to do.  No judgment – just information and compassion.  Everyone communicates with everyone else and shares information.  We could not be happier.  If you are not feeling comfortable with your vet, go somewhere else.  This is such a huge decision.  Don't let a bad vet impact your choices.  The good ones are out there.

The Rainbow Bridge

Forum Posts: 23250
Member Since:
25 April 2007

Offline

Thank you so very much for sharing your story and insight here! And so much detail, it really is helpful for others to know that there is a range of experiences that can happen, and that no matter what, there is light at the end of the tunnel. We're thrilled for your pack!
I'm so sorry about your other dog. Cancer teaches us SO many lessons. It sucks, but it prepares and educates us if we allow it to. Kudos to you for taking what you learned and being such a great advocate for Loki. Please feel free to share the name of your vet in our "Veterinary Specialists Referrals" topic, it's so good for others to know about the great vets in this world.

Los Angeles, CA
Forum Posts: 3554
Member Since:
13 June 2013

Offline

WOW... thank you for sharing your story with such valuable information! 
Shelby Lynne; Jack Russell/Shiba Inu mix. Proud member of the April Angels of 2014.
October 15, 2000 to April 8, 2014
Our story: Broke rear leg in June 2013 - non-conclusive results for cancer so leg was plated and pinned. Enlarged spleen in September 2013 and had it removed and was diagnosed with Hemangiosarcoma and started chemotherapy. Became a Tripawd January 8th, 2014 and definitive Hemangiosarcoma diagnosis. Three major surgeries in 7 months and Shelby took them all like a champ only to lose her battle to cancer in her brain. We had 8 amazing extra months together and no regrets. #shelbystrong #loveofmylife

Michigan
Forum Posts: 1384
Member Since:
2 April 2013

Offline
Hi Loki's Mom ~
Our Murphy was also diagnosed with histiocytic sarcoma, in his right front leg.  He had his surgery at Michigan State University 4/4/13.  We also opted to do chemo.  He had 6 doses of CCNU, 3 weeks apart.  He had a CBC the week of his treatment and again the week after (that one at our regular vet since MSU is a 1.5 hour drive away).  He also took denamarin daily during his treatment to help protect his liver.  The oncologist that was in charge of his treatment when he first started, Dr. Barbara Kitchell, actually did some research on histiocytic sarcoma in dogs, so I felt very reassured in their treatment protocol.  She's moved to New Mexico now so he has a different doctor, but they continued the treatment that she outlined.  After he finished treatment, the new oncologist found a tumor on Murphy's left shoulder blade.  She offered to try another protocol since it had grown while using the CCNU, but we declined.  His follow-up x-rays a few months later showed that his lungs were clear & there was no change in that tumor.  A few months after that, the same thing.  Well, now it's been over 3 years since Murphy had his amputation and he's still bouncing around!  He can still run the fence when there's another dog in the park, still jump in the furniture, and is still just as happy as ever!  He just turned 10 years old in January.
Donna
Donna, Glenn & Murphy  http://murphyh......pawds.com/
Murphy had his right front leg amputated due to histiocytic sarcoma at 7 years old.  He survived 4 years, 2 months & 1 week, only to be taken by hemangiosarcoma at 11 1/2 years 6/12/17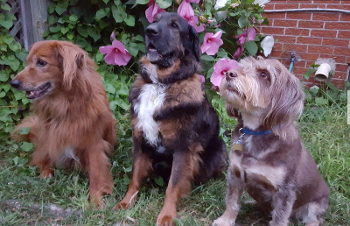 Forum Posts: 81
Member Since:
16 June 2016

Offline
I stumbled across this post, as we're having a hard time dealing with everything that's been thrown at us. Our dog just turned 1, and it hurts my heart to think he might not return to his fun loving self. How did the chemo work out? Were there any side effects from it? It looks like we may have to do that as well. We have our oncology consult on July 11. I've said in a previous post that we're getting married on August 6, so this has been doubly stressful for us. I don't even know if we should go on our honeymoon in September, or start figuring out if we need to cancel flights and hotels. I'm just worried about leaving him alone.
Forum Posts: 36
Member Since:
1 August 2016

Offline
Thank you for your posts about Loki and about Murphy.  Loki's post really hit home because so many of the feelings are exactly the same for us with Ruby.  We are in that 1-3 week out period and are feeling pretty grim about everything because Ruby does not seem like herself.  This coupled with the Histiocytic diagnosis has just made things worse.  It's great to know that you all still have your babies and it's been awhile.  That is all we hope for beautiful Ruby!
Thanks again,
Lisa (grandmother)

Forum Posts: 16
Member Since:
18 August 2016

Offline
Thanks so much for this story I am new to this website/forum and only 2 days post surgery. Last night was my boy Juvey's first night home and I didn't sleep a wink. He cried out a few times and I felt terrible , guilt, anxiety and pure sadness. Your story has made me feel better 

Here and Now

Forum Posts: 11310
Member Since:
25 April 2007

Offline
bdaluz80 said
I am new to this website/forum ...
Welcome! Your future forum posts will no require moderation.
Start here for help making the most of the Tripawds community, and consider starting a new topic to share your story or ask any questions. Be sure to search too, since most concerns have been addressed in many forum topics here over the years.
Use the Advanced Search above to refine your search results with specific phrases, and you're sure to find lots of helpful feedback.  You can also search all blogs here .

Forum Posts: 56
Member Since:
20 March 2017

Offline
Thank you so much for this post.  I am new to Tripawds and my dog Bella is getting her stitches out tomorrow.  I can identify with everything you wrote about your dog's post op reactions.  While Bella's wound is healing and she seems to be getting stronger each day, I do see a bit of depression.  She is such a smart and loving girl and I wonder at times if she's upset with us for doing what we did.  I may be over analyzing things...but my instincts are telling me she's withdrawing a bit.  It was helpful for me to read that Loki had seemed depressed too,  but that after a few weeks seemed better.  Thanks again
Forum Timezone:
America/Denver
Most Users Ever Online: 597
Currently Online: dawn3g
92 Guest(s)
Currently Browsing this Page:
1 Guest(s)
Devices Used: Desktop (80), Phone (13)
Member Stats:
Guest Posters: 997
Members: 11972
Moderators: 2
Admins: 3
Forum Stats:
Groups: 4
Forums: 23
Topics: 14717
Posts: 206807