Join The Discussion
Learn about life on three legs in the forums below. Browse and search as a guest or register for free to take advantage of member benefits:
Instant post approval.
Private messages to members.
Subscribe to favorite topics.
Join the Live Chat and more!
Help Your Tripawd Swim!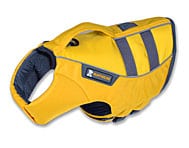 Three legged dogs swim safer and have more fun with the K9 Float Coat from Ruffwear!
A
A
A

Forum Posts: 17
Member Since:
27 June 2015

Offline
My best friend Tess left me to go to the rainbow bridge a week ago.
Her health had taken a downward turn and I realised that I was just delaying the ineviatable by giving her more and more pain medication to get her through each day. She was struggling to move, to sleep, to go toilet and to stay interested in life. I realised I couldn't keep doing that to her so I decided to help her go.
I think Tess knew her time was coming but she would have fought on and on to be with me, she was such a loyal girl. We had 93 weeks together post amputation for osteosarcoma. She was about 12 so it's not too bad for a Rotti.
I am so lost and can't stop thinking over my decision to end her life right then on that day. I still think I hear her in the house and I often glance at her couch to check on her and she isn't there.
She loved her food, steak, chicken nuggets, bacon and she loved babies and children. She loved going in the car and especially going to the beach to catch waves in her mouth.
Most of all she loved being with me and I loved her so very much. She made me a better person. Now I am totally lost without her.

Forum Posts: 2000
Member Since:
14 February 2016

Offline
I am so sorry to hear of the loss of your Tess.  It is incredibly hard those first few days.  You spent so much time and emotional energy caring for them, your life is focused on your dog and this journey.  And suddenly, it is over.  And your house is empty.  But, she will always be in your heart, and you gave her everything a dog could want - a home and lots of love.  Sometimes, even though we make a decision, there was really no choice.  Think about chicken nuggets and bacon and the beach, and try, if you are able, to hold all of the wonderful times close in your heart.
Otis - 106 pound lab/Dane mix, lost his right front leg to osteosarcoma on Febuary 9, 2016.  Four rounds of carboplatin completed in April, 2016.  Lung mets August 25, 2016.  Said goodbye too soon on September 4, 2016.   Lost his adopted sister, Tess, suddenly on October 9, 2016. likely due to hemangiosarcoma.  
Wherever they are, they are together.

Schofield, WI
Forum Posts: 1381
Member Since:
13 August 2015

Offline
I'm so sorry for your loss of your best girl Tess.  No matter how much time we have with them it's never enough.  Loving them enough to let them go when we see them struggling and hurting is truly our last gift to them although our hearts break doing so.  Know your sweet Tess knew you loved her and will remain in your heart forever.  Sending you healing light and peace at this hardest of times.  Fly free new Angel!  

Los Angeles, CA
Forum Posts: 3550
Member Since:
13 June 2013

Offline

I am so sorry to hear of your loss of your beloved Tess.... what an hero though.... so many weeks fighting cancer! She will always be a hero in our eyes! She will always be with you ... as your forever angel. 
Sending love and peace! 
Shelby Lynne; Jack Russell/Shiba Inu mix. Proud member of the April Angels of 2014.
October 15, 2000 to April 8, 2014
Our story: Broke rear leg in June 2013 - non-conclusive results for cancer so leg was plated and pinned. Enlarged spleen in September 2013 and had it removed and was diagnosed with Hemangiosarcoma and started chemotherapy. Became a Tripawd January 8th, 2014 and definitive Hemangiosarcoma diagnosis. Three major surgeries in 7 months and Shelby took them all like a champ only to lose her battle to cancer in her brain. We had 8 amazing extra months together and no regrets. #shelbystrong #loveofmylife

The Rainbow Bridge

Forum Posts: 22951
Member Since:
25 April 2007

Offline
My heart goes out to you, I'm so sorry to hear about Tess. I know how hard it is to cope without such a big part of your family, it's just not easy at all. Even when you know it was the right decision, the brain still has a hard time realizing it. In time, the head and the heart reach an understanding but it just take time.
Yes, she did GREAT as a Rottie on three legs with osteosarcoma, what a great example of living life to the fullest. As you face each day without her physical presence, try to hold it in your heart that she is still around, just in a different way. The spirit of our loved ones never fades. They stay with us and leave little signs that tell us everything is OK. Watch and listen carefully and Tess will too. 
If you'd like to share more photos and stories about her life we would love it. It's also a helpful way to deal with the loss and loneliness for a lot of folks, so maybe it can help you too.

Minneapolis, MN
Forum Posts: 643
Member Since:
23 April 2016

Offline

I am so very sorry you had to make that loving choice for her, but you will come to know it was the right thing for her.  There is such anguish in losing such a dear and loved companion.  Frankly, I'm still reeling from it nearly 6 months later; it still brings me to my knees some times.
But you were both blessed with so much extra time and she was such a brave, beautiful warrior.  Try somehow to celebrate that, too, despite your tears and sorrow.  Wishing the lovely Tess the sweetest dreams...
Lisa, Minneapolis
On October 27, 2016, nearly 6 months after amputation, and 18 months since his cancer likely started, we lost Pofi to a recurrence of Soft Tissue Sarcoma in his spine quite suddenly.  His Daddy and I miss him terribly along with his canine sister, Mia, and two feline siblings, Lucia and Cliff.

Forum Posts: 153
Member Since:
31 December 2016

Offline
I'm so very sorry for your loss.
Otis - 121 lbs pre amp - 114 lbs post amp and now 118 lb Great Dane - English Mastiff X.  Started limping on 12/24/16.  Diagnosed with Osteosarcoma 12/28/16 - amputation of front left leg on 1/6/17.  Stitches out and 1st round of Chemo on 1/19/17.   2nd round of Carboplatin on 2/10/17 - 3rd round on 3/2/2017.  4th round was scheduled for 3/22/17 - however due to low WBC postponed - 4th Chemo completed on 3/28/17.  Had breathing difficulties, stayed in Tufts ICU overnight.  Due for 2 more rounds of Chemo but we are opting to go with homeopathy with Dr. Loops instead.


Forum Posts: 3217
Member Since:
16 October 2012

Offline
I am so sorry for your loss.  run Free Tess
hugs
Michelle & Angel Sassy
Sassy is a proud member of the Winter Warriors. Live long, & strong Winter Warriors.
sassysugarbear.tripawds.com
07/26/2006 - Sassy earned her wings 08/20/2013
"You aren't doing it TO her, you are doing it FOR her. Give her a chance at life."
Forum Timezone:
America/Denver
Most Users Ever Online: 597
Currently Online: benny55, org9o
64 Guest(s)
Currently Browsing this Page:
1 Guest(s)
Devices Used: Desktop (57), Phone (8), Tablet (1)
Member Stats:
Guest Posters: 989
Members: 11576
Moderators: 2
Admins: 3
Forum Stats:
Groups: 4
Forums: 23
Topics: 14529
Posts: 204335