Join The Discussion
Learn about life on three legs in the forums below. Browse and search as a guest or register for free to take advantage of member benefits:
Instant post approval.
Private messages to members.
Subscribe to favorite topics.
Join the Live Chat and more!
Dog Cancer Survival Kit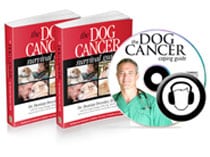 Dr. Dressler's Dog Cancer Kit includes everything to help your dog fight cancer!
A
A
A

Meilimom
We are being considered to adopt a Golden puppy who was born with a deformed front paw from a reputable breeder who wants to find her a good home. 
We have adopted animals with disabilities before, and currently have a cat with radial hypoplasia, a congenital disability where the bones in his front legs didn't form completely,  so his legs are very short and the muscles and ligaments cause his arms to bend the wrong way. He also has large segments of his tail that are fused and do not bend. Roo jumps and runs, and gets along just fine, and he can stand on his back legs to box our other kitty.
While I was able to find a wealth of information online about dogs who had lost a leg to cancer, there doesn't seem to be much info out there about dogs born with a deformed leg / paw. Do you know of any place online I can find more information about congenital leg problems in dogs? Is there some sort of congenital disability that shows up in dogs similar to RH in cats?
The reason I want to find out more is that when my RH kitty was 16 months old, he suddenly went into congestive heart failure. He ended being rushed to Univ of Penn hospital, where the cardiologist told us he may not survive the night, but after a few days in the hospital he made an amazing recovery, and only needs yearly ultrasounds of his heart. The vet suspects that whatever went wrong to cause the problem with his legs not developing could have also caused his heart problems.
We are looking to adopt this puppy to train as a companion dog for our youngest daughter who has high functioning autism, so I want to make sure this puppy's deformity is not associated with other problems like heart disease that might shorten her life.
Here is  a web page that my girls put together with pictures of our special needs kitty:
Thank you for your help,
Kim
Kim, thank you for posting here. Please consider signing up as a member so your posts show up quickly without needing to be moderated.
Tripawds is a support for all  three-leggers, whether they are amputees because of cancer or birth defects or accidents. We have had quite a few here who were born Tripawds, like Little Buddy (also a Golden) and Comet, and I'm sure you'll be hearing from them soon!

Meilimom
Hey I was just going to tell you that it was wrong....OMG Roo is adorable (as are your other furry kids and human kids to!). Roo qualifies as a Tripawd!

Las Vegas, Nevada
Forum Posts: 4344
Member Since:
14 August 2009

Offline
I just fixed your link on the first post so it's okay now.
Welcome Kim!
And let me say, bless you for adopting pets with disabilities!
I think that is terrific that you are getting a companion dog for your daughter.  It sounds like a golden is a perfect choice and since the puppy hasn't had any mental trauma, you will have a normal golden!  Buddy is normal in every way except that darned deformed paw!  But he actually uses his a bit.
If the puppy is healthy, you do not have to worry about any other congential problems when it's a birth defect!  It's typically a orthopedic problem only.  (I don't know for sure, but I would take the odds on it!)
Oh, don't I know there is no information on birth defects!  I've been looking for almost 12 years!  NONE.   I've even asked my vet if there were any studies done that I could read.  He knew of none.  So, I've been on my own all this time until I found tripawds!  And even if it is mostly cancer, it's still very good information! 
My Comet has a deformed shoulder blade and front left leg.  It's still attached.  The only issue we've had is her blowing out her back knees but that didn't happen until 6or 7 years old.  It's fixable with surgery and she had hers fixed.  But she also liked to dance and twirl on her back legs - which didn't help. 
Comet didn't come from a good background - she came from a "hoarder" of 22 dogs that neglected them.  She was impounded as a puppy and has been a skittish, scared dog.   She is so spoiled and sassy in her comfort zone and perfectly normal when no strangers are around. 
There is nothing stopping you from getting this little angel.  I promise. 
Let us know!
And check out Buddy's blog that admin has linked in above post.
Comet's mom
Comet - 1999 to 2011

She departed us unexpectedly  January 23, 2011 at the age of 12 1/2.

She was born with a deformed front leg and a tripawd all of her life.

Thanks Comet, I was being lazy and am pooped from the pawty yesterday!

Wesley Chapel, FL
Forum Posts: 1104
Member Since:
13 September 2009

Offline
Hi Kim... Welcome to our Tripawds family!! I think you should definitely adopt that golden puppy... You already have given your hearts to your kittie Roo (OMG! I saw your website and Roo and your children... and all the critters are absolutely adorable!!) and that seems to have turned out great! Dogs with 3 legs can do very well! Just ask our own Cometdog!!
Angel Jake and Wolfie's Mom
Jake, 10yr old golden retriever (fractured his front right leg on 9/1, bone biopsy revealed osteosarcoma on 9/10, amputation on 9/17) and his family Marguerite, Jacques and Wolfie, 5yr old german shepherd and the newest addition to the family, Nala, a 7mth old Bengal mix kittie. Jake lost his battle on 11/9/2009, almost 8 weeks after his surgery. We will never forget our sweet golden angel… http://jakesjou.....ipawds.com ….. CANCER SUCKS!


Forum Posts: 1841
Member Since:
22 August 2008

Offline
Leg deformities can occur for lots of reasons in dogs and most dogs with leg deformities do not have other issues.  I would make sure that a vet has examined the pup for a cleft palate and has listened to the heart since Goldens as a breed are predisposed to aortic stenosis (a heart valve problem) just to make sure.  Goldens in general can have more hereditary problems than other breeds including epilepsy, skin disease, and cancer (especially hemangiosarcoma) but they are very sweet and good family dogs.  This is a breed that you might consider purchasing pet insurance for but I am not sure if they would have exclusions due to the deformed leg.
Pam

Cleveland, OH
Forum Posts: 118
Member Since:
19 June 2010

Offline
I have a friend on another forum that had a dog with a paw deformaty (born with 4 legs, but 3 paws).  I know that the 'stumpy' paw didn't slow her dog down, she often would cover the deformed paw with an infant sock so it wouldn't get injured.  Her dog had spinal injuries due to abuse though and had a shortened life.  The paw thing did not slow her pup down one bit though.
~~~~ Denali ~~~~
June 9, 2010 OSA suspected
June 17, 2010, July 14, 2010 Clear X-rays – no mets
July 1, 2010 Amputation
July 9, 2010 OSA Confirmed
November 23, 2010 Cancer took you from me - Never forgotten, Always Loved - Forever
Supporting the Fighters, Admiring the Survivors, Honoring the Taken, And never, ever giving up Hope

Forum Posts: 23
Member Since:
8 August 2010

Offline

Our puppy is healthy! The puppy had a vet appointment this week with her breeder and everything is perfectly fine. Her only problem is a deformed paw. I am so happy to hear that. I know in dogs a paw can be deformed without any other problems, but I was just a little worried until I knew her heart checked out ok because of what happened with our RH kitty. In his case his deformed paws and his sudden heart failure and cardiomyopathy were probably realated.
We will be able to bring her home soon! I will let you know more when I know more.
Thank you so much for your help!
Kim
Amanda
 

****** I adopted a puppy from angels for animals- a wonderful organization by the way. She has a deformedback leg and paw. I am not sure what to do myself. I have the option to get her surgery to fix it then I am going to, but they want to know this week if I am going to have it amputated. I just dont know what to do. I too found it hard finding anything about dogs born with a deformed leg or paw. Good luck to you and God bless. Tenley is my doggies name and she is wonderful. A real angel to have in my family. I also have a dachshund named Gia. They are the best. Gia has all four legs and loves to play with her new sister. Tenley gets around even better than most dogs and she loves to play. I just worry about her getting older, the leg growing and her hip formation. I dont want her to have problems in the future.

Here and Now

Forum Posts: 11270
Member Since:
25 April 2007

Offline
Thanks for posting Amanda, please consider registering to take full advantage of these forums.
Forum Timezone:
America/Denver
Most Users Ever Online: 597
Currently Online: vohman821
57 Guest(s)
Currently Browsing this Page:
1 Guest(s)
Devices Used: Desktop (54), Phone (4)
Member Stats:
Guest Posters: 993
Members: 11808
Moderators: 2
Admins: 3
Forum Stats:
Groups: 4
Forums: 23
Topics: 14626
Posts: 205529