Join The Discussion
Learn about life on three legs in the forums below. Browse and search as a guest or register for free to take advantage of member benefits:
Instant post approval.
Private messages to members.
Subscribe to favorite topics.
Join the Live Chat and more!
Help Tripawds Everywhere!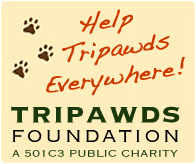 Help all amputee pets and their people with a charitable contribution to the Tripawds Foundation.
A
A
A

Forum Posts: 232
Member Since:
9 March 2010

Offline
Our bipawd is here! 
Well, actually, she's been here for a month now, but life gets crazy busy with a newborn around - who knew!

I'll spare everyone the super gory details, but little miss made her arrival on February 21st after 25 hours of labour at 12:55 am weighing 5lbs 7oz. She was just over 3 weeks early but perfectly healthy!
The dogs are doing well with her but we're still taking things super slow with Dante and Mina. Coda has been around lots of babies so she wasn't phased at all by the new arrival. Mina is totally in love but a little too over excited still - she's coming around though! Dante was a bit worrisome at first. Very excited but he would chase us while we held her and sit in expectation like he does for toys or treats, so we had to back off quite a bit and take things more slowly with him. He's doing much better now! Any interactions right now are still brief and heavily supervised and will be for a long while - you can never be too careful!
We're doing well. I had a tough go - labour was rough on me and the recovery was pretty brutal, along with some infections. But we're over that now and I feel great! It helps when you have a baby who sleeps really well at night and is probably one of the most content and easy babies ever! We're super lucky - we hit the baby jackpot for sure.
Here she is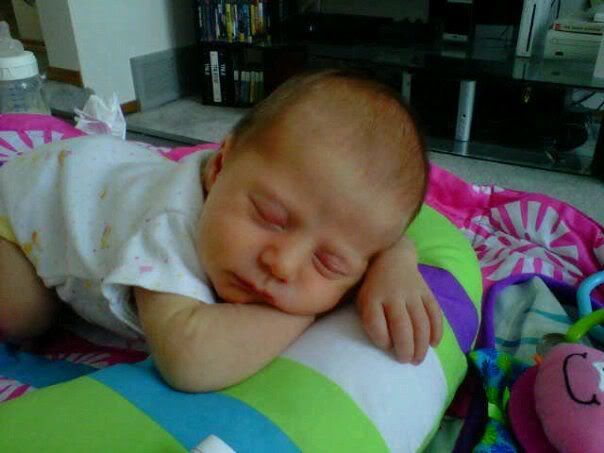 San Diego, CA
Forum Posts: 2503
Member Since:
29 October 2010

Offline
Congrats on the new bipawd! "Content and easy" sounds very good!
Congratulations again on your growing pack,
Jackie, Angel Abby's mom
Abby: Aug 1, 2009 – Jan 10, 2012. Our beautiful rescue pup lived LARGE with osteosarcoma for 15 months – half her way-too-short life. I think our "halflistic" approach (mixing traditional meds + supplements) helped her thrive. (PM me for details. I'm happy to help.) She had lung mets for over a year. They took her from us in the end, but they cannot take her spirit! She will live forever in our hearts. She loved the beach and giving kisses and going to In-N-Out for a Flying Dutchman. Tripawds blog, and a more detailed blog here. Please also check out my novel, What the Dog Ate. Now also in paperback! Purchase it at Amazon via Tripawds and help support Tripawds!

knoxville, tn
Forum Posts: 1705
Member Since:
12 February 2010

Offline
what a great addition to your family - she is so sweet.  so, did we miss what her name is???
charon & spirit gayle
Life is good, so very, very good!!! Gayle enjoyed each and every moment of each and every wonderful day (naps included).  She left this world December 12, 2011 – off on a new adventure.
Love Never Ends

New Jersey
Forum Posts: 270
Member Since:
4 June 2011

Offline

The Rainbow Bridge

Forum Posts: 23075
Member Since:
25 April 2007

Online
Beeeeeeaaaaauuuutiful! I was just thinking about you the other day and figured that this was about the time the little bi-pawd was going to show up. Congratulations!!!! 
What's her name???
Sorry you had a rough time, but heck, if you can make it through amputation recovery, you can make it through L&D! 

 Just kidding. Glad that you're both doing well. And not that you'll have all the time in the world to blog or anything, but we would love to hear more about how the fur kids adapt to the little one (and vice versa). Soooo many folks wonder about this.
Thank you so much for the update!!!


New Zealand
Forum Posts: 315
Member Since:
6 November 2011

Offline

Forum Posts: 166
Member Since:
18 January 2012

Offline

Peoria, IL
Forum Posts: 297
Member Since:
8 November 2010

Offline
Congratulations on your beautiful baby. She looks so sweet! Let's see, three dogs and one baby — you're not busy are you?
Smilin' Sammy, March 16, 2004 – Dec. 5, 2011
Golden retriever, diagnosed with osteosarcoma in September 2010 — right front leg amputated November 2010. He fought valiantly to stay with us; but a second diagnosis of osteosarcoma, this time in his left front leg, was more than our golden warrior could overcome. He loved his pack — and everyone else he met.

We loved him even more.
Thanks for the pennies, Sammy. They helped.

Las Vegas, Nevada
Forum Posts: 4344
Member Since:
14 August 2009

Offline
Simply perfect!  Congrats!!!!!
Comet - 1999 to 2011

She departed us unexpectedly  January 23, 2011 at the age of 12 1/2.

She was born with a deformed front leg and a tripawd all of her life.


Sebastopol, CA
Forum Posts: 421
Member Since:
11 June 2011

Offline
Congratulations on your beautiful new sweetie!
Well done on doing such good furkid introductions with her 🙂
Hugs & wags
Joanne & Lylee

In your heart, where I belong.
Forum Posts: 1153
Member Since:
9 February 2011

Offline
Chelsea, she's lovely! Congratulations! You have other hairless bipawds, right? I hope the whole pack is settling in nicely. And I'm breathing a big sigh of relief that you are healthy now after what sounds like a bummer of a postpartum time. Infection is a scary thing!
Our hairless bipawd granddaughter will be arriving in a few months. I have zero experience with girls, so maybe I should start quizzing you!
Congratulations again, and all the best for continued smooth, easy and content!
Shari
From abandoned puppy to Tripawd Warrior Dude, Dakota became one of the 2011 February Furballs due to STS. Our incredibly sweet friend lived with grace and dignity till he impulsively raced over the Bridge on 12-15-12.
Dakota's thoughtful and erudite blog is at http://shari.tr.....pawds.com/

WYO
Forum Posts: 732
Member Since:
10 February 2011

Offline

Forum Posts: 232
Member Since:
9 March 2010

Offline
Thank you guys! Her name is Alexi Elizabeth 

Shari, unless my fiance counts as a child (and most days he does!

) she's my first! 
I can tell you this about girls so far - at this age, they're every bit as gross as boys are

  Between little miss and Daddy (and the three dogs!), my nose is assaulted on a regular basis. 
 But, when there are pink ruffles on the assaulting bum, it's much more tolerable. I wonder if Daddy would wear pink ruffles on his bum? 
 Oh, and be forewarned - even though little girls lack the proper equipment, they can still get you when they pee during diaper changes! A lesson Dad learned pretty fast! Hehe. 
Forum Timezone:
America/Denver
Most Users Ever Online: 597
Currently Online: jerry, paws120, mom2sierra
50 Guest(s)
Currently Browsing this Page:
1 Guest(s)
Devices Used: Desktop (48), Phone (5)
Member Stats:
Guest Posters: 993
Members: 11800
Moderators: 2
Admins: 3
Forum Stats:
Groups: 4
Forums: 23
Topics: 14620
Posts: 205466