Caring for a Three Legged Dog or Cat
Tripawds is the place to learn how to care for a three legged dog or cat, with answers about dog leg amputation, and cat amputation recovery from many years of member experiences.
JUMP TO FORUMS ↓
Join The Tripawds Community
Learn how to help three legged dogs and cats in the forums below. Browse and search as a guest or register for free and get full member benefits:
Instant post approval.
Private messages to members.
Subscribe to favorite topics.
Live Chat and much more!
Find out in Be More Dog: Learning to Live in the Now by Tripawds founders Rene and Jim. Learn life lessons learned from their Chief Fun Officer Jerry G. Dawg! Get the book and find fun gifts in the Be More Dog Bookstore.
jo knap
Our beautiful Greyhound, Cornelius, had back left leg amputated 10 days ago and is doing a lot better than I expected. Swelling went down really fast. He's getting around really well. Had a furosious appetite the first few days after bringing him home.
The first week we were giving Tremadol 150 ml every 6-8 hours, as prescibed. During the days he seemed better on it than the nights, had me up with his panting. He kept asking to go out every few hours and all he wanted to do was eat grass and stand in the breeze.  So the last few days I've tried cutting it back to 100ml once or twice a day, and he's been sleeping thru the nights better without the panting. The last dose I gave him was last night at around 11PM and he slept thru the night and has been sleeping most of today.
He doesn't seem to be in pain, no panting today. Spoke to his surgeon the other day and she said it would be OK to just give it twice a day, but the 150ml dose. But to me he seems to get freaky when I give the full dose. As I said I havent' given him any today and he seems fine to me.
Any advise on how to tell if they are in pain, or if it's OK to stop giving it to him. I still have another weeks worth of pills.
Bye the way, Corn was first diagnosed with Osteosarcoma way back in August, and after months of radiographs, bone scans, ultrasounds and wearing a cast because of a fracture, we finally got GREAT new 2 days ago that it was not Osteosarcoma. It was Fibrosarcoma and his surgeon and Oncologist & pathologist all feel that the amputation was all he needed with no further chemo or radiation etc. They recommend we just do chest xrays every 3 months for the next 2 years. Finally the roller coaster ride stopped and we were all able to get off.

Columbia, MO
Member Since:
10 December 2011
Offline
My Daisy had her amp 12/9.  Prior to her surgery I was giving her tramadol twice a day for her pain along with the Deramaxx that she has been on for a while for her arthritis.
I was surprised that the vet had me just giving her the Deramaxx post surgery.  They gave her an injection of Rimadyl the day she came home.  I still had some Tramadol but they said to only give it if I felt she needed it.  She did do a lot of panting and was restless the 2nd day post op but no more after that.  I think it was mostly all the meds in her system making her act that way as she never acted like she was in much pain.  She never panted like that pre surgery so I didn't attribute the panting to her being in pain or the tramadol.  It's hard to know since they hide their pain so well.
We didn't have the restless nights like so many on here have experienced but her surgery wasn't as involved as others.  They amputated her front left leg but left her shoulder intact.
I would think if the tramadol is making him freaky I would try to start weening him off and see how he does.  There are other options for managing pain that aren't narcotic.  Maybe you could talk to your vet about that tomorrow?
Great news that it isn't OSA.  That's what my vet thought Daisy had too.  She had the characteristic lesion show on xrays.  Turns out the lesion was severe bone destruction around her elbow joint with some brown granular growth in there.
Good luck with the recovery!
Marla and Daisy
My Two Tripawds...Biscuit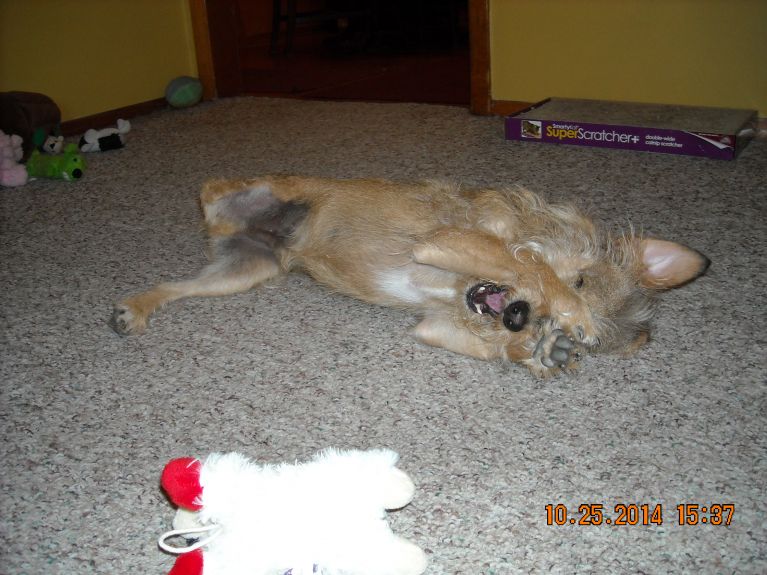 and Spirit Daisy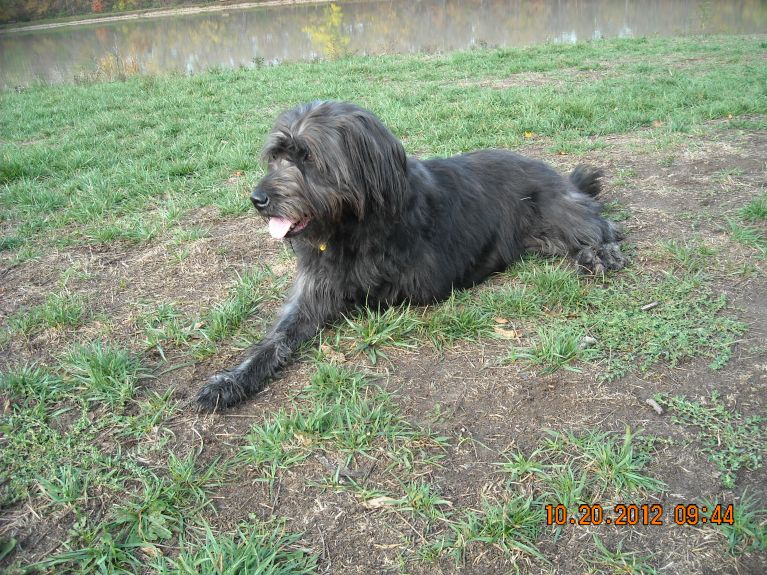 San Diego, CA
Member Since:
29 October 2010
Offline
Welcome to you and Cornelius. I know panting is a sign of pain, so if he's not panting he might be doing ok. I think we stopped Abby's tramadol around day 10 or 12. I can't remember exactly.
Congratulations on the fantastic news about the Dx!
Jackie, Angel Abby's mom
Abby: Aug 1, 2009 – Jan 10, 2012. Our beautiful rescue pup lived LARGE with osteosarcoma for 15 months – half her way-too-short life. I think our "halflistic" approach (mixing traditional meds + supplements) helped her thrive. (PM me for details. I'm happy to help.) She had lung mets for over a year. They took her from us in the end, but they cannot take her spirit! She will live forever in our hearts. She loved the beach and giving kisses and going to In-N-Out for a Flying Dutchman. Tripawds blog, and a more detailed blog here. Please also check out my novel, What the Dog Ate. Now also in paperback! Purchase it at Amazon via Tripawds and help support Tripawds!

St. Louis, MO
Member Since:
16 September 2011
Offline
Charley started have side effects with the tramadol about 3-4 days after his amp.  He was panting a lot, he had severe muscles spasms in his rear legs when laying down (front amp) and he would jump up and yelp in the middle of a nap and look really anxious and scared.  He would also just want to lay outside in the grass and not move.   The ortho surgeon said he was having dysphoria (think opposite of euphoria).  We took him off the tramadol on day 5 and kept him on Deramaxx and all of his side effects stopped.  On day 13 he got his staples out and no longer needed any pain meds or NSAIDs.   Each dog is different, but hope this helps...
Hugs and chocolate labby kisses,
Ellen & Charley
Charley's Blog:  CHOCOLATE KISSES


DOB: 3-29-08, male chocolate lab  
Dx: OSA L proximal humerus 10-19-10

Amputation: L front leg & scapula 10-28-10

Chemo: 5 rounds of Carboplatin

Video (12 weeks post amp):Tripaw Charley Playing

♥♥♥ Lots of supplements and love!!! ♥♥♥

Member Since:
8 January 2012
Offline
Great news about Cornelius' diagnosis!  I stopped giving Crystal tramadol on day 10.  When I asked the surgeon he said that the further out you get from the surgery the less effective tramadol is.  I don't know if other people have gotten that same information but he said it was fine to discontinue the tramadol.

On The Road
Member Since:
24 September 2009
Offline
Cornelius and family, welcome! We're so hoppy to hear you don't have osteosarcoma, that is wonderful.
pain management is a balancing act, most of us have to play around a bit with the dosages that work for our pup so that they're not seeing pink elephants when they're on the meds (and many, many dogs do!).
We're not vets here (well, except Tazziedog our favorite Tripawds vet who often answers here) so take this as just our own layperson's experience, but I stopped taking Tramadol between 10 and 12 days after surgery, after being gradually weaned off them. It sounds like you're doing the same thing with Cornelius.
If you search the forums for "Tramadol, Usage" you'll find lots of other examples of how others have cut back on the dosage successfully.
Again, thanks for joining us, we're so glad to have you here!

western Washington
Member Since:
7 June 2010
Offline
Yes, you want to wean off the tramadol as soon as you can.
It is a very nasty drug, withdrawl-wise. There are forums online that I found dealing with humans that are hooked and trying to get off of it.
Our Kona went through those withdrawls. Not pleasant.
They're supposed to be changing the parameters of tramadol, of it's classification, because of this.....
Congrats on how well your pup's doing.  That's fantastic !!!
Yes, keep tapering off the tramadol and be free of it.
Kona turned 9yrs on April 16, 2010.
Kona was diagnosed Memorial Weekend 2010 with osteosarcoma.
Right rear leg amputated on June 4th. First chemo June 18th 2010
Second chemo July 9th, 2010      Third and final (yea !!!) chemo July 30th, 2010
ONE TOUGH GIRL this Australian Cattledog !
***Kona's journey/fight ended late in the evening of December 22, 2010***
                               We Love you so much Kona….always   
  Bella 9yrs, albino lab/aussie shep/pit?(abandoned in mts as a puppy) deaf & blind (from birth) in one eye limited vision in other.(laid back, ok lazy 73 lbs)
Cotton, 5yrs, albino hound/terrier of somesort/???(abandoned in mts as a puppy) deaf & blind in one eye(from birth), excellent vision in seeing eye. (ball addict…destroyer of Kong balls…yes,etc), high energy 55lbs knots of muscle)
Kona Kai's pup brother and sister as well as her buddy and playmate cat, Shaymous 12yrs (like Seamus), miss her terribly.

Member Since:
14 December 2011
Offline
Good news for Cornelius!  And good for you!  Our Lucy was on tramadol before surgery and she didn't not do well with the 150mg dosage so it was lowered to 75mg.  After surgery the vet/surgeon told us we could lower to 100 mg if we felt Lucy was too "out of it" on the 150mg.  However after surgery we had her on the recommended 150mg 3x/day for 7 days and then started lowering the dosage on day 8.  By day 6 she had started panting and was very restless.  Once we started lowering the dose she was much better.  Bad thing with the tramadol, it can cause panting but pain can cause panting so it's hard to know until something changes.  Hopefully since you're on day 10 it should be safe to lower.  Lucy was also on rimadyl during this time and we thought that also affected her, made her sleepy...  
Good luck! Lowering the dosage will help with the recovery and it was amazing to see her come back to herself!
Mary, Lucy's mom
Lucy's front right leg was amputated 12/19/11. Thankfully there was no tumor, but her nerves were found to be degenerative.  Life as a tripawd is Lucy's new adventure!!
cornhound
Thanks for all the great advise!
 It's now 2 weeks (tomorrow) that Cornelius had surgery and we have completly stopped the tramadol for 72 hours now. He's sleeping thru the night (& most of the day too) and the panting and strange behavior has stopped. From what I've read here or been told by friends that have gone thru this, he seems to be doing amazing. He had a cast on for about 2 months before surgery so he's getting around really well. Tonight we took our other 2 greyts out with him for a potty walk and he was even kind of running a bit to keep up with the girls. (I of coarse was yelling at my husband to not let him walk so fast/overly protective mom that I am).
I was a bit surprised that this was the only medication that we were sent home with, no antibiotics ?? after such a bit surgery.
Now that things have settled down a bit and life feels a bit more normal, I've got more time so I'll go to the share your story forum and share our story. Thanks again, you guys are great!!!
Forum Timezone:
America/Denver
Most Users Ever Online:
946
Currently Browsing this Page:
1
Guest(s)
Member Stats:
Guest Posters: 1192
Members: 15203
Moderators: 2
Admins: 3
Forum Stats:
Groups: 4
Forums: 23
Topics: 17638
Posts: 245565
©
Simple:Press
—