Caring for a Three Legged Dog or Cat
Tripawds is the place to learn how to care for a three legged dog or cat, with answers about dog leg amputation, and cat amputation recovery from many years of member experiences.
JUMP TO FORUMS ↓
Join The Tripawds Community
Learn how to help three legged dogs and cats in the forums below. Browse and search as a guest or register for free and get full member benefits:
Instant post approval.
Private messages to members.
Subscribe to favorite topics.
Live Chat and much more!
Find out in Be More Dog: Learning to Live in the Now by Tripawds founders Rene and Jim. Learn life lessons learned from their Chief Fun Officer Jerry G. Dawg! Get the book and find fun gifts in the Be More Dog Bookstore.

Member Since:
26 August 2013
Offline
Hi all,
I am fostering a little rescue pup named Jonty and have recently been told that he will need to have his right front leg amputated due to what they think is most likely a badly healed break.
I am trying to prep for the surgery and recovery period, and have been doing my research for the last day or so.  The surgery is on Monday next week, so I have limited time to prepare. 
Can any veterans please check my understanding, and give me advice if there are things I have missed or should know?
What I think I need so far...
1. A puppy enclosure to keep Jonty secure and separate from the other dogs.
2. Some piddle pads!
3. A low, firm bed that he can get on and off of easily.
4. A t-shirt to help keep the wound protected once he is out and about.
5. A harness for walking.
6. To make sure food and water bowls are at a good, accessible height.
I would also love some advice on physical recovery - Jonty is a very active 6 month old pup.  I want to make sure he recovers well and can eventually run and play with the best of them. Are there things I can do/get/feed him to help this?  Jonty will eventually find a forever family too, but I don't want to rush this.  I know it will be different for each dog, but how long do you think he should remain with us to build up his physical strength and confidence?  I will keep him for as long as he needs.
Thanks so much - I want Jonty to be a healthy happy little dog. 

New Jersey
Member Since:
25 May 2013
Offline
Welcome to you and Jonty,
How fantastic of you to be fostering this little fellow. It's unfortunate that her has to have surgery but being young I'm sure he will do fine. They really are amazing how they adapt. We have a 9 yr old mix that had a right front amputation, for osteosarcoma, he's doing great. His surgery was at the end of May. He stayed or two nites after surgery that had 24 hr care. We had about 2-3 weeks of recoup from the surgical procedure. Some pain med adjustments, but overall he did well . It's a major surgery for him and you. Keep in communication with your vet, for any concerns. Rest when you can you'll also be tired.
Sounds like you list is well in order, we kept Snoop contained in a small space to prevent moving too much, probably with a younger fellow would be a good idea since I'm sure he will be ready to motor!
We put carpet runners everywhere for traction , to prevent falling.
Every dog recuperates differently, again since its major surgery it takes time.
He's a lucky guy for having you and you'll develop an incredible bond with him.
When he time is right to find him his forever home I'm sure you'll be making it the most perfect fit.
Good luck and jump on the chat line to talk there are always a great god to help you thru anything hey can.
Good luck with surgery. Will be looking for updates!
Esther and Snoop

Columbia, MO
Member Since:
10 December 2011
Offline
You are awesome for fostering Jonty for his surgery and recovery.  Being he is so young he will probably bounce back quite quickly.  The pen is a good idea to keep him from trying to overdo it too soon.
I wouldn't use a harness on him at least until the stitches come out as it might rub the incision.  A sling is a better option for helping him manuever around right after surgery but you probably won't need that either.  Most pups hop right out of the vets office after surgery!
The biggest thing that helped Daisy was having carpet runners so she would not slip on tile or wood.  It was funny because she avoided them at first till she figured out she had better traction on them.  Now she won't move around the house without walking on them.
Good luck with the surgery and let us know how it went.
Marla and Daisy
My Two Tripawds...Biscuit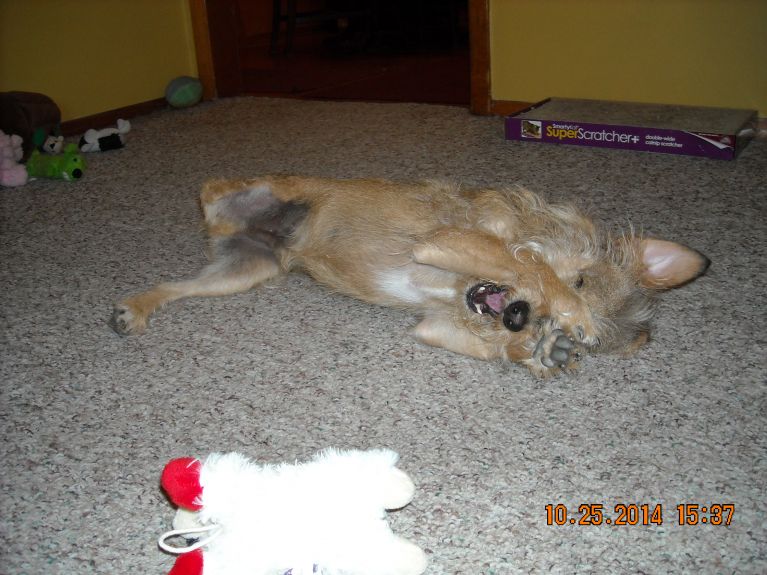 and Spirit Daisy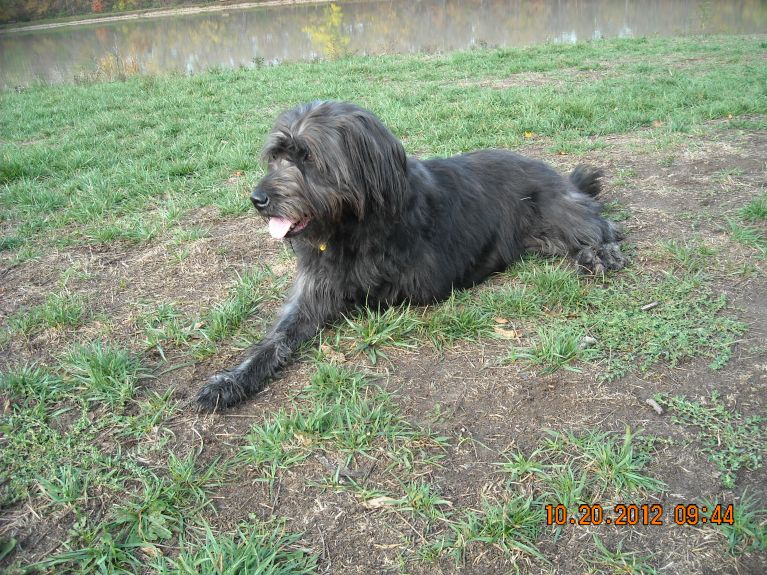 On The Road
Member Since:
24 September 2009
Offline
Jonty and family welcome! My apologies for the delay in welcoming you, I approved your post from my phone and forgot to follow up later when it was easier for me to type on my laptop! Just so you know your future posts won't need approval.
Well Jonty is just ADORABLE! Do you think you'll be a "foster failure"? 'Cause I know I would! How did he get his name? I need to hop over to your blog and check it out, not sure if you explained that there.
Anyhow, to me it looks like Jonty has some German Shepherd in him, which is a big plus. Because I've never met a Shepherd who couldn't handle the recovery and bounce right back!
I think you have the basics down, it sounds to me like you checked out Jerry's Required Reading List ? Our ebook, Three Legs & a Spare also has lots of tips.
As you mentioned, the biggest challenge will be keeping him calm so he can recuperate. Puppies are a challenge during the recovery period, there's not doubt about that. You'll need to find mind games and activities to play with him (check out the Tripawds Amazon Blog and Tripawds Gear Blog for suggestions, just search for "games").
As for nutritional needs, he has needs just like any other young dog. We have heard some rehab vets tell us not to give supplements like glucosamine until there is a problem, while others recommend starting Tripawds as soon as possible on joint supplements. You'll need to work with your vet to decide what's right for him.
One challenge I can think that you should be aware of (about the only major one) is that as a puppy, he is still learning coordination, so he may have additional challenges with adjusting to life on 3, but it's nothing he can't overcome. If there is any way at all you can get him into canine rehabilitation therapy with a veterinarian practitioner, I highly recommend it.
Jonty is going to grow up to live a great life. We have had too many puppies here to count that had amputations at young ages and did great. Tripawds Spokesdog Wyatt Ray had his amp at 8 months and he's doing pawesome. IF you do adopt him out, you'll need to emphasize to the new pawrents how important it is to regulate his activity and keep him lean and fit in order to avoid joint stress. Our ebook Loving Life on Three Legs is all about living a good life after amputation for as long as possible.
We are here to help however we can so please keep us posted OK?

New Haven, CT
Member Since:
27 December 2012
Offline
Hi! Welcome!  And to such a cutie!  My thoughts are: we didn't buy a new bed for Jackson.  Instead, we busted out all the dog beds we had and old comforters.  Some pups are particular about their bedding and we didn't want to try a slew of beds, just for him to reject them.  His favorite thing?  This old, huge, down, king comforter!  It was his favorite.  And it's still out today.  We also had a comfy cone for him, so that sleeping was a bit more easy.  You may be able to get away with a tshirt or an inflatable ring, rather than the damn cone.  I was able to be home with Jackson during his recovery period, so he rarely wore the cone.  Because he lost a limb and would need to build new muscles, for at least the first 4 months post-amp, he got protein toppers on his kibble.  Boiled chicken!  This could also be good for a puppy - a growing puppy.  As you've been reading, there are ups and downs and sometimes the downs are pretty ugly.  There may be depression or disinterest in eating.  Try new foods!  Bring over a special person to him one day to really get him happy and focused on something else.  pain management and drugs are also problematic.  The whole 2 weeks post-amp are toughest and full of trials, optimizations, and ups/down.  Roll with them!  Be positive!  He'll return better than ever!  Promise.
Lastly, when Jackson would bump his stump, he'd freak.  I'd run over there, and cup his stump.  I think his nerves, newly severed, were firing all over the place with nothing to do.  Putting a little pressure on his stump calmed those nerves and him.
He'll do GREAT!
~ Katy & Jackson
ACL tear in right hind leg 12/5/12 and scheduled ACL repair surgery 12/21/12. Pre-op xrays revealed osteosarcoma. Amputation 12/28/12.  Chemo (carboplatin) started Jan 10, 2013 and ended on April 5, for a total of 5 doses. He handled carbo like a champ!  No side effects.  We started metronomic therapy at his third chemo and have been also doing some holistic treatments.  He's a lively, playful 10 year old huskie-boarder collie and a very proud member of the Winter Warriors!  Our love. Our funny little guy!
Forum Timezone:
America/Denver
Most Users Ever Online:
946
Currently Browsing this Page:
1
Guest(s)
Member Stats:
Guest Posters: 1193
Members: 15211
Moderators: 2
Admins: 3
Forum Stats:
Groups: 4
Forums: 23
Topics: 17640
Posts: 245628
©
Simple:Press
—