Join The Discussion
Learn about life on three legs in the forums below. Browse and search as a guest or register for free to take advantage of member benefits:
Instant post approval.
Private messages to members.
Subscribe to favorite topics.
Join the Live Chat and more!
Tripawd Heroes Book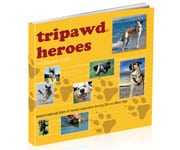 Tripawd Heroes books feature inspirational stories and photos of dogs loving life on three legs!
A
A
A

Arizona
Forum Posts: 696
Member Since:
28 September 2009

Offline
Today is day 8 post op, my question is I am still on my pain meds, I take a total of 250mg of Tramadol a day and 150 mg Rimadyl, day 4 and 5 I had to increase the Tramadol by 100mg they were very painful days for me, I have been better since those two days and back to the lower dose. I no all dogs are different but I was wondering how many of you were still on your pain meds and when did you feel good enough not to need them anymore? I guess since I am asking, I am still quite swollen on my chest and very bruised how long until this will go away as well. Thank you in advance for the answers, there are just soooo many unknowns to all this!
Tasha 8 years old, First cancer diagnosis 6/26/09, Last cancer diagnosis 9/26/09, Amputation 10/01/09, Loving our girl moment by moment.
Tasha lost her battle and became my Angel on May 4 2011. Forever in my heart….

Forum Posts: 1216
Member Since:
20 May 2009

Offline
I don't remember how long Emily has on pain meds but she did not have bruising and swelling or draining like a lot of dogs do. I know that we all want to find out what is "normal" but like you said all dogs are different. It doesn't sound like Tasha's meds are unusual though. Sending good thoughts and prayers.
Debra & Emily
Debra & Emily, a five year old doberman mix, who was diagnosed with an osteosaecoma. She had a right rear leg amputation on May 19, 2009. On November 10, 2009 she earned her wings and regained her fourth leg.

Here and Now

Forum Posts: 11460
Member Since:
25 April 2007

Offline
We reduced Jerry's pain meds after about two weeks, about the same time his swelling and bruising diminished. Though we did have the vet drain his seroma fluid build-up once. He was totally off the meds in about three weeks.
The bottom line is, trust your vets advice but ween off those meds as soon as possible. And whatever you do, don't mistake whining or pacing as indicative of excessive pain and over-medicate. Such symptoms are often side effects from the meds which can make dogs pretty loopy.

Forum Posts: 930
Member Since:
26 November 2008

Offline
Cherry did not respond well to the pain meds in general and Tramadol was the worst. We removed the Tramadol on the third day, and she settled much better. While taking the Tramadol, she would have uncontroled convulsions. However, they quickly disappeared after removing the Tramadol. Cherry was off all the pain meds by the one week mark. However, it should be noted that Cherry did much better whenever the chemicals were gone from her body. (pain killers, chemotherapy, anti-nausea, appetite stimulants and others). I will state that while there were many side effects with these chemicals, they do have a purpose and are needed. Like the appetite stimulant can cause them to be a little dizzy. We needed Cherry to eat even if it did make her a little less steady on her feet. It is much like a devil's trade.
Also, Cherry really did not have any significant swelling, bruising, or drainage. This may be due, in part, to the fact that she felt so bad with the chemotherapy and we were so overly protective that she definately did not over exercise. Our companions do respond so differently, which is one of the great reasons to have so many contributing. Jerry is totally right (as usual) trust your vet and your own feelings. Log all you see and note, discuss this with your vet, and then move forward. At only eight days, many of the symptoms you discuss are not uncommon.
Crossed Paws and Nothing But Pawsitive Thoughts Your Way,
Bob & Cherry

Forum Posts: 32
Member Since:
30 September 2009

Offline
Hi Tasha and Erin,
Polo is on day 10. Initially he was on Tramadol, 50mg tab, 1 or 2 tabs every 12 hours and Rimadyl 100mg tabs, 2 tabs twice a day. Our Doc told us to give him an additional Tramadol as needed for pain, which we did when he seemed more uncomfortable. He still gets one of each 2 times a day (when he eats, morning and evening). He no longer needs additional and I think he's ready to stop. We see the Doc again next Tuesday to remove stiches. He's been on them for a while–as everyone has.
We hope Tasha is doing well Polo and Mike
Polo Jones, Golden Retriever, Shalimar FL

Northern Indiana
Forum Posts: 356
Member Since:
15 January 2009

Offline
I looked back to my original post on Tripawds on Jan 15th. Paris was on "Tramadol 50mg 3 tabs every 5 hours, Rimadyl 75 mg twice daily and Gabapentin 200mg three times a day" She was 10 days post op and had started crying out all night long and often during the day. For her we realized that it was the meds doing that to her. We began weaning her off everything and she was a different dog within a few days.
Yes, every dog is different, and they all react differently, you see we have many stories.
Follow your instincts, your pup will let you know if she has too much or not enough. Give Tasha lots of love and she will grow strong and heal. We all send you our support, hang in there!
Gineej & Paris
Grateful for every moment we had with Paris…..no regrets!
Honoring her life by opening our hearts & home to Addy!

Oregon
Forum Posts: 198
Member Since:
19 September 2009

Offline
Shilo didn't handle the meds well at all either. They took her off all meds at day 5 mostly because she completely rufused to eat or drink at all. She started out eating little and dwindled to nothing in a couple days. When they took her off the meds we felt she was doing much better. I think she was a bit sore but her overall attitude was much better so we just kept an eye on her. She stayed pretty swollen up to a few days before her staples were removed. I even took her in once thinking maybe they needed to drain it but, they thought it looked fine. (Mom was just being a worry wart).
Anyway like many others have said it really is an individual dog thing, just trust you insticts you know Tasha better then anyone. Sending good thoughts your way.
Alisa & Shilo
Shilo diagnosed with osteosarcoma 9/4/2009, amputation 9/9/2009. ShiloAnne lost her battle 11/23/2009 where she regained her fourth leg and is patiently waiting for her parents to join her. We will always love you baby girl.
Storm
Hi everyone,
I thought I would make a post as I am amazed at how different Koda's pain relief was to what I have been reading. I don't know if here in Australia they use a different concoction of pain releif.
When I picked Koda up the vet gave me a pain releif drug called Ilium Meloxicam. I imagine Koda would have been on something stronger over night but this is what she gave me when I picked him up. He did not have a path or any tablets, no Rimadyl or Tramadol. Just the Ilium Meloxicam and I checked with her twice as he only needed 2.5mls once a day with food (1ml/15kgs (33lb) body weight).
This medication is a NSAID. It must have worked (at least I am hoping it was adequate pain relief) as Koda did not at all seem in any pain, I think he yelped once when he knocked the amp site, and he did not seem 'drugged out 'and 'out of it' as some people have commented. I know all dogs react differently however some of you have commented that they think the pain relief knocks the dog around just as much. He seemed to be very comfortable most of the time. He seemed to cope really well with the amp and this pain medication he was on. I think he stayed on it for 10 days and then I halved it for a couple of days and then nothing at all.
I was keeping a close eye on him the whole time as 2.5mls once a day seems hardly anything and I think I asked the vet the next day also when she rang to check how he was doing and she said I was doing it right.
Oh and it didn't seem to affect his apetite but he is a labrador and I don't think anything would affect that.
Has any one else been prescribed this medication post amp?
Storm and Koda:)

Here and Now

Forum Posts: 11460
Member Since:
25 April 2007

Offline
Storm said:
I thought I would make a post as I am amazed at how different Koda's pain relief was to what I have been reading.
---
Thanks for sharing Koda's story. Please consider starting a new topic so members can follow his progress, like rubyaz has done with this topic for Tasha.

Winnipeg
Forum Posts: 1349
Member Since:
13 July 2009

Offline

I didn't know Koda was a lab. Somehow I pictured him completely different.
Storm: Meloxicam is Metacam (not sure how it works but Metacam is the product as labeled for dogs, whereas meloxicam is the drug name or something like that), which many of us have used. Tazzie and many other tripawds, from what I have read here, were dosed with metacam once per day plus tramadol. And some use NSAIDs like Rimadyl instead of metacam.
Tasha: At first Tazzie was to be weaned off tramadol at day 5 (for some weird reason, the surgeon did not think he would be in pain once he left their clinic!). He seemed kind of painful when I cut back on the tramadol so we continued for nearly the two week period preceding chemo. We lowered the dose the last 5-7 days. At the high, we used 2 x 100 mg pills or 3-4 x 50 mg. But we were told that we could give 3 x 100 mg pills, so your dosage is in line with that. When we were going through your stage, it seemed as though most dogs stayed on tramadol for 2 weeks.
Lots of us used meloxicam (metacam) for long term pain control or as part of metronomics .
Tazzie's bruising and pain became bad around day 3, the day after he came home. I'm not sure when it cleared up but at least by day 10/11. The bright purple bruise was pretty colorful on his light skin! Not sure what it would look like on a dog with dark skin. Can you even see it?
Susan & Tazzie 2

Forum Posts: 32
Member Since:
30 September 2009

Offline
Storm,
Some argue that usig pain killers and NSAIDs together doesn't work or slows the healing process. Some probably opt for one or the other. I bet a Yellow Lab in Australia is pretty tough and might not need as much pain management as someone else. American medicine is less hardy (I reckon) than some other parts of the world. A little pain is good–I wish our pups coud tell us what they feel. Sometimes I can tell when Polo is hurting, but he has a strong will so most of the time I really don't know.
Polo and Mike
Polo Jones, Golden Retriever, Shalimar FL
Forum Timezone:
America/Denver
Most Users Ever Online: 597
Currently Online: jessiemurrenus, Bear
46 Guest(s)
Currently Browsing this Page:
1 Guest(s)
Devices Used: Desktop (44), Phone (4)
Member Stats:
Guest Posters: 1005
Members: 12757
Moderators: 2
Admins: 3
Forum Stats:
Groups: 4
Forums: 23
Topics: 15023
Posts: 211539