Join The Discussion
Learn about life on three legs in the forums below. Browse and search as a guest or register for free to take advantage of member benefits:
Instant post approval.
Private messages to members.
Subscribe to favorite topics.
Join the Live Chat and more!
Dog Cancer Survival Kit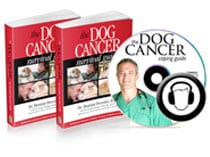 Dr. Dressler's Dog Cancer Kit includes everything to help your dog fight cancer!
A
A
A

Forum Posts: 2
Member Since:
6 October 2017

Offline
Cody, my 80lb shepherd-mix had his front right leg amputated Friday 10/13 due to suspected osteosarcoma.
He stayed overnight at my vets office under IV pain meds and we picked him up noon, Saturday.
 Pre-surgery he was taking Gabapentin 300mg & Carprofen 75mg – both 2x day for pain.
Post surgery, he continued with same dose of Gabapentin & Carprofen, but also started Tramadol 150mg & Cephalexin 1000mg  (also 2x day.)
Today, day 5 post-op, he visited the vet. Vet is very happy with his progress. He's eating, drinking, peeing, pooping.  Incision is nice and clean, no signs of infection or seepage. My dog doesn't appear to be in any real pain…. is hopping all over the place, even jumped in the back of my SUV for the ride there.
He is taking him off everything but the Carprofen and Cephalexin (antibiotic)
Doesn't it seem too soon to stop Gaba & Tramadol?  Also, he wants to see him Saturday to remove the Staples. Am I crazy for thinking this is moving too fast! I expected several weeks of downtime with him but he's rocking these three legs like its no big deal.

Here and Now

Forum Posts: 11425
Member Since:
25 April 2007

Offline
Welcome and best wishes for Cody!
Yes, it is too soon – for him to be jumping around! Keep any jumping to a minimum to help prevent injury to remaining limbs. There are many helpful strengthening exercises you can work on to prevent further injury once he has completely healed. There are also some great SUV pet steps available in the Tripawds Gear blog .
Regarding the pain meds… every dog is different but they are all very good at hiding their pain. And recovery is a roller coaster ride! While 5 days is a bit earlier than we see most dogs weened off the meds, please consult your vet with any serious concerns. There are AAHA guidelines for pain management, is it an AHAA accredited clinic? There are also ways to tell if your pet is in pain – many new members don't realize some of the symptoms. You'll find many more pain management posts in the Tripawds News blog .
While you wait for comments from others, use the Advanced Search above to refine your forum search results with specific phrases, and you're sure to find lots of helpful feedback. You can also search all blogs here . Or, consider downloading the Tripawds e-books for fast answers to common concerns and feel free to call the toll-free Tripawds Helpline anytime!
Please keep us posted, your future forum posts will not require moderation.

Virginia


Forum Posts: 16362
Member Since:
22 February 2013

Online
Yep, ditto the Admjn Guy!   It does seem a little too soon to stop the pain meds.  It is MAJOR SURGERY!  Most dogs here are kn them for about two weeks, and some longer.  As noted, dogs are very stoic and hide their lain very well.  My Happy Hannah was in pain meds for abput three weeks, although I was reducing the amou ts.  She had her stitches in for fourteen days.  So maybe talk with yiur Vet about a reduce as opposed to stopping all.pain meds at once.
Sloooow and easy Mr Cody!!   Sounds like you are having a remarkable recovery! 🙂
Keep us lpsted on MR ROCK STAR CODY! 🙂
Hugs
Sally and Alumni Happy Hannah and Merry Myrtle and Frankie too!
Happy Hannah had a glorious additional bonus time of over one yr & two months after amp for osteo! She made me laugh everyday! Joined April's Angels after send off meal of steak, ice cream, M&Ms & deer poop!

Forum Posts: 83
Member Since:
3 July 2017

Offline
It sounds like Cody's pawsitive energy is spreading to his vet! He is clearly thriving on three, but a lot of Tripawds have a temporary "crash" toward the end of the first week, once all the anesthesia has cleared and soreness from overexertion sets in. It's helpful to have a steady level of meds in their systems to minimize that phenomenon. That said, do talk to your vet! Loki's vet didn't feel strongly about him taking Gabapentin, but he was agreeable once we discussed it and I offered evidence for its use (still on it months later!). Keep us updated on Cody, and try to keep that boy under control at least until his incision is healed!
Hugs and puppy kisses, 
Brittnie and Loki 
🐾 I'm  Loki, the cutest guy around! 🐶
 I've been a tripawd since July 10, 2017, when I rid my life of a hemangiopericytoma! My mom, Brittnie, does most of the typing, so say hi to us both any time!

Schofield, WI
Forum Posts: 1411
Member Since:
13 August 2015

Offline
I agree with the others.  Don't want a post surgery slump because of pain.  Also NO jumping!  Those new tripawd muscles aren't used to a lot yet slow and steady will win this race.  Very easy to injure the remaining leg at this point so maybe focus on some core building exercises for now that will help.  I did a search here on the site and got some great ones.  Hugs!  Glad to hear Cody's rocking three though!

Forum Posts: 2
Member Since:
6 October 2017

Offline
I just wanted to send a quick note to thank everyone for their responses.  I did express my concerns to the vet about withdrawing pain meds a little soon, and he increased the carprofen dose as well as prescribed something for an upset stomach.  That additional/higher  dose of carprofen really seemed to do the trick.  Cody was immediately back to his spunky self.  And the vet also did a very thorough job when removing the staples to ensure that the incision had fully healed, which it had.  I think since he left the area alone it just healed quick!  I found myself last week just letting Cody be Cody, not having to watch his every move.  He's enjoying the spoiling and extra time we're giving him outside on the patio or laying in the grass.
We did finally hear the news that we were dreading, yet expecting. The pathology report came back on his leg, confirmed for osteosarcoma. The cancer cells extended up to the end of the sample the vet submitted, which was not the entire leg, but he said he provided very large margins (and the tumor was just above the wrist joint.)   The only upside is there was no activity detected in the lymph nodes provided.  We just don't have the money to do cancer treatments. Our goal was to take away the pain he must have been feeling with a nearly broken leg, and we definitely have.  He's living life on three legs.  No regrets, but just sad to know we may only have him with us a few months since no chemo.
I wanted to express my gratitude, these forums and blogs helped me navigate a very scary time in our life!

The Rainbow Bridge

Forum Posts: 23768
Member Since:
25 April 2007

Offline
Cody's making a terrific recovery overall, this is great news. And you are handling it so well too. Letting our Jerry be a dog was our philosophy as well, and I stopped panicking over every thing he did. There are times when you do have to be a little more cautious than before to ensure they don't get injured, and it's an art that you'll learn over time. Keep doing what you're doing and you'll get there.
I'm sorry about the biopsy results. But rest assured, even dogs who have osteo and don't go through chemo can beat those odds. The disease is a crap shoot. Our Jerry didn't have chemo either and he lived two years! So please don't beat yourself up because you aren't doing it. The most important thing is that you aren't getting stressed out over paying for it, and that makes Cody happy. Being at peace with your decision is the best medicine in the world for him!
Keep us posted on how things are going and give him lots of smooches and belly rubs from us!

Minneapolis, MN
Forum Posts: 676
Member Since:
23 April 2016

Offline

Your Cody's recovery was so much like my boy's.  Pofi ALSO had been on Gabapentin and Carprofen (and also Tramadol) prior to amputation and I do think that proactive approach to pain can make a world of difference in how they feel.  That being said, do be mindful and help him pace himself. Pofi was incredibly stubborn and we pushed boundaries in a way that might not be wise, but he was so stubborn, so I stuck close to his side to aid him and slowed him down.
Lisa, Minneapolis
On October 27, 2016, nearly 6 months after amputation, and 18 months since his cancer likely started, we lost Pofi to a recurrence of Soft Tissue Sarcoma in his spine quite suddenly.  His Daddy and I miss him terribly along with his canine sister, Mia, and two feline siblings, Lucia and Cliff.
Forum Timezone:
America/Denver
Most Users Ever Online: 597
Currently Online: benny55, howard, joni
89 Guest(s)
Currently Browsing this Page:
1 Guest(s)
Devices Used: Desktop (79), Phone (12), Tablet (1)
Member Stats:
Guest Posters: 1005
Members: 12574
Moderators: 2
Admins: 3
Forum Stats:
Groups: 4
Forums: 23
Topics: 14963
Posts: 210679