Join The Discussion
Learn about life on three legs in the forums below. Browse and search as a guest or register for free to take advantage of member benefits:
Instant post approval.
Private messages to members.
Subscribe to favorite topics.
Join the Live Chat and more!
Help Tripawds Everywhere!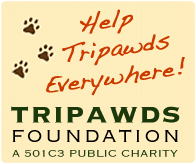 Help all amputee pets and their people with a charitable contribution to the Tripawds Foundation.
A
A
A

New Haven, CT
Forum Posts: 1193
Member Since:
27 December 2012

Offline
OK, folks, we want to have the most fruitful conversation regarding Jackson's treatment with our oncologist tomorrow.  He is a right rear amputee b/c of osteosarcoma.  8 years old, strong, and young!  60lb huskie/boarder collie.  We are open to all kinds of treatments: eastern, western, holistic, etc. 
What questions did you ask that you're glad you did? 
What questions did you find yourself asking at a later date that would have helped to know earlier on? 
Post 'em here!  Thanks.
ACL tear in right hind leg 12/5/12 and scheduled ACL repair surgery 12/21/12. Pre-op xrays revealed osteosarcoma. Amputation 12/28/12.  Chemo (carboplatin) started Jan 10, 2013 and ended on April 5, for a total of 5 doses. He handled carbo like a champ!  No side effects.  We started metronomic therapy at his third chemo and have been also doing some holistic treatments.  He's a lively, playful 10 year old huskie-boarder collie and a very proud member of the Winter Warriors!  Our love. Our funny little guy!

New York, NY
Forum Posts: 1412
Member Since:
3 December 2012

Offline

wow we are almost on the same schedule!
It was important for me to know about timing (because I work) of the treatments and I needed to be able to drop her off and pick her up after work.  Also, I wanted to know how many treatments, what kind of chemo (really only so I could ask about people's experiences here, otherwise, I would have no idea what carboplatin, etc even is! lol).
I also wanted to know about side effects, when I should expect to see them and what side effects I needed to let them know about if I do see them.  Also, I don't know if you have any other pets, but I asked about keeping my other cat away from the same litter box, I think some vets opinions vary on that.

The Rainbow Bridge

Forum Posts: 23910
Member Since:
25 April 2007

Offline
In the Dog Cancer Survival Guide, Dr. Dressler recommends asking these questions:
What do you expect to happen as a result of the treatments you recommend? What is the best possible outcome?
 What is the worst? How likely is either of those to happen?
If this treatment works, how much time do you think it will gain us?
If this treatment works, how much quality of life do you think it will gain us?
What are the odds this treatment will not work?
Why are you recommending this treatment? Are there negatives is using this?
What is the probably outcome if we decline this treatment?
Are there other treatment options, and what are the positives and negatives about each one?
Do you have any written material I can take home to read?
How long will this treatment last? How often do I have to come in?
Do I stay with my dog during the treatment, or do I have to leave him with you?
Does my dog need sedation or any other medications during treatment?
Is this treatment uncomfortable in any way for my dog?
Is there any special care I need to give after this treatment? Do I need to be home the rest of the day? The next?
Are there any supplies or over the counter medications I will need at home for after-treatment care?
What are the side effects of this treatment? How often do they occur? What do they look like?
How do I know if a side effect is severe enough to warrant calling you for emergency care? How likely is that?
What do I need to prepare my dog for this treatment?
How do dogs normally feel after this treatment? Immediately afterward? In the days that follow? When do they feel normal again?
Are there any foods, supplements or anything else to avoid before or after the treatment?
Are there any new treatments or clinical trials to consider?
How much does this treatment cost? Is the cost mostly up front or spread out over time?
Does my dog have any other (non-cancer) health issues that limit our treatment choices or may affect her outcome?
Does my dog have any other (non-cancer) health issues that may affect her life quality?
If I have a limited budget, which treatment or treatments are my first priority?

krun15
I would ask for all my options, including doing nothing to the 'biggest guns'. 
Understand what treatment days entail, how long will Jackson be there for each treatment?  Maggie was at the vet almost all day for each treatment she had (it was a different regimen for mast cell cancer). Is your oncologist close?  I was able to set up some of the blood work with my local vet who is in the same town.  Our oncologist wasn't too far away, but with Bay Area traffic it could be an hour one way.  Once I dropped Mag off and her WBC was too low for treatment and I had to go back and get her- missing a half day of work.
Ask about any supplements you want to try or are using and if they will be OK with the chemo. If you are thinking about a diet change ask about that- our oncologist didn't want any significant changes during treatment.
Know what paperwork you need to do each visit- our oncologist wanted an update form filled out each visit, how was she feeling, food intake, etc, and all the meds she was on.  I took a stack of the update forms home with me and filled them out before I took her in, and they let me staple a list of meds and frequencies to the form.
It's really important to know what side effects are really bad and when you need to call the vet.  I had to take Mag's temp periodically and had strict orders to call if her temp exceeded 102.5.  I was never told to keep my other pug away from Mag's pee or poop, but that does make some sense.
Also- take a note pad and don't feel silly writing things down.  There are lots of big, new words and it is hard to remember everything. 
Good luck tomorrow.
Karen and the pugapalooza

New York, NY
Forum Posts: 1412
Member Since:
3 December 2012

Offline

Hi All,
I also wanted to share this article that was written by Jill's oncologist about 6 questions to ask YOURSELF, I found it to be helpful, she sent it to me after Jill's diagnosis (there's also a link in there about 10 questions to ask your vet).

The Rainbow Bridge

Forum Posts: 23910
Member Since:
25 April 2007

Offline
Cool, thanks for sharing!

Forum Posts: 11
Member Since:
11 April 2013

Offline
Thanks for the great information!!! Very Helpful!
Ilene & Harley
Forum Timezone:
America/Denver
Most Users Ever Online: 597
Currently Online: maniacmads, sebastiandoodle, beasleyk5
49 Guest(s)
Currently Browsing this Page:
1 Guest(s)
Devices Used: Desktop (49), Phone (3)
Member Stats:
Guest Posters: 1005
Members: 12752
Moderators: 2
Admins: 3
Forum Stats:
Groups: 4
Forums: 23
Topics: 15020
Posts: 211439