Caring for a Three Legged Dog or Cat
Tripawds is the place to learn how to care for a three legged dog or cat, with answers about dog leg amputation, and cat amputation recovery from many years of member experiences.
JUMP TO FORUMS ↓
Join The Tripawds Community
Learn how to help three legged dogs and cats in the forums below. Browse and search as a guest or register for free and get full member benefits:
Instant post approval.
Private messages to members.
Subscribe to favorite topics.
Live Chat and much more!
Find out in Be More Dog: Learning to Live in the Now by Tripawds founders Rene and Jim. Learn life lessons learned from their Chief Fun Officer Jerry G. Dawg! Get the book and find fun gifts in the Be More Dog Bookstore.
Well, we were told on Feb 23rd by our regular vet that he thought Cookie had Osteosarcoma.  One week later the doctors at CSU agreed and cookie had his right front leg amputated. 
Cookie is a 8 year old big, sweet, lover-dog.  He thinks he is a 100lb lap dog, he hates the wind, and protests going outside if the temp is less than 70deg. He gives kisses and hugs to everyone that visits.  Because he has been such a wonderful dog, that is why we, as a family, decided to pursue treatment.  He will probably start Chemo next week.
We are now 7 days post-op and adjusting to life with a tripod dog.  He was quite perky the first 2 days at home, then he slowed waaaaaay down.  Seems almost harder each day to get him to go outside, he doesn't want to do anything.  He is still on Tramadol, but I've cut it back to 2x/day from 3x/day and plan to have him off of it in a couple days if possible.  He still gets Meticam daily as well.  I'm not really worried, but was just wondering if this is what you have seen with your dogs right after surgery.  He seems depressed.
karenk said:
We are now 7 days post-op...  He seems depressed.
It is still very early on Cookie's rollercoaster ride to complete recovery. What he needs most is rest, and what you view as depression is likely just him still being doped up and tired while adjusting to life on three legs.
Welcome and thanks for joining, your future forum posts will not require moderation. You'll find lots of recovery advice and care tips in Jerry's Required Reading List. For immediate answers to the most common dog amputation questions download the Tripawds e-book Three Legs and A Spare.

Member Since:
24 February 2012
Offline

Columbia, MO
Member Since:
10 December 2011
Offline
Welcome Cookie and Pack!  Daisy had a post op "funk".  I believe it was just her body trying to heal.  She slept ALOT and I couldn't hardly get her off the couch to go out and do her business.  I delivered her water and meals to her on the couch as she wouldn't get up to eat either.  By week four she was pretty much back to her normal self.  Only pain meds I gave her was her Deramaxx which she was already taking for her arthritis.  I had tramadol on hand just in case but didn't feel she really needed it.  Your recovery sounds pretty normal so far.
Good luck!
Marla and Daisy
My Two Tripawds...Biscuit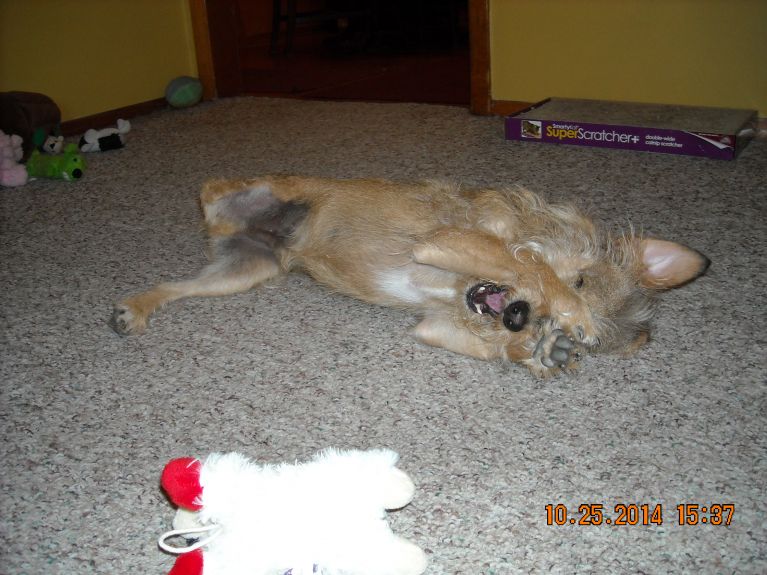 and Spirit Daisy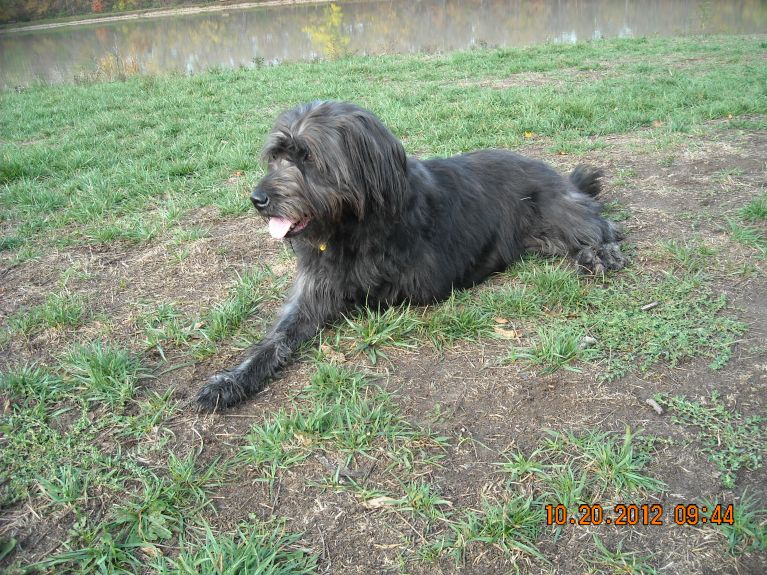 Rock Hill, SC
Member Since:
28 November 2011
Offline
Welcome!  What a beautiful dog!
Zeus' energy level also varied during the first few weeks.  He's an older dog, so he didn't recovery quite as quickly as some of the younger ones and we didn't truly see his "normal" until about one month after the amp.  It didn't help any that he strained his back one week after the amp and that made him even more hesitant to move around.
The meds can really do a number on their energy level and personality, so you will likely see a big change once he is off of those.  Each dog is different in their recovery, but I'm sure that Cookie will do fine!
Good luck!
Lisa and Zeus
Zeus was a Husky mix diagnosed with Osteosarcoma at age 11.  A visible lung met and suspicious spot on his liver meant a poor prognosis-six weeks was our vet's best guess. We decided to fight for our boy and his right front leg was amputated on 12/1/11. We did six rounds of chemo, changed his diet and spoiled him completely rotten. We were blessed with 10 great months after diagnosis. Against the odds, the lung met remained a single met and grew very little over those months. A wonderful furbaby with the most gentle spirit, he fought with a strength that we never imagined he possessed. We have no regrets...
http://zeuspod......pawds.com/
Cookie, we're so sorry you lost your leg to that nasty cancer, but we're glad your surgery went well and you're on the road to recovery. 
Try not to worry Ma, he probably just needs time. Seven days is nothing. Usually after 2 or 3 weeks a new Tripawd starts feeling good again. If there is anything abnormal about his recovery, the good peeps at CSU will find it. You can't ask for a better vet school, CSU rocks! We know from firsthand experience, as our Tripawds Spokespup Wyatt had surgery there last year. 
While he's recuperating, be sure to spend time reviewing these videos about canine animal rehab care for Tripawds. Working with him to help him get stronger will help pass the recovery time and turn him into a super strong Tripawd. 
Are you in Fort Collins proper? We have another member there who's husband is debating amputation right now for their German Shepherd, and I'm sure that they would love to meet up with another Tripawds member. 
We're so glad you found us, thanks for joining!
krun15
Welcome to Tripawds.
Cookie and quad-pug Obie must be related somehow.... Obie is not an 'all weather' pug at all, and I have a picture of him of in what looks like the same chair in your avatar.  Of course there is a slight size difference!
But I digress...
From what I have seen here Cookie's recovery sounds pretty typical.  Often they come home from the hospital seeming ready to go, go, go, then hit a wall.  Could be the meds, the tiredness from the new hop, learning balance, etc.  This was a major surgery- I'm always amazed how fast our pups cope. The average around here seems to be about 2 weeks of ups and downs, the turn around often corresponds to the sutures or staples coming out. 
If Cookie is really sensitive, or set in his ways he may take a bit longer to adjust.  Tri-pug Maggie did not seem happy for more than 4 weeks... but she was an obstinate pug who HATED any little change to her routine- and the amp was a big change.  But she came around and thrived as a tripawd.  But I will say- at the beginning I was definitely doubting my decision to amputate.  The vet said dogs do fine on 3 legs, and when Maggie was struggling I was really thinking I did the wrong thing (no Tripawds then!). 
Of course if you get worried or have questions don't hesitate to call your vet. 
Karen and the pugapalooza
Welcome Cookie! I love Pitbull's. My sister has one named Ace and he is so sweet. He is about the same color as Cookie. What you described with Cookie's recovery sounds completely normal. I had the same experience with my Great Dane Valentina. All she did was sleep and sleep and she really didn't want to get up at all. It definitely takes some coaxing to get them up to go out and stuff. The amount of time that they are like this varies with each Dog but after a few weeks he should be starting to get back to his normal self. He does need lots of sleep so don't worry about that. The meds make them more tired also. It's kind of good when they sleep alot too because if they are up and running around they could do something to their incision or slip and fall because they aren't used to having 3 legs quite yet. He probably will slip some at first while adjusting. He will have to build up his muscles to help hold up his new Tripawd body so his muscles may get easily fatigued at first but he will quickly bounce back and he'll be back to his old antics. Hoping for a super speedy recovery for Cookie. Happy that you will get some extra time with him.
San Diego, CA
Member Since:
29 October 2010
Offline
Welcome to you and Cookie,
As others mentioned, 2 weeks is around the time where you start to see your pup's personality return. Our Abby also seemed quite depressed about a week in. She wanted to be outside by herself (normally she would always want to be in the same room as us) and was very 'mopey'. She would "hide" behind a big potted plant in our yard.
Once Cookie is off the meds and has the staples out, he should be mostly back to his old personality. Then it will be a matter of building back up his strength and stamina.
Hope all goes well with Cookie's recovery. It's awesome to be a tripawd pawrent. Welcome to the club!
Jackie, Angel Abby's mom
Abby: Aug 1, 2009 – Jan 10, 2012. Our beautiful rescue pup lived LARGE with osteosarcoma for 15 months – half her way-too-short life. I think our "halflistic" approach (mixing traditional meds + supplements) helped her thrive. (PM me for details. I'm happy to help.) She had lung mets for over a year. They took her from us in the end, but they cannot take her spirit! She will live forever in our hearts. She loved the beach and giving kisses and going to In-N-Out for a Flying Dutchman. Tripawds blog, and a more detailed blog here. Please also check out my novel, What the Dog Ate. Now also in paperback! Purchase it at Amazon via Tripawds and help support Tripawds!

Buffalo, NY
Member Since:
25 November 2011
Offline
Welcome! Cookie is adorable. My dog had a little funk after her surgery, didn't last very long because she already had been used to not using her leg before it was amputated ( she couldn't bend it due to being hit by a car ) I'm sure Cookie will be just fine, it usually is just because of all the meds. He will be back to his normal self in no time! 🙂 Good luck!
Thanks to all of you who replied!  I did read them all, but my life has been crazy busy, and as Cookie was doing better, I haven't replied yet. 
We are now 4 weeks post-op with the 1st round of Chemo done.  He is amazing!  He is running and chasing the ball and the squirrels.  He acts like he doesn't know he only has 3 legs.  Just like everyone said in so many other posts!
We had one small hic-up.  He scratched his incision open.  Had to get more stitches, staples and antibiotics.  Almost healed now.  And he still has to wear the "shirt of shame".  He really is not happy when I put on the t-shirt.  Oh well!
Best to all!

Madison, WI
Member Since:
5 December 2009
Offline
Yay!  Way to go Cookie!!!
 (Not for scratching open your incision, of course, but for just being another amaaazing tripawd).
Gerry has been a tripawd since 12/16/2009.
He was a shelter dog with a mysterious past and an irrepairable knee injury.
Videos and pics of Gerry's pawesomeness can be found at: http://gerry.tripawds.com
That is terrific news! 
We understand how crazy things can be after surgery. It's just great to hear he's doing so well. He's unstoppable! I hope at some point we'll get to meet up if you're in/near Fort Collins. We'll be back in the area soon and would love to pawty!
Yay!! Very happy to hear that Cookie is doing so well!! We knew he could do it!! We also completely understand being so busy and not being able to go on here sometimes. Thank you so much for the update! Many times I write down a list of Dogs that I am currently praying for and I was wondering about Cookie. I know how happy you must be that he is up and running around again. It makes us all so happy to hear each and every success story. May you have much much more time with you're super cute Cookie!!
Forum Timezone:
America/Denver
Most Users Ever Online:
946
Currently Browsing this Page:
1
Guest(s)
Member Stats:
Guest Posters: 1192
Members: 15203
Moderators: 2
Admins: 3
Forum Stats:
Groups: 4
Forums: 23
Topics: 17638
Posts: 245565
©
Simple:Press
—