Caring for a Three Legged Dog or Cat
Tripawds is the place to learn how to care for a three legged dog or cat, with answers about dog leg amputation, and cat amputation recovery from many years of member experiences.
JUMP TO FORUMS ↓
Join The Tripawds Community
Learn how to help three legged dogs and cats in the forums below. Browse and search as a guest or register for free and get full member benefits:
Instant post approval.
Private messages to members.
Subscribe to favorite topics.
Live Chat and much more!
Find out in Be More Dog: Learning to Live in the Now by Tripawds founders Rene and Jim. Learn life lessons learned from their Chief Fun Officer Jerry G. Dawg! Get the book and find fun gifts in the Be More Dog Bookstore.
I posted my first post op status in the other forum and decided I would follow up in the appropriate forum. This is day four post op, her fentinol patch came off at Doc's office and she walked right in the door.  The Doc has tile floors, not good for a learning tri, but we quickly stole the mat at the door.  She is stubborn and proud and wants to do it all on her own, so I have learned to give her some space to learn and challenge herself.  She practically runs out down the hall and out the back door.  It is the only place she will potty, and she loves being outside.  Luckily it has been cool enough in the evenings to be able to open the window in her room which she loves.
She is getting used to eating in the evening, tonight's menu had rice with salmon and some chunks of chicken.  I think she ate about 1.5 cups.  She had some ice down, then up for a drink and now taking a siesta.  Her stamina is getting better all the time, and pretty soon the hardest part might be keeping her calm.  I know that I need to figure out something soon or she will be heading up the stairs.
This site has been such a great place for information, and encouragement.  I am glad I found it.  I hope that I can help someone else when facing the same decisions and issues.

Michigan
Member Since:
2 April 2013
Offline
It sounds like you & Cinnamon are off to a great start!
Murphy tends to be pretty stubborn and does things in his own time, too lol.  I think they all know that we will pretty much let them get away with almost anything! 
You have definitely found the right place for information, questions and venting!
Donna
Donna, Glenn & Murphy 
Murphy had his right front leg amputated due to histiocytic sarcoma at 7 years old. He survived 4 years, 2 months & 1 week, only to be taken by hemangiosarcoma at 11 1/2 years 6/12/17  
Read about Murphy's Life on Three Legs
Day four and she is rockin! I love your approach to giving her more space, that's so key to normalizing your routine and giving her confidence. You're an awesome pack leader.
When it comes to vet clinics, they make me crazy. I understand why they need slick floors, but it's so hard on some dogs. You might want to consider carrying some PAWZ rubber booties in your wallet, they are so handy to just slip on right before going into the office. We try to never leave home without them.

Columbia, MO
Member Since:
10 December 2011
Offline
I am so glad that Cinnamon is recovering well. My Daisy was the same way after her amp.  I wanted to help her around with the sling but she would have none of it.  Wanted to do it all on her own.  Is there any way to gate off your stairs so she doesn't try ascending them at least until she is recovered? If that is where she is used to going she will probably try. My Daisy did that too .. didn't even get a chance to stop her.
Four days is still pretty early so don't be surprised if Cinnamon has a period of time where she seems depressed.  They usually feel pretty good in the beginning because of the pain medications. It took us about 3 weeks to really start getting back to normal.
Keep us posted on Cinnamon's recovery.
Marla, Biscuit and Spirit Daisy
My Two Tripawds...Biscuit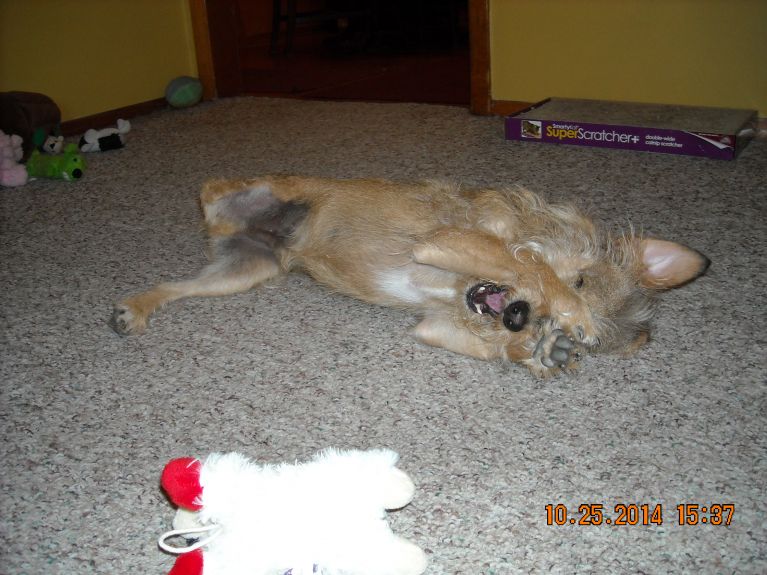 and Spirit Daisy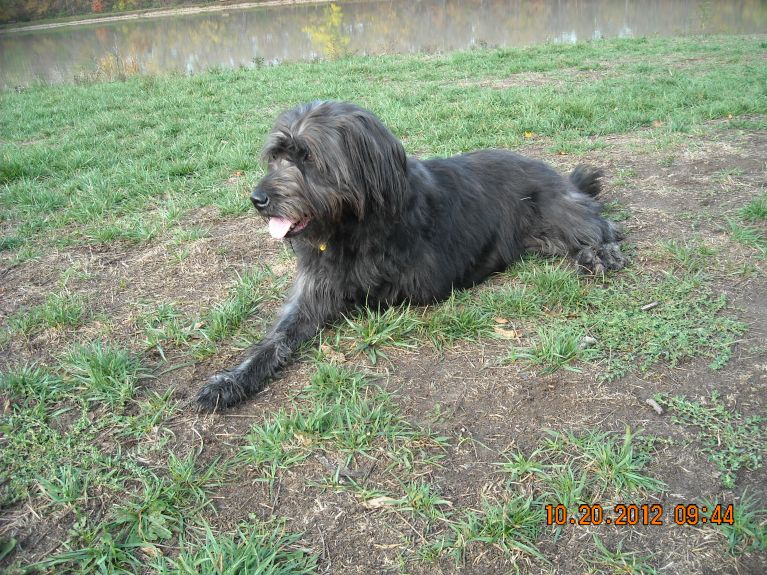 jerry thanks I will look for those, they sound perfect.
daisy she was a bit more low key yesterday, but it was first day without the patch, but she still sprinted down the hall to get to the back door.  There will be a gate or other obstruction of the stairs today, because she is fast and I do not want her beating one of us to the stairs.
She got to come face to face with her "big" brother Bonzai today, but not more than a short greeting because I did not need to them engaging in play.  I think by the time the staples come out they will be having a great time playing.  You can see her calculating and figuring things out as she learns.  She continues to amaze us.
Awww I'm just loving how she's doing! Yes, a baby gate would be super helpful. How did Bonzai react when he saw her?
Way to go Cinnamon!!
I'm glad to you and Bonsai got a little "nose to nose" time!
As Marla said, you may see a little bit of a crash now that the hospital meds are out of her system and the patch is off. My Happy Hannah was also about three weeks before I started seeing her sparkle come back consistently.
You're doing a great job! Having a strong confident and pawsitive pack leader will help in her recovery!
Looking forward to poctures..HINT....BIG HINT!
Hugs to all the pack!!
Sally and Alumni Happy Hannah and Merry Myrtle too!
Happy Hannah had a glorious additional bonus time of over one yr & two months after amp for osteo! She made me laugh everyday! Joined April's Angels after send off meal of steak, ice cream, M&Ms & deer poop!
Thursday was two weeks, and out came the staples.  We had come prepared with some stylin purple Pawz boots so the tile floor did not bother her.  We put her sling on in case she needed assistance in or out of the car.  Out of the house she ran, on a lease for the first time since surgery, and up into the car all proud of herself.  We got to the vet, I opened her door grabbed the lease, and out flew and off across the parking lot she went.  We opened the door and she ran in very confidence.   Of course the vet techs were praising her and she was taking it all in.  Yeah that's right, I am awesome.  Look at me I can run on your floors and sit and not have my legs wander off.  Friday was a great day because she was able to spend time in her yard with her brother. 
Cin was outside, when I let Bonz out.  She was standing just off the stoop.  He ran up, gave her a kiss and then just stared at her. After 30 seconds of so she curled her lip as if to say, what are you staring at?  When he did not back away she took a hop at him, which startled him, and then it was back to normal for the two of them. 
Yesterday afternoon we put the harness on and gave her some time to work on the stairs.  That is the last hurdle to put the pack's life back to normal.  She would get to the stairs, think about it, put her front paw on one and then turn around and go the other day.  We gave her several opportunities.  I told my husband that she did not want any help, she wanted to do it by herself.   We did not push her, and gave up and went to the baseball game.  When we got home, I told my husband, lets put on the sling just in case she gets stuck, put Bob on the landing and let her go.  She stood at the base for 10 seconds and then up she went, turned the corner on the landing and off down the hallway toward our bedroom.  Again her pride and smiles of accomplishment were awesome.  She and Bonz played bed roulette, and a few times she was seen standing at the side of our bed trying to figure out how to get up there. (that is our next project, build a platform so she can get up and down by herself safely)  This morning we put on the sling, I took the landing and off she came down the short set.  I moved ahead of her down the stairs in case she needed anything.  She took her time on the long set of stairs, and used several methods as we watched her brain determining her best approach.  She hit the bottom and took off quickly for the back door, strutting with pride telling my husband and I, see I can do it all by myself. 
She has amazed me since we brought her home, and today was more of the same.  Once the platform is built, she will be happy when her horrible haircut is all grown out!!!
Oh BRAVO! What a beauuuuuutiful story of getting back to the new normal, I love the way you described so many beautiful moments. It's an honor to be along for the ride!
I'm curious, can't recall if you previously mentioned but are the stairs in your house carpeted? Is she wearing the Pawz inside the house? That may help with her confidence. Glad they worked at the vet's office!
BRACO INDEED!!!! Grrrrrrreat job Cinnamon!!!
This is such a delightful update...a very inspirational one for anyone facing the uncertainties of recovery.
You know your girl so well...when to help when to step aside. She clearly is a very determined and smart girl!
Glad she and Bonz are "back to normal" and ready to get on with living life to the fullest!
Thanks for sharing the joy! Has us all smiling!
Hugs.....and huge applause!!
Sally and Alumni Happy Hannah and Merry Myrtle too!
Happy Hannah had a glorious additional bonus time of over one yr & two months after amp for osteo! She made me laugh everyday! Joined April's Angels after send off meal of steak, ice cream, M&Ms & deer poop!

Norene, TN
Member Since:
21 October 2014
Offline
jerry luckily the stairs are carpeted.  The entire downstairs is hardwood, except for the family room (and Cin's bedroom we made for recovery which has indoor outdoor carpet).  She really has had little to no issues with the hardwood.  She is smart which helps and learned quickly to take each transition with a test for slipperness and adjusts her stride and speed accordingly.  It truly is amazing to watch.
Currently she is contemplating how to get on our bed.  That will get solved this weekend with a platform and ramp!!
Forum Timezone:
America/Denver
Most Users Ever Online:
946
Currently Browsing this Page:
1
Guest(s)
Member Stats:
Guest Posters: 1193
Members: 15211
Moderators: 2
Admins: 3
Forum Stats:
Groups: 4
Forums: 23
Topics: 17640
Posts: 245628
©
Simple:Press
—