Join The Discussion
Learn about life on three legs in the forums below. Browse and search as a guest or register for free to take advantage of member benefits:
Instant post approval.
Private messages to members.
Subscribe to favorite topics.
Join the Live Chat and more!
Help Your Tripawd Swim!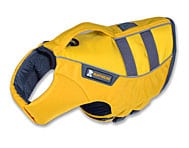 Three legged dogs swim safer and have more fun with the K9 Float Coat from Ruffwear!
A
A
A

Supai
Has anyone tried Artemisinin http://holleypharma.com/ for treating Osteo? It looks like it is a different approach to treating the cancer. The Artemisinin attacks cancer cells which have a higher iron content then healthy cells.
Any info would be appreciated!
Shaun & Supai

Winnipeg
Forum Posts: 1349
Member Since:
13 July 2009

Offline

Hi Supai
You are a busy girl (or boy?) today (sorry I should get that right – everyone gets Tazzie's gender wrong).
Yes, Pam and I both used Artemisinin for our respective Tazzie's. Her Tazzie was on it for longer and did very well. My Tazzie was only on Artemisinin after we found the SQ met. He was on regular chemo at that point, but we stopped the chemo and began metronomics and Artemisinin . I do not think anyone else on this website is currently using Artemisinin , but maybe they will speak up if they are.
Search "Artemisinin " and you will find our discussions. Pam looked into it around xmas last year. I looked into it this September. Bone cancer dogs has a bit of info on it.
The logic behind Artemisinin seems pretty good, although it is hard to say whether or not it works. Supposedly it has been shown to work to kill cancer cells in a petri dish, but then lots of things seem to do that.
It does not seem to have any side effects, so there seems to be no harm (you have to do a couple of precautions, but that is not hard). Her Tazzie did very well, lasting about 14 months until a spinal met showed up.
Remind me – are you doing chemo or metronomics ?
Susan
Did you search the forums for Artemisinin? It has been discussed quite a bit. Specifically, check out these popular topics:
FYI: Pam is a vet and she gave Tazziedog artemisinin as part of her osteosarcoma treatment plan.


Vets
Forum Posts: 1912
Member Since:
22 August 2008

Offline
Yes, my Tazzie started artemisinin after she finished standard chemo with carboplatin. I also tried metronomic chemotherapy with cytoxan but I had to stop after 6 weeks because of side effects. I initially gave both artemisinin and artemather daily for 8 weeks then I reduced it to 4 times weekly. I also gave the Butyrate with it to help absorption.
I have no idea if this helped but Tazzie's oncologist said it wouldn't hurt to try and the vet school at OSU (Dr Cuoto) has an ongoing drug trial to try to establish how effective it is. My Tazzie lived 14 months post-op which is pretty good, so I am not sorry that I tried it. I also used Power Mushrooms and many antioxidants including mega doses of fish oil so maybe those things also helped. Some dogs live over 2 years with nothing but amputation so it really is hard to know if anything (including chemo) really makes a difference. It made me feel better to know that we tried everything possible and Tazzie felt great up until her last day.
Pam

Supai
Thanks all for sharing your experiences. Pam's last post sums up what I have come to a conclusion. There are lots of treatments out there is anyone of the best? You see stories where the dog gets all the treatment available and despite the pawrents best efforts the dog only makes it a couple of months. The you read another story where the owners don't have much for financial resources they do the amputation and that is it and the dog does well for years.
I have come to the conclusion that you can only do the best that you can. Most important is a diet change, there is consensus that the commercial food is the root cause to many of our dogs problem (and not just cancer). What you do to complement that is what you feel is best for your Friend. We have chosen not to do chemo for a number of reasons because it makes sense for Supai. We are doing heavy doses of antioxidants and most importantly, lots of exercise, attention and keeping Supai's life as normal as possible.
I am still considering Artemisinin , but I feel that we need to get Supai's system working right first, so we will continue on this course for 6 weeks then make the final decision.
Thanks again for all the input, it is very useful.
Hope all your friends are doing well.
Shaun & Suapi

Loving the Red Dog
Forum Posts: 13
Member Since:
12 May 2009

Offline

We currently have Shiva (10-yr-old Golden Retriever) on Artemisinin in an every-other-day regimen, along with daily K-9 Immunity, Transfer Factors & Omegas. She also takes Fresh Factors (Springtime, Inc.) for immune and joint support. She had one dose of carboplatin post-amp and fared poorly, so we consulted with her oncologist and decided to discontinue chemo. She eats Innova EVO poultry kibble and receives no treats that contain grain or sugar. Overall, she has done very well and continues to hop around like mad. As Pam mentioned (thanks for your help!) above, who knows exactly what works? Your best effort combined with your unique connection to Supai will be exactly what is needed…and AMEN to the love, excercise and fun! WOOF!

Forum Posts: 42
Member Since:
14 January 2010

Offline

When Nikki was first diagnosed, the vet (not her regular vet, but rather the "second opinion") mentioned that he had a couple of patients that had really responded well to Arteminisin, including one Dane that had experienced a reduction in tumor size. Our regular vet didn't really know anything about it, and the folks at CSU were undecided..
We decided to try it anyway. It's obviously too early to tell, but we figure it's worth trying everything we can think of.

The Rainbow Bridge

Team Tripawds
Forum Posts: 24452
Member Since:
25 April 2007

Offline
Forum Timezone:
America/Denver
Most Users Ever Online:
597
Currently Browsing this Page:
1
Guest(s)
Member Stats:
Guest Posters: 1023
Members: 8721
Moderators: 2
Admins: 3
Forum Stats:
Groups: 4
Forums: 23
Topics: 15305
Posts: 215267
©
Simple:Press
—