Join The Discussion
Learn about life on three legs in the forums below. Browse and search as a guest or register for free to take advantage of member benefits:
Instant post approval.
Private messages to members.
Subscribe to favorite topics.
Join the Live Chat and more!
Best Support Harnesses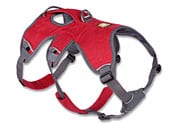 Visit the Gear Shop for the best harnesses and helpful products for Tripawds!
A
A
A
My girl is a young in spirit 13ish Heinz 57 beagle/basenji/husky-ish mix, 27 lbs, with bad tumors on her front left leg. Soft tissue sarcoma was the initial diagnosis, but her biopsy came back atypical and they think it may be a combo of cancers — maybe STS + mast cell — or just a rare presentation (still TBD).
In spite of lung mets I'm reconsidering amputation because her tumors are 'weeping' and she has to stay bandaged and get them changed frequently. She needs to be sedated for the re-bandaging process, and she still has some pain in her leg even with the good meds. She did short-cycle radiation and did well under general anesthesia for her age, and her most recent blood work was very good. 
I've read Jerry's wonderful required reading list and combed through this forum and a lot of threads and some blogs, and I'm curious about your experience with the following: (feel free to respond to any or all as you wish)
1. Obviously every dog and situation is different, but how long did you feel that you needed someone at home during the day with your older dog post op? How long was it before you felt okay about leaving your Tripawd alone for multiple hours? How long did you take off work?
2. Did any of you drop your dog off in the a.m. and take your dog home the same night as the surgery? (There is a an excellent low-cost surgery-only clinic two hours away we're considering, but they don't keep dogs overnight.)
3. Anyone have a dog who had been on high doses of Tramadol already pre-op? Lexie's been fine on her Tramadol but I've heard that it can have some weird side effects post-op…wondering if already having been on the Tram is a good thing.
4. Anyone have a dog with loose skin pre-amp? (Lexie has lost some weight due to radiation and oral chemo which the vet says is normal, but I'm wondering if that might affect her recovery/outcome. Since she also has pancreatitis I can't give her high-fat food, but I'm starting to do 3 meals daily.)
5. Now that you've been through it, is there anything that you wish you had known in hindsight? Or done differently either preparing for the surgery, questions you wished you had asked your doc about, things you wish you had done in prep for post-op recovery period, rehab, etc.?  
6. Was there anything in particular you did to help with post-op recovery and the transition to Tripawd life that you were especially happy about? (In addition to coming here and learning so much and getting so much great support!

) 
Btw, if anyone wants to see some pics of Lexie, they're viewable via this link (click any photo to enlarge).
Thanks in advance for your sharing your stories and thoughts.
One PSA: If you have and older Tripawd and haven't updated on this forum in a while, please update and let the rest of us know how your gal or guy is doing. Love reading all the success stories!      
Deb and Angel Lexie* Diagnosed at age 13. Tried radiation first; wish we had amputated upon diagnosis (even with lung mets). Joined Club Tripawd April 2014 & Lexie loved life on 3 legs! Advice: Start physical therapy as soon as your vet clears it, especially hydrotherapy if available :-) See Lexie pics here.  

P.S. Long shot, but does anyone else have an older Tripawd who also happens to have Cushing's disease?
Deb and Angel Lexie* Diagnosed at age 13. Tried radiation first; wish we had amputated upon diagnosis (even with lung mets). Joined Club Tripawd April 2014 & Lexie loved life on 3 legs! Advice: Start physical therapy as soon as your vet clears it, especially hydrotherapy if available :-) See Lexie pics here.  


Virginia
Forum Posts: 978
Member Since:
26 January 2014

Offline
Hi Deb, we brought Jake home the same day (he was 11 at the time). He actually hopped out to the car. We had to help him in and out but once at home, he got right in his bed and just slept. He had a hard time getting comfortable and I was up all night with him, but we had no complications. I'm not sure if its the same for all front amps, but they took his shoulder too. Fortunately, someone was always home with him. We also did it on a Thursday so we'd have a long weekend to be with him. We didn't leave him at home alone for weeks, but Im a little on the overprotective side 🙂 
We didn't have any loose skin even though the surgeon took quite a hunk out of Jake's side (right down to the chest cavity). He had a lump at the ends of the suture closure where the skin came together but I think they take skin out to close it properly if they need to.
The things I think we would do differently are that Jake had that tumor on his shoulder for four years and the vet did not recommend removing it. Her reasoning was that it was a harmless lipoma, it "wasn't bothering him" and I trusted her recommendation. Looking back I would have had it removed immediately. I don't think I'll ever leave a lump on one of my pets again. Also, I would have pressed the onco about Chinese medicine. 
One of the things the surgeon did tell me is to be encouraging to Jake and to let him be the same dog he was before. For example, every time he had a little milestone it was like a party around here. I over exaggerated every "good job" and "i'm so proud of you". I really think it helped him to know he was still the awesome dog he had always been. 
Also, I wish I had known about the area doggie pool. It is a GREAT rehab. 
Keep us updated on Lexi, no matter what you decide the decision will be made out of love for Lexi so you can't go wrong!!!!
Mom to Tripawd Angels Jake (2001-2014) and Rosco (2012-2015) and Tripawd Tanner. "Whatever happens tomorrow, we had today; and I'll always remember it"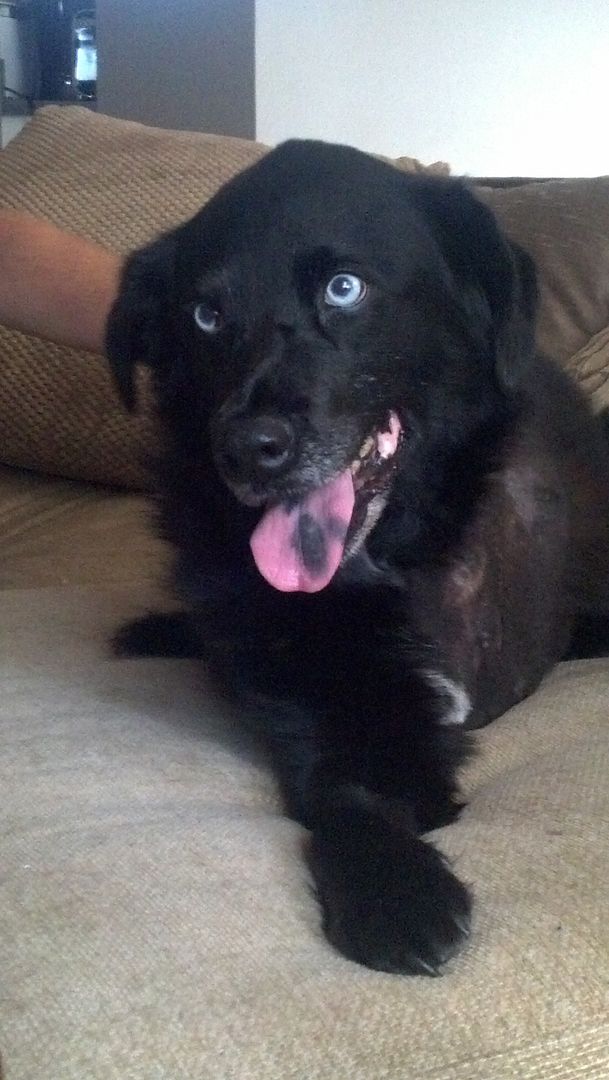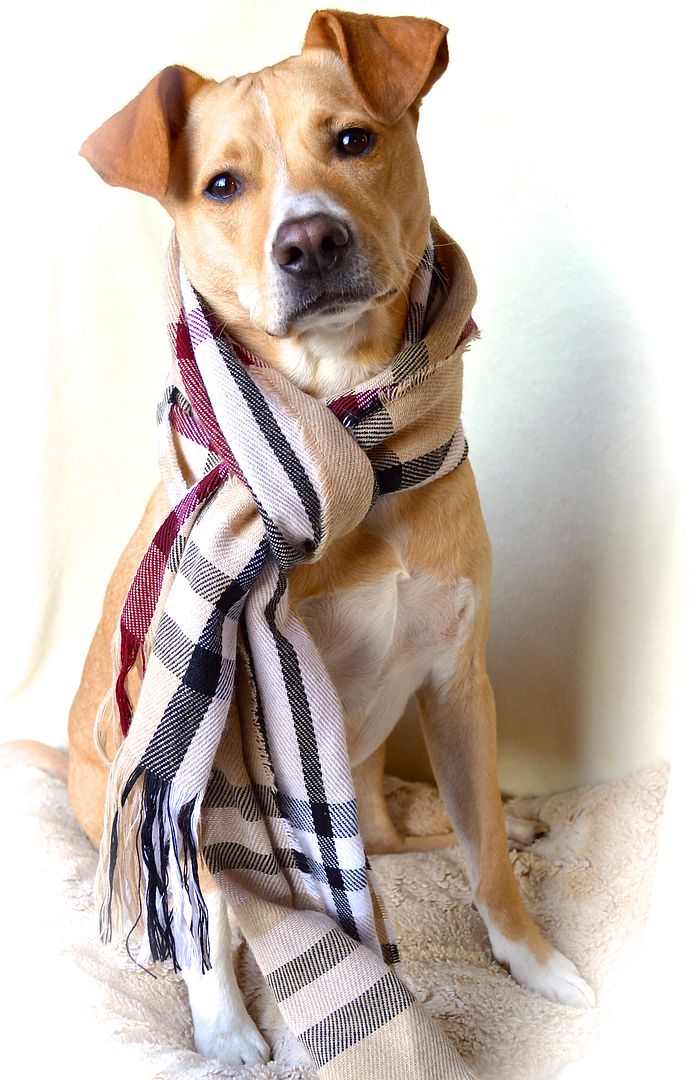 Thanks so much for adding your insight about senior Tripawds, it's greatly appreciated.

Montana
Forum Posts: 781
Member Since:
1 February 2013

Offline
Welcome!
Shooter was 13-1/2 at the time of his amp,but was a very active dog and hadn't started slowing down yet due to age.
1 & 2) Shooter stayed at the vet 2 nights for pain mgt and I'm glad as we did not have to go thru a lot of changing of amount given except slowly tapering off over a 3 week period. When he came home I stayed home with him one day and my husband stayed the next and the next two days were the weekend so by Monday I just checked on him a couple times. We are also lucky enough to have other family members that live in the lowere level of our house that also kept an eye on him, but he would have been fine by Sat as he was going in and out and getting around fine without our help (although we did hover a lot!!).
3) Shooter was only on Prednisone and Pepcid.
4)No experience with loose skin, but I'm sure someone on here can help with that.
5) I wish I would have had a lot more knowledge going in as I didn't find this site until the day before the amp. This place helped me ask the questions I missed at the beginning and be aware to take responsibility for my dog and not be ramrodded by vets.
6) Massages!!! I really think they helped immensely as changing the way he had to move caused muscle spasms and I would massage him a couple times a day and it really relaxed him. Also, I bought a Back On Track dog blanket (I got this idea from Maggie the Cow Dog's Mom) which helps the circulation.
Shooter adapted to 3 legs like a pro and was jumpimg into our big truck 3 weeks later.
Keep us updated on Lexie. We look forward to knowing all about her!
Luanne and Spirit Shooter
Spirit Shooter was a Miniature Australian Shepherd who was diagnosed with a MCT and had a LF amp 1/28/13 at 13-1/2 years old. 
Shooter crossed the Bridge on 8/28/13, his 7 month ampuversary and two weeks from his 14th birthday.

Forum Posts: 825
Member Since:
18 September 2013

Offline
Hi Deb,
Tucker was nine years old when he had his right front leg (and scapula) amputated six months ago.  Tuck had an invasive but localized sarcoma that had been removed once earlier in the year and grew back quickly so I knew amputation was his only chance.
Tucker had his surgery on a Wednesday and I picked him after work on Friday and stayed home from work with him the whole next week.  I think I needed to stay home more than he needed me but I wanted to be there for him….just in case.  I didn't go anywhere the first week or so but then went out for an hour to see my granddaughter or go to the store.  The next Monday I went back to work and Tucker had his stitches out the next day.  His recovery had some ups and downs but generally he did very well.
After lots of reading, I knew the importance of a slow and steady pace during the recovery and I let Tucker guide me….our first few walks were literally two doors down the sidewalk and then home.  As well, I knew that Tuck needed to lose weight….10 pounds post amp…..so he is now down to a svelte 84 pounds

Even six months later, I am still looking forward to more firsts for Tuck….I want to take him swimming again and have to find a place where he doesn't have to walk too far to get to the water.
I'm REALLY glad I joined this community the day that Tuck had his surgery…I could look at photos, read success stories, come and vent when I was worried and ask questions.
Good Luck with your decision for Lexie….you will make the right choice because you love your girl.
Hugs
Linda and Tucker – who is celebrating his 10th birthday today

Thanks so much Elizabeth, Luanne and Linda! Very helpful info…just the type of insight I'm looking for. 
Jerry/Rene, all the info and links under choosing a vet what to ask the vet re. pre-amp are terrific. The firsthand perspectives on monitoring and pain management tips from the amazing vet — Dr. Pam /Tazzie's mom, who has been through this herself — are invaluable. I hope everyone in the pre-op stage takes time to go to those links and click on the related resources too. 
And Linda, happy belated 10th birthday to Tucker…so glad your boy is doing so well. I'm sure having a great pawrent helps!

Deb and Angel Lexie* Diagnosed at age 13. Tried radiation first; wish we had amputated upon diagnosis (even with lung mets). Joined Club Tripawd April 2014 & Lexie loved life on 3 legs! Advice: Start physical therapy as soon as your vet clears it, especially hydrotherapy if available :-) See Lexie pics here.  

For anyone who wants to see a few new pics of my honorary Tripawd sporting the latest in fashionable bandage-wear, click here. (look under Now That's a Wrap!)
Deb and Angel Lexie* Diagnosed at age 13. Tried radiation first; wish we had amputated upon diagnosis (even with lung mets). Joined Club Tripawd April 2014 & Lexie loved life on 3 legs! Advice: Start physical therapy as soon as your vet clears it, especially hydrotherapy if available :-) See Lexie pics here.  

Thanks for pinning this to the top, Jerry (and for adding Lexie's pic, too!). I'm sure the responses will be helpful for other older potential Tripawds and their pawrents as well as us.   
Deb and Angel Lexie* Diagnosed at age 13. Tried radiation first; wish we had amputated upon diagnosis (even with lung mets). Joined Club Tripawd April 2014 & Lexie loved life on 3 legs! Advice: Start physical therapy as soon as your vet clears it, especially hydrotherapy if available :-) See Lexie pics here.  


New Jersey
Forum Posts: 524
Member Since:
25 May 2013

Offline
Deb
Good luck with your girl Lexie, she's beautiful. Our Snoop was 9 at his surgery. He did well surgically , he is a right front amputee. He stayed overnite 2 nites. I feel for him it was a good start in his recoup at home. There he was on tramadol for his recoup. We have no regrets in our decision. He's here happy and doing well. I'm familiar with cushiness in that we had a horse with the condition, which is an added issue. Hope all goes well with Lexie.
Esther and her Snoop
Runcorn, Cheshire Britain
Forum Posts: 15
Member Since:
2 April 2014

Offline
Lloyd is 13yrs old diagnosed on his birthday -1st March and had his amputation on the 3rd.
He had a one night stay at the vets,  he was refusing to eat or drink so they thought that he'd do better at home.
I don't work at the moment so I was with him all the time – we also have 4 other dogs so it meant that he was with them and didn't have to be separated.
He's doing well at the moment- he has been trying to roach in the sun- which makes everything we've done feel right.
The only thing we had that sent us back to the vets was his remaining right front leg swelled  and he also suffered some fluid build up on his chest, which seeped this had to be washed a few times a day- now he's looking good.

Forum Posts: 6
Member Since:
6 September 2015

Offline
Hi Deb!
Our 12 year old boxer, Stella Belle, underwent amputation of her right hind leg, sixteen days ago. 
She stayed one night in the hospital.  If you can swing it, I recommend it.
We had five or six nights of restlessness and pain – then we obtained a mild sedative from the vet, which made all the difference, for Stella and for us!
One of us stayed with Stella all day, for the first thirteen days.  It's a luxury…for all of us.  In hindsight, I would have felt comfortable leaving her confined in the kitchen, with a cone on, after day eight.
Stella had a knee replacement surgery (remaining "good" hind leg) about five years ago.  She has been on Rimadyl since then, for inflammation and arthritis.  Stella was prescribed Tramadol when diagnosed with a mast cell tumor two years ago, and took it through surgical removal of the tumor and radiation therapy.
After her recent osteocarcoma diagnosis, and before we amputated the leg, Stella was taking 100 mg of Tramadol two times per day, plus the Rimadyl and 100 mg of Gabapentin.  We saw some behavioral side effects from pain meds after amputation, but we believe that a large majority of those side effects were the result of the Fentanyl patch.  The more pronounced side effects – crying, quaking, panting – resolved completely a few days after the patch was removed.
No loose skin, but Stella's osteocarcoma is believed to have been born from radiation – the area of the leg effected was very sensitive and the skin was very thin.
Tripawds was our lifesaver through all of this.  That being said, I wish I'd had Stella fitted for a customized harness before surgery, because lifting her 60 lb frame up and down the stairs with just the Ruffwear harness wasn't good for any of us.  I also wish I had been more diligent about getting her fitted for a booty (on her remaining hind leg) before surgery, so that I could have spent more time getting her used to wearing it, before she really needed to.  Lastly, I wish I'd been a bit more prepared for some of the "ups and downs" of post-amp care.  Stella is, literally, a puppy version of herself one day, and the next is tired, anxious and uncomfortable.  I know that this is all part of the post-amp process, but it is still really difficult to deal with. 
I also think that, no matter how many times you read other people's account of situations and issues, until you go through them yourself, you just don't know what is truly involved.  The people on Tripawds are honest…brutally honest…about what to expect.  And while that gave me guidance and a bar to which I measured Stella's progress, every dog is different and will react in its own way.  It's tough…but would I do it again?  Yes.  Undoubtedly.  I believe Stella will acclimate to this change fully, and will be back to being herself in a few weeks.  It is just taking her a bit longer than others, because of her age and her pre-existing difficulties.
Hope this helps…best of luck to both of you!
Forum Posts: 1
Member Since:
21 October 2015

Offline
Hello Secarlo,
I have an 11 year old Boxer Cleo, that the vet thought she had pulled her ACL a month ago, but I went back today because Cleo has been crying and moaning. Well todays x-ray showed a bone tumor on her left hind leg joint. I was floored by this and totally lost my cool when they told me my baby girl had less than 6 months untreated. I am not able to pay for expensive cancer treatments so my vet recommended amputation of her leg. My vet doesn't like doing amps so I'm going to have to take her somewhere else. I have to check with some places tomorrow to get a feel for cost and to see if there is a clinic that will do a low cost operation. I don't make a lot of money but I want to do the most I can for her. I love this dog more than anything and I don't want to lose her right now. My vet recommended this site to me and when I saw you went through almost the exact same thing with your boxer I was glad I checked it out. My boxer had been overweight for a while but she has lost almost 20lbs in the last few months. Tonight she weighed in at 73.5lbs. What should I expect if i go forward in having the leg amputated? She was on 75 mg of vetprofin for the past month when they thought it was the ACL but my vet gave her 100mg of Gabapentin 3 times a day and 2)50mg Tramodol 3 times a day when I saw her today. I hope this concoction helps with her pain until I can come up with a solution. I don't want to let her suffer in pain just to make myself feel better but I want to help prolong her life if I can.
Forum Timezone:
America/Denver
Member Stats:
Guest Posters: 1015
Members: 13055
Moderators: 2
Admins: 3
Forum Stats:
Groups: 4
Forums: 23
Topics: 15142
Posts: 213116