Caring for a Three Legged Dog or Cat
Tripawds is the place to learn how to care for a three legged dog or cat, with answers about dog leg amputation, and cat amputation recovery from many years of member experiences.
JUMP TO FORUMS ↓
Join The Tripawds Community
Learn how to help three legged dogs and cats in the forums below. Browse and search as a guest or register for free and get full member benefits:
Instant post approval.
Private messages to members.
Subscribe to favorite topics.
Live Chat and much more!
Get the new book by the Tripawds founders for life lessons learned from their Chief Fun Officer Jerry G. Dawg! Download the e-book, and find fun Be More Dog apparel and gifts in the Be More Dog Bookstore.
Forum Posts: 6
Member Since:
19 October 2012
Offline
My 10  year old female lab has another tumor on her front left leg. The initial tumor was removed via surgey apx. 1 1/2 years ago; after 6 mos. w/cone, dressings changes, meds and numerous vet visits she was acting like a dog half her age.
Now the tumor has returned and my vet says either amputation w/chemo and radiation or meds to keep her comfortable.
I am ok with having her have an amputation if screening shows that the cancer hasn't spread; I wanted her to have one the first go around but the rescue group I adopted her from had the vet do a very deep (down to the bone) and wide surgery instead.
I am going to get a second opinion with a surgical oncologist.
She is a luv of a dog and continues act like a puppy; she plays with my other lab who is 4 years old.
My concern is that the vet told me that because it is a front leg her other leg may not be able to tolerate her weight ; she is 72.5 lbs. The vet also said that her back legs and hips are weak.
I will let you know what the specialist says , I

need to get in there quick because I am afraid that the tumor is growing rapidly which isn't a good sign. 
On another note I adopted her from a rescue group who had told me that the rescue group would always pay for the vet bills for anything related to her leg…..now they are not returning my phone calls.
krun15
Welcome to Tripawds, your future posts will not require moderation.
What kind of cancer does your girl have? What's her name?
I'm not sure I understand what the options are from your vet- did he say amputation and radiation, or radiation with no amp?
A second opinion is a good idea- especially if your vet is worried about her other joints. It's true tripawds should stay on the lean side, but size alone shouldn't be the determining factor. I have a local friend who is a 150 pound Anatolian Shepard who weighs 150 lbs, is a front amp, and gets around fine. In fact all the pups I know who have had amps get along just fine, even our more mature members.
Karen and the pugapalooza

Forum Posts: 15
Member Since:
9 October 2012
Offline
Hi sorry to hear your news, dont know if this helps or not but my Black male lab Frankie is 74lbs and his front left leg is paralysed due to a car accident 3 weeks ago and hes doing really well on 3 legs, hes running playing tugging, chasing rabbits etc lol, "someone forgot to tell him his legs not working". His leg will probably be amputated in the first week in Nov if we dont have any Radial nerve but im happy now that hes a happy boy..

doggie love life soooo much..
good luck
ann and Mr Frank

Columbia, MO
Forum Posts: 483
Member Since:
10 December 2011
Offline
It's true that dogs carry about 2/3rd of their body weight on their front legs.  My Daisy is a front amp (left leg).  She is a lab/wolfhound mix that weighs around 80 lbs.  At 7 years old she lost her leg to arthritis.  She also has arthritis in her hips (along with dyplasia) and some arthritis in her spine.
I questioned if she would be a good candidate and my vets thought she would be able to handle it.  So far at 10 months post amp her mobility is fine.  Granted she doesn't zoom around and is not very agile but she never was.  She was diagnosed with her arthritis at 5 years of age.  Daisy gets meloxicam daily for pain/inflammation and a glucosumine/chondrotin supplement for the remaining joints.
I would definitely get a second opinion.  You want to make sure that the remaining joints can handle the extra stress that a tripawd's gait puts on them.
Best of luck with your decision.
Marla and Daisy
My Two Tripawds...Biscuit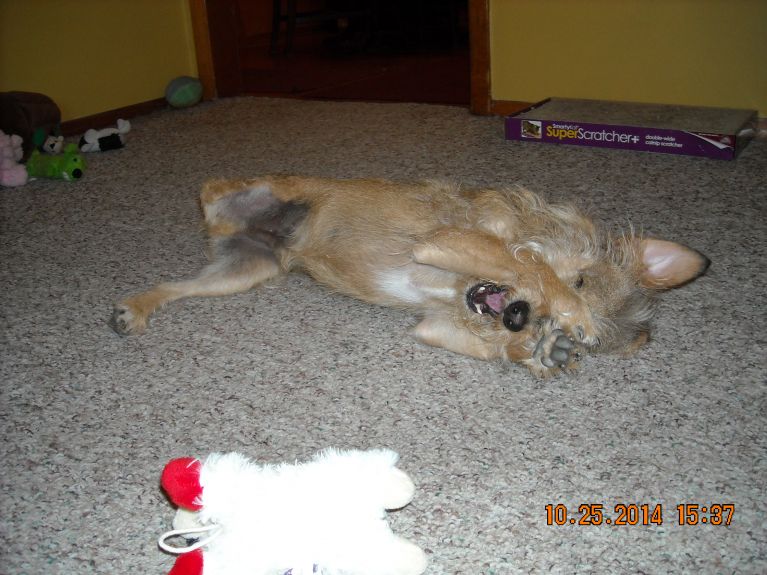 and Spirit Daisy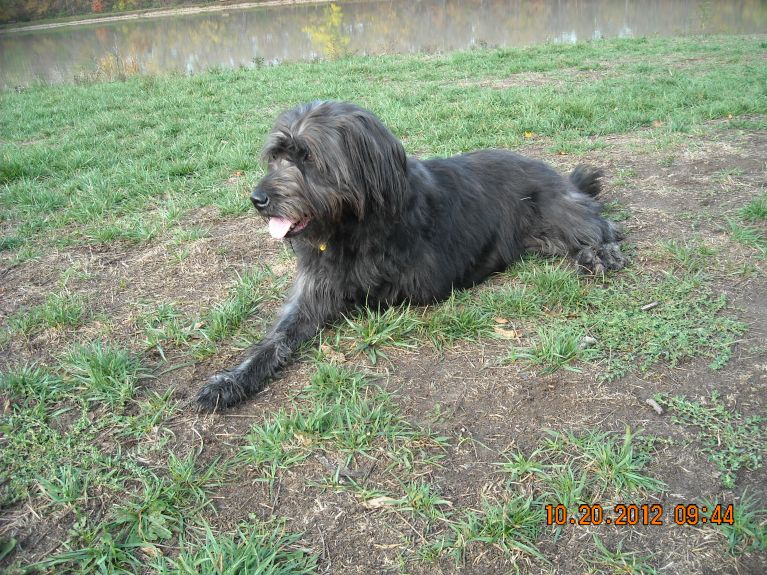 My heart lives at Rainbow Bridge
Forum Posts: 3754
Member Since:
28 November 2008
Offline
The second opinion is a good thing.  We got conflicting recommendations from the diagnosing and second opinion vets.  The diagnosing vet did not think Trouble was a candidate for surgery because she was over weight. The second opinion vet acknowledged the weight was a problem, but insisted the only way to relieve the pain (she had osteosarcoma) was to amputate.
You have several factors to consider, I think more than one opinion will give you the answers you need to make an informed decision.
I know this is not an easy time.  Sending lots of good thoughts your way.
Shanna & Spirit Trouble ~ Trouble gained her wings 3/16/2011, a 27 1/2 month cancer survivor, tail wagging. RIP sweetheart, you are my heart and soul.  Run free at Rainbow Bridge.
The November Five - Spirits Max, Cherry, Tika, Trouble & Nova. 11/2008 - 3/2013 An era ends as Queen Nova crossed the Bridge.


Forum Posts: 53
Member Since:
15 June 2012
Offline
Hi, I am sorry you're having to deal with this but wanted to share our experience. Our Lab, Loa, is an 11-year-old front leg amp and she was almost 80 pounds at the time of surgery. We are almost four months out, and she is doing great. She never was terrifically active, but she gets around just fine, enjoys her walks and visits to the dog park, and hops up the stairs just fine (I still hold her collar on the way down). She is leaner now (63 pounds)–we've changed her diet quite a bit and are vigilant about keeping her lean. I know every dog is different. Best of luck with your decision.

The Rainbow Bridge
Forum Posts: 26570
Member Since:
25 April 2007
Offline
Hello there, welcome to Tripawds. We like to say this is the club nobody wants to join, but we're here to help you through this time.
Well, like everyone here said, size alone shouldn't determine whether or not a dog can handle amputation, since we've had numerous dogs well over 100 pounds do fine after surgery and recovery. While not every dog is the ideal candidate, unlike something like hip displaysia, losing weight is usually the least of a dog's issues because you can make your dog lose weight relatively quickly, even before surgery (Momma says, too bad we humans can't lose it as fast!). 
Whenever a vet says a dog isn't an ideal candidate, we do encourage folks to get a second opinion. Even if the second vet comes back with the same response at least you know you covered your bases.
I'm so sorry the rescue group isn't living up to their promise, that's terrible. If you are in financial distress, we have this Financial Resources blog post that can help put you in touch with groups that assist folks in need for situations like this.
Good luck this week, please keep us posted.

New Jersey
Forum Posts: 270
Member Since:
4 June 2011
Offline
We also opted for tumor removal as a first step. Rumbles tumor also returned about 6 months post op and, just as the vet said, it was much more fast growing and agressive the 2nd time around.
I wish you good luck in your decision making regarding the amputation. We also support the idea of 2nd or 3rd opinions. It certainly helped us in the process.
Forum Timezone:
America/Denver
Most Users Ever Online:
946
Currently Browsing this Page:
1
Guest(s)
Member Stats:
Guest Posters: 1075
Members: 10550
Moderators: 2
Admins: 3
Forum Stats:
Groups: 4
Forums: 23
Topics: 16092
Posts: 225246
©
Simple:Press
—