Caring for a Three Legged Dog or Cat
Tripawds is the place to learn how to care for a three legged dog or cat, with answers about dog leg amputation, and cat amputation recovery from many years of member experiences.
JUMP TO FORUMS ↓
Join The Tripawds Community
Learn how to help three legged dogs and cats in the forums below. Browse and search as a guest or register for free and get full member benefits:
Instant post approval.
Private messages to members.
Subscribe to favorite topics.
Live Chat and much more!
Find out in Be More Dog: Learning to Live in the Now by Tripawds founders Rene and Jim. Learn life lessons learned from their Chief Fun Officer Jerry G. Dawg! Get the book and find fun gifts in the Be More Dog Bookstore.
krun15
Hi all,
One of my 'hobies' involves working at Theaters, building sets for plays, and doing some Production Managing.  I work at the local college building sets, I've been doing it for years. The most recent show was the musical 'RENT'.  One of the story lines focuses on people living with AIDS, and how they deal with the diagnosis of a fatal disease.
The play is set in the Lower East Side in NYC, so we got to paint and 'tag' the set appropriately.  I added a bunch of stuff that was visible to the audience, including my initials, and a big SF (I am a San Francisco native).  It was during this time in March that Mag was really sick, and I thought I was going to lose her.  The designer let me put up a Mag 'tag'.  I put it under the SF, where it was not visible to the audience.  It didn't really fit with the set, but in light of part of the play's theme I though it was cool. 
There is also a song that looks at one way to face what we are all facing with our dogs.  So here is an abbreviated version of the song called Finale B, and  a picture of the Mag Tag.
There is no future, there is no past
Thank God this moment's not the last
There's only us, there's only this
Forget regret, or Life is yours to miss
No other road, no other way
No day but today
I can't control my destiny
I trust my soul, my only goal

Is just to be

There's only now, there's only here
Give in to love, or live in fear
No other path, no other way
No day but today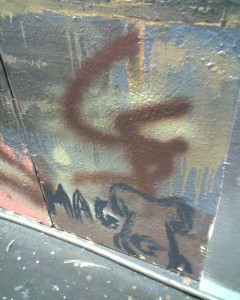 Maggie surprised us all again and rallied, we have had a good April.  She has gained a little weight, and is doing well- all things considered.
Karen and the pug girls

Member Since:
26 November 2008
Offline

Livermore CA
Member Since:
24 January 2009
Offline
Wow.  That says so much, so well.
Need to soak in it for awhile.
Cemil and mom Mary, Mujde and Radzi….appreciating and enjoying Today
Karen, this is beautiful, thank you for sharing the lyrics with us, they are so appropriate for Tripawds. We love the gangsta Maggie tag too! What a cool hobby to have. You're one of them creative types eh? Cool!
We were thrilled that you both made it to the walk this weekend, seeing her pretty self sporting the bandana just made our day. Thank you for being there and all that you do for us here at Tripawds. May there be many, many more good times ahead.

My heart lives at Rainbow Bridge
Member Since:
28 November 2008
Offline
Karen, it is the small things we share that are so powerful.  Thank you!
Shanna & Spirit Trouble ~ Trouble gained her wings 3/16/2011, a 27 1/2 month cancer survivor, tail wagging. RIP sweetheart, you are my heart and soul.  Run free at Rainbow Bridge.
The November Five - Spirits Max, Cherry, Tika, Trouble & Nova. 11/2008 - 3/2013 An era ends as Queen Nova crossed the Bridge.


Portage Lake, Maine
Member Since:
8 December 2009
Offline
That is a tear jerker, Karen.  Lovely.  LOVE the "Mag Tag"....I hope you get to keep that?
Rally on Maggie!  So glad you're having a better April!
Tracy, the other Maggie's Mom
Maggie was amputated for soft tissue sarcoma 10-20-09
Maggie lost her battle with kidney disease on 8-24-13
krun15 said:
There is no future, there is no past
There's only now, there's only here 
---
Amen to that. Thanks for sharing this!

Las Vegas, Nevada
Member Since:
14 August 2009
Offline
That is so profound.  And the Mag Tag is a wonderful touch.  I am relieved she is feeling so much better!  I hope you can finally breathe a little easier.  I know we can.
OOFAH, enough of this mush...
The MAGSTER TRI-PUG is Baaaaack!  Let the party begin!
Comet - 1999 to 2011

She departed us unexpectedly  January 23, 2011 at the age of 12 1/2.

She was born with a deformed front leg and a tripawd all of her life.


Arizona
Member Since:
28 September 2009
Offline
Beautiful, Thanks for sharing it with us.   Great news about Maggie, hope May will be every bit as good as April , keep on rallying Maggie.
Jo Ann & Tasha
Tasha 8 years old, First cancer diagnosis 6/26/09, Last cancer diagnosis 9/26/09, Amputation 10/01/09, Loving our girl moment by moment.
Tasha lost her battle and became my Angel on May 4 2011. Forever in my heart….

Member Since:
5 April 2009
Offline
Karen and the Pug Girls, you never cease to amaze me!
Your a great mom, set builder, tagger, pug wrangler, stroller pusher and Manager!
Maggie and Tani looked great last weekend, it's so nice that Maggie is putting on weight and getting ready for the spring and summer Tripawd Party Season! Must have been the beef livers and then the chicken picnic.
Wonderful lyrics, thanks for sharing. See you guys soon.
The chauffeur.

Los Angeles
Member Since:
2 November 2009
Offline
What beautiful lyrics. So much meaning.  Thanks for sharing this.  Makes me stop and think and put things in perspective. 
So happy to hear that Maggie is doing well these days.  She's such an incredible inspiration!
Kami (Mackenzie's Mom)
My sweet golden Mackenzie.  She became my angel on Dec 29, 2010 at the age of 8 1/2  although she was always my angel from the time we brought her home.  She was diagnosed with osteosarcoma in Sept 2009 and officially became a tripawd (front leg) on Nov 5, 2009.  She will be forever in my heart and now she's running free with all of our other tripawd heroes.  I love you Mackenzie!

Wesley Chapel, FL
Member Since:
13 September 2009
Offline
Those lyrics are so beautiful... I just love the Mag Tag!!
But most of all, I am so happy to hear that Maggie had a good month and actually even gained some weight. See, you just never ever know how things will turn out.
Hoping and praying that Maggie continues to improve... Sending you both a big fat hug!!!
Angel Jake's Mom
Jake, 10yr old golden retriever (fractured his front right leg on 9/1, bone biopsy revealed osteosarcoma on 9/10, amputation on 9/17) and his family Marguerite, Jacques and Wolfie, 5yr old german shepherd and the newest addition to the family, Nala, a 7mth old Bengal mix kittie. Jake lost his battle on 11/9/2009, almost 8 weeks after his surgery. We will never forget our sweet golden angel… http://jakesjou.....ipawds.com ….. CANCER SUCKS!
Forum Timezone:
America/Denver
Most Users Ever Online:
946
Currently Browsing this Page:
1
Guest(s)
Member Stats:
Guest Posters: 1180
Members: 14782
Moderators: 2
Admins: 3
Forum Stats:
Groups: 4
Forums: 23
Topics: 17508
Posts: 244066
©
Simple:Press
—