Caring for a Three Legged Dog or Cat
Tripawds is your home to learn how to care for a three legged dog or cat, with answers about dog leg amputation, and cat amputation recovery from many years of member experiences.
Learn how to help three legged dogs and cats in the forums below. Browse and search as a guest or register for free and get full member benefits:
Instant post approval.
Private messages to members.
Subscribe to favorite topics.
Live Chat and much more!

Smeepers
Hi. I'm Erin, Taylor's girl. One of these days, in one of these threads, I'm going to tell his full story. Today, I just need some support!
This in itself was very upsetting, obviously. 2 months isn't long! In the past week he has gotten worse, which wasn't "supposed to" happen for another few weeks. He went from having a slight cough once a day to coughing several times a day, coughing fairly hard. Sometimes he'll just lay there and slightly shiver for a few seconds. We started him on pain meds, still has the shiver. The thing that really upset me was that a few minutes ago he had his first productive cough that we're aware of, and there's a streak of blood in it!
My entire family agrees that at this rate his quality of life is going to be nil by the end of this month, about twice as soon as anticipated. We're all coming to terms with it. I have had 2 other dogs put down in the past. In both cases, it was hard, but the circumstances made the decisions fairly clear-cut. Unless something really horrible happens, this is going to be excruciatingly difficult. He has good moments, but then he'll have a coughing fit. His mind is alive and well, but his body is failing. We are having great difficulty deciding if we will wait until he gets bad and the decision is more clear-cut, or if we want to cut to the chase and set his soul free before it gets too bad, but it will be much harder for all of us.
I know what everyone says. Do what's best for them, put yourself last. I try! It's just that either way, he'll be at peace. I have to live with the decision for the rest of my life! I just don't want him to have to suffer longer because of me. I'm sure you guys understand what I'm going through, which is why I'm posting. Any advice would be welcome. We'll still figure out and do what is right for us and Taylor, but opinions/education would be an invaluable tool!
Yes, this is excruciatingly difficult. No, two months is not long at all.
We know it's hard, but focus on the ten wonderful years you have had instead of what little time you may have left. Realize that these past five months have been icing on the cake. And take it day by day.
So when do you say when? I believe Taylor will let you know that ... with his appetite, his eyes, his ears, and his tail. In the mean time, as hard as it may be, try to find peace within yourself knowing that you have done so much for Taylor already. And there is only so much you can do.
Thank you for sharing your story. You have our best wishes.

Stephanie Yant
Hello, Erin – You have a difficult choice ahead of you. Obviously, you care very much about your beloved Taylor, but unfortunately, that horrible cancer was hiding when you had his front leg amputated. Don't for a moment think that you've caused the cancer's return.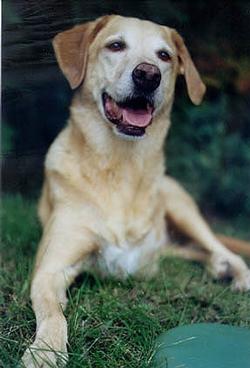 When my dog Gretchen had her front leg amputated, the vets at the U-MN Vet Hospital told me there was no way of predicting an outcome. Back in 1999, the odds were definitely against us, but Gretchen's oncologist told me that the bell curve favored her due to the rapidly multiplying cells being more sensitive to chemo. Once a certain span of time passes, your odds go up considerably. In your case, Taylor was on the side of the bell curve that no one wants to be. The cough that has developed will only serve to make his last days that much more uncomfortable. Only you, his loving owner, will know that difficult day where there is no hope anymore.
For us, it was the (probable) return of cancer to Gretchen's body, manifesting itself within her spine. Even x-rays gave us no proof-positive. We could only speculate. For a week, I manually extracted waste from Gretchen. We laid her sideways on a grassy incline and allowed her to pee downhill. It was a lesson in humility. It also pained me to see my dog lose her dignity and almost seem to dread being carried out so she could be helped to eliminate. Because her back legs eventually gave out entirely, she was agitated when I left the room, and would bark to get me to return. It was no quality of life for any of us. At that moment, I knew I'd have to put her down, even though her mind was clear, but her failing body was finished.
Personally, I was finished too. I didn't want my dog to suffer this degrading situation anymore. At times, she'd whimper when I picked her up (believe me, 70 pounds was difficult for me to lift comfortably), and she had NEVER once cried out – even after amputation. I knew she was in misery, and it seemed only fair to end her life on a somewhat positive note. I got up that fateful morning, made her bacon and eggs, and gave her a dish of milk to lap up. I fed her Frosty Paws frozen treats every hour, and I took many photographs, while I played ball with her by rolling it to her and having her nudge it back my way. I spent every moment with her that day until the vet showed up at 5 pm.
We were out in the yard, and the sun was shining. She was flopped partway in my lap while my husband and daughter stroked her in the sunlight. Our vet started an IV, and we talked a bit before we told her we were ready. When Gretchen totally relaxed, we said it was time, and the end was quick, but totally peaceful. It was okay, and about the best it could have been under the trying circumstances.
Our Gretchen meant the world to us, and there will never be a dog like her, but we decided that remembering her by allowing another dog or two to enter our lives would only be appropriate. Taylor will live on in your memories, but I would hesitate to allow any obvious suffering to continue at great length. I doubt you'd want to remember those last days with a feeling that you'd allowed a bad situation to continue too long. You will need to make the choice, and I trust that you'll know when is the right time. My heart goes out to you. I know exactly how you feel...it doesn't matter that we got two years and you only got a few months. The pain is the same in either case. My prayers go out to you, Taylor, and your family. – Stephanie

NaeNae
Erin, I just wanted to add that you can chat with others who have been there, tomorrow night (Every Friday) at 8pm EST, and on Tuesday nights at 8pm EST.
http://forums.d...../petcancer
Join the Pet Cancer Support Forum and introduce yourself. The people there are all really wonderful, and their advice can help you out as well. I send much love to you and Taylor.

Crystal Grange
Erin, I am so sorry to hear about your situation. Though my baby, Timber, had a situation more similar to Gretchen's since her cancer came back in her spine, I think this might help.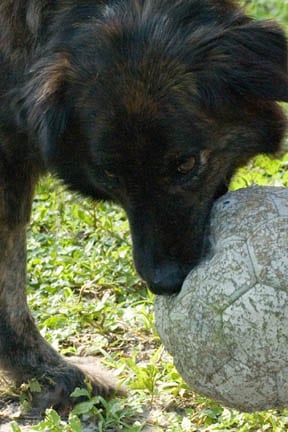 Timber was diagnosed last July when she broke her leg where the cancer had thinned it. We had to amputate and opted for chemo too. She did all the things she used to do before amputation. Then this January I noticed her walking like she was sore and chalked it up to the cold and her just wearing out form only having 3 legs. Then I noticed her tail was not wagging the next day so I decided to take her to the vet in the morning. When we woke, she had lost most of her motor function in her hind legs. She was hopping with her hind legs kind of limp and crossed. I knew this was going to be the point of no return. I knew we lost the battle. I took her to the vet and they confirmed it was in her lower spine. There was no getting better. I knew not being able to walk, no matter how much love I could give her, would make her quality of life too poor to make her go on. I wanted to take her home and love her until she passed naturally but that would have just been cruel to her since she would not understand why she couldn't walk. I knew that to do what was best for her was to end her fight. I wished so hard that she would just pass quietly and painlessly in her sleep too. She was still sharp with her mind and spirit, she tried so hard to keep walking, but her body was just done. I understand where you are at on this. It is so hard to let go when their mind and personality is still there. (Timber even fought the euthanasia, her veins, through no fault of the vet, kept bursting with the injections because of the way the chemo and constant blood tests had taken a toll on her veins. If you do chose this option make sure there is an unused vein. All 3 of Timber's legs had been poked so much through her treatments and there were no good veins on them. I don't want to scare you , just make you aware)
It still makes me cry (even right now) and I still sit by her grave in the back yard, but I know I gave her 10 good years and did everything possible to save her and make her life good. That does offer some comfort, but I still miss her. I did adopt 2 dogs a week after her death, not to replace her, but to honor her. I think rescuing an abused or street dog or even one from the pound is a good way to honor your dog after they are gone. Timber was found wandering the street when she was a puppy so I found another dog and saved him from wandering the streets unloved. I also got another dog from the pound that had been brought back 2 times to the pound and is the same breed mix as she was to honor her memory. This helps knowing that her passing allowed two other dogs a have a great life like she got.
I'm still angry that I did not get the 14 years I was suposed to with her, but knowing that the 10 years we got were good quality is comforting. Also you have to realize that you gave Taylor 5 good months more than most people would have, so he was lucky to have a parent like you! You have done all you can for him.
It is really tough, the toughest thing I have had to do, but you will just know when it is time to let go. I do take comfort in knowing that I did not let her suffer any. Seeing her suffer would have been worse for us then putting her to sleep and not letting her suffer.

Kellie and Isabel (K
Hi Erin, my heart goes to you. Almost 11 yrs ago my mom had to put my brother Rex to sleep. It was a very hard decision to make and to this day she still feels sad if she thinks about him. But when he got sick he really wasn't himself. He couldn't walk and she had to pick him up to take him outside to pee or poo. After that, as much as she wanted him to stay with us, he just kept going downhill to the point where he just lay there. It broke my mom's heart to see him like that so she made the decision to let go as it was for the best and just think of the wonderful 13 yrs that he unconditionally loved us. LIke Gretchen it was quick and peaceful. Like I say it was a while back but we still remember him and have his picture beside mine and my two new brothers Lance and Lucky. Next week I start my journey to battle osteosarcoma. I get my leg amputated and then chemo comes around. I know that my mom and dad will do all they can to make this journey as smooth and comfortable as it can be for me and in return I hope to give them some more loving. I will make sure to let my Mom know to include you and Taylor in our prayers. Search your soul and like everyone has noted, you will know when the time has come.

Joel
Hi Erin thanks for sharing Taylor and your story. I understand many of the emotions that you are dealing with. It is so hard when a loved one's health becomes difficult. From your story it is clear how much you love Taylor and how much you have tried to help him through the difficult diagnosis of OS.
I am not one to give up trying to help a loved one eak out even a little extra good life. I have lost my father and brother to cancer and have had to put down a number of dogs. I went crazy in each of these cases trying everything I could come up with in my power to try and give each of them even one more good day. But in each case there came a point where it was clear that there was really nothing more to do. While that is a sad moment, it also brought a sense of peace. Being able to help our beloved dogs out of their pain and frustration when the time was right was in the end is a wonderful thing.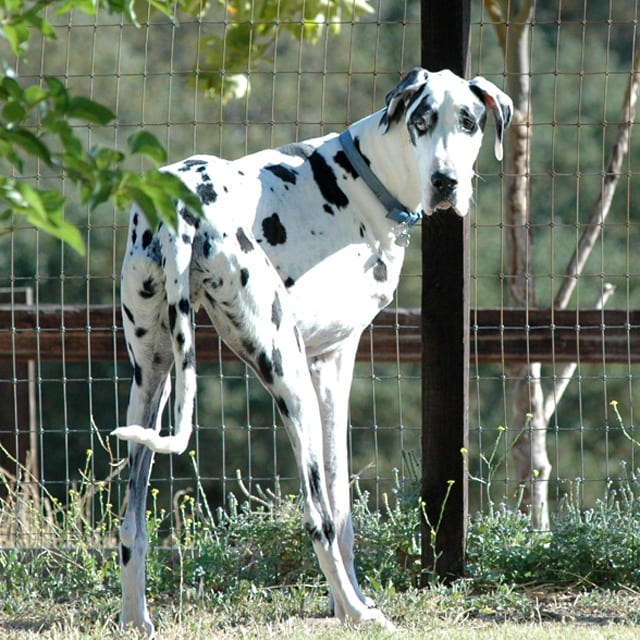 Our harlequin Dane, Moose was in the lucky and unfortunately small percentage of dogs that survive OS past 2 years. Moose's zest for fun and living life to the fullest has been a wonderful lesson that I am trying to learn from. Unfortunately, within days of his two year mark from diagnosis, he developed neurological problems (never figured out the for sure cause) that combined with being a tripawd, made it so he could not walk We did not give up and together we fought it for 3 good months. He did improve to the point where he could get around pretty well. In the end my partner Ross and I held Moose when he could no longer fight as the vet helped him escape his pain and frustration. As I said, while one of the saddest moments of my life, also an immediate sense of peace and harmony.
After our experience with Moose, I believe that when we work so hard to help our dogs with OS, and especially when we make the decision to amputate we take on an extra responsibility without realizing it. I think once we amputated, without realizing it I took special responsibility for Moose being comfortable. It makes letting go even harder I think. Tomorrow it will be 5 months since Moose left us and I miss him more than ever. But over the past 5 months I am able to focus more on the wonderful relationship we had with Moose. Moose brought so much love and fun to our house, it makes me feel good inside just telling you about it. I know that Talor must have given you some wonderful times and great lessons to think and feel good about.
Give Taylor a hug and kiss from us. You will know the correct path, it will be clear. You have gained so much from Taylor and you will forever have the wonderful memories of all the great times together.
Peace to you and Taylor,
Joel, Ross, and Angel Moose
Moose's website: http://members......ove2baliv/
Member Since:
11 April 2008
Offline
Hi Erin. My husband and I have been through a heartbreaking situation like yours twice. We lost two adorable, 9-year old rottweilers (nine years apart) to cancer. In both cases, we were past any treatment options and were trying to give them the best quality of life that we could give them for their last days. They both had good days (playing ball, swimming) and bad days (sleeping alot, poor appetite) and we worried about them constantly. We also agonized over how to make the decision to bring them to the vet to end their suffering. In each case, the dogs made the decision for us. On the morning Holly couldn't walk on her own, she looked up at me and I just knew. Her expression had changed! Our beautiful girl who always had such dignity and grace, couldn't keep going if she couldn't walk on her own. We just lost Bella a year ago - she was happy until the end but she couldn't breath from the cancer in mouth and nasal passages. She also made the decision and with just her eyes, she made it known that she couldn't go on! I hope our story doesn't upset you too much - I just wanted you to know that if you love them and watch over them (which is obvious that you do), they will let you know how to proceed. Taylor and his family are in our prayers!
Theresa and Brian
Wow, thank you all so much for sharing your heartfelt stories. I know it wasn't easy, and I, my Mom and Dad, thank you from the bottom of our hearts. You are wonderful.
Member Since:
21 March 2008
Offline

God bless you all for caring about your dogs so much. We have dogs right next door to us in our neighborhood that are treated very poorly. I think what I get from these posts is that when the dog is no longer living with some dignity, it is time to consider putting him/her to sleep.

Smeepers
Thank you all for your support. Everyone tells me that I'll know when it's time. I don't know that I will. When dogs have leg/back/hip problems, it's a very objective way to measure their pain when they can't stand up or walk. I don't know how to measure his quality of life as far as lungs are concerned. I don't think with him it will come down to something obvious. We know he's already in a bit of pain, though we can't tell where,which we're medicating him for. I want him to be out of misery before he gets truly horrible , but I also don't want to deprive him of his good days. He gives us mixed signals He doesn't like getting up and moving most of the time, but when he sees a squirrel in the yard he can run with the best of them. He coughs horribly sometimes, but then he'll go outside and bark and breathe just fine. He still eats fine. His polar opposite behavior confuses me.

Kellie and Isabel (K
Smeepers hang in there. When my mom had to make the decision for Rex it was hard also as he did not have any cancer or problems with his hips/legs or back. He was getting old (13 yrs young) and his kidneys were starting to fail him. She kept him as comfortable as possible but like Theresa and my mom say we have a way of letting them know it is time to let go. It is never an easy decision and there will be some sad times but the memories, the unconditional love and the great times we give them will heal their sadnessand will live forever in their hearts. They also go on knowing that all of us will meet someday at the Rainbow Bridge and go across together. Best wishes for you! Kellie
Member Since:
24 January 2008
Offline
You can have an objective measure even without clear cut problems like not being able to stand or walk. I would think that when your baby can't do the things they love, like chasing squirrels, or playing ball or walk without labored breathing, you will just know when it is time.
My girl still wanted to fight even though she couldn't walk, that wasn't even that clear cut because she was not ready to quit, I had to be strong and make that decision. I knew the time was getting closer about two weeks before just because subtle changes in her. Parents can see slight changes that do let you know when your baby is hurting too much.Dogs are just amazing animals that do know how to communicate with us what they are feeling.
You know your dog well enough to be able to make the right decision when it is time. Try not to worry, so you can be happy for Taylor's sake.Just enjoy each day you have to its fullest.

Smeepers
Our family has chosen a tentative date of Wednesday evening, EST. This date gives him a little more time to both enjoy the good moments and as bad as it sounds, reinforce to us that it is time. That, and it matches very well to both our work schedules, as well as that of his veterinarian. It also gives us time to call his vet and have a good talk before we officially schedule.
When it happens either I won't be on here for a long time, or I'll be on constantly. It depends on how well I cope. As Legolas said in Fellowship of the Ring "I can't bear to speak of it, for the grief is still too near".
Please keep Taylor in your prayers. He will have no problem getting into doggy-heaven, but a little help never hurt either!
Oh Taylor, you are most definitely in our prayers. Please tell your Mama and family to be good to themselves, and try to focus on the treasured memories that you all hold dear. Maybe what my friend Doug B has to say might help you all cope a little better these next few days. I hope so. It really helped my pawrents these last few months.
I know that there are so many beautiful things about you and your life that will always be kept near to your loved one's hearts forever. As you all share them over these next few days, I hope that they help in some way to ease your family's sadness. It won't be easy for them, we both know how hard humans can be on themselves.
We send our pawprints and doggie kisses your way so that you can take them with you on your journey. We love you dear pup. Until we meet again . . .
Jerry G. Dawg
Forum Timezone:
America/Denver
Most Users Ever Online:
946
Currently Browsing this Page:
1
Guest(s)
Member Stats:
Guest Posters: 1254
Members: 17255
Moderators: 5
Admins: 3
Forum Stats:
Groups: 4
Forums: 24
Topics: 18416
Posts: 254067
©
Simple:Press
—