Caring for a Three Legged Dog or Cat
Tripawds is the place to learn how to care for a three legged dog or cat, with answers about dog leg amputation, and cat amputation recovery from many years of member experiences.
JUMP TO FORUMS ↓
Join The Tripawds Community
Learn how to help three legged dogs and cats in the forums below. Browse and search as a guest or register for free and get full member benefits:
Instant post approval.
Private messages to members.
Subscribe to favorite topics.
Live Chat and much more!
Find out in Be More Dog: Learning to Live in the Now by Tripawds founders Rene and Jim. Learn life lessons learned from their Chief Fun Officer Jerry G. Dawg! Get the book and find fun gifts in the Be More Dog Bookstore.
cornhound
Corn's foot problem started about 3 yrs ago when he got a small cut on his back leg when he slipped on a wet deck. We took him to vet after vet trying to get this wound to heal. Nothing seemed to help, antibiotics, foot soaks, sprays, scrappings, different antibiotics, etc.
All the vets seem to think that his licking at it was why it wouldn't heal and it had become like a comfort thing for him or like a bad habit, like a kid sucking his thumb. They told us not to cover it,  but to not let him lick it.
 After 2 yrs of this, I finally, this past summer, decided that I was taking matters into my own hands and I was going to cover it with gauze, which I changed every day. Took a few weeks but it worked and it finally healed up and he seemed to be leaving it alone. A month or so later didn't he come running up that slippery deck again and wiped out really bad. He had trouble getting up and now he was limping. Off to the vets again. Little did we know the emotional roller coaster ride we were getting on.
Vet took xrays and thought it was his  hip that was the problem. He recommended that we send his radiograph's to a  radiologist as he didn't like the look of the (left) hip area. OK, so off they went, said we should hear back in a few days and  put Corn on pain meds.  We were on our second pack of 10 pills when we finally got the call with the results, good news was the hip was fine, bad news was they noticed something on the lower back ( right) leg area and diagnosis was Osteosarcoma. What's that? I asked, " a very fast aggresive systemic cancer!!" he said. But it's his left leg that he's  limping on?  I don't remember what else he said  during that phone call as it just devistated me.
 We live in a really small town so the vet recommended we take Corn to the nearest Vet Teaching University to see an Oncologist. He said time was of the essenence and got us an appointment for the next week and off we went, a 4 hr. drive away. I hardly slept while waiting for the appointment day to come, I read everything I could about Osteosarcoma and had lost all hope by the time we finally saw the Oncologist.
They re-radiographed the LEFT leg, (seems that was just a typo), and said a biopsy should be done right away because of his history of the open wound, they couldn't tell from the xrays if it was osteosarcoma or osteomylitis (an infection). We agreed to the biopsy and went out to the car to sit and wait and cry. In the 6 hours or more that we waited we got 3 -4 calls from the student in charge of Corn, " Did we want the opthomologist to take a look at Corn's eyes, since we're here anyway and he's in the building and has time,  since we told them in  his history of Corn's  Panas? Then, another call, did we want the dermotologist to look at his itchy feet that he's been licking, site of the old wound, it's possible he has allergies. Next call,  did we want them to radiograph the right leg just incase it wasnt' a typo? There was another call I dont' remember what it was about. My husband and I started to wonder what is this all about?  We are here to find out if our dog has cancer, does it really matter if his feet are itchy, or he's going blind from panus.
We got a hotel room and stayed overnight and picked him up the next evening after the biopsy and were told we would hear in a few days the results. He now had a cast on as they did the more aggresive biopsy, not just the needle type and they wanted to protect the leg from a pathalogical fracture.  We waited and waited and I called and called and finally a week later we got a call from the surgeon that the results of the biop was inconclussive and she suggested we wait a month and bring him back for more xrays. She matter of factly told me that regardless of the results the outcome would be the same, amputation. If they removed the leg then they could look at it better and know for sure what it was.  The following day the Oncologist called to say that she had just gone over the biop results with the pathologist and she didn't like what she saw in the results, something didn't seem right to her and she was going to speak with another pathologist and see if  they had any biopsy left to take another slice and look at it again. ??OK. She said she was going out of town for a month but she would turn it over to another Ongologist and we should hear something by the end of that week. OK. A week went bye and I called and called, nothing. I finally had to call my local vet and have him call to get the second results. He got right thru to them and called back shortly to say it sounded good, they had taken another slice, there was no cancerous cells and nothing in the lungs either. All good news.
Went back in a month, re radiographed leg and lungs and still not sure if it's Osteo or Osteomylitis. This had to be the worst experience of all, she pulled up the xrays to show us that they had seen a bit more bone loss, and she recommends immediate amputation, as time is of the essence she feels, but she's pointing to the front of the leg and the biopsy was done in the back. When we asked about the second slice results, she told us no they had not done another slice just had a different pathologist look at the first one. Totally different info from what they had told our local vet when he call. The most upsetting thing was her cell phone kept going off every 30 seconds, she would look down at it, turn off the ringer, then continue explaining, it would ring again, she'd look down, turn off the ringer..... this went on for the whole 5 minutes of her time that she gave us. She said they could book the amputation surgery for the next day, we could leave him there and go home as he'd need to stay for 3-4 days. Between the cell calls she again explained that amputation would be the best way to get the answer to what this was. They just cut the leg off then the pathology lab can diagnose this betterand then they'll know what they are treating. WHAT!! We said NO, we were not prepared to do that at this time and asked if there was not some other test or something they could do. She said yes lets do a bone restoring drip, I forget the name of the drug, it's like Beneva for human women, our local vet could get the drug and do it in his office. We said OK, and we left.
After a few days I calmed down and spoke with our local vet. He's a great guy and spoke with me for over 2 hours on the phone. He recommended that perhaps we should write a letter to the Dean of the University. He went to school at this University and he felt embarressed at how we had been treated. We slept on it for a few more days, and we decided that we had to put our personal feelings of how they had treated us aside. Everyone kept telling us that they were some of the best Ongologist. Later that week I was at our local vets having Corn's cast changed again, we had to do this weekly, when just by chance in the middle of this appointment the first Oncologist called to speak with our vet about Corn. She was back in town and was calling to talk about the drug drip we had been told about. When I got home from the cast change I decided to call her and let her know how I felt about her ongologists, as she's the department head. She appologized for the cell phone interuptions and asked us to reconsider and bring Corn back to see another one of their ongologist. By this time my husband and I and our local vet were all convinced this was not Osteosarcoma as so many months had gone by and he was eating and doing really great, other that having this stupid cast on. We have by now spent thousands of dollars and the thought of starting all over again with a new University was to much to even consider. I forgot to mention Corn is an 8yr old Greyhound, so I got in touch with Dr.Couto and had all of his test, xrays etc. send to him for another opinion. He felt that amputation was the answer as well. It was finally the weather that decided for us. We were going to make the long journey to Dr. Couto instead of going back to the closer University, but were unable to as it was now snowing too badly to make the long trip.
Corn went thru another set of radiographs, a bone scan, made it thru the 24 hours of isolation and because of a glitch in that test had to have an ultrasound on his liver as well as a needle aspiration of his liver.  Two weeks ago today they amputated his back left leg, he came thru the operation really well, other than chewing  thru the electrical cord of his pain pump, but did not get hurt!!! Then proceeded to get his e collar off and rip it to shreads.
 The last oncologist that we met with,  brought in the human resources head of the university to ask about our bad experience there and is one of the nices vets we have ever met. He came in on his day off to meet with us before Corn was released. He then called a few days later to tell us the best news of all of this nightmare, Corn does not have Osteosarcoma, he had Fibrosarcoma and they feel they got a large enough margain that no other treatment like chemo or radiation is necessary. He recommends we have Corns lungs xrayed (at our local vet's ) and sent to him every 3 months for the next 2 years and then we can safely say he's CURED!!
We go this week to have his stitches removed and hopefully never have to make that 4 hr. drive up there ever again.
We've had Cornelius and his sister since they were 12 weeks old, rescued from a box outside of a Petco, an oops litter that a breeder had no use for. He nearly died from Parvo at 12 weeks. He's been thru a lot in the past 6 months, he loves on everyone he meets and deserved every penny, tear and emotion that we have given him thru all of this. Thanks for listening, writing this has helped me a lot. My heart goes out to everyone here that didn't get that phone call that I got last week.

knoxville, tn
Member Since:
12 February 2010
Offline
what a terrible experience!!!  sounds like some of the treatment we got at the university of tennessee vet school with gayle.  sometimes it was fine, but often (in my opinion) the doctors at our vet school were not concerned at all with saving/healing animals, but were just concerned with 'the learning experience'...live or die was secondary.  glad your corn is doing so well, what a trooper!!
charon & spirit gayle
Life is good, so very, very good!!! Gayle enjoyed each and every moment of each and every wonderful day (naps included).  She left this world December 12, 2011 – off on a new adventure.
Love Never Ends
Welcome to our club, Corn and family. It's too bad you didn't have the wonderful experience that a teaching hospital should give you. In a perfect world, they would make some of Corn's treatment free, wouldn't they? 
I am impressed with Corn's spirit, chewing up electrical cords and e-collars. He obvioiusly is a spunky guy. You know we want to see pictures, right? Maybe I missed it, but how old is he? What's his sister's name? We want to make sure we include her here so she doesn't feel left out!
Again, welcome. So sorry you had to find us, but glad you did.
Shari
From abandoned puppy to Tripawd Warrior Dude, Dakota became one of the 2011 February Furballs due to STS. Our incredibly sweet friend lived with grace and dignity till he impulsively raced over the Bridge on 12-15-12.
Dakota's thoughtful and erudite blog is at http://shari.tr.....pawds.com/
That's quite a roller coaster ride. Glad to hear that Corn's diagnosis is not OSA, but sorry you and he had to go through all that. Welcome to the "family." Let us know if you have any questions or concerns that we can help with -- you'll find this to be an awesome, super-supportive group of folks.
And definitely, we need pictures!!! (I LOVE greyhounds!!!)
Rio's momma
~ ~ Rio ~ ~
Forever in my heart...
April 2000 – January 20, 2012
Diagnosed with Mast Cell Cancer in June 2007. Left rear leg amputated Feb. 8, 2011.
Mets discovered Aug. 31, 2011. Read more of Rio's story here.

Las Vegas, Nevada
Member Since:
14 August 2009
Offline
Welcome to tripawds.
What a frustating experience you endured!  But I'm glad that it was not OSA!  I'm sure Corn will start feeling great here soon and you can resume the great life he had!
If you need any information, feel free to ask us!
Tons of good wishes coming your way!
Comet - 1999 to 2011

She departed us unexpectedly  January 23, 2011 at the age of 12 1/2.

She was born with a deformed front leg and a tripawd all of her life.

cornhound
Thanks again to everyone for listening. Sorry it was such a long story, think it helped me alot to get all that off my chest. If you noticed the time I posted, can't seem to sleep thru the night these days, been so worried about Corndog.
 Corn is doing really really good. We, are starting to do better. He still wont' let us come near him with the e collar, actually growls at me everytime I even pick it up.  Fixed up a pair of kids boxer shorts yesterday for him to wear as he's starting to try to lick the incision, must be starting to get itchy.
Making that long drive again tomorrow to hopefully get the stitches out. His surgeon has still never called us like she said she would, to explain what she did etc. maybe we'll get to speak to her tomorrow, but dought it.  Yes University of ______ the B lady will be there again tomorrow.
We intend on asking for all the reports of all his tests for his files as we move a lot for my husbands job. But really would just love to read what the pathologist really had to say about the final outcome. I read a lot here on this website from other members that have been thru this about stage 1 or 2 etc. cancer and no one used language like that to us. Just said that they felt they took a large enough margain that they got all the fibrosarcoma and no other treatment seemed necessary and best just to check him every 3 months with radiographs of his lungs. hmm… now I'm wondering is all this xraying healthy for him ???
Our only regret is that we didn't put him in the van the moment they first diagnosed this at his local vet, way back in Sept. and take him across the country to Dr. Couto in Ohio. They have been really helpful even though they have  never got a dime from us. I've never heard anything but great things from that University &  Dr. Couto has returned all our emails and phone calls very quickly. He seems to be a very dedicated greyhound vet. We plan on sending them a donation once the tax return comes back. My advise to anyone with a sick greyhound would be to head for them if at all possible.
Oh my gosh, I'm so sorry to read about Comet, I just now noticed the dates. Bless you for taking the time to care about Corn when you must be going thru so much pain yourself.
Better go for now Im rambling on again. Thanks again all of you are  SOOOOOOOOOOO.great!!!
Hi again. I wanted to say I'm really happy Corn is doing well, and lots of rear amputees here use the boxer shorts. E-collars are not really any dog's best friend. Except for a goofball who belongs to one of our members (hear that, Zephyr?) but not generally. It sounds like Corn is a great dog with a lot of personality!
As for the teaching hospital, you don't have to keep it a secret. We have a forum here for posting horror stories and feedback so others will either know what they might run into or steer clear. Don't be afraid to name names if you choose. The other thing about that is to remember that these people work for you. Unless they did the surgery for free, you have paid in advance for what they owe you down the road. So again, don't be afraid to be the squeaky wheel. If someone cut off your leg and you had questions later, you'd call. You paid for it, you should get answers.
Second, there are no right or wrong answers about followup x-rays. Lots of people here religiously take their dogs in every 3 months, 6 months or year for those followups. And lots of people were advised to and chose not to. Jerry himself will tell you that his family deliberately chose not to because of the dread they thought it would place over their heads. I was advised to get followups for Dakota (3 months for the first year, 6 months for the next) and did not. Dakota had a soft tissue cancer so I didn't think the risk of mets was so great. And like Jerry, I wanted to focus on other things for Dakota. Whatever you decide to do will be right.
Shari
From abandoned puppy to Tripawd Warrior Dude, Dakota became one of the 2011 February Furballs due to STS. Our incredibly sweet friend lived with grace and dignity till he impulsively raced over the Bridge on 12-15-12.
Dakota's thoughtful and erudite blog is at http://shari.tr.....pawds.com/

On The Road
Member Since:
24 September 2009
Offline
Yowza, that is a heckuva an ordeal to go through, we are so sorry! We have had so many good experiences with teaching hospitals, overall. Seems like most of us here have had to learn the hard way that we need to be strong, loud advocates for our pups, or else we get lost in the system. You done good!
But that good news about no osteo is just fantastic, I'm so glad to hear that.
Yes, Dr. Couto is really amazing, he and his team put on a greyhound health conference every year.
Feel free to start a blog and share more of Cornhound's life with us, we'd love to hear more!

Leicester, NY
Member Since:
11 February 2011
Offline
Oh my dog! What a story! We are really happy that it is not OS. Corn dog should be up and about in no time! Can't wait to see pictures!
Spirit Samson was Spirit Tripawd Daisys four legged "brother" and ruled as the self proclaimed head of the Monkeybutt Federations East Coast Division. Lady Chunky Monkey stayed from Oct 2011 and left for the bridge in Apr 2012. Miss Perdy is left and has some big pawprints to fill.
Do you have what it takes to be a Monkeybutt? Find out more at the Monkeybutt Federation
krun15
That is quite a story- how frustrating.  Good for you for sticking with it and getting Corndog (love it!) the treatment he needed.  I went through two cancer journeys with tri-pug Maggie and one of the things that made it easier was the onc and hospital we used.  It would have been so much harder if we experienced what you did.
Now that Corndog is two weeks out I bet you will start to see him come around.  You might also check the alternatives to the cone of shame if he still needs something.  I was lucky with Maggie,  she had quite a pug Buddha belly and could not reach her incision! She was a left rear amp.  I see you have discovered the boxer trick- hopefully that will work.
As far as follow up xrays- one thing you could consider is if you did see mets would you do anything different?  If the answer is yes then maybe xrays are a good idea.  If the answer is no- then maybe you only need to do them if something is wrong.  Just an idea.  Maggie had mast cell cancer so xrays were not something we considered.  Abdominal ultrasounds were recommended for her every 3 months- I did a couple.  We saw lesions on her liver on one- a common place for mast cell cancer to go.  But I had decided against additional chemo so all that did was let me worry.  She was fine for a year or so.  When she started having problems it had nothing to do with her liver.
As far as rambling- this is a great place to do it! Get it all out of your system so you can be strong for your pups.  There is nothing like venting to a community who absolutely gets it.
Good luck getting sutures out- let us know if you get anymore news!
Karen and the pugapalooza
Hey Corndog (love that name)!  That University of ___ didn't happen to be located in my hometown.  I gotta tell you when we thought Daisy had bone cancer I was talking to my vet about treatment options and that the University of MO Vet School was where I would have to go for chemo.  She said she wouldn't take her dog there and that's where she went to school!
Marla and Daisy
My Two Tripawds...Biscuit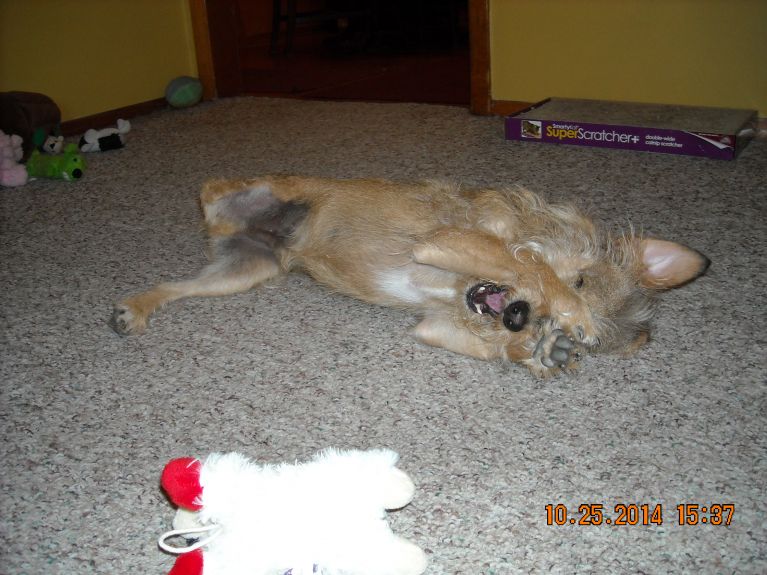 and Spirit Daisy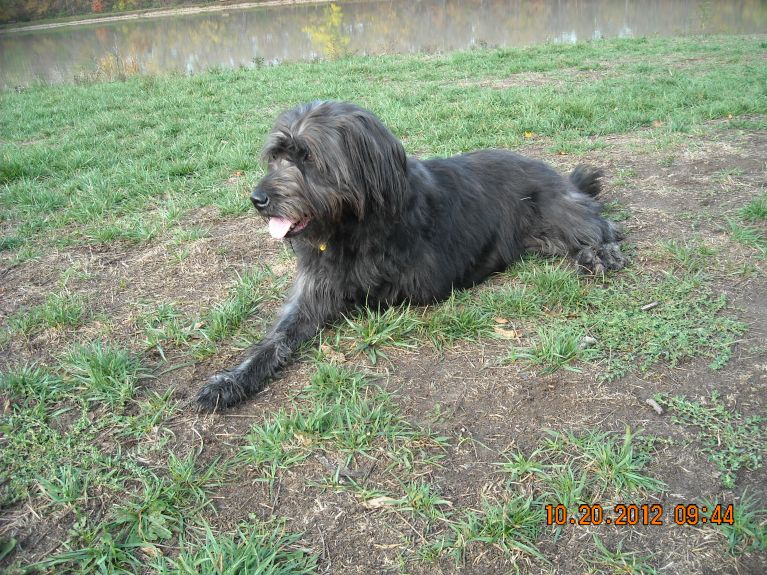 cornhound
Yes Marla,  that is exactly where the University of _______ is.  As a matter of fact we just got back from there a few hours ago, Corn got his stitches removed today. All the way home we assured him that this will be the last time he has to go back there.
They were very nice to us today, and we actually got to speak with the surgeon and his last oncologist, who seems like a really smart and nice man. His cell phone only ran twice during our time with him and he was nice enough just to glance down at it and then put it back in his pocket.
 I don't understand this whole cell phone thing with them. Maybe all the Vet Universities do the same thing. But I'll tell you if I was at my Dr. or Dentist's  and his cell kept going off while he was working on me, I'd get up and leave. Heck I'd do the same thing if my hairdresser or nail tech was on her phone while I was in their chair.
My husband is the Executive Chef of a very large 4 diamond hotel, he uses his cell all day to communicate with his staff. He would be fired on the spot if it even rang while he was out in his resturant or anywhere in the front of the house, speaking with a guest. He keeps it on vibrate and has a code if it's an emergency. I realise they are doctor's not chef's but like someone else said here, I am paying their wages, I think we deserved  their undivided attention, especially while they are explaining to you that their about to cut off you dogs leg.
Guess I'm just getting old and have chalked it up to a sign of the times.
Corn is doing so great, I actually saw my lovey boys personality finally coming back today. When I told him on our morning walk that we were going in the van, (he loves the van) his ears went up and he cut the walk short and pulled me back home to the van.
If I ever figure out how to do it, I'll post a photo of him.

WYO
Member Since:
10 February 2011
Offline
Unfortunately bad things happen to good dogs at University of ? and at fancy smancy specialist, we were on tv, high dollar clinics. We had our share of a bad experience too!
 But fortunately, your boy got answers...great ones...and he is on his way to recovery......
I know it is frustrating, infuriating and financially draining!
But try to focus on where you are now in the journey and when you need a "lift, do come here to vent, read about some swell dogs and folks that truly understand you. I did and it really did "lift" me...been here for almost a year now and so grateful and blessed to be!
We tried the boxers with Rio, but her little hips were too skinny and they wouldn't stay on. Hope you've had a bit more luck with those meaty greyhound haunches. I'm so glad your boy is doing better. Seeing their personality reemerge after such a major event is such a relief.
BTW, the doofus who loves the cone of shame , that's my goofy girl, Zephyr. It scares her only when somebody else is wearing it.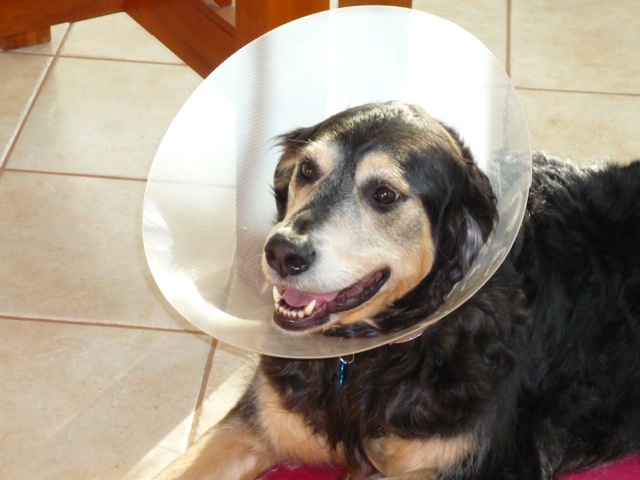 For posting photos, they have to be uploaded somewhere such as a blog or facebook, then you copy the http address of the photo, click the link above the text box that you're typing your reply into that says "img" (some folks say there's a button with a tree on it, but I just see the button that says img), paste the http address into the box, and voila!!!….
~ ~ Rio ~ ~
Forever in my heart...
April 2000 – January 20, 2012
Diagnosed with Mast Cell Cancer in June 2007. Left rear leg amputated Feb. 8, 2011.
Mets discovered Aug. 31, 2011. Read more of Rio's story here.
Forum Timezone:
America/Denver
Most Users Ever Online:
946
Currently Browsing this Page:
1
Guest(s)
Member Stats:
Guest Posters: 1192
Members: 15203
Moderators: 2
Admins: 3
Forum Stats:
Groups: 4
Forums: 23
Topics: 17638
Posts: 245564
©
Simple:Press
—