Caring for a Three Legged Dog or Cat
Tripawds is the place to learn how to care for a three legged dog or cat, with answers about dog leg amputation, and cat amputation recovery from many years of member experiences.
JUMP TO FORUMS ↓
Join The Tripawds Community
Learn how to help three legged dogs and cats in the forums below. Browse and search as a guest or register for free and get full member benefits:
Instant post approval.
Private messages to members.
Subscribe to favorite topics.
Live Chat and much more!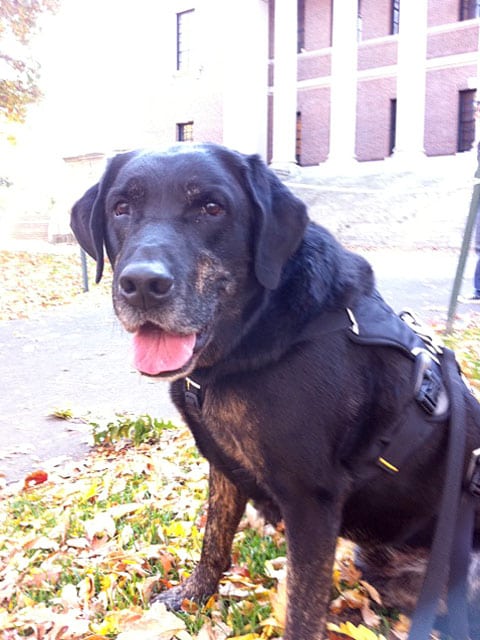 Here are a couple recent photos and a short video from Tripawds member
kazy55
. Hopefully Kathleen will reply with more details about hw Ajax is doing
Seventh Months
after his amputation!


Las Vegas, Nevada
Member Since:
14 August 2009

Offline
Congrats on 7 months, Ajax!  Lookin' happy!
Comet - 1999 to 2011

She departed us unexpectedly  January 23, 2011 at the age of 12 1/2.

She was born with a deformed front leg and a tripawd all of her life.

Member Since:
10 January 2011

Offline
Sweeeet! Congrats Ajax!
Hey we have another member here with chondrosarcoma who just joined us. Do stop by and give them your best advice when you can OK? I know they would appreciate it.
Love ya lots big boy, hoppy ampuversary!!! Stay warm!
HI!
First – Shelby/Cheri – I sent you a note re: chrondrosarcoma, Jerry's right, I think there's a lot of info in my prior posts.  Compared to what some others are going through on this site, it's a pretty good diagnosis …
Second – I haven't been on in a while – I'm going to your posts by I am terribly sorry to hear about Fortis and also to hear about lung mets for Xander.  I followed you both while Ajax was recovering and am sending you my thoughts.
Third- THANK YOU to whoever dealt w/ my technical issues and put up the videos and pics for me.  So much better than if I had done it!
Fourth – update:
We're doing great!  Well, Ajax is doing great, his humans are tired …He is 99% his old self, as you may be able to see from the videos.  The snowy ones are in Central Park this week – 9 inches of snow on top of the Christmas blizzard, so he is zooming through the powder.  I think it gives him quite a workout, but he loves it.  Last week he jumped a (short) fence and also onto the bed.  We had a discussion about not doing that again, but it was cool to see.
I think I posted in September – his amputation was July 19, we went September 19 for a lung xray and all was clear.  I think I may have also posted when we unwittingly took him on a hike up a cliff.  Since then, he has been to Boston for a Harvard reunion, to the beach several times, to Pennsylvania for Thanksgiving and in two blizzards.  I was terribly worried about the snow/ice/slippery but he seems to be navigating it perfectly.  When he doesn't like something he goes around, or sits down until I come get him.  He still won't wear shoes.
In Boston he was a big hit – the lawyers at the reunion demonstrated their keen powers of observation by repeatedly sharing with us the fact that "your dog has three legs".  Brilliance abounded.  I used some of the answers posted on this site.  Also one of them challenged my husband, which resulted in Ajax learning how to go through the revolving door at the hotel.  He did fine.
In PA we went to a great place for Thanksgiving – the Sweetwater Farm Inn – GREAT dog friendly place in the Brandywine Valley if you happen to be near there. 
We have passed our therapy dog class and are in the process of figuring out where we can go.  Ajax would like to be part of the kids reading program (we can walk to that) and also we are looking for a program with the disabled.  We've been a little slowed down by transport issues – 3 legs, no taxis, feet of snow, etc.
We had our yearly checkup in November with Ajax's regular vet; all went well.  The answer to my question – should I feed him less, since he will move less – is a resounding "no" – he is exactly the same weight.  We have reduced his off leash exercise by about 1/2 hour each day, because he doesn't need it, but that still means an hour in the morning with us, and 1.5 hours with the dog walker, so he's good.  
For those of you in the early stages post op, please don't be discouraged.  Just when we thought Ajax had recovered as much as he was going to, he would surprise us – we saw "new" things up until this month; I think seeing him in the snow was the last challenge to getting back to "normal."  We also know things are fine b/c crabby New Yorkers' aren't giving us sympathy anymore – unless they look closely, they don't notice that he is missing a leg!
I am late have to run – thank you again for getting me posted, and I apologize to everyone for the quality of the videos.  They involve me, with iphone, trying to keep it dry, trying to throw frisbee so that Ajax will run when I have video on, as opposed to sitting still and demand barking.  (It seems I now have a very vocal and very spoiled doggy)
kazy55 said:
Third- THANK YOU to whoever dealt w/ my technical issues and put up the videos and pics for me.
You are welcome. Thank you for the update. Glad to hear (and see) Ajax is doing so well.

Member Since:
1 January 2010

Offline

What a great video!  And what a great update!  Thanks for posting!
He shakes that frisbee just like Holly does – she loves to "kill" things with that shake.  Especially my mittens after a big snow storm.  It was fun to watch Ajax do the same thing!
Hugs,
Holly, Zuzu and Susan
Holly joined the world of tripawds on 12/29/2009. She has a big little sister, Zuzu, who idolizes Holly and tries to make all of her toys into tripawds in Holly's honor. And she's enjoying life one hop at a time!
http://anyemery.....ipawds.com
vega said:
Where's the like button?? lol!
---
That's exactly what I've been asking!


Shanna & Spirit Trouble ~ Trouble gained her wings 3/16/2011, a 27 1/2 month cancer survivor, tail wagging. RIP sweetheart, you are my heart and soul.  Run free at Rainbow Bridge.
The November Five - Spirits Max, Cherry, Tika, Trouble & Nova. 11/2008 - 3/2013 An era ends as Queen Nova crossed the Bridge.

Congrats on the 7th month ampuversary.  It sounds like things are going very well for you and Ajax.  A comment to the vocal spoiled dog – we experienced the same thing.  Our normally quiet Trouble became a vocal Diva after her surgery – and spoiled beyond anything imaginable.  And ya know what?  I don't care!  As a dog surviving osteosarcoma, she is on borrowed time and she can be as spoiled as she likes.  Yes, I know, I am pathetic.

Shanna & Spirit Trouble ~ Trouble gained her wings 3/16/2011, a 27 1/2 month cancer survivor, tail wagging. RIP sweetheart, you are my heart and soul.  Run free at Rainbow Bridge.
The November Five - Spirits Max, Cherry, Tika, Trouble & Nova. 11/2008 - 3/2013 An era ends as Queen Nova crossed the Bridge.


Member Since:
16 July 2010

Offline
Congrats to Ajax!!! I love how people say, "your dog only has three legs!" Sometimes I want to respond, "Really?!?! Oh crap, where'd the other one go?!?!" But I don't. I also find it funny that it often takes people a few minutes before realizing the dog only has three legs. It is nice knowing that the pups are so much themselves and that three legs does nothing to slow them down!
Xander sends big slobby kisses to Ajax. He is getting ready to go to a Great Dane party at the park now! We will post pics!
Alexander The Great Dane
Suspected Osteosarcoma July 12
Diagnosed Officially 7/16/2010
Amputated 7/27/2010
Became Spirit Xander 2/20/2011

Member Since:
23 July 2010

Offline
Thank you for the wonderful update on Ajax- he looks fantastic and it sounds like you are all living a very full life!
This can be so comforting to anyone new to the whole amputation process.
Best wish to you and congrats on the seven months!

Deborah
Mom to Spirit JD and the quadpaws Serena & Maya
JD
One Tough Girl
(1999-2010)
-Diagnosed with osteosarcoma of her left front leg –
-Amputation July 23 2010 –
-The cancer didn't get her, but she is gone-
-She fought the cancer and loved life till bloat brought her down August 29th, 2010-
Now she watches over her mom and two new sisters, the Quad-Paws Serena and Maya

Los Angeles
Member Since:
2 November 2009

Offline

What a great video!! Totally put a huge smile on my face seeing Ajax run through the snow like a speeding bullit and as happy as can be.

  He is doing so amazing and you must be so proud!  Just wonderful to watch.  And what are you talking about as far as your video skills go? You really captured some great moments with your beautiful pup – you did a great job on this video!! 
 Happy 7 Month Ampuversary Ajax!! You rock!!



My sweet golden Mackenzie.  She became my angel on Dec 29, 2010 at the age of 8 1/2  although she was always my angel from the time we brought her home.  She was diagnosed with osteosarcoma in Sept 2009 and officially became a tripawd (front leg) on Nov 5, 2009.  She will be forever in my heart and now she's running free with all of our other tripawd heroes.  I love you Mackenzie!

Member Since:
20 May 2009

Offline
It's wonderful to get such a great update.  Keep it up, Ajax!
Debra
Debra & Emily, a five year old doberman mix, who was diagnosed with an osteosaecoma. She had a right rear leg amputation on May 19, 2009. On November 10, 2009 she earned her wings and regained her fourth leg.

Portage Lake, Maine
Member Since:
8 December 2009

Offline
It's great to hear from you Ajax!!!!  Have been wondering how you're doing!  You're looking fantastic!
Tracy, Maggie's Mom
Maggie was amputated for soft tissue sarcoma 10-20-09
Maggie lost her battle with kidney disease on 8-24-13
Forum Timezone:
America/Denver
Most Users Ever Online:
946
Currently Browsing this Page:
1
Guest(s)
Member Stats:
Guest Posters: 1212
Members: 15707
Moderators: 2
Admins: 3
Forum Stats:
Groups: 4
Forums: 23
Topics: 17755
Posts: 246855
©
Simple:Press
—