Caring for a Three Legged Dog or Cat
Tripawds is the place to learn how to care for a three legged dog or cat, with answers about dog leg amputation, and cat amputation recovery from many years of member experiences.
JUMP TO FORUMS ↓
Join The Tripawds Community
Learn how to help three legged dogs and cats in the forums below. Browse and search as a guest or register for free and get full member benefits:
Instant post approval.
Private messages to members.
Subscribe to favorite topics.
Live Chat and much more!
Find out in Be More Dog: Learning to Live in the Now by Tripawds founders Rene and Jim. Learn life lessons learned from their Chief Fun Officer Jerry G. Dawg! Get the book and find fun gifts in the Be More Dog Bookstore.
Hey Everyone,
You all know us as the parents of this amazing boy, Ludo: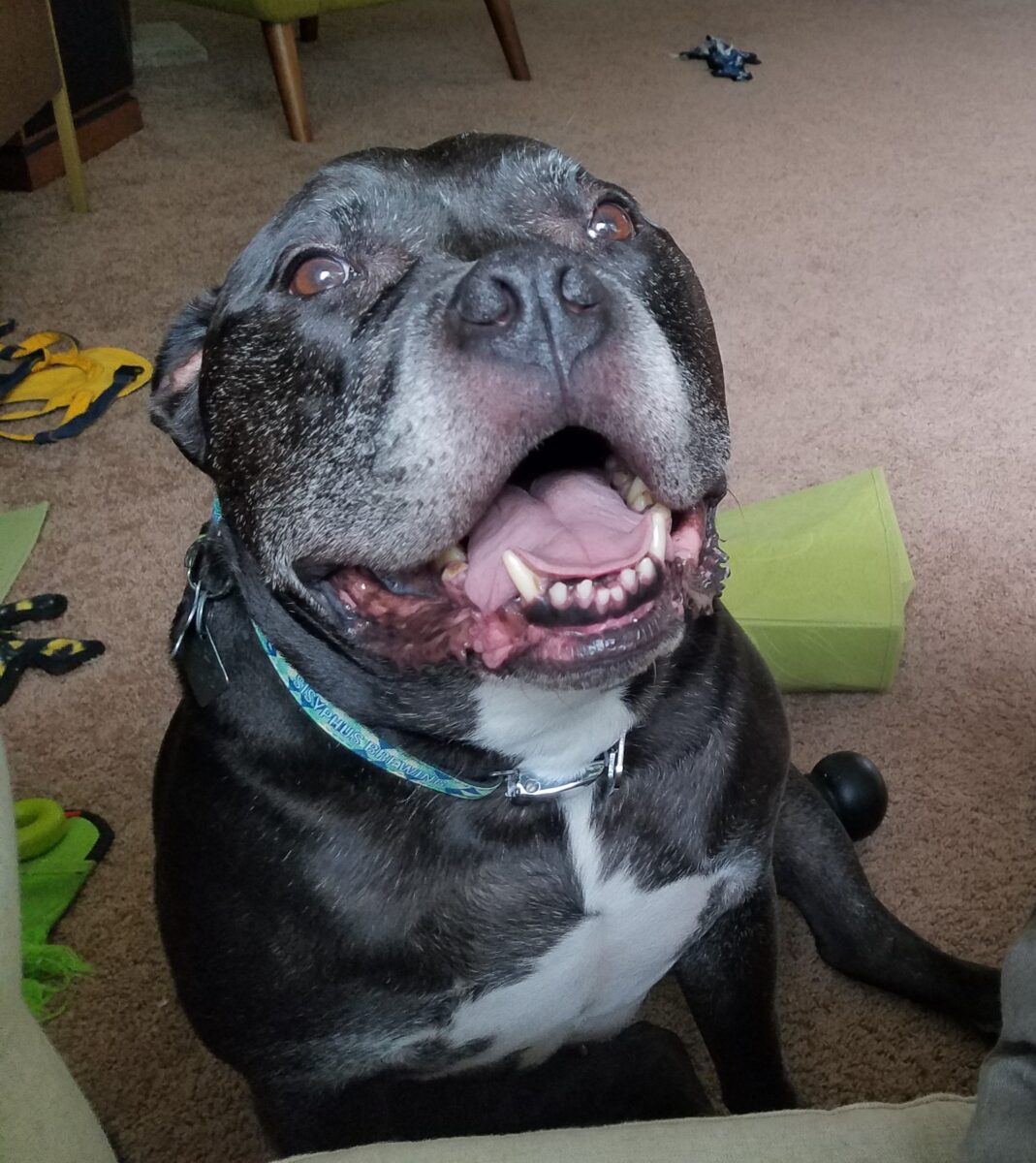 As I mentioned in my post about Ludo, on July 16th we had to say goodbye for now and made the hard choice to have him put to sleep. His cancer had progressed way too far and way too fast. We had made the decision at the beginning of all of this to let Ludo go before he got too bad. It was a hard day (and still is incredibly hard) and we both thought we would wait a little bit to adopt a new dog. 
Fast forward all the way to Monday July 19th and we bring home this little guy from Animal Control: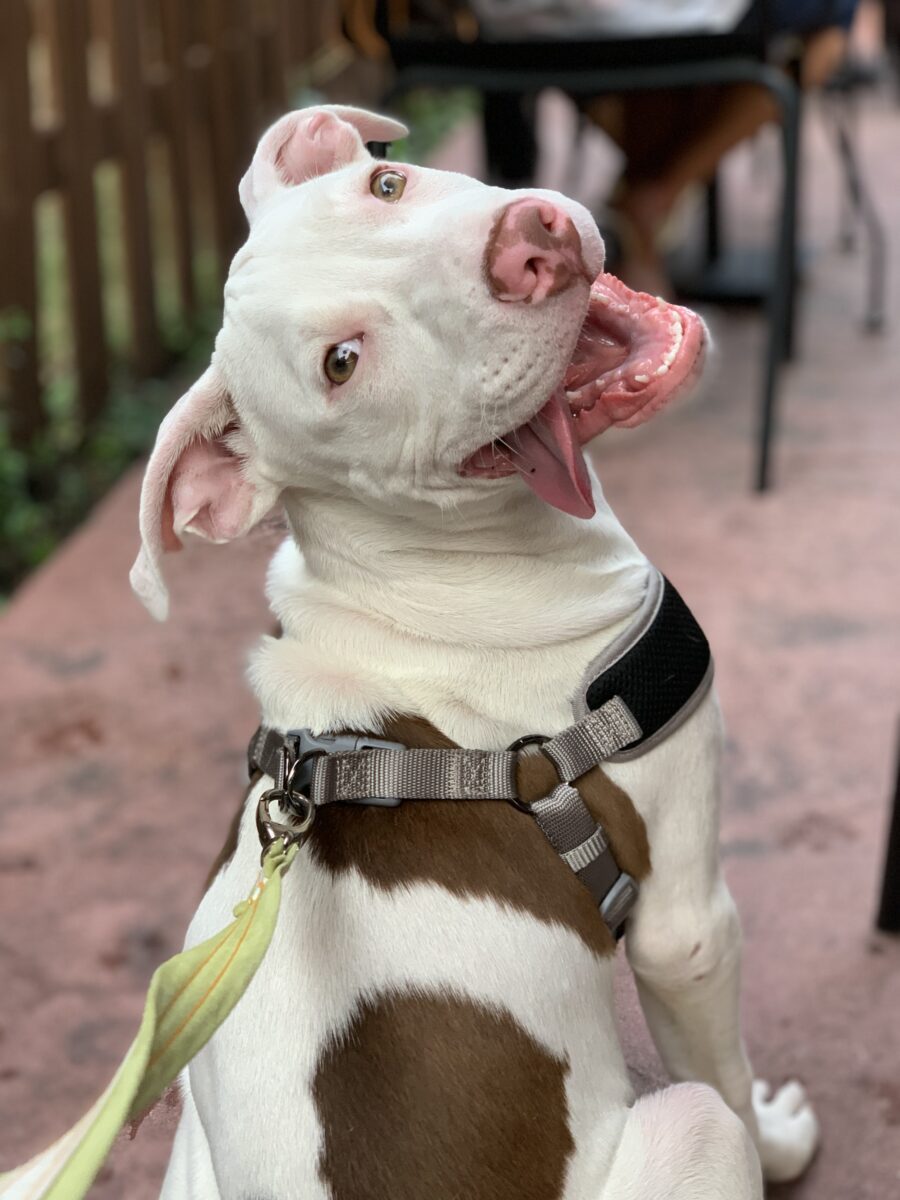 Everyone, meet Gurgi! He's a pitbull mix and was only four months old when we brought him home! He is such a sweetheart who loves to go on walks, cuddle, and sit on patios. We were so happy with Gurgi, but given how large of a hole Ludo left in our hearts (he was a big boy), we knew there was room for more. Both Tessa and I love pitbulls and Tessa just happened to find a Tripawd pitbull in need of a good home in our area. Ludo had been such an inspiration post-surgery and after going through the amputation with him, we both knew we were well equipped to add a new Tripawd to our family! So about two weeks after bringing Gurgi home, we added this little lady to our family: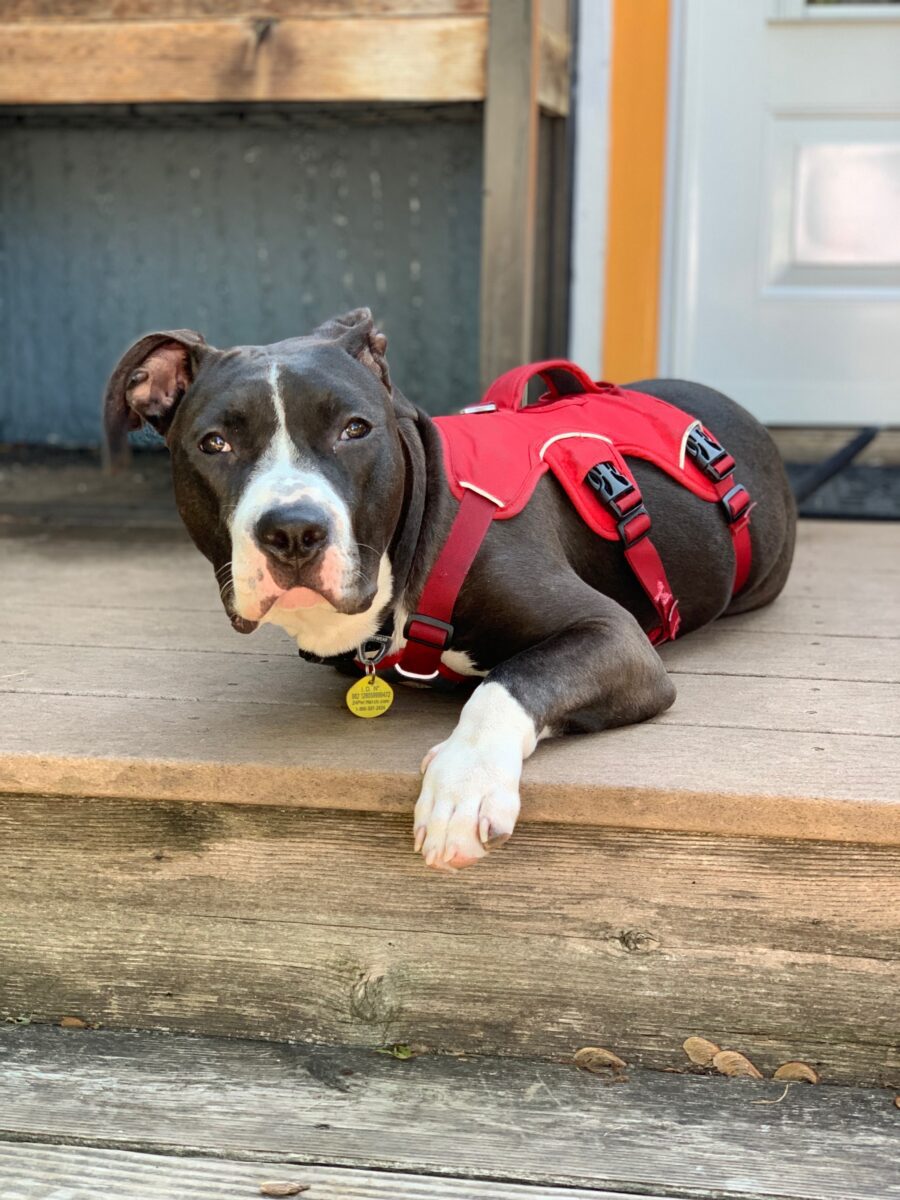 This is 7 month old Greta! She came to Minnesota by way of Texas where she was born to a backyard breeder. Sometime when she was around 9 weeks old we think she was bitten by another dog causing an infection in her front right leg. The breeder took her to the vet to have her put down because he could no longer sell her. They said no way, amputated the leg, and kept her as an office dog until she could be picked up by Save a Bull MN rescue in Minnesota. She is a big stinky girl who loves car rides, snuggling, and (according to her foster mom) swimming! Tessa already booked some time at a dog swimming pool and we're looking forward to seeing her go!
Both her and Gurgi became fast friends and are totally in love with each other! It's so fun to watch them run around and get crazy together! Once we're past the integration phase of the new adoption we're going to work on getting Greta used to riding in Ludo's stroller while Gurgi trots along beside her! Here they are showing off their Tripawd Pride!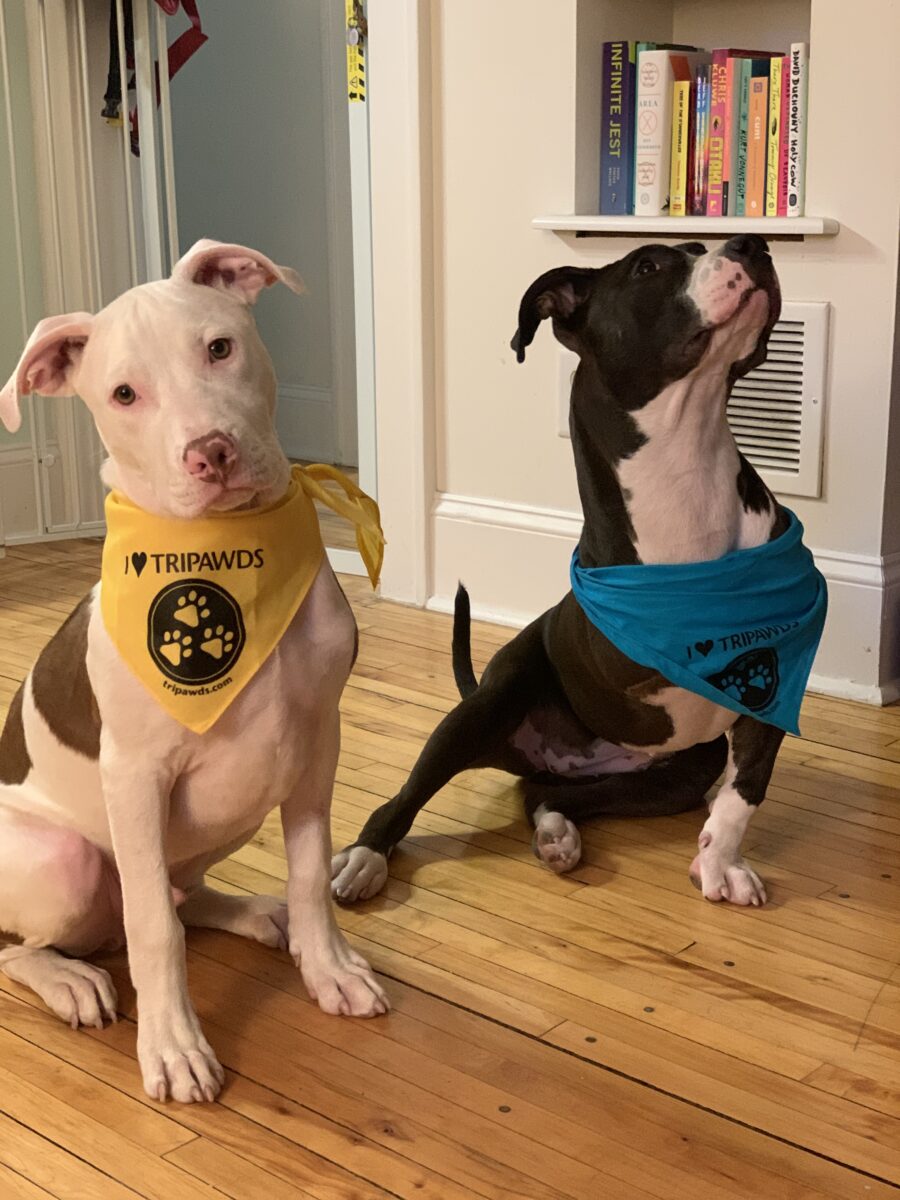 I hope you like the pictures! We're so happy to have these two little crazies in our lives and appreciate all the kind words all of you have shared after Ludos passing. Because of all of you, we were able to make Ludos last months more enjoyable, pain free, and happy. We hope to take all of the advice and lessons we learned from him to make sure Greta (and honorary Tripawd Gurgi) has a great and full puppy life!
-Scott
CaNNOT CONTAIN THE JOY I FEEL READING THIS!!!   It'salways nice to have a few HAPPY tears glowing.....and I've got 'em now!!!
Checked in quickly as I head off to wor and will write more later.  But just had to say thank you to Ludo for bringing  joy back into the loves of your beloved hoomans.....and the loves of these two precious  pips!  Good job sweet Angel💖💖💖
Later......
Sally and Alumni Happy Hannah and Merry Myrtle and Frankie too!
Happy Hannah had a glorious additional bonus time of over one yr & two months after amp for osteo! She made me laugh everyday! Joined April's Angels after send off meal of steak, ice cream, M&Ms & deer poop!
OH you guys! This is so amazing and big hearted and WONDERFUL!
Ludo was busy rounding up his new pack for you! His spirit is strong, he knew exactly who you needed, and who they needed too.
Super big congrats on Greta and Gurgi, they couldn't be any luckier than to find you for their forever home. And they are GOREGOUS! What a good lookin' pair. Those two pups were meant to be together! And I can't think of anyone better to become Tripawd parents again. You guys care so much, you're so smart, I know you'll give them both the kind of great life they sure deserve. THANK YOU for adopting them. Now, the mystery is solved about the bandannas! Thank you so so much for continuing to show the world what Tripawds can do, and how to help them do it.
We look forward to following along with their adventures, especially Greta's first swim pawty! Pretty neat how you can book time ahead, do you get the whole pool to yourself? 
Thanks, guys! When I placed the orders for the bandanas I figured you might get a little suspicious, Jerry.
And we totally agree about Ludo rounding up our new pack for us. Everything just felt so right when we met both Greta and Gurgi. After Ludo passed we buried him in the backyard and planted some of his favorite plants on top. When Gurgi came home with us I ran inside to prepare the house for a puppy (we weren't exactly thinking we would be adopting a new dog that day, but so it goes...) and Tessa took Gurgi wait in the backyard. She had a very surreal experience with him when as soon as they went to the back he went and sat looking at Ludos grave. Almost as if he was saying hello or paying his respects. After Greta joined, we've caught them both hanging around and laying on his grave too. One big family with their dear older brother!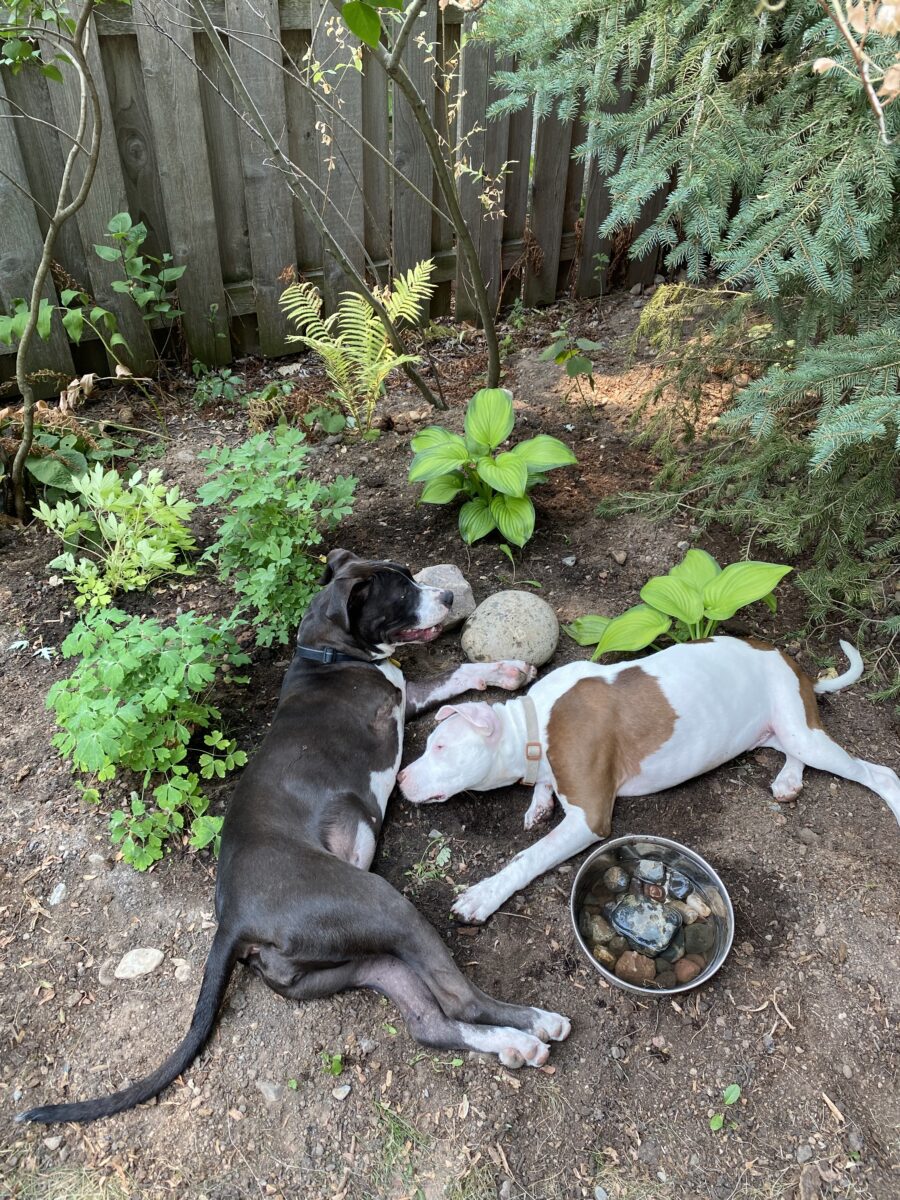 As for Greta, her swim time is this Friday! We got some water toys for her to play with and we're very excited for her. And yes, Greta gets the pool to herself! She is signed up for 25 min to start, but we can book longer times if she decides she wants to go back for more!
We're still working on getting her to ride in Ludo's stroller. We tried once, but it ended up being pretty chaotic. A dog trainer came to our house last week to give us some pointers on training. Sounds like there are some things we need to work up to before she's strolling all over town!
-Scott
And the Happy tears keep flowing♥️
When I got to the part avout Gurgi foing to say hello to the one who orchestrated all this, and then Greta joins in........OOOOOMMMMMDDDDD!  Talk about Ludo's energy still being present, WOW!  Without  question there Gurgi and Greta are connected  to Ludo.🥰  
Can't  wait to jear how the swim session goes....video please!!!!!
Maybe see if Gurgi will get in the stroller for a little bit and then maybe Greta will think it's a good idea too. 
I just love that these two jave each other to grow up with.  You and Tess have such huge hearts, but Ludo already knew that and that's  why he sent you two♥️♥️
Thanks so much for the pupdate and the very sweet photo. Looking forward to following  these two precious,  and very lucky, Souls.
Hugs
Sally and Alumni Happy Hannah and Merry Myrtle and Frankie too!
Happy Hannah had a glorious additional bonus time of over one yr & two months after amp for osteo! She made me laugh everyday! Joined April's Angels after send off meal of steak, ice cream, M&Ms & deer poop!
Wow, what a story! I totally believe he was there and they were all having a nice little chat. Animals see and sense so much more than we mere humans. How beautiful! 
That is super cool about the swimming pool and how it works. When we have a new pup I'll have to look into something like that. Neat!
I'd love to know what tips the trainer passes on, especially if they're related to stroller training. I know you will all have a lot of fun with the learning! Besides, it's more for us than it is for them, right?! 
Forum Timezone:
America/Denver
Most Users Ever Online:
946
Currently Browsing this Page:
1
Guest(s)
Member Stats:
Guest Posters: 1155
Members: 13572
Moderators: 2
Admins: 3
Forum Stats:
Groups: 4
Forums: 23
Topics: 17185
Posts: 240467
©
Simple:Press
—