Join The Discussion
Learn about life on three legs in the forums below. Browse and search as a guest or register for free to take advantage of member benefits:
Instant post approval.
Private messages to members.
Subscribe to favorite topics.
Join the Live Chat and more!
Best Support Harnesses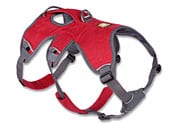 Visit the Gear Shop for the best harnesses and helpful products for Tripawds!
A
A
A
She's been limping, mildly off and on, for a couple of months, but yesterday a corner turned and this a.m. we took our sweet, gentle giant of an Irish Wolfhound – Maura – to the vet to find out why she could no longer bear weight on her left foreleg. We thought she had a sprain from playing with her kitten Spanky (they like to rough-house and then curl up and sleep it off), but we are now reeling from what we found out.
Maura is 6 years and one month old, and is actually a smallish wolfhound – 26 inches and 103 pounds – but big enough to play "Jungle Gym' w/our kids and love every minute of it. I have to admit, it occurred to me a few weeks ago that she could have the big 'C' – that we should get her limp checked out, but she's never uttered as much as a whimper or a whine in pain, and I just never counted on the noble stoicism of her breed. I had heard that osteosarcoma is very painful, and until yesterday, she didn't really seem to be in pain. She's actually limped on and off her entire life – she's kind of prone to breaking her toes on doorframes…
I just don't know what to do. We have an appt w/the oncologist in two weeks – the earliest we could get in, but so far our family vet has been very negative about outcome. I understand that once the tumor is as big as hers its a given that it's metasticized to the lungs? If it has, is chemo out of the question? Also, everyone is telling me how expensive it is, but I have nothing to gauge it – what is expensive to one might not be expensive to another. What are we looking at, amputation and chemo-wise? I am desperately seeking hope. Is there any to be found?
I'm sorry if I sound disjointed and, well, stoned – I'm in shock and pain and greiving for the big hairy girl laying on my bed. I just lost my father, and I'm not ashamed to say I think this might be harder. Maura's heart belongs to my eldest daughter, and my daughter's 7th birthday is tomorrow. Happy Birthday and Merry Christmas dear, your dog is dying….
MaurasMom,
Thank you for joining us here and becoming a member at Tripawds, we are sorry you had to find us under these unbelievably hard circumstances. We hope we can be a source of comfort and information to you. Yes, there is hope!
Don't apologize for how you feel, trust us, all pawrents have been there. We know how hard it is to think that Maura can be suffering from such a painful disease, because dogs are just so stoic, we hide our pain so well from the pack, don't we? We will hide our limp as long as we can, we don't want anyone to think we are weak. But believe me, the pain is horrible. And the best thing that amputation can provide is immediate relief from the pain of that tumor. Even the immediate post-surgery recovery period for an amputee dog is easier than trying to walk on a diseased leg.
That's too bad your vet isn't more optimistic. Other than Maura being a giant breed, is there a reason why s/he is negative about it? We are going to be that your vet doesn't have a lot of experience with amputee dogs, especially giant breeds, but trust us, there are plenty that do.
First off, be sure to check out our Top Questions about Amputation and Coping with Cancer. There are also some examples of what treatment cost you might be able to expect, here.
Don't rule anything out as far as amputation or chemotherapy until you talk to a board certified oncologist. Two weeks is a long time to wait. Where are you located? Maybe we can help find someone sooner for you.
Ok, lastly, we hope this cheers you up. Here are some examples and stories of giant breed tripawds with and without cancer:
Giant Breed Tripawds Photo Gallery
Jerry and Finnegan's Play Date
You can also feel free to post your question in our "Ask a Vet" forum thread. Tazzie's Mom is Dr. Wiltzius, who usually checks in quite often and can put your fears at ease, I know it.
Good luck with Maura. The road ahead won't be easy, but don't give up hope, we dogs are more amazing and resilient than humans give us credit for, at first anyhow. Please let us know what you decide OK? Many hugs going out to you.
Thank you so much for your kind words. There are no words to express my devastation and feeling of guilt. I thought two weeks was a long time, too. We are in the Indianapolis, IN area. We were referred to Dr. Lucroy. He's out of the office for the holiday and won't be back until Jan 5, so they did get us in right away. I'd love to see someone next week, though if possible. Any help finding another specialist would be very much appreciated. I'm just afraid because of the holiday a lot of offices won't be available next week…
Maura is on Tramadol and carprofen. She's still limping so badly, and I'm afraid that she's going to really break it before our appointment. She was still playing with us, and her kitten, and her 'pack sisters' as recently as this past Sunday (we have three other dogs – all rescues, as she was). I just can't stand to see how the light has gone out of her eyes.
My husband thinks amputation is cruel and he wants to manage her pain by medication. I just don't think that is possible. I would really, really appreciate help in finding a specialist who can see her sooner.
Forum Posts: 3
Member Since:
23 December 2008

Offline

Edmonton
Forum Posts: 428
Member Since:
16 February 2008

Offline
MaurasMom, You are right. It is not likely in most cases to have quality time with the bad leg still hanging there. Maura would be in so much pain, that heavier and heavier pain meds would be needed. She would be very much doped up, and nasty beast is still there dispatching its army.
Two weeks is indeed too long of a wait for cancer patients! Any chance your vet can refer you to other specialist besides Dr Lucroy? Hope that other members in the forums can offer you some info regarding other specialist in your area.
For the time being, make sure Maura's diet is helping her instead of the bad cells. Check out the forum Eating Healthy and Jerry's diet.
Hugs.
MaurasMom,
You know, my pawrents were completely shocked at the vet's suggestion of amputation when I got diagnosed. Then they saw this video of Moose, a Great Dane, and it completely rocked their world (and mine too!).
The whole idea about "pain management" for osteosarcoma is, to us, a joke, because the tumor is so excruciatingly painful and horrible, that even if you could control the pain with meds, what kind of quality of life is a dog having if they are so doped up they can't think or get that light back in their eyes?
Once I recovered from my surgery that light came right back on!
Has your husband seen this site?
Hang tight, Mom's looking up some other places you might be able to go to. We are going to ask my oncologist too…


Forum Posts: 1896
Member Since:
22 August 2008

Offline
I am very sorry that your Wolfhound has been diagnosed with Osteosarcoma. Assuming that she is healthy otherwise, I would definitely pursue amputation ASAP. Even if the tumor is large, you can still buy her a significant amount of time even without chemo. Osteosarcoma is very painful, and even with pain meds and radiation there is always the risk of a pathologic fracture in these big dogs, and that is a devastating thing to see.
I would find a surgeon before you find an oncologist. The leg needs to come off first, then most oncologists recommend chemo 2 weeks after surgery. The sooner the leg comes off the better, and many general practitioners are able to do this surgery.
Even though I am a veterinarian I still had to do a lot of soul-searching before I was able to decide to have Tazzie's leg removed, and my husband was very against it. We found this website and the videos of Moose and Finnegan really helped us make up our minds. Tazzie did very well with the surgery and just finished her last chemo without incident. We are SO GLAD that we have had these 4 extra months with her, and we are hoping for many more!
The first 2 weeks can be rough, but Tazzie stood and walked on her own the second day after surgery and was going to the bathroom on her own the day we brought her home. We never had to use the sling but we did purchase the Roughwear harness to help her get in and out of the van for vet visits and park playtime. Tazzie can still run and acts just like her old self. The only issue we had was a pressure sore on her remaining front foot that has since healed, and since we found some big dog booties that has not recurred.
The decision to amputate is a very personal one and not to be taken lightly, but the dogs usually do very well. It is much harder fo the humans to adjust!
Good luck with your decision, and remember that we are all here to help answer your questions.
Pam and Tazzie

Forum Posts: 729
Member Since:
28 May 2008

Offline
Maura's Mom…oh my gosh – we are sorry to hear of the diagnosis and more so about the wait to get Maura in given the holidays. I'm in Virginia – which is a ways from Indiana, but we have a wonderful surgical facility here and our surgeon did an AMAZING job. Our Oncologist taught at Ohio State University Vet School and is well recognized. Please let me know if you would even consider traveling here and I can make some phone calls. The hospital is called South Paws in Fairfax Virginia.
PLEASE ask your husband to spend some time on this site…My mom and my closest Aunt also thought that amputation was cruel and I literally had to tell them that I could not talk with them for a few weeks until Zeus and I got through this unless they could be supportive. I was very afraid of amputation as well and I went into it knowing it the was only way to alleviate the pain and prolong his life, but it had to be a good quality of life in my mind. I truly had in the back of my mind that if Zeus could not adjust, I would let him go…but I had to try and give us that chance. I would have regretted it if I didn't. He was diagnosed on Thursday, April 3rd and his surgery was Wednesday, April 9th. He is doing AMAZING 8 months later. Runs, plays, chases the ball, still stubborn, pushy and spoiled, still loving, affectionate and my best friend.
Cost…it depends obviously on where you go. I spent $3,000 on the surgery. I opted for chemo and it was 4 treatments of carboplatin at about $550 a treatment. I also did 2 pamidrinite treatments (bone strengthening) that were about $400 a treatment.
And yes…there is HOPE…you need to get her in sooner somewhere so she doesn't break that leg. The first 2 weeks after surgery are very difficult, so you should prepare for that if you opt for surgery – but they get through it…they do.
What else can we help you with????
Thinking of you…
Love
Heather and Zeus
Heather and Spirit Zeus - Our life changing journey…from the earth to the heavens…one day at a time…always together
Oh, I am so overwhelmed with all of your stories an support. Thank you, thank you, thank you. Unfortunately, you ARE giving me hope, and now I'm feeling even worse. I knew it would be costly, but we still have $1800 that insurance didn't cover left to pay on medical expenses for our 9 month old human child. I don't know where we would get that kind of money from?
My husband is as upset as I am, but I am afraid if I direct him to this site, he'll be even more against amputation and treatment. He's a good man, but practical to a fault. I am almost never practical. And, he believes what our vet told us – that the pain is manageable by medications. I believe our vet is leaning towards euthanasia, and I'm just not ready for that. But I won't see her suffer, and I know she is. I truly believe the leg is already broken. My maternal instincts tell me that is the "corner" that was turned on Monday…. X-rays didn't reflect that, but you know as well as I do there could be small fractures that don't show up.
I just feel so helpless right now. We are not without financial means, but this is just staggering.
I scheduled her amputation for next Fri – Jan 2. Earliest I could get, with the holidays it's tough, I suppose. They are also going to do a more comprehensive chest x-ray at that time. If there are any very large tumors, and we haven't really got a reason to expect it, then we will probably put her to sleep, but that is certainly not the outcome we are hoping for. That's my 33rd birthday – happy birthday to me.
I have this huge sense of purpose and relief. Not having a plan made me frantic. Now we just have to get through this next week and a half…
Thank you all so much, I am looking forward to learning more and certainly posting more as we travel this new and difficult road. Damn dog…
MaurasMom said:

… you ARE giving me hope, and now I'm feeling even worse. I knew it would be costly, but …
---
Bittersweet news indeed … treatment can be very costly, sometimes too much so. Perhaps try contacting The Magic Bullet Fund. They help people, just like yourselves, with financial assistance for canine cancer treatment.
Many vets may also be willing to work out a payment schedule. But alas, we understand, sometimes even that is not enough. Please try not to feel too bad if it is simply not within your means.
And remember, relieving Maura of her pain – one way or another – is the best presesent you can give her, and yourself.
PS: While you may not feel much like it right now, do have a Happy Birthday and Merry Christmas!

Metro Kansas City
Forum Posts: 248
Member Since:
23 October 2008

Offline

My husband & I have spent right around $10,000 on Calamity this past year. When she originally broke her leg, hubby & I took 10K out of our retirement fund for her orginal surgery & to pay off a few credit card bills. Needless to say, the credit card bills never got paid off & the entire 10K is gone. We pay back the retirement money, with the interest to ourselves.
If you or hubby has a retirement fund, that is always an option too. Sometimes we have money that is just not "liquid" and don't think of it when we are upset. Home equity loans are a way to go too.
Janie & Calamity
I just feel better knowing that the amputation is scheduled. Our vet est it will be $800 – $1000 for the amputation, which seems to be a lot less than what some have posted, and for that I am grateful. We will also do the chest x-ray that day. Her tumor on her leg is very large (she's quite hairy, but I still don't see how I missed it – the deformity of the distal radius. I will blame myself forever.) so we are kind of expecting to find masses in her lungs. I know nothing is certain, but I do know that I cannot stand to see her in pain, and I am not ready to lose her.
I will keep you posted, and I'll probably have more questions – thank you all so much for making this decision much easier. I feel stronger just knowing we aren't alone. Thank you. 🙂

Metro Kansas City
Forum Posts: 248
Member Since:
23 October 2008

Offline

Stay strong, we we always be here for you!
Janie & Calamity

Forum Posts: 729
Member Since:
28 May 2008

Offline
Hi there – yeah…I know our surgery was on the more expensive side – but they were the best in the area and I just didn't care at that point…I didn't have the where-with-all at the time to research less expensive hospitals.
I'm so happy to hear that her surgery is scheduled…it's just a little over a week away – keep her low key until then and hopefully the pain medicine that she is on helps with her discomfort. I hear you about having a plan in place – it always makes me feel better too 😉
You will have a Happy Birthday because she will be relieved of her pain.
As you get closer and have questions, please let us know…and yes…damn dogs!!! LOL
Much love,
Heather
Heather and Spirit Zeus - Our life changing journey…from the earth to the heavens…one day at a time…always together
Forum Timezone:
America/Denver
Most Users Ever Online: 597
Currently Online: bunnut, jerseyherles
47 Guest(s)
Currently Browsing this Page:
1 Guest(s)
Devices Used: Desktop (43), Phone (6)
Member Stats:
Guest Posters: 1005
Members: 12755
Moderators: 2
Admins: 3
Forum Stats:
Groups: 4
Forums: 23
Topics: 15021
Posts: 211513