Join The Discussion
Learn about life on three legs in the forums below. Browse and search as a guest or register for free to take advantage of member benefits:
Instant post approval.
Private messages to members.
Subscribe to favorite topics.
Join the Live Chat and more!
T-shirts, Cards & Gifts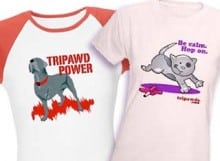 Visit the Tripawds Gift Shop for fun three legged dog/cat t-shirts & more! Browse all designs.
A
A
A
Pretty sure this can't all really be happening, but until I wake up, I might as well share what's going on with my Tripawds community, just like I would if I weren't having a nightmare…
Over Memorial Day weekend, Gerry started having weird episodes.  They seemed like extreme fear or anxiety with protective barking behavior the first couple times it happened.  There was also lots of frantic running around and uncontrolled peeing.  Gerry has never done much barking, except when my roommate's dog, who is the barker, is really aggravated, and then Gerry will throw in a few backup barks.  And my roommate's dog was present and not freaking out.  Still, my first inclination was that maybe he saw a coyote (we have a few in the woodier parts of the city), but it was still very light out and extremely hot, over 90 degrees.  So it was hard to imagine a coyote out and about.  
The second time it happened that night, I called the local emergency vet.  They advised that since Gerry had gone up and down stairs, among other things, during his freak out, it was highly unlikely it could have been a seizure.  So, we waited, hoping more info would present itself.
The next day, it happened again – 45 miles away.  New place, a cookout, but he knew everyone present and was perfectly content for a couple hours before he had another episode.  He was even more agitated this time – possibly because he was on a leash and more constrained.  So, rushed him to the nearest emergency vet, which was in the opposite direction of home (Waukesha, for curious Wisconsinites).  They did bloodwork, some basic neurological tests, and everything was fine/normal.  They recommended an MRI and to follow up with UW Madison Neurology.
So we went back home late that night and it happened two more times as soon as we got back.  At the end of the second one, he hid in a corner in the basement and barely responded to my roommate and I.  We both had the thought that maybe he wasn't even recognizing us.  He eventually came out of it enough to get him in the car and go to UW Madison for an emergency visit.  At the vet, he was his usual self.  There, we learned that not only were all the neurologists there and everywhere at a conference all week, but UW Madison's MRI was broken and wouldn't be up and running until next week.  The closest MRI was back in Waukesha, where we had come from that night.
So back to Waukesha ASAP, a couple days later.  On UW Madison's advice, also had chest x-rays and abdominal ultrasound done, along with the MRI.  Meantime, Gerry's diarrhea had returned (thought to have been caused by coccidia, which he tested positive for a couple weeks early and was treated for).  So, I also took a fecal sample, which he was due for as a recheck.  The chest x-rays, ultrasound all came back looking great.  The MRI also looked normal to the vet on duty, but to be sure, it was recommended a neurologist look at it – once they're back from the conference, that is.  The fecal though was negative for coccidia, but positive for tapeworm!  To my dismay, all vets I've talked to have assured me that a tapeworm would not have cause Gerry's scary freakout behavior.  So that remained a mystery.
At this point, still waiting for the neurologist consult.  May hear back on that tomorrow, but could take until next week.  Gerry got his pill for his tapeworm a couple days ago, but since then two things turned up.  A bump near his nipples that was not another nipple.  At first I thought it could simply be an outie belly button, irritated by being shaved.  I described it to Gerry's vet in an email and she suspected it might be a skin tag.  The other thing that turned up was diarrhea again, so as long as I needed to bring in another fecal, I brought Gerry in too to have the bump looked at.  It was aspirated and, now, finally we get to what was promised in the topic title – a mast cell tumor.
Fortunately, the vet we saw can fit him in tomorrow and my saintly, soon-to-be former roommate is postponing her trip to her new home on the east coast so that she can take Gerry in for me tomorrow morning.  (Work is crazy right now and my supervisor was already really flexible with me last week for all the other stuff, so I was so relieved she could do that for me, because I was not looking forward to begging off work again).
So, it's still pretty small.  Just a bit bigger than one of his nipples.  They won't know what grade until next week some time – maybe longer, I'm not sure.  It has to be sent off to a lab to be diagnosed.  I forgot to ask how long it takes to get the results.  Vet told me a 1 or 2 grade, as long as they get it out with clean margins, won't require any additional treatment. Higher is bad – we'd probably be off to an oncologist to talk chemo and other options.  
So yeah, that's where we are today.  Surgery tomorrow.
The vet asked if we had a cone collar already.  Ha.  Have two. 
Oh, and yeah, at this point, since there didn't appear to be any sign of cancer on the MRI (though still waiting on the specialist) – this diagnosis still doesn't illuminate those heartbreaking freakouts at all.  He hasn't had any since.  I'm most suspicious of the Vectra 3D that my roommate applied to her dog that weekend.  Gerry also got his Frontline.  But while it wasn't the first use of Vectra 3D by her on her dog, she hasn't used it many times.  I certainly can't say it was for sure the cause, but definitely be wary if you're going to try it.  Take any out of the ordinary behavior your pup shows very seriously.  And read the box carefully for instructions and warnings.  That's my unsolicited advice on that issue.
By the way, we were this close to getting Gerry started as an official therapy dog:
Handsome in his uniform, ain't he?
Gerry has been a tripawd since 12/16/2009.
He was a shelter dog with a mysterious past and an irrepairable knee injury.
Videos and pics of Gerry's pawesomeness can be found at: http://gerry.tripawds.com

Las Vegas, Nevada
Forum Posts: 4344
Member Since:
14 August 2009

Offline
Oh gosh!
I'm so sorry!  This is hard to absorb!  Let us know what grade!
Love the pic of him!
Comet - 1999 to 2011

She departed us unexpectedly  January 23, 2011 at the age of 12 1/2.

She was born with a deformed front leg and a tripawd all of her life.


Orange County, CA
Forum Posts: 1185
Member Since:
28 November 2008

Offline


San Diego, CA
Forum Posts: 2503
Member Since:
29 October 2010

Offline
Yikes – how scary! I'll add my vote for Grade 1 and clean margins! And I hope you get a good answer about the neurological problems. It does make you wonder about that Vectra 3D…
Keep us posted. Sending pawsitive thoughts out for you and Gerry!
Jackie, Angel Abby's mom
Abby: Aug 1, 2009 – Jan 10, 2012. Our beautiful rescue pup lived LARGE with osteosarcoma for 15 months – half her way-too-short life. I think our "halflistic" approach (mixing traditional meds + supplements) helped her thrive. (PM me for details. I'm happy to help.) She had lung mets for over a year. They took her from us in the end, but they cannot take her spirit! She will live forever in our hearts. She loved the beach and giving kisses and going to In-N-Out for a Flying Dutchman. Tripawds blog, and a more detailed blog here. Please also check out my novel, What the Dog Ate. Now also in paperback! Purchase it at Amazon via Tripawds and help support Tripawds!

In your heart, where I belong.
Forum Posts: 1153
Member Since:
9 February 2011

Offline
Yep, grade 1, clean margins, he'll look like he had a semi-breast reduction. The freakout was to alert you to the fact that he is one of those dogs that can smell cancer and he was smelling it on himself. He got his point across; you did exactly what he wanted you to do. 
Do let us know how this plays out. I'll be thinking of Gerry.
Shari
From abandoned puppy to Tripawd Warrior Dude, Dakota became one of the 2011 February Furballs due to STS. Our incredibly sweet friend lived with grace and dignity till he impulsively raced over the Bridge on 12-15-12.
Dakota's thoughtful and erudite blog is at http://shari.tr.....pawds.com/

krun15
Geeze Bri!
As you may remember Tri-pug Maggie lost a leg to a MCT and had several other cutaneous tumors.  She did not pass from mast cell.  Her little sis Tani also has mast cell cancer.  We are up to 9 tumors now, I took off 5 but I don't plan to take anymore off.  I am treating Tani's cancer holistically at this point. Maggie had a couple grade II tumors, one of Tani's is a grade II.
My experience with our vet is we get the path back in just a couple of days. It is really good that the abdominal ultrasound looked clean- mast cell can met to the spleen and liver.
Try not to worry too much until you get the grade back.  Once you know what you are up against you can decide what to do.  Angel Rio's mom Micki know lots about mast cell- like Mag, Rio battled mast cell for 4.5 years.
The freak out episodes sound really scary.  Tani also has epilepsy which causes seizures, but she never exhibits the behavior you describe.  I hope you get some answers soon.
Karen and the pugapalooza

Forum Posts: 3
Member Since:
5 June 2012

Offline
Not an expert, but I can share my dog's experience with MCT.
Similar to what you describe, at about 6 y.o. Frankie had what felt like a small pebble under her skin – at first we thought it was a benign cyst or growth, but soon learned it was MCT. It was removed – good clean margins. No follow up treatment was required. She was absolutely fine for 6 years; in fact, I sometimes forgot it had ever happened. She was the dog my children grew up with and I can't imagine those intervening years without her. I've also heard about lots of other dogs with similarly great outcomes.
(Eventually it did return, but sad as it was when she left us, by then she'd lived a long happy, well-loved 13 year life.)
Sending good thoughts to you and Gerry.

Milwaukee, WI
Forum Posts: 181
Member Since:
6 September 2011

Offline

Good luck with Gerry's surgery today.  I hope you have off weekends because it sounds like you also need a couple of days of rest with all the stress and driving back and forth on top of everything else.  And Gerry is indeed impressive in uniform. 
Harley is an 8 year old Golden Retriever. Amp surgery for an infiltrative lipoma canceled due to two masses in chest. A rescue, he found his forever home on 3/18/07 and left for his eternal home on 1/09/13. His story and medical history are at http://myharley.....pawds.com/

The Rainbow Bridge

Forum Posts: 23780
Member Since:
25 April 2007

Offline
Bri, I'm glad we got to talk in the chat last night because I woke up today thinking of Gerry. Things will be fine, this will be a no-brainer surgery to remove a pesky, non-problematic lump. And he WILL get to be a therapy dog soon, and bring smiles to many.
I still can't get over how many medical challenges this trooper has had. All I can say is, watch how he copes, and follow his lead. But you know that. Been there, right? It's just not fair that you are going through another cancer scare, dang it.
Paws crossed for a boring surgery and and end to this pesky lump.
As for Vectra 3D, I say avoid it. The name itself sounds scary. I hope he doesn't have any more seizures.
Please keep us posted.

knoxville, tn
Forum Posts: 1705
Member Since:
12 February 2010

Offline
we're sending our best ET juju to gerry, hoping for an itty-bitty little 'nothing bit' of mct, and a speedy recovery.  isn't it time you guys try to maybe live a 'boring life'???????
charon & spirit gayle
Life is good, so very, very good!!! Gayle enjoyed each and every moment of each and every wonderful day (naps included).  She left this world December 12, 2011 – off on a new adventure.
Love Never Ends

Plainfield, Illinois
Forum Posts: 465
Member Since:
14 May 2011

Offline
Hoping for Grade 1 here as well, and then Gerry can finish getting his therapy dog certification.  Geez you could sure use a break!
Hugs to you!
Spirit Chili Dawg's pack
Diagnosed with OSA: 5/2/2011 Ampuversary: 5/11/2011 OSA returned in hip: 8/26/2011
Chili Dawg crossed the Rainbow Bridge on 8/30/2011 & is now pain free. He was my heart dog, and I miss him every day.
Dakota Dawg said
Yep, grade 1, clean margins, he'll look like he had a semi-breast reduction. The freakout was to alert you to the fact that he is one of those dogs that can smell cancer and he was smelling it on himself. He got his point across; you did exactly what he wanted you to do. 

 
Haha!  That's pretty much the perfect solution to all my worries.  Well done!  
Thanks everybody for all the well wishes and good thoughts.  
Gerry is home.  Surgery went well.  Results will take 3-5 business days.  Glad to have this weekend of having the tumor gone, but not knowing the grade – in case it's bad.  I can re-energize knowing it's off.  Sleep easy, have an appetite, etc., so I'll be better ready for bad news, if it should come.
Gerry escaped from one of the kennels though – I warned them (he pulled that at the shelter a lot), but no harm done.  I can also tell he wants to lick his stitches, but he knows I'm watching him to prevent exactly that.  Will have to stick the ol' e-collar on him when he's left alone.
Gerry has been a tripawd since 12/16/2009.
He was a shelter dog with a mysterious past and an irrepairable knee injury.
Videos and pics of Gerry's pawesomeness can be found at: http://gerry.tripawds.com
Here's a picture of Gerry's mast cell tumor before it was aspirated (and removed, obviously), in case anyone is curious.  I took it when I thought it was probably nothing, but wanted to monitor it just in case.  Keep in mind that it's easier to see because his belly got shaved last week for his abdominal ultrasound.  I'll try to follow it up with cute Gerry recovery pictures soon.  

Gerry has been a tripawd since 12/16/2009.
He was a shelter dog with a mysterious past and an irrepairable knee injury.
Videos and pics of Gerry's pawesomeness can be found at: http://gerry.tripawds.com

The Rainbow Bridge

Forum Posts: 23780
Member Since:
25 April 2007

Offline
Good to hear your little spunky fighter made it through surgery! Go Gerry! Now, spend this weekend napping and snoozin' together on the couch. You both need a good, long break.
I can't believe how small that tumor was. Shoot, that thing doesn't scare me, it's nothing, I know it!
Wow, you are really, really an awesome Mom for catching that. Nice work. 

Washington
Forum Posts: 982
Member Since:
1 February 2011

Offline
A majority of the time with MCTs, there's nothing to worry and we are crossing our paws that Gerry is on the good side of the stats with his lump.
Rio's momma, Micki
~ ~ Rio ~ ~
Forever in my heart...
April 2000 – January 20, 2012
Diagnosed with Mast Cell Cancer in June 2007. Left rear leg amputated Feb. 8, 2011.
Mets discovered Aug. 31, 2011. Read more of Rio's story here.
Forum Timezone:
America/Denver
Most Users Ever Online: 597
Currently Online: admin, teri, sprakos
63 Guest(s)
Currently Browsing this Page:
1 Guest(s)
Devices Used: Desktop (58), Phone (8)
Member Stats:
Guest Posters: 1005
Members: 12588
Moderators: 2
Admins: 3
Forum Stats:
Groups: 4
Forums: 23
Topics: 14969
Posts: 210764