Join The Discussion
Learn about life on three legs in the forums below. Browse and search as a guest or register for free to take advantage of member benefits:
Instant post approval.
Private messages to members.
Subscribe to favorite topics.
Join the Live Chat and more!
Best Support Harnesses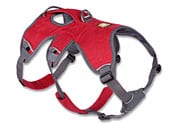 Visit the Gear Shop for the best harnesses and helpful products for Tripawds!
A
A
A
I am the proud owner of Dasha, a beautiful 9 1/2 year old rotty. In the past 2 to 3 weeks she has started limping and her back leg at the elbow a hard mass has developed on it. I checked her out and also found a soft small mass on her stomach, on her front shoulder,her chest, and now a harder one on her neck. All this has happened so fast. We made an appointment with the vet for next Monday but after reading on the subject it gives me little hope. I am sick over this, alot of sleepless nights. I know I won't find out until the vet for sure but has anyone had this with their dog. It is almost like they grew over night. Any insight would be helpful at this point. She is showing no sign of pain right now, eats well, steps a little tough for her.
Thanks for asking, we're sorry to hear about Dasha and sincerely hope it is nothing too serious. The limping and mass on the elbow do sound like a typical cancer presentation, which can be addressed with amputation. Hopefully the other spots are unrelated.
Dasha is obviously strong and doesn't want you to know she's in pain. Dogs will often hide their weakness until a bone breaks, so try to feel fortunate it hasn't gotten that bad. Take it easy with Dasha and get to the vet as soon as you can. The waiting (and not knowing) is the hardest part. Hang in there and keep us posted.
I know I shouldn't jump the gun until the vet lets us know one way or the other. Its very hard playing the waiting game. The other question I have is about ny 7 year old rotty, Bailey. He grew up with her and panics when she is outside and he isn't. I am afraid he won't be able to deal without her. What can I do to help him through this ordeal. He will panic when I take her to the vet and he isn't with her. Any ideas?

The Rainbow Bridge

Forum Posts: 23924
Member Since:
25 April 2007

Offline
Oh we know how hard it is to wait. Poor Bailey. Is there a way you can have someone stay home with him when you take her to the vet? What did you do last time they were apart, if ever, even for just a little while?
The best thing you can do to help Bailey and Dasha is to stay strong and be the pack leader. They will look to you for leadership, and you'll need to show them by staying strong, that all of you will indeed get through this together. If you aren't strong, they can't be either. We know it's hard, but do as best you can.

My heart lives at Rainbow Bridge
Forum Posts: 3754
Member Since:
28 November 2008

Offline
My thoughts are with you as you wait. Hang tough, they draw as much strength from us as we do from them.
Shanna & Spirit Trouble ~ Trouble gained her wings 3/16/2011, a 27 1/2 month cancer survivor, tail wagging. RIP sweetheart, you are my heart and soul.  Run free at Rainbow Bridge.
The November Five - Spirits Max, Cherry, Tika, Trouble & Nova. 11/2008 - 3/2013 An era ends as Queen Nova crossed the Bridge.


Forum Posts: 729
Member Since:
28 May 2008

Offline
Hi there – oh gosh…we know how horrible the waiting is – my question would be whether or not you could get Dasha in sooner than Monday? I hear you about Bailey – Buddy (my other golden) is similar – but doesn't quite panic. I don't have anything else to offer (unfortunately) except what Jerry had to say about staying as strong as you can – be the pack leader.
We are all here for you – you don't have to walk this alone. We're saying tons of prayers and hoping for the best. Please keep us posted.
Mom and Zeus
Heather and Spirit Zeus - Our life changing journey…from the earth to the heavens…one day at a time…always together
The only vet I trust is the one I have to wait till Monday on. As far as Bailey goes, he will set at the bottom of the steps and wimper til she comes home. He is very attached to her. Dasha was a mother to him. I know I have to be strong for Dasha, as well as everyone else in the family. I just want to thank everyone for your responses and help during this waiting game. Not only do I pray for Dasha but to all of you that have gone through this or are going through this terrible time. As soon as I find out I will post the findings here.

Linden, MI
Forum Posts: 458
Member Since:
11 November 2008

Offline
Please be strong and see what the Doctor has to say first. My Great Dane Nova has small lumps in several places all over her body, and most of them are simple sebaceous cysts. Some are hard, some are soft, some about the size of a quarter, others like a pea. I had all of them aspirated and tested because I was paranoid the cancer had spread (she had osteosarcoma in her left front leg and amputation 4 months ago). Today her cancer is in remission, with no evidence of spread to the lungs. I freak out every time I find a little lump, but thus far they've all been no big deal (except the one in her leg of course!)
Let us know what happens, we are here for you. My only advice is if your Doctor strongly suspects osteosarcoma, don't waste time waiting for a bone biopsy, get the leg off. You will be amazed at the quality of life these 3-legged babies have. We wasted 3 weeks getting a biopsy done, even after the vet said there was a 99% percent chance it was osteo, just from looking at the x-ray. And after that wait, the results were inconclusive.
Take care, we'll be thinking of you!
Sue and Nova
Dane Mom Sue at nova.tripawds.com and Mom to Beautiful Great Dane Queen Nova, a Blind Tripawd, who kicked cancer's butt from 11/08-03/13. The Queen is Spirit Nova now, but her legacy lives on here at Tripawds!
Today Dasha went to the vet. One of the worst days of our lives. She has OC. The lungs also have cancer too.

The vet has given us some rimadyl for pain and has told us 3 to 6 months. He has advised us not to remove the leg at this point due to the way it has spread. My wife and I have been in daze since talking to him. I have to say that my vet was very compasionate during our hundreds of questions. I sat with Dasha and told her how much we love her and also told her that it was up to her when to go not us. When her and god decide to have her go, I promised her we will be there with her. She will not go alone!! This is truly a terrible day. Its very hard to think when all you want to do is cry. I will be strong for all of us till the end but I will also take every moment and cherrish it, we still have chapters to write. I can't write anymore right now , I wrote one up but lost it. My mind isn't working to well right now. I just wanted to thank everyone that have replied to me cocerning Dasha. Go bless all of you.
Jim and Rene and Dasha(greek meaning= GIFT FROM GOD)
Forum Posts: 132
Member Since:
11 February 2009

Offline
I'm so sorry to hear this. I might suggest another opinion re the amputation…it will not cure the cancer, but will resolve the awful pain. Seems many vets try to dissuade people from amputating…I know it's all very overwhelming, but you should at least be aware of the different options available.
My 8 yo Rottweiler was diagnosed with osteo plus on "possible" lung met (which means probable, statistically speaking) and they gave him a guarded prognosis. It took me about three seconds to decide on amputation, had it done just over a month ago and were he to go tomorrow, I would consider it worth it. Within a few days he was up and running and the pain from the tumor was gone.
Rimadyl probably won't be enough to control the pain…you have other, better options for pain management as well IMO.
Be strong and I think your attitude of cherishing every moment and realizing the importance of quality time is so right on. Hugs to you and yours.
mybestfriend said:

… I will also take every moment and cherrish it …

---
That's the spirit. When our time grows shorter with our furry friends it becomes more and more important to enjoy every day to its fullest. Please know that sharing Dasha's story here is certain to help others with their difficult decisions down the road.
And while it can be agonizing to continue reaching for straws, second opinions can never hurt. Depending on how invasive the cancer has become, amputation can enhance Dasha's quality of life as it is the only way to eliminate the pain which will only increase over time.
This is going to be one of the hardest things I will ever do, letting go of a loved one. I will do whatever I can to ensure no pain and quality of life is there. Today looking back and wonder if I would have found it earlier if I could have given her a fighting chance. I guess its now guilt setting in. Trying to keep myself pawsitive during this will be a challenge. The hard part is weds. my daughter is coming in for her wedding shower and my wife and I decided not to tell her at this point as not to ruin her weekend. She was the one that came up with the name Dasha. My son will also be here too and I will tell him. This is probably the last time they will see her but I can't see upseting her during this time. I figure in May after she gets back from her honeymoon we would tell her. Who knows, Dasha has always been hard headed but very loving and I know she will fight to the end. She loves her toys and today I bought her another stuffed animal that she is sleeping with right now. I really am worried about Bailey (my 7 year old rotty) how he is going to cope with this. To Bailey, Dasha is his mother. Any ideas so when that time comes I can help him through it.
mybestfriend said:

Trying to keep myself pawsitive during this will be a challenge.
---
This is indeed hard but doing so makes the whole precess easier for everyone, especially Dasha. You can should all over yourself forever, but when you just don't look back and start enjoying your time together, all will be good. Peace.

My heart lives at Rainbow Bridge
Forum Posts: 3754
Member Since:
28 November 2008

Offline
I am so sorry to hear the dx Dasha has been given. I know making the decisions must be so much more difficult if you know there are lung mets, but that said, I agree with Carina – get a second opinion. My second opinion was the one who persuaded me(us) to have the courage to go with the amputation for Trouble.
In the end, only you can make the decision, and regardless of which one you make, the folks here will be supportive. We find the strength to go on, to live each moment, to receive the blessings we are given to have them in our lives. Dasha is as blessed to have you, as you are to have her.
Many thoughts and prayers coming your way.
Shanna & Spirit Trouble ~ Trouble gained her wings 3/16/2011, a 27 1/2 month cancer survivor, tail wagging. RIP sweetheart, you are my heart and soul.  Run free at Rainbow Bridge.
The November Five - Spirits Max, Cherry, Tika, Trouble & Nova. 11/2008 - 3/2013 An era ends as Queen Nova crossed the Bridge.

Hi all, Me and my wife decided to tell our daughter before she goes back home. It will probably be the last time she sees her. I just feel no time will be good to tell her and I think her and Dasha need some time together. Dasha has been great fooling her but our daughter keeps asking about her as to whats wrong with her. I always told her I would never lie to her and she will put 2 and 2 together if we would tell her at a later date. Today the wife and I and Dasha had an ice cream cone together, we loved it.We still get upset , but we are trying to focus on making what days we have together the best they can be. The vet told us 9 months would be a miracle. I told Dasha lets show the vet mircales can happen!!! I told Dasha its up to her though. When she is ready to go we will find the strenght to let her go peacefully and painlessly. She is what matters in this, not us.We will grieve when its over but right now we have alot of living to do. I think she will fight longer if we give her reasons to live for. Its amazing what a few days of thinking and reading from this site can make.We are still very upset but we need to put Dasha first during this time. Are time will come. We are living in the moment and we are grateful to have whatever time we have left with her.
Forum Timezone:
America/Denver
Most Users Ever Online: 597
Currently Online: bunnut, jerseyherles
48 Guest(s)
Currently Browsing this Page:
1 Guest(s)
Devices Used: Desktop (44), Phone (6)
Member Stats:
Guest Posters: 1005
Members: 12755
Moderators: 2
Admins: 3
Forum Stats:
Groups: 4
Forums: 23
Topics: 15021
Posts: 211513