Join The Discussion
Learn about life on three legs in the forums below. Browse and search as a guest or register for free to take advantage of member benefits:
Instant post approval.
Private messages to members.
Subscribe to favorite topics.
Join the Live Chat and more!
Tripawd Heroes Book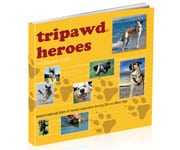 Tripawd Heroes books feature inspirational stories and photos of dogs loving life on three legs!
A
A
A
Forum Posts: 1
Member Since:
28 March 2018

Offline
Hi everyone – thanks in advance for your insights.
A little background, my dog Kyra is a 9-year-old Great Pyrenees, though she's only ~75lbs, putting her on the small side.
About a month ago I noticed a mass on the bottom of her hind left foot. My local vet ended up taking a biopsy of the mass which came back as a benign cyst, but because of the location, she referred me to a surgical vet who recommended removing the cyst. I went ahead with the removal last week and Kyra did great, but unfortunately when the surgical vet sent the mass in to be examined the results came back as soft tissue sarcoma. The surgical vet told me the removal had clean margins, but as she believed she was removing a benign cyst and due to the location of the mass, the margins are only ~1-2 millimeters. Though she said she can't be certain the mass will return, she thinks it's likely it will. In terms of growth, the tumor is a grade two and they haven't yet checked to see if it's metastasized.
So, with all that considered, my vet recommended either leaving the foot alone and seeing if the tumor comes back – at which time we could still consider amputation. Or amputating the leg now to decrease the risk of it metastisizing. Because of the nature of the tumor, my vet didn't recommend chemo or radiation, though she gave each of them as an option. 
Before removing the mass, Kyra showed no ill effects from the mass on her paw (she was walking normally, playing normally, and didn't mind me poking around her paw when I noticed it). Even now, just six days out from having the mass removed, she's walking on the leg without a limp and, if I wasn't slowing her down to keep her from hurting her stitches, she'd already be roughhousing with my sister's 3-year-old husky.
I'm hesitant to amputate a leg when she seems just fine with it (and there's even a chance the tumor doesn't return or if it does that it will return slowly), but I don't know if that's just my kneejerk reaction to the thought of amputation. I also don't want to delay amputation and find out that allowed the tumor to metastasize.
I know the decision is ultimately mine, but I appreciate any and all insight.
Thanks, everyone!
Chris 

Here and Now

Forum Posts: 11463
Member Since:
25 April 2007

Offline
Welcome and best wishes for Kyra! Your future forum posts will not require moderation.
Every dog is different, but if the issue is limited to the foot, please consult with a certified orthopedic surgeon and consider consulting with Orthopets about the possibility of a prosthetic. There is no need to remove an entire leg if the tumor is localized to the foot…
Read all Tripawds News blog posts about prosthetics here.
While you wait for comments from others, use the Advanced Search above to refine your forum search results with specific phrases, and you're sure to find lots of helpful feedback. You can also search all blogs here . Or, consider downloading the Tripawds e-books for fast answers to common concerns and feel free to call the toll-free Tripawds Helpline anytime!

Virginia


Forum Posts: 16496
Member Since:
22 February 2013

Offline
Gosh, so sorry you find yourself in this very "murlky" predicament.  Nothing is clear cut here, that's for sure.
Yes, take the advice if Admin if you are able to.  And then a second opinion on top of that!
Others who have dealt with soft tissue sarcoma can offer more I sight than I.  I know "low stage numbers" are a good thing…I think.  IF…IF…IFF…there is no real bad harm in waiting a bit to see IF it does come back, obviously that would be an ideal scenario.  You already know amputation can be an optiin.
One thi g wevew learned on thos journey, there are no guarantees with or without amputation and there are no guarantees as to whether it will come back or not!  Crazy journey!
Wishing you the best while you wait for others to chime in.
Lots of hugs
Sally and Alumni Happy Hannah and Merry Myrtle and Frankie too!
Happy Hannah had a glorious additional bonus time of over one yr & two months after amp for osteo! She made me laugh everyday! Joined April's Angels after send off meal of steak, ice cream, M&Ms & deer poop!

Forum Posts: 10
Member Since:
23 March 2018

Offline
Hi there!
So sorry to hear about the situation you find yourself in.  Cancer is so horrible in whatever form it takes.
I am new to this forum and am only a very recent member (my 9.5 year old lab had his rear leg removed last Wednesday), but perhaps our situation might shed some light.
Tyson was diagnosed with a mast cell tumour in November.  It was very aggressive and in an awkward spot on his leg.  We opted to have all the diagnostic tests done to confirm that it hadn't metastasized (X-rays, ultrasounds, spleen/liver/lymph aspirates) before having the mass removed surgically.  The margins were "clean" but only 1-2 mm and the surgeon was sure he hadn't got it all due to its location.
The tumour returned fast and furious 2.5 months later.  So, after 3 months (almost to the day) Tyson had another surgery to remove the leg.  It was a gruelling decision to make because he seemed happy, otherwise healthy and (aside from obvious pain in the leg) was running around like nothing.
So, I understand the predicament you are in.  I would, like others have said, highly recommend another opinion and get the tests to see if it has gone elsewhere in the body before making any decisions.  The more information you have, the more comfortable you will be with whatever decision you make.
Best wishes to you and Kyra.
Forum Timezone:
America/Denver
Most Users Ever Online: 597
Currently Online:
52 Guest(s)
Currently Browsing this Page:
1 Guest(s)
Devices Used: Desktop (49), Phone (3)
Member Stats:
Guest Posters: 1006
Members: 12778
Moderators: 2
Admins: 3
Forum Stats:
Groups: 4
Forums: 23
Topics: 15028
Posts: 211628