Join The Discussion
Learn about life on three legs in the forums below. Browse and search as a guest or register for free to take advantage of member benefits:
Instant post approval.
Private messages to members.
Subscribe to favorite topics.
Join the Live Chat and more!
Best Dog Beds for Tripawds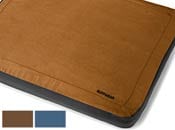 Give Tripawds the comfort they deserve! See which dog beds are best and why.
A
A
A

Forum Posts: 1638
Member Since:
1 October 2017

Online

Hey New Jersey! (Abby's pawrent 
)
What a heart felt, informed, and honest post, thank you. Everything you said just hit home. I would not look at it like throwing your baby's leg in the trash, I would think of it as throwing the piece of 

cancer in the trash. Unfortunately it could not be taken off the leg first. Your baby is a miracle that gives us all hope. This is what we do the things that we do FOR. Quality of life, extended pain free beyond what horror the cancer would do. In my case, it was not cancer. It was a horrible ___ <– unknown fill in the blank that broke Huckleberry's leg beyond repair. I felt like the worst person in the world taking the leg of a cat that wasn't even officially mine, he was a feral stray. But with that I took responsibility for his care for the rest of his life, and he is turning into an amazing, loving housecat. Semi-domestic, yeah.. probably forever, but awesome anyways. This congregation of people allowed me to realize that just because what we do may not be what "everybody" does, it was the right decision. Even the vet assumed we would put a less than 2 year old cat to sleep because his leg was broken beyond repair. And every night when he curls up in my lap, gives himself a bath, and stretches out on me to watch tv purring, I am grateful that I found this place and did not make "everybody else's" decision.
Hugs,
Jackie and Huckleberry 

Hugs,
Jackie, David, Mitchell, Andy Oscar, and the coolest feral tripawd kitty Huckleberry


Baltimore, MD
Forum Posts: 19
Member Since:
26 December 2017

Offline
Hello all and thank you again to everyone who shared their experiences. 
I wanted to update you all because I so appreciate you taking your time to respond to me. I did not reply earlier, but I read all of your stories and considered your thoughts. My vet and I agreed on a plan to let Annie continue on the painkillers until they were not keeping her comfortable anymore, and at that point have her re-checked to determine if amputation was the next step. Annie continued to act like her normal self all the way through my IVF cycle, and a few days after it was over (unsuccessful), she started to limp again. It's almost like she knew I needed that time. 

Once we were sure that even with maxing out her meds she still limped, the vet suggested doing an ultrasound to check for any internal cancers as a pre-op step. We did that on Monday. Coming home from the vet, she had the same amount of limp as when she went in. Since Tuesday though, Annie has been limping MUCH more. She barely puts any weight on the leg. So we were anxious to get the ultrasound report. Amazingly it came out clear, even though it's been 10 weeks since her first x-ray. And thankfully, the vet was able to schedule her amputation for tomorrow.
Now I need to prep (myself, husband, house, and her sister) for the first 2-3 weeks of recovery. Thankfully, I work from home, so I can be with her all day. I took a video of her at the park today – last park visit on 4 legs.  All our fingers and toes crossed for a successful surgery so that we can pick her up on Sunday and start her new life! 
Anyone have a really deep-chested dog with a front leg amputation? So much of her weight goes on those front legs, I'm just not sure how difficult it will be. She's super strong and in great shape, overall, though!
Also, will I be able to carry her up/down stairs those first few days? I read somewhere on here that it's better not to use the harness until her stitches are out. Trying to imagine hand/arm positions for carrying that would avoid her incision, and it seems like it will be difficult. 
Thanks again for all the support. 
-Jeni & Annie & Haylee

Green Bay, WI

Forum Posts: 831
Member Since:
18 May 2014

Offline
Glad you have a plan moving forward….our doberman, Nitro, had his right front leg amputated, and did amazingly well for over 3 years, when old age took him from us. I know people say don't use a harness until the staples are out, but we used it right from the time we brought him home. We put a t-shirt on under the harness, and it was fine. In fact, I don't know how we'd have survived without the harness. I can't imagine carrying her being a good idea, unless she is pretty small. I wouldn't want to bump the incision at all. So, I would at least see if the harness gets in the way of the incision, and go from there. Good luck, keep us posted, call the helpline if you feel you're in over your head – we're here to help get you through this.
Paula and Warrior Angel Nitro 
Nitro 11 1/2  yr old Doberman; right front amp June 2014. Had 6 doses carboplatin, followed by metronomic therapy. Rocked it on 3 legs for over 3 years! My Warrior beat cancer, but couldn't beat old age. He crossed the Bridge peacefully on July 25, 2017, with dignity and on his terms.  Follow his blog entitled "Doberman's journey"
http://nitro.tr.....27_2_1.jpg
"Be good, mama loves you".....run free my beautiful Warrior

Forum Posts: 1638
Member Since:
1 October 2017

Online

Thank you Paula. I could make suggestions based on all of you're experiences but my baby is a kitty and you lived it with your heart puppy. You're an angel being here to help others.
There have been many large chested dogs here that have done well. You just have to go slow and make sure you don't get hurt in the process. Remember, work smart not hard. Everybody is different and your determination will get you through it.
I'm sorry the IVF was not successful, but hopefully you will have another chance soon so takes good care of yourself too and utilize whatever help you can get. It is a fairly short however emotional and stressful process. After the first 2 to 3 weeks it will be all downhill and Annie will be doing most stuff on her own. You might have to hold her back on stairs until she gets her strength and balance, but they recover lot quicker than you think even though it seems like a lifetime. Sending you prayers and positive energy for a quick and full recovery. Hugs to all of you

Jackie and Huck ❤️❤️
Hugs,
Jackie, David, Mitchell, Andy Oscar, and the coolest feral tripawd kitty Huckleberry


The Rainbow Bridge

Forum Posts: 23781
Member Since:
25 April 2007

Offline
Hey there, welcome back. Your pack has been through so much over the last several weeks, what a roller coaster on all levels. I'm sorry about the IVF…
Annie looks pretty good in that video. But yeah, that limp is a sign of some really bad pain so as hard as it is to move forward with the surgery, it's the best way to help her feel better immediately. Even recovery is easier than coping with the pain of her bad leg. And if it's any comfort, she isn't the biggest dog we've ever seen here, not by a long shot. She's tiny actually, compared to others like Mastiffs and Great Danes. Plus, she looks like she's in great shape and as long as you keep her lean and healthy, she should do just fine with that one front leg.
Meanwhile about the harness….if you have to use it on her, that's OK. Just put a t-shirt on underneath the harness and watch for any irritation underneath the straps at the end of the day. It's a lifesaver when you have lots of stairs in the home.
We are keeping you guys in our thoughts and hoping for an uneventful surgery and a fast recovery. Keep us posted OK? 

Canada
Forum Posts: 1063
Member Since:
7 July 2017

Offline
Annie and Pawrents
I am hoping that your surgery went super well and that you are coming home today! Remember to stay well rested for the next couple of weeks, and eat lots for Mum and be sure to take all of your medications for her okay?!
Keep lots of juicy smelly snacks on hand for the days that she is not so hungry and both of you get lots of rest when you can!
Stewie is a big boy, his front leg was removed last July and like you i was concerned about all of his weight being on the front, but he managed like a champ! We don't have a webmaster harness , but the one we do have, although works great for him, we couldn't use it during his recovery, until the stitches came out. We also had a T-shirt on him after his bandages came off. (I think it was around day 4?)
Stewie allowed us to help him with a regular collar and extended leash when he wanted to go out for potty breaks, i would just stay close to help him if he stumbled. It seemed like he adjusted quicker to his 3 legs than i did! Stewie stil forgets that he has to pee like a girl now and will sometimes stumble while lifting his back leg… I have to give him credit for trying!!! 
Please stay in touch with any concerns during Annie's recovery. It is tough for the first week or so, but they bounce back much sooner than we think! It is up to us to make them go slow and easy… they are like kids, they don't know when to stop!
all the very best
Petra, Stewie and his Pride of kittens xxx

Latham, NY
Forum Posts: 115
Member Since:
1 October 2017

Offline

Checking in to see how Annie is following her surgery.  You have been in our thoughts.
Dawn and Fallon
(and Paul and Maggie)
Fallon (Tripawd) and Maggie (quadpawd), Greyhounds.  Dawn and Paul, 2 leggers.
Fallon's left front leg was amputated due to osteosarcoma on 10/11/17.
Nothing But Love in Her Heart - dawn3g.tripawds.com

Baltimore, MD
Forum Posts: 19
Member Since:
26 December 2017

Offline
Hi all – thank you for your words and advice. I started a new topic now that Annie is out of surgery!

Forum Timezone:
America/Denver
Most Users Ever Online: 597
Currently Online: paws120, kbp0419
61 Guest(s)
Currently Browsing this Page:
1 Guest(s)
Devices Used: Desktop (53), Phone (9), Tablet (1)
Member Stats:
Guest Posters: 1005
Members: 12590
Moderators: 2
Admins: 3
Forum Stats:
Groups: 4
Forums: 23
Topics: 14970
Posts: 210770