Join The Discussion
Learn about life on three legs in the forums below. Browse and search as a guest or register for free to take advantage of member benefits:
Instant post approval.
Private messages to members.
Subscribe to favorite topics.
Join the Live Chat and more!
What Is The KillBarney Tour?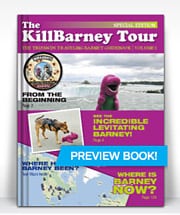 Get the KillBarney Tour Book for photos and stories of Tripawds members around the globe!
A
A
A

Forum Posts: 1
Member Since:
16 February 2017

Offline
Hello everyone. New to site. Front right leg lameness began in late November. Diagnosed early January. Contemplating amputation last week. Extreme pain in shoulder region left the right leg and shoulder almost nearly non weight bearing. Neurontin, tramadol, rimadyl worked for maybe 2 weeks. Then significant decline. Now on oxy and prednisone . Last week i was completely incapacitated by the shock of this situation. Felt hopeless and began looking amputation info. Almost immediately began weight bearing again and now is more comfortable than she has been since November. Im aware of some waxing and waning affects on prednisone and am wondering what some others in this situation have done. Comfort is extremely important for my wife and I. However no mets have been seen yet. But last X-ray was 2 weeks ago. Prognosis is poor and we understand why.  Would love some opinions. Im not the discussion board type. But my dog deserves to at least have her experience documented. Even if this is more for my own acceptance of the situation.  

The Rainbow Bridge

Forum Posts: 23776
Member Since:
25 April 2007

Offline
Hi and welcome. I'm on my phone now but wanted to get your post approved so others can see it and chime in.
I'll return soon but in the meantime check out Jerry's Required Reading List and the Tripawds Start Page for insights. Back in a bit! 

Germany
Forum Posts: 506
Member Since:
14 December 2016

Offline
Hello and welcome! I understand how hard this is, all of us here probably do. My dog is probably almost the size of yours and a front (right) leg amputee due to osteosarcoma. I was VERY hesitant with the decision to amputate and even after I was wondering if I had done the right thing. Check out my blog if you like, http://tinsch.t…..pawds.com/ I wrote everything down in the first blogs.
Let me just say that we are  15 months post amputation and so far are metastases-free. No guarantees, but it can happen. And I would not miss these 15 months for my life!!
Look around this site, it does help a lot. and ask whatever is on your mind.
tina & Manni
Guardian of Manni the Wonderdog. -Or was it the other way around?
Osteo and amputation in Dec 2015. Second, inoperable, primary osteosarcoma found in June 2017.
The end of our adventures came Dec 10, 2017. 2 years to the day.

The Rainbow Bridge

Forum Posts: 23776
Member Since:
25 April 2007

Offline
Your dog is so lucky to have you, thanks for coming here and jumping in. Most of us can relate to what you're going through and we get that it's a hard decision to make.
Osteosarcoma is a horribly painful disease so try to put yourself in her paws. As you know the Prednisone is only masking the symptoms so the sooner you can decide the better. I'm not sure why your vet decided to put her on Pred, I'm unaware of any members whose dogs took it to alleviate the pain of osteosarcoma. Many take it for lung metastasis though.
Yes, osteo has a sad prognosis. But we've seen many dogs defy those odds and go on to live longer than anyone expected. Our own Jerry lived two years when he was only supposed to live six months and we didn't do chemo. And other members have gone beyond that. Nobody knows who will beat those odds, but the important thing to remember is that dogs don't keep calendars. They don't know about "time" and "prognosis," they just want to feel better and for their humans to be happy. To a dog, one day and one year is the same. To the majority of members who've joined us here, only a handful say they wouldn't amputate again, even if their dog didn't beat the odds.
How does your vet feel about your dog's ability to live life on three legs? Ten isn't as old as many members who've been here. If she is a good candidate, there's no reason why she can't do well. What's her name, by the way?  
And have you gotten a second opinion from an oncologist or board certified surgeon? If not, I recommend doing so for extra peace of mind.
I hope this helps. Stay tuned for more feedback from others.

Vacaville, California

Forum Posts: 43
Member Since:
30 December 2016

Offline
So sorry for what you and your baby are now going through!!!!  This is one of the worse and hardest thing for a pet owner to go through!!  Just wanted to share my experience since my dog is an older dog……11 years old greyhound.  You will hear from many on this site that there is no wrong decision, and everything depends on what and how you feel, and what you feel will be good for your dog.    You will know what is best decision is for your dog, and it is great that you are gathering as much information as you can!!  My dog did not use predisone, her pain was controlled with tramadol and gabapentin.
Sessy started to limp right before Christmas.  Of course I thought she had only sprained her leg.  I took her to her vet on 12/26 only to find out that she had osteosarcoma in her back left leg.  Not sure if your diagnosis was also osteosarcoma?  I was devistated and not sure what to do since she was already 11 years old.  My vet gave me the the options of amputating the leg now or controlling the pain until the leg broke from the cancer and then have to make the decision to amputate or have her put to sleep.  From my doctor, research on my own, and this group I learned that the pain from the cancer leg was much worse than what she would have with amputation.  I also learned that most dogs and cats get along well with three legs.
i made the decision to amputate, and Sessy lost her leg one week later on 1/2.  It is now 7 weeks later and Sessy is doing great.  She has finished her second chemo treatment.  Of course there were some bumps in the road, and sometimes I was discouraged.  But Sessy is happy…..so I am happy as well.
whatever you decide this group will be there for you.
Gayle - mom of beautiful greyhound Sessy.  Sessy diagnosed with osteosarcoma on 12/26/16, left back leg amputated on 1/2/17.  Feline siblings Mooshe, Tinkerdude, Odie and Bean

Durham, NC
Forum Posts: 406
Member Since:
16 September 2015

Offline
Not sure if you've made a decision or not, but I wanted to chime in. My dog was a ripe old 12 when she broke her leg, which is how we discovered the osteo. She is so stoic that I didn't realize her leg was broken until over a week later. Then I agonized over what to do, so she didn't have surgery to remove her leg for at least a couple more weeks. Like your dog, Izzy didn't have any evidence of spread to the lungs, so I opted out of chemo. She is still with me now, 18 months post amputation.
Let us know if we can help!
Momma to the world's most beautiful American Bulldog, Izzy!! Lost her front leg to OSA 9/18/15. Diagnosed w MCT in June 2016. Celebrated her 1 year ampuversary with knee surgery on 9/18/16! MCT recurrence in Dec 2016. Happy & hungry til nearly 14, earning her wings on 7/31/17.
Forum Timezone:
America/Denver
Most Users Ever Online: 597
Currently Online: coveredinfur, darbyqh
53 Guest(s)
Currently Browsing this Page:
1 Guest(s)
Devices Used: Desktop (49), Phone (6)
Member Stats:
Guest Posters: 1005
Members: 12585
Moderators: 2
Admins: 3
Forum Stats:
Groups: 4
Forums: 23
Topics: 14969
Posts: 210750