Caring for a Three Legged Dog or Cat
Tripawds is the place to learn how to care for a three legged dog or cat, with answers about dog leg amputation, and cat amputation recovery from many years of member experiences.
JUMP TO FORUMS ↓
Join The Tripawds Community
Learn how to help three legged dogs and cats in the forums below. Browse and search as a guest or register for free and get full member benefits:
Instant post approval.
Private messages to members.
Subscribe to favorite topics.
Live Chat and much more!
She's  got the art of napping down pat!  And she looks so pretty doing it!
Thanks again for sharing more details.   Interesting about the "pin" and where the fracture was.  Looking forward to what the other Surgeon has to say about that, plus his plan moving forward, as well as the Rehab.  Without wasting energy on what was, or was, or was not done by the "other" surgeon it does appear not as much thought was given to Bryce being a tripawd. 
You are doi ng an exce job of moving forward  now with a new team and new solutions  AND reassurances👏👏  As Jerry pointed out, there are def instances where fractures do jave to heal on their own.   Makes sense.  And hat's where your new team can offer guidance  on any simple additional  non invasive steps you can take to help facilitate  that.
Hugs
Sally and Alumni Happy Hannah and Merry Myrtle and Frankie too!
Happy Hannah had a glorious additional bonus time of over one yr & two months after amp for osteo! She made me laugh everyday! Joined April's Angels after send off meal of steak, ice cream, M&Ms & deer poop!
Awwww what a doll! Thanks for figuring out images uploading.
Yeah I understand why you feel let down. Phone convos can leave out so much, and a bad connection makes communication even more difficult. And without "THIS IS WHAT YOU NEED TO DO FOR IT TO HEAL" instructions, I would feel lost too! I agree totally that another opinion is in order, good job on getting that set up. If you even want a third, Drs. Sherman & Debora Canapp, an incredible ortho/rehab vet team, do long-distance consulting and I have a feeling they would geek out on Sam's situation. 
Good idea to wait on the brace. Therapists may have other ideas. I'm so glad you will be getting Sam into a rehab practice. Those pros often see things quite differently than surgeons and should have excellent instructions to get healing under way.
You are so fortunate that Sam is a chill doggie! Having a crazy spazzy dog in this situation would be incredibly tough.
Another pupdate....
We just had our consultation for that second opinion and we'll be taking our girl in for another surgery tomorrow 🙁 This surgeon says that this type of avulsion fracture cannot generally heal on its own, particularly in a tripawd where weight bearing is a necessity. The portion of the tibia that's broken off is where the quadriceps muscles attach and those are what extend the knee and allow weight bearing. So while this procedure is a common one in young puppies who this type of fracture is most likely seen with, Bryce will need to be on strict rest for the next 8 weeks. The doctor will place some pins and tension wire to secure that section of bone and then he'll splint the leg extended so the quadriceps muscles don't continue to pull at it. That splint will be on for the first two weeks and for the first four weeks, we'll be using the Help Em Up exclusively so she cannot put any weight on that leg at all. No significant weight bearing is critical to get this to heal properly and to get her back to her typical activity level. 
We've got another long road ahead of us now that our recovery clock has been set back to zero. We've got a rugged baby play pen style thing we're going to rig up to give her minimal space to move around, but that is open on the top so we can pick her up out of it while she has the splint on for those first two weeks. 
This surgeon said that if *he* had seen the radiograph taken at the three week mark, when we took her in after she stopped using the leg initially post op, he likely would have splinted it then or at least given us a strict rest regimen to follow to get it to heal on its own before that portion of bone was pulled away. We're quite frustrated with our original surgeon who perhaps could have done the TPLO procedure differently to account for this type of post op complication given her tripawd status, and with our primary care vet as well who saw those xrays at three weeks, where there's clearly a fracture, and didn't say there was a potential problem!
This is the xray taken at the 3 week mark when we took her in after she randomly stopped using the leg. I had forgotten to give her gabapentin that morning, so thought maybe that had something to do with it. The vet even asked my husband (who took her in) if she was a bit of a diva (she can be) because it may be that she's just acting a bit diva about a slight increase in pain.....in retrospect feels A LOT like a brush off of an actual issue!
I'm still trying to stay focused on the current situation and getting her through the recovery which will likely be much tougher this time around. That said, it's very difficult not to feel like we've been let down by the folks who we had entrusted to care for our pet [read: child]. Not to mention that we paid quite a bit for the TPLO procedure and now will be paying an even higher cost for a second procedure.  Very thankful that we have pet insurance but still is frustrating. 
Well that felt a bit more like a rant than an actual pupdate, but I guess I needed to get that out of my system!
OOOOMMMMDDDDD!!!   RANT????   NOPE!  That was an incredibly  restrained  response to a bunch of bulls**t that never should have happened!!  You have every right to be furious  and piffed off beyond words!    FWIW, his piffed us off too!!  
Maybe at a later time you can put things in place to be reimbursed, at least partially by both Bets involved prior!
But for now, you are right.  All energy needs to be placed on the path forward to heal this screw up and get your sweet Bryce back to 100%  And she will get back to 100%!!!  You have a solution  now that yes, will take a lot of,patience, but your love for Bryce will get you through.  She's strong and you are strong!!
It sounds like, although  a little late, you have the right Surgeon  for the job.  You are clearly in good hands now.
And we want to be here for you every step of the way.  On those days that are extra hard andnyou feel  defeated....we are here to hold you up and cheer you on.  On those days  when you start to see the light at the end of the tunnel....we are here to stand and applaud you and Bryce and cheer you on 👏👏
(((((((Hugs)))))))
Sally and Alumni Happy Hannah and Merry Myrtle and Frankie too!
Happy Hannah had a glorious additional bonus time of over one yr & two months after amp for osteo! She made me laugh everyday! Joined April's Angels after send off meal of steak, ice cream, M&Ms & deer poop!
Aww wow rant away, that's why we are here. I would feel the same way. You guys have been through so much! It's so frustrating to have spend the $$ and time on a problem that has a completely different solution with another vet. What it often comes down to is how each vet experiences successes and failures based on their chosen procedures for clients. They choose the one with the most success and hope the current client follows that pattern. When it doesn't, ugh!
I'm glad you found that boarded ortho vet, though. Sounds like a very skilled surgeon, and also really good at explaining things to clients based on what you described here. Many specialists have a hard time with layspeak. 
Did the surgeon say anything about rehab after the eight week mark?
Thank dog you have insurance. Can I ask which company you are using?
I'm sorry for the frustration with your primary vet. I would let them know, as diplomatically and gently as you can, what's going on with Bryce if you haven't already, so that they can learn from the situation. We all know that vets are only human like we are, and sometimes they miss things. That happened to us with our Jerry. We were led down a path that delayed treatment for him. When it's your own fur kid in their care and something gets missed, it's so upsetting and oftentimes really expensive. But like you said, focus on the road in front of you for Bryce's sake, and this will be behind you in time. 
We are sending tons of pawsitivity your way! Let us know how surgery goes today!

Thank you both so much for your kind words and encouragement! 
Her surgery went really well and she's back home again with us after staying overnight post op (which is their normal procedure there). She's got a splint and a pretty sweet bandage that will be on for the next two weeks. We have to lift her back end for her and are only getting up and going outside for eliminations. The help em up harness is SO critical for this wheelbarrowing and I'm so glad to have it! I had asked the surgeon about getting a cart made but she's supposed to be on such strict rest that there would be no point to one. So hand-held wheelbarrow it is!
She's obviously on quite a few meds (carprofen for anti inflammatory, cephalexin for antibiotic, gabapentin for pain, and acepromazine for sedation--they were initially planning for trazadone but she tends to fight that one and gets all anxious and alert), but she seems relatively comfortable. She does have a bit of a cough every now and again, but I imagine that's likely caused by the intubation during the surgery and will probably go away in a short time. She is eating/drinking and peeing/pooping normally though
My parents were a HUGE help and got us this rugged baby play pen set up so she's got a small enclosed space that we can contain her in but also get her into and out of relatively easy (though she is pretty heavy at almost 60lbs!). 
Also very luckily, I am able to work from home for at least the next two weeks while she's got the splint so I can be here with her during the day. 
No mistaking it's going to be a long and rough road to recovery, but I'm very grateful to have the support of my bosses, our family and friends and you all from this community. I'm encouraged by how quickly the past 5 weeks had gone in terms of her TPLO recovery, so these next 4 weeks may be done in a flash too. 
Anyway, I'm sure I'll be back with more updates at some point along the way here! And thank you again for your support!!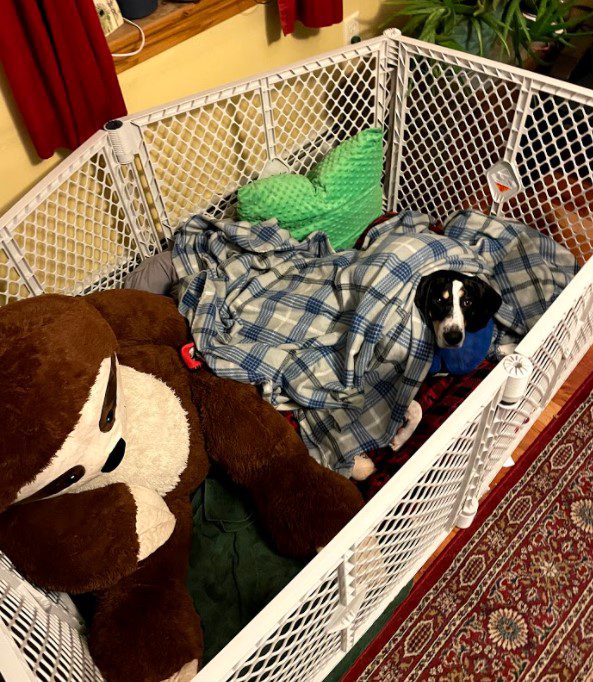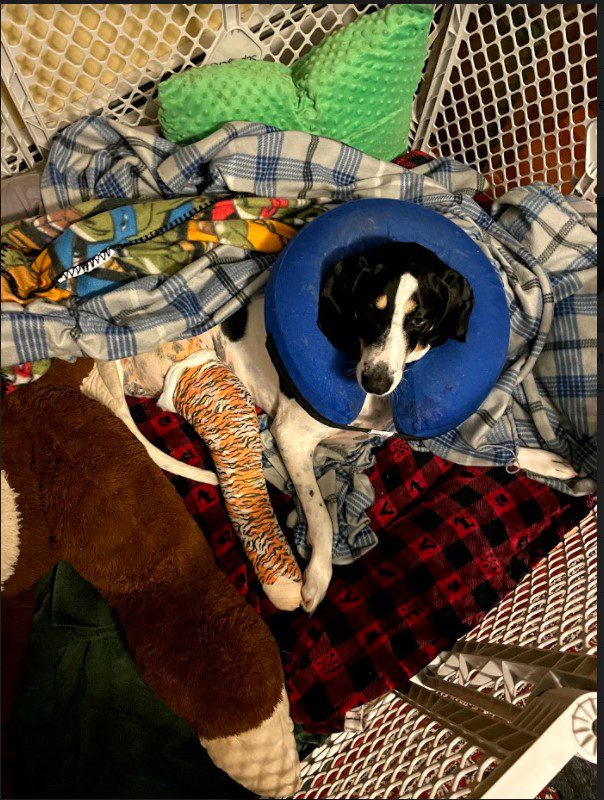 YAY BRYCE! You are HOME! And you're on the way to a once-and-fur-all recovery, that's pawesome! I love your "nurse" friend in the recovery ward, too cute.
Her meds do sound really good. Interesting about how she reacts on Traz! I've never heard of that reaction to Ace. Our Wyatt would be the reverse, he was awful on Ace but so much better on Traz. Just shows to go you yet again that all dogs are different.  
Glad you've got her maneuvering the potty walk process down to a science. Whatever works for the wheelbarrow!
At some point I'd love to send you some questions for an article about how this recovery went. No time soon, just get through it first of course. You can do it

WELCOME HOME BRYCE!!!    What an ordeal.  You and your hoomans WILL get through this!!  You're  already two days closer  to a complete  recovery.  Check it off one day at a time.
His set up is a wonderful "recovery room". And yes, his "Nurse" is adorable.
We are here for you every single day...and we mean that!  You're  gonna have some roller coas6 days emotionally,  that's  for sure.  We're here to help hold you up on your less good days, and to cheer you on with every day closer to full recovery,  Consider us your personal  wheelbarrow 😎
Hugs
Sally and Alumni Happy Hannah and Merry Myrtle and Frankie too!
Happy Hannah had a glorious additional bonus time of over one yr & two months after amp for osteo! She made me laugh everyday! Joined April's Angels after send off meal of steak, ice cream, M&Ms & deer poop!
Pupdate! 
Things have been going pretty smoothly during these last 4 weeks. Bryce has gotten her brace/bandage off and we've gotten our 4 week post op xrays done too. They show the first surgery, the TPLO, is all healed up (yay!) and the second surgery, the avulsion fracture repair, is healing up nicely. We spent those first two weeks with her in the splint, wheelbarrowing her around when going outside and all other times she was confined to her "room" as we call the pen setup we have. The second two weeks saw the bandage off but still the same no weight-bearing and wheelbarrowing around.
Now that we're seeing a good level of healing happening, she's allowed to weight-bear but we still need to use the help em up to support her when going outside. No actual walks or running, jumping, stairs etc. and still on the diet of "strict rest" spending all her time in her "room" though she is able to come to work with me at the office two days a week (where I have a mini "room" pen set up under my desk).
She is such a trooper and is doing well off all the post op meds--we still have some sedation meds available if we need to use them but so far her sleepy hound dog mode is doing a good job of keeping her mellow enough. We can tell that she's getting anxious to be done with all this recovery and rest and not getting to zoom around, but we're so thankful that she's such a creature of habit and that our working/life circumstances allow us to not have to leave her alone for long stretches of time! We're going to be in this mode for the next four weeks until her 8 week xrays which will HOPEFULLY show the second surgery is fully healed and we can start with some rehab to get back to her normal level of activity. 
I had some pictures of the recent xrays and of our girl when she first got her brace off, but my rural internet is not playing nice and they won't upload properly. 
Anyway, I wanted to touch base and say that we're doing as well as can be expected and are hoping for the next four weeks to go quickly and smoothly and are looking forward to the end of this recovery which is starting to feel very close now! 
Team Bryce, you guys are true heroes for Tripawds everwhere! I'm serious. From the vet to you to Bryce, this long road hasn't been easy. The surgeries are every Tripawd parent's worst nightmare. But you guys are holding so strong, like a well-oiled machine. Your pawsitivity and teamwork is incredible and has made for one very inspawrational recovery!!
It's pretty neat she has been able to go to work with you. I know everyone would love to see the photos. If you still have trouble, just PM me and I'll share them for you. I totally understand rural internet hassles.
Thank you for this terrific pupdate. You can count on our good vibes and healing wishes to keep coming your way.
 Standing ovation going on over here!!!   👏👏👏👏👏
Like Jerry, I'm in awe of what you and Bryce have accomplished!!   Your perseverance,  depth of love, commitment to her well being and determination to stay the course really are a  Herculean effort that, quite frankly, very few could do. 
Your story will give so much hope to any tripawd facing this challenge.  Thank you so much for taking the time to update us.  We are all cheering for Bryce and truly honored  to know this very special doggy Soul and her very special  hoomans.
Hugs
Sally and Alumni Happy Hannah and Merry Myrtle and Frankie too!
Happy Hannah had a glorious additional bonus time of over one yr & two months after amp for osteo! She made me laugh everyday! Joined April's Angels after send off meal of steak, ice cream, M&Ms & deer poop!
Pupdate!
Bryce is doing GREAT! We are now 15 weeks post TPLO surgery and 10 weeks post avulsion fracture repair surgery. Bryce had an appointment with the physical therapist (cost included in that second surgery

) just yesterday, two weeks after her final radiographs. Those showed the TPLO was fully healed and the fracture repair was very close to fully healed.
We've been taking things a bit easy these last two weeks but she's clearly been feeling quite good and has been itching to do zoomies--especially when we got 6" of snow after Thanksgiving--her favorite! The PT doctor said she's doing great and we can start to ramp up her activity again. Over the next four or so weeks she should be able to get back to her pre-surgery levels of activity. Of course we'll have to monitor her as we go to make sure she's not overdoing it. The doctor gave us some suggestions for balance/core exercises to do with her daily but it sounds as though she's in good enough shape/strength to not need repeated PT appointments. 
We'll also need to continue to keep her weight in the ideal zone. She had gained some pandemic pounds that we're just now seeing come off since she'd been so inactive during the long recovery time. We have just a few pounds to go and then the work to keep her in that sweet zone begins. We are very much looking forward to seeing her get outside and enjoy her walks in the woods again!
The last few months have been pretty exhausting, but we are VERY thankful that we have the means, both finances and time, to manage these surgeries and recovery because she means the world to us; she is our child! We are also very grateful for this community and to have a place to come to for answers, advice, and support! 
Here she is in all her recovered glory! Bryce Canyon National Bark!
WOW!
This is the best news! Thank you so much for taking time to stop by and update. The picture of Bryce is a bonus! WHEEEE!!!
It's hard to imagine the kind of dedication and persistence that it takes to manage a recovery like this. I hope I never have to find out. But you guys did it, and you did it so well! Be proud! You are a true inspawration to everyone who is ever afraid of finding themselves facing the same diagnosis and we are so grateful you decided to share the journey here. Thank you so very much.
I hope this coming holiday season is filled with lots of fun times and all the things Bryce loves to do! Hoppy Pawlidays!
Forum Timezone:
America/Denver
Most Users Ever Online:
946
Currently Browsing this Page:
1
Guest(s)
Member Stats:
Guest Posters: 1217
Members: 15978
Moderators: 2
Admins: 3
Forum Stats:
Groups: 4
Forums: 23
Topics: 17851
Posts: 247783
©
Simple:Press
—