Join The Discussion
Learn about life on three legs in the forums below. Browse and search as a guest or register for free to take advantage of member benefits:
Instant post approval.
Private messages to members.
Subscribe to favorite topics.
Join the Live Chat and more!
Tripawd Heroes Book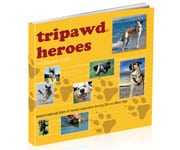 Tripawd Heroes books feature inspirational stories and photos of dogs loving life on three legs!
A
A
A
Hi, I wasn't sure whereabouts to post this as I think that in part Rowan's size and height is a contributing factor.  He is very leggy. 
He had his right foreleg amputated on 13 September … through a bone infarct, not a tumour. 
At the weekend I noticed a dark scab on his elbow.  My husband was insistent it was a callus, although I couldn't understand how this had developed so quickly.  This morning I saw he was licking at it and that it was raw and bleeding.  I have just got back from an hour long session at our local vet, to be told it is a pressure sore, that it is infected and that it is going to be a beggar to look after.  He cobbled  up a dressing from 4 layers of padded wound dressing and bound the lot up with a fairly loose bandage to hold it in place.  He's given him antibiotics and some gel and cleansing wash for me to use in between vet visits.  Plus my own bag of goodies to use in fashioning elbow pads. 
I saw there was a "DIY" dressing on the site, but would be grateful for any advice or ideas from anyone who has gone through this with their dog?  I am astounded this has happened so quickly – Rowan only sleeps on his (very expensive orthopedic memory foam) bed, or one of the sofas.  He never sleeps just on carpet or (Heaven forfend) the hard floor.

knoxville, tn
Forum Posts: 1705
Member Since:
12 February 2010

Offline
hi, we were probably the diy you were mentioning.  gayle got a viscious sore on her remaining front elbow, and it got very infected, very quickly.  our vet cleaned the area daily with a continuous stream of warm water, then would pack it with antibiotic and table sugar – yes table sugar.  i went in faith, as our vet is worth her weight in gold, and this really did get the healing initiated.  the sugar helps the area granulate, so there's an acceptable surface to heal to.  the elbow would be wrapped in vet wrap until the next day.
after about a week of treatments, the two sides of the sore were sutured together (very scary, local anesthesia only and gayle was so brave).  with the home made elbow guard, we were able to protect the area until it healed.  like you, we had soft beds and carpets everywhere – couldn't figure out how she was bumping the elbow.  the only area i could figure was when gayle went under the kitchen table to 'catch scraps', as this is tile.  i put a 3×5 rug bathroom type rug (rubber on the bottom, so no skid) there, and she continued to heal up perfectly.  today, she's modified her 'getting down' and 'getting up' to not rely on that point of her remaining front elbow, and the area is just a hairless callous.  don't know if her old elbow protector would work on ro, as he's so darned tall, but let me know if you want help in making one to try out.  good luck, scary stuff we know.
charon & gayle
Life is good, so very, very good!!! Gayle enjoyed each and every moment of each and every wonderful day (naps included).  She left this world December 12, 2011 – off on a new adventure.
Love Never Ends

The Rainbow Bridge

Forum Posts: 23924
Member Since:
25 April 2007

Offline

Greater Western Washington area
Forum Posts: 1158
Member Since:
25 August 2010

Offline
We are going through this too, and have found the bandages that adhere to themselves work semi well, depending on location.  His remaining front leg right at elbow is a hard place to bandage, but if I do it right, it stays on for a couple of days.  He went through the antibiotics and all, now, I make sure he lays on his bed, not the hardwood floor.
Elizabeth and Sammy
Diagnosed with osteosarcoma in the right front leg 8/23/10,
leg fractured 8/27/10,
leg amputated 8/30/10
http://sammyand.....pawds.com/
I couldn't begin to say how special Sammy is to us.  Living and laughing with and loving this wonderful boy is priceless.

Forum Posts: 731
Member Since:
1 January 2010

Offline

I don't have any advice to offer – just wanted to say we'll keep all paws and fingers crossed for some quick healing for Rowan.
Sending big hugs across the miles…
Holly, Zuzu and Susan
Holly joined the world of tripawds on 12/29/2009. She has a big little sister, Zuzu, who idolizes Holly and tries to make all of her toys into tripawds in Holly's honor. And she's enjoying life one hop at a time!
http://anyemery.....ipawds.com

Mount Pleasant, Ia
Forum Posts: 984
Member Since:
27 October 2010

Offline

Cooper had that problem early on… a little neosporin and a gauze patch with vet wrap healed it quickly, and even quicker a touch callous developed and he then had no trouble with it.
Coopsdad
Coopsdad/ Kenneth Blackburn
http://cooper.t.....ipawds.com
the monkeydogs only THINK they have invaded the tripawd state

Forum Posts: 22
Member Since:
15 October 2010

Offline
Hi.  Sorry to hear about the problems with your pup.  My dog Charlotte had lymphoma and was on long term prednisone and ended up getting a terrible elbow hygroma that turned into an abscess.  I had wonderful luck with DogLeggs http://www.dogl…..stable.cfm
Interestingly, today is the 2nd anniversary of Charlotte's diagnosis and she is happy and healthy.
Good luck!
Those dogleggs look like excellent! 
Here's the link
Comet - 1999 to 2011

She departed us unexpectedly  January 23, 2011 at the age of 12 1/2.

She was born with a deformed front leg and a tripawd all of her life.

They do look the business. I have emailed them to see whether they ship to the UK and what the costs are … tho last time I bought something from the US I got clobbered with import taxes at this end!
Anyway, I have ordered some padding and some of the vet wrap (in a fetching Royal Blue) as he's just tearing the cotton wadding off everytime I leave the room. 

Thanks for the advice, Guys.

The Rainbow Bridge

Forum Posts: 23924
Member Since:
25 April 2007

Offline
Oh good. Let us know what they say, we're curious. Keep us posted and do post a pic of your improvised cover up, we'd love to see it.
Ironically, I've been having my own problems with what was taken to be an ulcerated ankle, result of a tick bite in April.  It turned out to be something completely different. 
However, because they tried so many potential solutions (where's Dr Gregory House when you need him?) I now have a cupboard full of various hi-spec/tech wound dressings, and 2 different lots of antibiotic cream, plus some – very sexy – compression sockings.  The linings of which have come in very handy as I have been using one wrapped round the dressing …  Rowan seems less inclined to worry at fabric than cotton wool type materials.  And all on the National Health Service … NHS pharmacies never want half used packs of anything back, because of infection control protocols.
If you decide you want one and they won't ship it to the UK, let me know and you can ship it to me (or I'll order it).  I can send it to you as a gift without any problems.
You get "House" in the UK!??  That's gotta be odd to watch a trained Bristish actor talk like a Yank!   …….Speaking of which,  I just finished watching the new BBC series "The Hour"!  Oh, it was good!  So, glad they renewed it!  (off subject, sorry…but darn it was good!)
Comet - 1999 to 2011

She departed us unexpectedly  January 23, 2011 at the age of 12 1/2.

She was born with a deformed front leg and a tripawd all of her life.

We get masses of US TV here, ATM I'm hooked on "Modern Family", Broadwalk Empire" and (guilty pleasure) "Supernatural", and have also started watching "Terra Nova", and the new "SVU".  I think we get the episodes of "House" a couple of days after you do.  It amuses me that Hugh Laurie has suddenly acquired this sexy image.  He was part of the Cambridge "Footlights" crowd, Emma Thompson was a contempory, very popular here as a comic actor, often paired with Stephen Fry, then in Blackadder, when he played a series of foppish idiots though the ages, and obviously he was beautifully cast as Bertie Wooster with Fry as his man Jeeves.  I think he had his first break stateside when he was cast in the film of "101 Dalmatians"?  His US accent sounds OK to me; my daughter has US net pals who didn't know he's English, so I assume it passes muster there?  Stephen Fry now has acquired "National Treasure" status here; if he stood for Parliament he'd get in, no doubt.  He and Laurie are still very good pals, Fry has a sort of running gag that Laurie is an idiot who just reads his lines, don't get sucked into the belief he's intelligent, he's NOT a doctor! I am hoping that Fry will guest on House.  He has guested on "Bones" – but stays resolutely upper class English.  I'm also watching Alfred Molina play a Latino DA/cop in the new Law & Order, LA.  Another Brit, tho his parents were both immigrants here.
Yes, "The Hour" was brilliant.  Another series has been commissioned.
Thanks for the offer .. that is very kind of you.  I haven't heard back from them yet, but it does seem that it would be a reallly good solution.  They show it modelled by a greyhound who looks very like Rowan.
Just let me know if you need an "agent" in the US!  I'll be happy to do it.  Seriously.
OH!!!  I have "Boardwalk Empire" on my list at Netflix when and if they ever release it.  I dont have HBO.  But it's okay, I didn't watch the first season of "House" or "Grey's Anatomy" until I rented the series.  It was in the summer when nothing was on TV.  And I've got "Terra Nova" DVR'd and haven't watched it yet.  I really like Jason O'Mara from our US version of "Life on Mars" and then we watched "Berkeley Square" which I had never seen and was pleasantly surprised!  Gotta love Netflix! 
But I think I'm running out of Bristish series.  Any recommendations?  I only have one prerequisite when I watch them…they can't be shot on video, must be shot on film.   We just finished watching "The Grand" (post WWI about guests and workers in a hotel circa 1998) which we found fabulous!
I honestly am not familiar with Stephen Fry.  I'll keep my eyes peeled.
foppish idiots
That's so British and I LOVE IT!  Gonna use it!   Maybe I'll even use it with the words "dandy" and "bugger off"! 
Comet - 1999 to 2011

She departed us unexpectedly  January 23, 2011 at the age of 12 1/2.

She was born with a deformed front leg and a tripawd all of her life.

Forum Timezone:
America/Denver
Most Users Ever Online: 597
Currently Online:
49 Guest(s)
Currently Browsing this Page:
1 Guest(s)
Devices Used: Desktop (43), Phone (5), Tablet (1)
Member Stats:
Guest Posters: 1005
Members: 12755
Moderators: 2
Admins: 3
Forum Stats:
Groups: 4
Forums: 23
Topics: 15022
Posts: 211515