Caring for a Three Legged Dog or Cat
Tripawds is your home to learn how to care for a three legged dog or cat, with answers about dog leg amputation, and cat amputation recovery from many years of member experiences.
Learn how to help three legged dogs and cats in the forums below. Browse and search as a guest or register for free and get full member benefits:
Instant post approval.
Private messages to members.
Subscribe to favorite topics.
Live Chat and much more!
Homer is one year out from his front leg amputation and 3 cycles of carboplatin.
He has done very well and gets weekly rehab.  His rehab doctor recently noticed that he now has loosening of his left rear ACL and his mobility is being affected.  She suggested we look into stem cell injections.  She didn't think he is a surgical candidate for ACL surgery and I am not sure if I could do it to him either - he's a 10 y.o wonder dog - but has been through a lot (including an operation for bowel obstruction New Years Eve after he ate a sock).
The preliminary word back from the vet who would do the stem cells was that there is concern that if they took cancer cells from the site where they harvested the stem cells (belly fat under skin) that could give him cancer in the back leg.  So far, Homer is 'clear' but I hear the concern.
They suggested PRP therapy but I heard stem cell is easy and effective.
Does anyone know anything about cancer spread risk and stem cell injections?  My first opinion is that if his ACL frankly tears, it is a fatal complication and I would be willing to risk stem cells depending on the frequency of such a complication.
Thanks for any knowledge in advance.

YAAA HOMER! Our HERO!!!!
Everypawdy, this is THE Homer and family who helped raise over $1700 for Tripawds Foundation ! Sara, Evan, Leo & Homer, we cannot thank you enough!
OK so about the ACL trouble....it seems like more Tripawds than ever are in the same spot. Nobody has asked about stem cell injections for this condition though. Why not have the vets consult with the experts at Colorado State's Argus Institute? As a leading research facility for canine cancer they should be able to tell you about the odds of cancer recurrance caused by stem cell injections. As a bonus the consult is on a donation basis. Also, Dr. Mark Epstein is one of the leading stem cell researchers out there, you could see if he's willing to do a consult.
Oh, what is PRP therapy?
Whatever you learn please do share your findings, we're very curious about this.
Hugs to all of you!
Thanks for the links Jerry .. and thanks for the 'thanks' too!  As you know Leo and Homer are proud to support the tripawds!
PRP is platelet rich plasma. They take some blood, spin it down and inject it into areas that need healing.  The idea is to try and activate healing in the area.  They use it in people but the jury is out on it.  
I will look into Argus and I will get to talk personally to the vet soon too.  
thanks!
Ohhhh PRP ok gotcha. Do try to get in touch with Dr. Epstein, that's definitely his area. Good luck and please let us know how this turns out. We are thinking of you all.


Member Since:
22 August 2008
Offline
I did take a course on stem cell transplant and I was also told not to use it in cases of malignant cancer.  The thought is that the stem cells can turn into cancer cells and spread throughout the body.  I do not know if anyone is doing a study on this aspect of stem cell therapy.  Platelet rich plasma is safe and would not cause tumor spread  but may improve healing.
PAM
Okay, I just gotta say it, Homer is totally rocking that cone!!! He's adorable!!!
pam
Harmony became a Tripawd on 10/21/14 (MCT). She left us way too soon on 11/1/14.
"We miss you so much; our love, our heart, our Harmony."
- Pam, Ron and Melody, Meesha, Doublestuff and Mariah Carey
I wanted to give an update on what we have done for Homer since my last post.
We were pursuing the stem cell option but we wound up abandoning it, as it didn't make sense for us in our case.  I did talk to the stem cell vet more about the risk of cancer from the treatment.  It is a theoretical risk, not one that has been studied or verified.  Since we were facing a lethal injury if Homer's CCL tore completely, we were ok with accepting this risk.  The other issue was that it does require a surgical procedure to harvest the stem cells.  The preferred site of harvest is in the abdomen, above the live, in a place called the falciform ligament.  That had been removed by the vet when Homer had his bowel obstruction surgery on new years eve.  The second site would be behind the shoulder.   We were very hesitant to have Homer go though another operation, and especially messing around with his only remaining shoulder.
What clinched it for us was going to get Homer's braces fitted.   We had been interested in having him braced to prevent injury before we could do stem cells, and also have them around while he was awaiting the benefits of the stem cells.  It turns out, when we talked to the orthotic folks, that they said his braces would stabilize him even in the event of a complete tear, and that bracing him without the procedure would allow his CCL to heal as well.
Based on that information, we had his braces made and cancelled the stem cell therapy.   He got his braces last week and he is very happy with them.  I have nothing but good things to say about mypetsbrace.com - they are custom fit so not inexpensive and we were lucky in that we were able to travel just an hour to get him casted in person and save time and shipping back and forth before we found the perfect fit.  
I have never figured out how to post a picture so I tweeted a pic of Homer's brace, here is the link:  

Virginia


Member Since:
22 February 2013
Offline
Thank you so much for shari g this valuable information! What a great option to have
And from the picture, Homer looks like he thinkgs this is a great option too!
Okay Ho er! No more "issues", okay? And BTW. HAPPY ONE YEAR AMPUVERSARY!! 🙂
Love!
Sally and Alumni Happy Hannah and Merry Myrtle and Frankie too!
Happy Hannah had a glorious additional bonus time of over one yr & two months after amp for osteo! She made me laugh everyday! Joined April's Angels after send off meal of steak, ice cream, M&Ms & deer poop!

Michigan
Member Since:
2 April 2013
Offline

That's great!  What an awesome alternative and the least invasive, which is so much better for Homer!  I love the red

Donna
Donna, Glenn & Murphy 
Murphy had his right front leg amputated due to histiocytic sarcoma at 7 years old. He survived 4 years, 2 months & 1 week, only to be taken by hemangiosarcoma at 11 1/2 years 6/12/17  
Read about Murphy's Life on Three Legs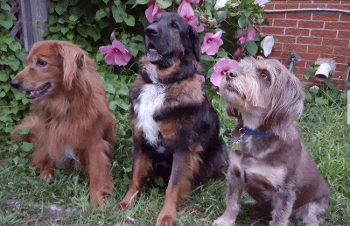 Just now catching up on everything after the AAHA conference. YAY! So glad to hear the brace is going to manage without surgery or more expensive stem cell therapy. Just curious who made the brace for him?
Forum Timezone:
America/Denver
Most Users Ever Online:
946
Currently Browsing this Page:
1
Guest(s)
Member Stats:
Guest Posters: 1225
Members: 16202
Moderators: 2
Admins: 3
Forum Stats:
Groups: 4
Forums: 23
Topics: 17940
Posts: 248769
©
Simple:Press
—