Caring for a Three Legged Dog or Cat
Tripawds is the place to learn how to care for a three legged dog or cat, with answers about dog leg amputation, and cat amputation recovery from many years of member experiences.
JUMP TO FORUMS ↓
Join The Tripawds Community
Learn how to help three legged dogs and cats in the forums below. Browse and search as a guest or register for free and get full member benefits:
Instant post approval.
Private messages to members.
Subscribe to favorite topics.
Live Chat and much more!
What's on the Menu Tonight, Ma?
Read the original blog post
Add Reply
Add Topic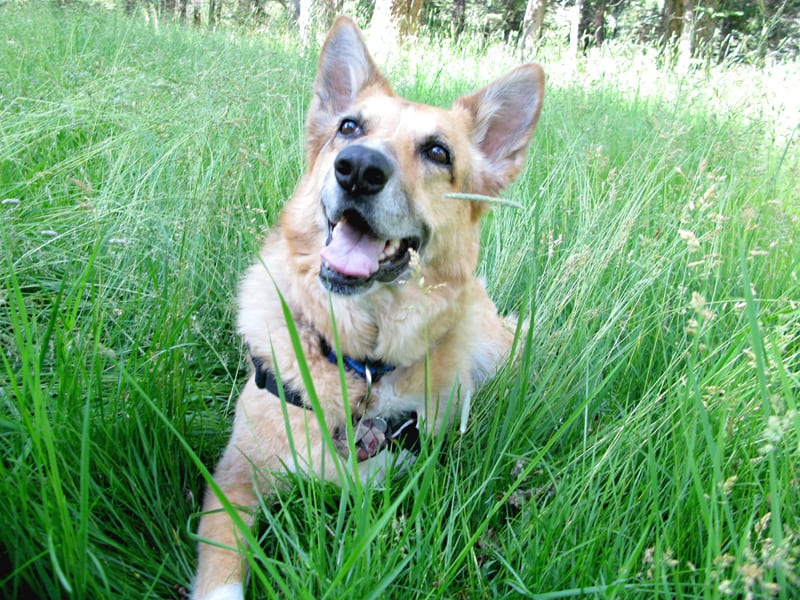 My Mom and Dad have to admit, I've been a pretty good dawg when it comes to eating my meals. They pack so many supplements and green things into my food, that I eat healthier than they do! For the last 21 months, I've chowed down on my veggies every night, so I could get my big dose of raw meat afterward. But this past week, that kibble/veggie/supplements mixture they feed me isn't cutting it anymore.
Something about the smells and the pills I guess, but I've gone on strike. I don't want to eat that stuff. That of course, doesn't apply to the raw meats my Mom gives me. That stuff I gobble right up! Mom cried tonight after she couldn't get me to eat. She's tried just about everything, even smearing peanut butter all over my food. She's worried because for two nights now I haven't had my usual supplements. I feel so bad, I don't want to upset her. But I just want to eat meat. Is that so wrong?
I know all you pawrents have some interesting recipes to get your Tripawds to eat all that healthy stuff, so if you wouldn't mind sharing them with my Mom, maybe we can get back into a regular dinner routine again? Thanks for your ideas!
Hi Jerry...I hope you feel better pal...you need to start eating to keep your strength up, you're going to start worrying all of us...we all love you soooooooooooo much. I know for sure that mom and I would have been lost without you over these past 5 months.
Mom feeds me "Royal Canin Urinary SO" because I also get crystals which are like kidney stones in people...she adds low sodium cottage cheese, cuts up green beans and celery and snap peas and anything green that is fresh at the grocery store (she varies them between breakfast and dinner).
I'm not sure this is going to help...your diet actually sounds so much better than mine...I was going to suggest peanut butter, but sounds like your mom already has tried that. What about chicken and rice? It's a basic, but maybe that will work....?
Please keep us posted ok? Our thoughts are prayers are with you - hopefully you're just being picky!!
Love you,
Mom and Zeus
Heather and Spirit Zeus - Our life changing journey…from the earth to the heavens…one day at a time…always together
Hi Jerry, Radar gets picky sometimes too and I have one little girl who eats so little it's hard to keep weight on her. I have put vitamin supplements in a satin balls recipe and they just love it.
2 lbs ground meat (your choice)
1 dozen eggs
1 jar peanut butter
1 can of mackerel with bones (if you can stand the smell LOL)
1/4 vegetable oil (don't use canola oil)
1 pack Cream cheese
1 can pumpkin
Any vitamins or supplements you want to add.
Grains for thickening (wheat germ, oatmeal or flax meal - I like flax meal because it's good for the coat) any or all
Mix it up like thick meatloaf consistency. form in to 3-4 inch torpedo/turd shapes (do not make them "round" as the dog may try to swallow them whole). place on a cookie sheet and freeze. After freezing put them in ziplocks. Feed them frozen. I feed one a day for supplements and 3 a day to put weight on.
The dogs love them and because they are frozen they do not gulp them down - they settle down and gnaw on them like bones. I make a double batch and they last my kids a little better than a month (we have 6 here).
Hope this is something you will like.
Connie & Radar
Oh Jer, so sorry to hear you are not feeling well either. You have to get back the swing of things as you are the leader of the pack. Like Zeus and his mom we all feel like you are our light at the end of the tunnel. Now is the time for all of us to unite and cheer you up. That recipe that Radar's mom gave you sounds like a darn yummy thing and I sure hope my mom is paying attention and makes me some. I can tell you what my mom does so that I eat my fruit and veggies as I do not like them raw. She gets them all in the food processor and makes a goulash out of them suckers. Then she mixes them with my raw meat and some cottage cheese and I lick the bowl. she does the same thing with the fruits....So my bowl sometimes look like mashed something but it sure taste good. As for the supplements as I am also picky about that she finds all of them in liquid form. She gives me fish oil, my glucosamine & chondroitin is also liquid with like a orangy taste to it, I also get C0Q10, Esiak tea, flax oil...you name it and I get it and as long as it does not have an alien shape I gulp it. I hope this helps a bit and surely try Radar's recipe...Big licks to you. Hope you get to feel better.
Yuuuuummmmy, my mouth is watering already! You guys rock, I love those ideas, so does my Mom. Thank you.
I've been eating off and on lately. Had some elk one night, which I gobbled up after I figured out how good it would taste. Last night I had some turkey, and tonight I had some chicken and liver. So I'm eating, but just plain stuff. If the meat touches anything else I'm not gonna eat it.
I'm still taking my Metronomics and K9 Immunity though. Mom and Dad are pretty slick about that, they pop that stuff into my mouth before I know what happened!
Thank you for your encouragement guys, you are MY inspawration too. I promise I'll do my best to eat better, k?
Lotsa love,
Jerry
Hi guys, just wanted to let you know that I know why I haven't been eating. Here's what happened at the oncologist today:
Thank you for the update Jerry...tears of joy and also tears of reality is what mom is experiencing right now...we're glad to hear that you've eaten...even if it is stinky cat food...and that the doctor has adjusted your meds, etc. But we are obviously very much aware of the "one day at a time" thing which is bitter sweet...I know you and your wonderful pawrents will take a hold of each moment and live it to its fullest. Mom, (very unusual for her) is a little out of words at the moment.
God bless and know that we love you very, very much.
Zeus and Mom
Heather and Spirit Zeus - Our life changing journey…from the earth to the heavens…one day at a time…always together
You are so sweet, thank you! We love you guys too, don't know where we would be without all of your love and support.
Your friend,
Jerry

Member Since:
22 August 2008
Offline
Jerry,
I hope that the Prednisone helps you! This is a good anti-inflammatory and often helps stimulate appetite, too. The Carafate will be helpful to your stomach. If you still don't feel like eating after a few days, then ask your doctor about Remeron. This is a human drug but is safe for dogs and often makes them feel hungry. Have you tried jars of baby food? Turkey, chicken, or lamb seem to work best and are easy to lick up.
Feel better soon!
Pam and Tazzie
tazziedog said:

If you still don't feel like eating after a few days, then ask your doctor about Remeron.
---
Thanks Pam! We always appreciate your professional opinion. My people say, "Hopefully we won't have to resort to baby food, yuck!"
(I'll be the judge of that.) But tonight I ate three whole chicken legs! And I didn't even make them cut them up or feed them to me by hand.
Member Since:
17 July 2008
Offline
Oh Jerry, we are so sorry to hear about the new growth in your lung tumor. We are keeping you in our prayers that the new protocol helps. Good to hear that you are eating something. Keep on Keeping on.
Hugs
Connie & Radar
borzoid said:

Keep on Keeping on.
---
Always. Thanks.
FYI: The growth isn't new, it's just grown outta control after finding a way around the Cytoxan chemo and metronomic treatment I started back in April. At least it worked that long!
Hey Jer, glad to hear that you are eating even if it is stinky cat food. Maybe you can try some tuna....it is also stinky. Like Zeus and Mom, my Mom and I are sitting here at a loss of words. You have taught us so much, to live our lives to the fullest and to wake up and smell the flowers (or the coffee if you like it). Just take it easy pal and enjoy every single minute of your life as you have always done and know that we all love you very very much and our prayers are with you and your pawrents. Keep strong and God bless!
Hey guys, guess what? I ate some buffalo meat mixed with my kibble tonight! And later, when my new friend Ralgh was around, I ate some treats too 🙂
Mom and Dad think that having another dog around makes me want to hoard my food and eat it faster. I just think I'm hungry again now that my stomach and lungs are feeling better!
Yipee!
Forum Timezone:
America/Denver
Most Users Ever Online:
946
Currently Browsing this Page:
1
Guest(s)
Member Stats:
Guest Posters: 1200
Members: 15441
Moderators: 2
Admins: 3
Forum Stats:
Groups: 4
Forums: 23
Topics: 17683
Posts: 246118
©
Simple:Press
—