Caring for a Three Legged Dog or Cat
Tripawds is your home to learn how to care for a three legged dog or cat, with answers about dog leg amputation, and cat amputation recovery from many years of member experiences.
Learn how to help three legged dogs and cats in the forums below. Browse and search as a guest or register for free and get full member benefits:
Instant post approval.
Private messages to members.
Subscribe to favorite topics.
Live Chat and much more!


Vet-Approved Joint Supplements for Three-Legged Dogs, Part 1

Read the original blog post
Add Reply
Add Topic

One of the most common questions folks ask around here is; "What joint supplements for Tripawd dogs should I get?"

Our first recommendation is: please talk to your vet about joint health before you spend a time on supplements. See, every animal has different joint health needs, and you can waste a lot of money on products that aren't doing a thing.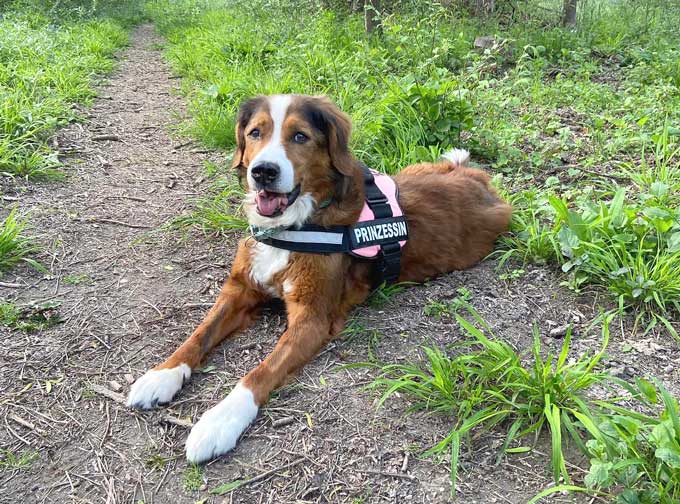 We want to help you start that conversation with your vet. Since we no longer actively publish in Tripawds Nutrition, here in this space we are sharing some joint health recommendations that Tripawds members' vets have suggested.

Below is our first example, Tripawd Daisy. These are the joint health products recommended to Daisy's Dad, by our long-time Fairy Vet Mother, Dr. Pam, in a recent "Ask a Vet" forum discussion. Dr. Pam is a vet, a Tripawd mom and very experienced in health care for amputee dogs.
Senior Dog Daisy Starts Slowing Down: Now What?

In the Ask a Vet Forum discussion called "Post-Amputation 3 months in she seems to be slowing down quickly," Daisy's dad writes:

Recently, for the past two weeks I would say, she seems to have slowed down a lot. She does not run at all anymore, she struggles to get up (she will sit up but then take a minute or so to get up and go outside). I am not sure if what I am seeing is age starting to catch up to her and limit her mobility or if there is something more concerning that I should be looking into.

@Aidan

In response to @Aidan's post, here's what Dr. Pam recommended:

Most likely she is sore in the other muscles/joints that are compensating for the loss of a limb. At her age I would have her on some sort of glucosamine supplement ideally with green-lipped mussel such as YuMove and I have been adding in Flexadin Advanced which is a Type-II collagen that really seems to give quick pain relief to lots of dogs. She should be on some sort of NSAID so maybe the liquid medication you have is Metacam then you can also add gabapentin +/- amantadine. I like Adequan as well if you are comfortable adding injections and keep up the CBD. I do not know much about Chinese herbal medicine but adding Body Sore never hurts.

@tazziedog

It's hard to say what exactly is going on with any dog or cat, since we don't have all the facts like lab results and a hands-on office visit. As it turns out, Daisy actually had a urinary tract infection, it wasn't pain-related at all!

But in the meantime, we did learn about these vet-recommended joint health supplements that you might want to discuss with your vet.
Here's a deeper look at three supplements for older three-legged dogs that can help restore mobility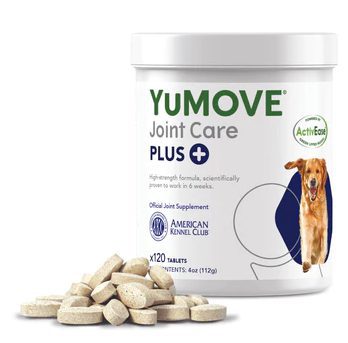 YuMOVE Joint Care PLUS supplement is ideal for canine athletes or stiffer, older dogs who need extra support. These tasty, chewable tablets are packed with Glucosamine and Hyaluronic Acid. They also contain 20% more ActivEase® Green Lipped Mussel (a source of Chondroitin) than their standard YuMOVE products for active dogs.
Contains 20% more ActivEase® Green Lipped Mussel than our standard formula to help ease joint stiffness.
Supports joint structure. Glucosamine and N-Acetyl-D-Glucosamine provide basic building blocks of cartilage – the tough connective tissue that protects the joint.
Helps support mobility. Hyaluronic Acid helps to lubricate and cushion the joint while antioxidants Vitamins C & E neutralize free radicals, helping to maintain joint mobility.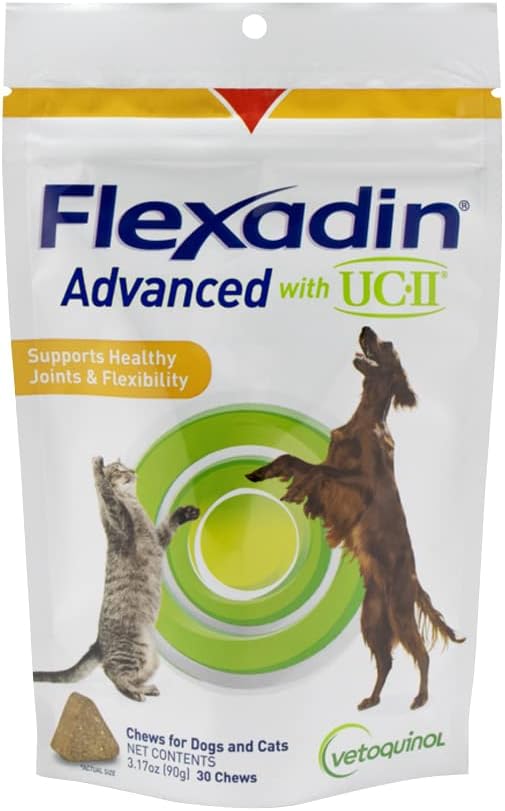 Flexadin Advanced with UC•II® supports healthy joints and flexibility in dogs and cats. The company says that based on one study, "UC•II® has been clinically proven to be more effective than glucosamine and chondroitin.*"
Enhances a pet's normal repair of cartilage and joints
Maintains joint function
Promotes joint mobility and flexibility
Works differently than other supplements containing hydrolyzed collagen peptides, glucosamine, chondroitin, or CBD

Adequan Canine has been around for almost 10 years. It's not a supplement, it's an actual medication. As of today it's the only FDA-approved cartilage-protecting treatment that helps dogs get better by treating the disease, not just its symptoms.
Proven to restore joint lubrication, relieve inflammation, and renew the building blocks of healthy cartilage.
Prescribing Adequan Canine early, before cartilage wears away completely, can help improve patient outcomes. Even if arthritis is not diagnosed early, it may help reduce the dog's pain, allowing for increased activity levels.
Available by prescription only.
Given by injection twice a week for up to four weeks (maximum of 8 injections) at the approved dose. You may see your dog's mobility improve within one month.

You can learn to do the injections yourself, to skip the vet visits. Many Tripawd dogs have had great success with this joint support medication.
More Vet-Approved Joint Supplements for Older, Bigger, Three Legged Dogs Coming Soon!

These are great vet-approved products, but we encourage you to have a conversation with your own veterinarian before purchasing anything.

Only you and your vet team know your Tripawd best, and when you work together you can come up with a plan to manage your Tripawd's mobility needs for a long time to come!
Watch for Part 2 of Vet-Approved
Joint Supplements for Older Three-Legged Dogs
I wouldn't  mind being a human guiena  pig" for theww suggestions 🤣😉.  Trulu, tjy really wo ound like a productive day to support joint, TV in our PTO.  
Thanks for putting all this together in on place way to find
Hugs 
Sally and Alumni 
Happy Hannah and Merry Myrtle and Frankie too!
Happy Hannah had a glorious additional bonus time of over one yr & two months after amp for osteo! She made me laugh everyday! Joined April's Angels after send off meal of steak, ice cream, M&Ms & deer poop!
My typos were so bad even I couldn't  figure out what I wrote!  Good job Rene.....upi are now officially  my Typo Interpreter 😎
Happy Hannah had a glorious additional bonus time of over one yr & two months after amp for osteo! She made me laugh everyday! Joined April's Angels after send off meal of steak, ice cream, M&Ms & deer poop!
Tell ll your 34 lb friend  to maybe check out Advanced Dasaquin.😉
Happy Hannah had a glorious additional bonus time of over one yr & two months after amp for osteo! She made me laugh everyday! Joined April's Angels after send off meal of steak, ice cream, M&Ms & deer poop!
Honestly, the best preventive is to keep a dog slim. We have had more than one therapist tell us to hold off on supplements until a dog shows osteoarthritis signs, but then we've had some tell us to start when they reach full-grown status. But one thing they all agree on is that a high quality fish oil is always one that will do no harm and keep joints moving smoothly. 
Also see:
Speaking of fish oil, my vet specifically recommended Welactin because it has mint extract added to make it less fishy.  I told her I had stopped giving salmon oil to my dogs because they started turning their noses up at it.  My guess is because it made everything taste like salmon.  I started the Welactin this week and neither dog is thrilled with it (they'll eat it if I add the caplet to their dinner bowl, but not on its own).  There is also a biblical proverb on the side of the bottle and I wouldn't have bought it if I knew the company was religious.  Since the dogs aren't thrilled with it, I probably won't buy it again.  Now I'm wondering why I'm bothering to write this.... I guess if religion doesn't bother you and your dog isn't wild about fish oil, it's something to try?
@mischief - I laughed so hard at how stream of consciousness your post became, like I was hearing your thoughts develop in realtime. All duly noted and I'll keep Welactin in mind. Truth be told, June loves salmon flavor so everything-tasting-like-salmon might be a bonus over here. 😁
Natalie & Juno (aka June)
LOL @mischief I totally get it. We did give Wyatt Ray Welactin because his vet recommended it, and I never noticed that saying on the bottle! 
@Jerry - it's very small and if I wasn't reading the label carefully I would have missed it
@Natalie - my dogs live for salmon jerky, but both have experienced flavor fatigue with salmon oil in their food.  *shrug*  I'd say dogs are weird, but I wouldn't want my food to taste like salmon all the time forever and always, so I can't even blame them.  I do try to rotate their flavors periodically.
Forum Timezone:
America/Denver
Most Users Ever Online:
946
Currently Browsing this Page:
1
Guest(s)
Member Stats:
Guest Posters: 1256
Members: 17298
Moderators: 5
Admins: 3
Forum Stats:
Groups: 4
Forums: 24
Topics: 18433
Posts: 254270
©
Simple:Press
—