Caring for a Three Legged Dog or Cat
Tripawds is the place to learn how to care for a three legged dog or cat, with answers about dog leg amputation, and cat amputation recovery from many years of member experiences.
JUMP TO FORUMS ↓

Join The Tripawds Community
Learn how to help three legged dogs and cats in the forums below. Browse and search as a guest or register for free and get full member benefits:
Instant post approval.
Private messages to members.
Subscribe to favorite topics.
Live Chat and much more!
Find out in Be More Dog: Learning to Live in the Now by Tripawds founders Rene and Jim. Learn life lessons learned from their Chief Fun Officer Jerry G. Dawg! Get the book and find fun gifts in the Be More Dog Bookstore.
Just wanted to let everypawdy know about Lylee's new cancer diet. You can read her entire blog post here. This was written by her Mom.
"So we have our girlie on a 'super duper diet'. Extra yummy! We are trying to follow the high protein/no grain idea.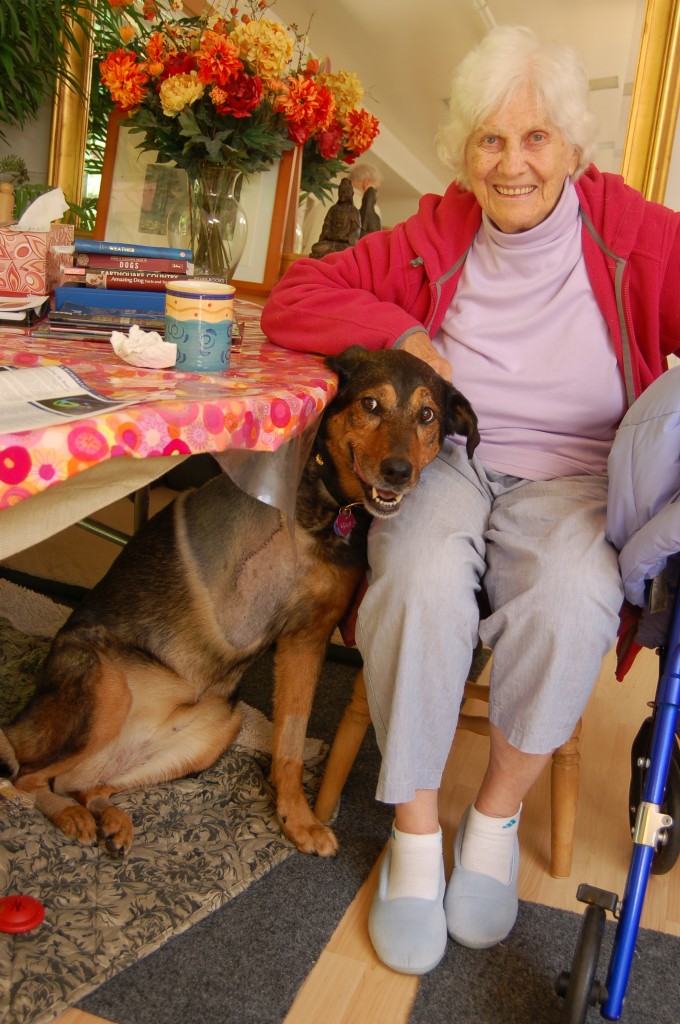 She already ate a high protein/no grain kibble supplemented with a freeze dried food that you mix up with water everyday called Grandma Lucy's ( grandmalucys.com ).
Now we have added to this Honest Kitchen's Embark which is a dehydrated food that one also mixes with water to reconstitute. (honestkitchen.com). And then to finish it all off with a special topping of Evo 95% meat canned food. (evopet.com)
So this is the base mixture I create twice a day which is seriously tempting, both to give her a good nutritious meal but also to disguise all the great but not so tasty supplements! We decided to throw everything we got at these cells definitely 'behaving badly'.
I researched tons of literature on many health immune enhancing products aimed at supporting the body in fighting off cancer, let me tell you – there are lots and lots 😉 So it came down a lot to a gut or intuitive feel as there are so many potentially wonderful things to take. The Tripawd website was especially helpful – thank you Tripawd genius's.
So this is a list of stuff she is taking right now:
Vitamineral Green and Earth from "Healthforce Nutritionals" I have to put these in capsules as it has a strong green flavour but the Earth is ok in the fud.
Berry Green from New Chapter. Tastes not too bad so into the mix it goes.
Zyflamend; Gingerforce ; Daily Ginger: all from New Chapter. Zyflamend is a truly potent combo of ten herbs. Ginger is meant to potentiate the chemo and is a good anti nausea agent.
Mushrooms. Yeah baby ~ Lylee is happy. Nah – sorry. Just the regular non-psychedelic medicinal ones from NSI Vitacost.
Fish oil for the omega 3′s. She has 4 grams a day to start.
Multi vitamin, vitamin C + E, (zinc occasionally).
Primadophilus – a probiotic + saccharomyces boulardii ,occasionally, also a probiotic.
Curamed (Terry's Naturals) Curcumin extract + extra tumeric.
Transfer Factor from Source Naturals.
Artemisinin a la cream cheese – at least 2 hours after dinner. (Doctor's Best brand)
Lamb treats, fresh chicken treats, roast beef & chicken, liver treats……. I mean, what meat treats hasn't she had 😉
I will also add Pycnogenal when it comes in the mail and maybe AHCC which is supposed to be an incredible immune enhancer from Japan but I'm still researching it.
Oh, and her usual Glucosamine, chondrotin and MSM.
Rescue remedy when needed in her H2O.
And how is she doing with all this fab stuff being integrated into her system. Well, she seems great on it. No runny poo (always a good indicator 😉 ) and her energy seems to be coming back nicely from the operation. We also do energy work (Donna Eden inspired) and lots of massages."

Portage Lake, Maine
Member Since:
8 December 2009
Offline
Some good choices there! 🙂  I used New Chapter products for myself 🙂
I see you probabably shopped at Vita Cost?  I do too...good prices..
Never tried Grandma Lucy's premix before...hmmm...  My dogs do eat Honest Kitchen products.
Tracy, Maggie's Mom
Maggie was amputated for soft tissue sarcoma 10-20-09
Maggie lost her battle with kidney disease on 8-24-13

Sebastopol, CA
Member Since:
11 June 2011
Offline
Thanks Jerry for putting up my new yummy diet in the discussion forums!
I sussed out that if I don't eat all those lumpy and hard funny tasting things she tries to disguise in my nosh, that she will then give me lots of cream cheese 'parcels' - well, I happen to know that those 'things' are in the cream cheese. But, hey, I get cream cheese and she's happy 'cos the thingies are in my tummy. Humans can be trained quite easily
I just did my first chemo stuff last week (carboplatin they call it - now I'm made of platinum and not just gold 🙂 and things taste funny these days so I get extra chicken and beef. I know she researched a lot and many of these supplements should work synergistically with the chemo - well, there are peer reviewed clinical studies on mice (do I look like  a mouse?!) but my Mom says let's try 'cos this cancer thing is a meanie and the supplements shouldn't hurt me. She knows there are other studies that say to wait until the chemo is over. Who's to know?!
My mum  wants me on a diet with no carbs - and The Honest Kitchen Embark and Grandma Lucy's have a high % of potatoes so she is going to rethink those two foods. Any ideas on this?
I say bring on this fresh meat!
Licks and wags,
Love from Lylee Girl
xoxoxo
lyleegirl said:
My mum  wants me on a diet with no carbs … Any ideas on this?
Consider Wysong Epigen, it's the first totally starch free dog kibble and is high in protein. Check out the grain free dog food list for other low carb recommendations.
maggie said:
I see you probabably shopped at Vita Cost?
Don't miss all the Tripawds affiliate online stores on the Support page!

Member Since:
13 June 2011
Offline
Thanks for the link to the grain-free dog food list. I am happy to see Bo's dry food on the list, but his wet food isn't. I just looked at the ingredients and it's not grain-free ...yikes!
We've been using the Prescription ID Gastrointestinal formula as recommended by the vet. Bo loves this stuff and it is easy on his tummy. I tried some salmon/sweet potato canned food from the Healthy Pet Store a couple of weeks ago and it gave him an upset tummy. Can anyone recommend an easy-on-the-tummy, grain-free canned food? Thanks for the help!
And Lylee, you are just too cute and so lucky to have such great pawrents!!
meghanhowell17 said:
Can anyone recommend an easy-on-the-tummy, grain-free canned food?
Have you tried the Honest Kitchen dehydrated foods yet? Wyatt loves it atop his kibble and he has a very sensitive stomach. If seafood disagrees with Lylee's tummy, try Embark.
Lots of vets "recommend" foods they sell.
Forum Timezone:
America/Denver
Most Users Ever Online:
946
Currently Browsing this Page:
1
Guest(s)
Member Stats:
Guest Posters: 1184
Members: 14977
Moderators: 2
Admins: 3
Forum Stats:
Groups: 4
Forums: 23
Topics: 17566
Posts: 244805
©
Simple:Press
—