Caring for a Three Legged Dog or Cat
Tripawds is the place to learn how to care for a three legged dog or cat, with answers about dog leg amputation, and cat amputation recovery from many years of member experiences.
JUMP TO FORUMS ↓
Join The Tripawds Community
Learn how to help three legged dogs and cats in the forums below. Browse and search as a guest or register for free and get full member benefits:
Instant post approval.
Private messages to members.
Subscribe to favorite topics.
Live Chat and much more!
Find out in Be More Dog: Learning to Live in the Now by Tripawds founders Rene and Jim. Learn life lessons learned from their Chief Fun Officer Jerry G. Dawg! Get the book and find fun gifts in the Be More Dog Bookstore.

Forum Posts: 223
Member Since:
27 February 2010
Offline
Today my beautiful golden girl, Sophie, left her broken and cancer-ridden body, and flew on her new angel wings to the Rainbow Bridge . I know that her brother, Keaton, who went before her (February 9 this year), would have been very excited to see her coming. 
Sadly, we had no time to come up with a bucket list, let alone check things off. She deteriorated so quickly. She left a strong legacy, however. Couches quivered with fear when she passed by (several of them knowing the story of THE couch - the one she ATE)... shoes scurried into closets so as not to be disemboweled. She was a feared, fearless golden retriever. NOT. But I loved her. And even with our two remaining cats - my house is quiet .... too quiet. 
There are no words. Only heartache. 
Sophie's mom, Tana 
Sophie (1998 – 2010)
"Going Dog" def: living every day in the moment
"It came to me that every time I lose a dog they take a piece of my heart with them. And every new dog who comes into my life gifts me with a piece of their heart. If I live long enough, all the components of my heart will be dog, and I will become as generous and loving as they are."
–Unknown

Portage Lake, Maine
Forum Posts: 1019
Member Since:
8 December 2009
Offline
Oh Tana,
I'm so very sorry for you during this time.  Gawd, this cancer crap SUCKS!!!!!!!!!!!!!!!!!
Hugs to you during this time of healing for you...  Run Sophie Run!!!!
Tracy, Maggie's Mom
Maggie was amputated for soft tissue sarcoma 10-20-09
Maggie lost her battle with kidney disease on 8-24-13

Forum Posts: 232
Member Since:
9 March 2010
Offline

Here and Now
Forum Posts: 12451
Member Since:
25 April 2007
Offline
We know words can't ease your pain right now, but please know that by sharing Sophie's story you are certain to help others going down this same road in the future. May Sophie run free of pain and rest in peace. The couches at the Rainbow Bridge better be aware.

Michigan
Forum Posts: 209
Member Since:
31 August 2009
Offline

Edmonton, Alberta
Forum Posts: 654
Member Since:
11 January 2010
Offline
Tana, my sincerest condolences on your loss. 
"What we have once enjoyed, we can never lose; All that we love deeply becomes a part of us "- Helen Keller
Rest in peace, Sophie.
Catie -
Birthday – November 4 2003
Amputation – January 13 2010
Crossed the Bridge – June 2 2011

Los Angeles
Forum Posts: 842
Member Since:
2 November 2009
Offline
Oh Tana,
This definitely breaks my heart….I can't stop the tears.  I'm so sorry to hear about Sophie. She was such a beautiful and special Golden.  I so enjoyed getting to know her and you throughout our journeys together.  You can be rest assured that she's now in the great company of her brother and all of the other tripawd angels.   Sophie was such an inspiration to this website and will remain an inspiration forever.  My thoughts and prayers are with you…it's a very sad day today indeed. 
Sending you lots and lots of golden hugs.
Kami
My sweet golden Mackenzie.  She became my angel on Dec 29, 2010 at the age of 8 1/2  although she was always my angel from the time we brought her home.  She was diagnosed with osteosarcoma in Sept 2009 and officially became a tripawd (front leg) on Nov 5, 2009.  She will be forever in my heart and now she's running free with all of our other tripawd heroes.  I love you Mackenzie!

Forum Posts: 707
Member Since:
14 April 2010
Offline

The Rainbow Bridge
Forum Posts: 30588
Member Since:
25 April 2007
Offline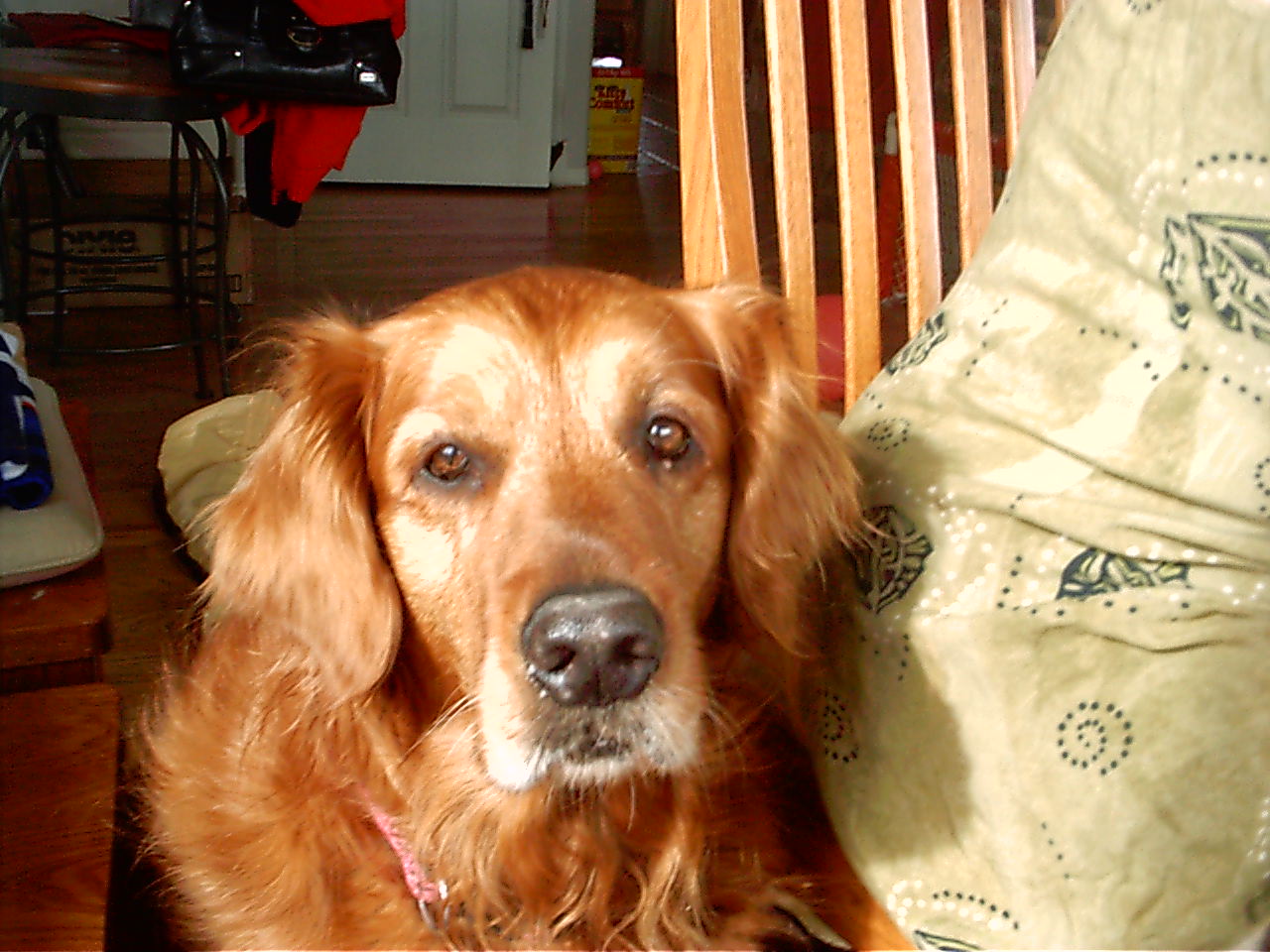 Ohhhhh Tana, my heart aches for you, this is such a sad, sad day. I'm so sorry.
Sometimes their decline happens so fast like this. Still, it always comes as a shock.
Your golden girl Sophie will always be remembered here, and the advice, humor and support you have given to this community will forever be a part of it. Thank you. Please know that we are here when you want to talk OK?
Sophie's life as a Tripawd wasn't as long as anyone wanted, but we are just so glad she got through winter and was able to enjoy the beautiful days of spring and summer.
Ride on that chariot in the sky Sophie. And go get Keaton, he wants his ride too.

Las Vegas, Nevada
Forum Posts: 4344
Member Since:
14 August 2009
Offline
Oh, this is so upsetting.  I knew it was coming but it doesn't make it easier. 
I thank you Tana from the bottom of my heart for sharing Sophie.  I wished somehow and someway the pain would disappear at will.  You've been through too many losses in such a short time. I know there's nothing I can say to help but know you may have lost and have a giant hole in your heart, but you have gained a friend...many friends - thanks to Sophie's journey.
With Sophie's help, you've made us smile and laugh but today we cry.
Without sounding trite, if there is anything I can do, please don't hesitate to ask. 
We are all here for you and mourn with you. Sophie can't and won't be forgotten.
As always...
Your Friend,
Ge'Lena
Comet - 1999 to 2011

She departed us unexpectedly  January 23, 2011 at the age of 12 1/2.

She was born with a deformed front leg and a tripawd all of her life.


Forum Posts: 930
Member Since:
26 November 2008
Offline
Tana, Spirit Sophie, Spirit Keaton, and all the family,
Words fail to express just how sorry we are to hear of Sophie's passing, but we hope that you can accept our deepest sympathy at this horrible time of loss. Miss Cherry was also a front left amputee and enjoyed outings like Sophie. Sophie's face was so very expressive and her joy during the Chariot ride was so very obvious. She clearly enjoyed her life just as it was and Sophie did not feel as if there had to be a bucket-list to fully fulfil her life. You should take comfort in the love that she so clearly demonstrated and cherish her memories. At times like these I so often remind those of us left behind that you will never totally be without Sophie for the gifts that she gave you will live with you forever. I am sure that even now, the memory of that couch brings a small smile.
Hugs from Northern California and praying for the day that you will be able to remember Sophie with a smile.
Spirit Cherry's Dad - Bob

My heart lives at Rainbow Bridge
Forum Posts: 3754
Member Since:
28 November 2008
Offline
This part of being in the 'familiy' never gets any easier.  My heart aches each time a hero leaves us.  Tana, I am so very sorry your time with Sophie had to end so abruptly.  We all know the day will come, yet at the same time, it is impossible to say you are ready.
I'm glad the couches and shoes in your house are finally safe, it must be pretty unnerving to see a quivering couch or shoes that run for the closets.
RIP sweet Sophie. Run free at Rainbow Bridge .
Shanna & Spirit Trouble ~ Trouble gained her wings 3/16/2011, a 27 1/2 month cancer survivor, tail wagging. RIP sweetheart, you are my heart and soul.  Run free at Rainbow Bridge.
The November Five - Spirits Max, Cherry, Tika, Trouble & Nova. 11/2008 - 3/2013 An era ends as Queen Nova crossed the Bridge.


knoxville, tn
Forum Posts: 1705
Member Since:
12 February 2010
Offline
tana, out thoughts are with you, we are so saddened by sophie's passing.  through all this sadness, remember that love never ends.
charon & gayle
Life is good, so very, very good!!! Gayle enjoyed each and every moment of each and every wonderful day (naps included).  She left this world December 12, 2011 – off on a new adventure.
Love Never Ends
shelbysmom
Tana.......heaven is a bit brighter because of the arrival home of your beautiful golden girl.
I know all my goldens at the Bridge (and my labbie boy Carson) greeted Sophie with open hearts and paws.  And your boy Keaton must have been over the moon to be reunited.  Still, for those of us left behind, it's hard to keep reminding yourself that it's a temporary situation.  I pray that your heart can in time begin to heal.......I know all too well how the silence in your home can be deafening.
Sophie, run fast and play hard.  See you on the Other Side, you golden beauty.

Auburn, CA
Forum Posts: 248
Member Since:
28 October 2009
Offline
Tana,
I come and go from this site and missed a lot about Sophie.  But I just watched her Chariot video.  I sobbed and laughed.  She was adorable riding in it and hopping with her pack, but then it breaks my heart to see these videos of those that have left us.  I use a stroller for my senior bulldog Betty due to her arthritis.  They are so cute when they sit there and watch the world roll by.  I know that they are grateful for the ride so that they can still get out on the trails.  🙂
My heart goes out to you, you are in my thoughts.  Turn on the tv for some white noise.  I know that "it's too quiet" feeling and it's about unbearable.
Hugs,
Dawn

 Rottie Raven, osteosarcoma at 8-1/2 years old, amputation in October '09 and in February '10 due to liver mets he went back to heaven where he came from.  raven.tripawds.com

Now I have Miles, rottie mix amputee from a shelter and traveled 1500 miles to find his way here through the Rescue Railroad thanks to tripawds.com.  miles.tripawds.com
Forum Timezone:
America/Denver
Most Users Ever Online:
946
Currently Browsing this Page:
1
Guest(s)
Member Stats:
Guest Posters: 1154
Members: 13598
Moderators: 2
Admins: 3
Forum Stats:
Groups: 4
Forums: 23
Topics: 17187
Posts: 240534
©
Simple:Press
—