Join The Discussion
Learn about life on three legs in the forums below. Browse and search as a guest or register for free to take advantage of member benefits:
Instant post approval.
Private messages to members.
Subscribe to favorite topics.
Join the Live Chat and more!
What Is The KillBarney Tour?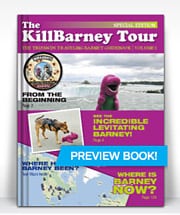 Get the KillBarney Tour Book for photos and stories of Tripawds members around the globe!
A
A
A
Hi everyone, I have spent the past week preparing myself for the coming loss of my great dane Onyx.  He lost his right rear leg to osteosarcoma earlier this year in August.  We did three rounds of Carboplatin chemo and then stopped because it was making him very sick – Onyx is 11 and it didn't seem right to put him through any more at his age.  Initial x-rays and blood tests looked really good in early December, but suddenly about three weeks ago he developed a fast-growing tumor and seems to be causing him a lot of discomfort.  I made arrangements for in home euthanasia tomorrow – December 21.
I have spent a lot of time the past seven days in anticipatory grief, but also trying to spend as much quality time with him as possible and spoiling him rotten.  We have taken a stroll down memory lane where I've taken him for walks in some of the places we have lived before and places Onyx always enjoyed going.  I've cooked meat for him every meal and just loved on him as much as he would let me – he seemed to prefer going to his crate to sleep more and more.  After a week with a lot of crying, I made peace with the fact that the time was right to let him go.  Then today happened.
Today was an unseasonably warm and beautiful day over 60 degrees and I had made arrangements to take Onyx to visit his friends at the dog boarding facility where I would take him when I traveled – Rocky Hill Ranch.  He has been going there for years and absolutely loves it there.  I felt like I owed it to him to have one last chance to go there.  He was thrilled to visit and I ended up letting him stay and play for an hour while I ran an errand.  When I came back, he was tired but in high spirits.  He seemed to have a renewed energy and lust for life that seemed lacking most of this week.
Now I'm second guessing the timing of the euthanasia.  The tumor at the site of his amputation is huge – about the size of a grapefruit and it makes it very difficult for him to find a comfortable way to lie down.  He was very restless this past week, getting up and circling repeatedly as he tried to find the right way to lie down.  While I expect he is also tired from playing, he just seems happier for lack of a better word.  
I guess I'm wondering whether Onyx was simply feeding off of my sadness of the past week and I have mistaken that for being in enough pain that he was ready to go.  Today, I wasn't quite as sad and the beautiful day certainly helped that, but I'm wondering whether I am misjudging the timing of when it is the "right" time.  I really don't want to wait until he is in agony, but I don't want to have regrets because I have been premature in when to say goodbye .
Is it common for dogs to have a temporary surge in energy and spirit before its time?
I've read your post several times.  My heart breaks for you as you agonize over the deciw to release Onyx from his earthly clothes.
 Unfortunately only you and Onyx can make this decision.
The only thing I can do is reflect bzck to you that you are obviously second guessing if you should keep the appointment.. You are concerned that the reason Onyx has been more "down" than he has been since yesterday is because he's feeding off yriur sadness.
I can only speak "hypothetically" and am NOT  giving advice one way or another.  If a dog is not in any real pain, maybe uncomfortable,  but not bad pain….and if that dog perked up a lot by getting to do some of the things he loves to do…and if the owner is second guessing and has a kot of uncertainty about the "decision"….then may be that person could cancel the appointment for now and see how the next several days go. 
That said, we all want to have hppy "last memories" and not memories of a dog in pain if at all possible.  Based on what you've said though, it doesn't sound like Onyx is on the verge of any immediate  health crisis.   Perhaps you could have the Vet keep the appointment but merely for the purpose of evaluating Oynx to confirm he does appear stable…or not. 
Now that Oynx's spirits are lifted…and yours are lifted…He may have some good days ahead for him afterall.
I really didn't intend to "give advice" on what you should or should not do. You know Oynx bettet than anyone.  I did wwnt to reflect back what I "hear" you saying, because it sounds like you have some answers already figured out.
Sending you love and clarity
Sally and Alumni Happy Hannah and Merry Myrtle and Frankie too!
Happy Hannah had a glorious additional bonus time of over one yr & two months after amp for osteo! She made me laugh everyday! Joined April's Angels after send off meal of steak, ice cream, M&Ms & deer poop!

The Rainbow Bridge

Forum Posts: 23780
Member Since:
25 April 2007

Offline
I'm sorry to hear about Onyx, my heart is aching for you. I remember all too well what it's like to be in your shoes, it was sooo hard. To answer your question:
Is it common for dogs to have a temporary surge in energy and spirit before its time?
All dogs are different, but in my experience here at Tripawds, I've read about it happening many times with different members. And I witnessed it myself with our Jerry, he did the same thing. We made an appointment for his final vet visit when we thought his time had come, but we cancelled it, because our gut feeling told us it wasn't his time. When it was, about 2 weeks later, he told us loud and clear.
Not all dogs will be so obvious in their messages to us when they're not showing signs of severe pain, so you can't really wait for them to "tell us." You have to set those quality of life boundaries first, and then when an animal has more poor quality of life days than good ones, that's usually the sign that they're ready to move on.
There's no getting around the questioning we go through when we help our animals transition on. It's an incredible responsibility to make that final vet appointment. I don't know if you kept the appointment today or not, but I just want you to know that whatever decision you make is the 'right one' for Onyx, because only you know him better than anyone else.
We are thinking of you and sending lots of love your way. When you feel ready to talk, we are always here for you. 
Thanks everyone, I have been struggling with this today, as Onyx absolutely scarfed down his breakfast of grilled chicken.  However, as the day has worn on, he seems very withdrawn and I am interpreting that as pain.  He keeps going back and forth between the bed in his crate and the one in the living room.  Whenever he comes out here in the living room, I try to sit with him and give him pets, and after a couple minutes he gets up and goes back to the crate – it seems like he just wants to be left alone. 
While he has never been the "cuddle bug" that I would like him to be sometimes, it is rare for him to avoid affection in exchange for solitude in his crate – at least until it's truly bed time.  As the day wears on, I am leaning toward keeping our appointment later today.  I guess maybe in some ways I had a vision in my head of how this last day would go and because it has not been anything like that, I have been second guessing the timing.  However, I need to be open enough to see that my dog simply wanting to avoid pets and affection from me is the sign that he is ready to go. 
He is hurting and tired and I need to accept that my last hours with him may not be exactly the same as what I would want them to be.  I so much want to spend the last hours with him giving him pets and hugs and telling him how much I love him and how much having him be my dog has meant to me.  However, if he simply wants rest, peace and quiet, I should respect that.  I just want him to leave this Earth knowing how loved he was. 


Schofield, WI
Forum Posts: 1411
Member Since:
13 August 2015

Offline
Onyz knows he's loved don't ever doubt it.  As others have said it's so hard to know "when" is the right time.  Perhaps the trip to Rocky Hill Ranch was on his bucket list and now he's content.  I know whatever decision you have made was the "right" one for your boy because it was made out of love.  Keeping you in my thoughts and prayers.
Linda & Spirit Mighty Max

Forum Posts: 1637
Member Since:
1 October 2017

Offline

Thinking of you, so sorry for your heartache. Please don't doubt that Onyx knows how much you love him. My heart goes out to you, I know how difficult this is. 
Hugs,
Jackie and Huck ❤
Hugs,
Jackie, David, Mitchell, Andy Oscar, and the coolest feral tripawd kitty Huckleberry


Livermore, CA

Forum Posts: 3201
Member Since:
18 October 2009

Offline
I'm sorry you are at this point with Onyx.
I had made Maggie's last appointment for the end of the day and my parents came over to say goodbye.  When Mag saw my dad she perked up and they went to the park.  I had second thoughts about our appointment but then again she had had a few good moments in two days of not much good time.  Things were not going to get better if I waited longer so I kept the appointment.
Never doubt that Onyx loved you.  Don't judge the years you have had together by the last few days- he doesn't feel good and he is not himself.
I hope that if Onyx crossed today that it was calm and peaceful.
Karen and Spirit Maggie
Tri-pug Maggie survived a 4.5 year mast cell cancer battle only to be lost to oral melanoma.
1999 to 2010

London, UK

Forum Posts: 1534
Member Since:
15 December 2015

Offline
Just wanted to send love and say you are in my thoughts. I am absolutely certain that Onyx knows how much you love him.
Meg, Clare and Elsie Pie xxx
Meg, Mutt, aged around 9, adopted 31/12/2009. Sudden explosive right elbow fracture 06/12 (caused by IOHC), diagnosed with End Stage Arthritis 03/15, Total Elbow Replacement 08/15, problems with healing leading to skin graft & skin flap surgery, Chronic Infection leading to implant breakdown. Became a Tripawd 9th March 2016. 
Lives with Mum, Clare, watched over by Angel Pie and Angel Billie
My life as a MEG-A-STAR 



Hi everyone, thanks so much for all the kind words and advice.  I wanted to follow up and confirm that Onyx was relieved of his pain and left us Thursday night, just after 5 PM mountain time.  I cradled his head on my lap, stroked his ears and told him how much I loved him.  My big regret is that the way I was positioned, holding his head on my lap, I could't really see his eyes.  It happened so fast and the next moment he was gone.  I never got one last chance to look into his beautiful eyes, and I'm not sure why, but it REALLY bothers me.  Has anyone else felt this way?
Afterward, I curled up next to his warm body and just sobbed.  I made sounds that I wasn't aware that a grown man could make.  My mind kept flooding back to every time I was impatient with him or had selfish thoughts about how I didn't want to have to walk him, and I was ashamed.  I kept telling him "I'm so sorry!"  I know that I put a lot of effort into trying to care for him and make him happy, but for some reason I keep thinking of the times that I was not the person I should have been.  Is this "normal"?
I carried his body out to the vet's car – for some reason this was important to me to do vs. let them use the stretcher.  I had picked him up plenty of times and he was even lighter post-amputation, but it was really difficult to pick him up with his body now lifeless.  I placed him in the back of the vet's SUV, stroked his fur one last time and told him I loved him.  As the vet's car drove away, it felt like I was walking into a stranger's house.  Without his presence in the house, it felt empty in an instant.
I sat down inside his crate and just cried.  I couldn't believe he was gone!  Eventually, I composed myself and got out of the crate, and headed downstairs to the man-cave, because I have a computer hooked up to my TV.  I started knocking back a few beers and composing the emails to friends and family, letting them know that Onyx was no longer with us.  I went through the photos I had taken the past week, as I tried making up for lost time.  I scrolled through photos I had taken over the past 7.5 years since I got him and felt ashamed I had taken so few.  Onyx never liked getting his photo taken, but I should have been more diligent – a lesson for when I get another canine companion down the road.
Eventually after all the emails were sent and I had a pretty good buzz on, I went upstairs and lay down on the huge dog bed in the living room.  I wanted to be close to things that smelled like him.  I slept for a few hours on the bed before waking up and going back to my own bed, but sleep was restless.  Surprisingly I woke up around 8 AM, but I certainly didn't feel motivated to get up.  Eventually I did, and made coffee, beginning to struggle with everything that happened the prior evening.
Today I have started the process of going through his things and separating into the keep and donate piles.  Onyx basically had his own bedroom, taking over the guest room upstairs.  I took down his crate and feel like I will want to move furniture around and change things quickly so that I don't have the painful constant reminders of his daily life.  I haven't had the strength yet to remove his feeder or the dog bed in the living room though – I'm hoping to do that tomorrow. 
I've been blessed with the support of plenty of friends and family who have called, texted, emailed and sent gifts.  Certainly, those things help, but I'm expecting only time is going to start to fill in this giant hole I feel inside.  Thanks again everyone – I appreciate the efforts you made to help.
I'm so very, very, very sorry.  It hurst us all qhen a MAGNIFICENT dog like Onyx has to head to the Bridge.  We all cry with you and we know all to well the heartache, the void, the despair….all too well.
You did EXACTLY what Oynx would have wanted you to do at EXACTLY the right time. Onyx knew you loved him enough and knew him so well, that when he showed signs thst were very specific to Oynx, you would give him the gift.
And yes, for whatever it's worth, focusing on crazy details of the time leading up to transition….the "if only I'd done so and so…"  "the shudda, wudda, cudda's…."  yeah, it's "normal" and is especially intense in those first hours and days. It's just somee we humans do. Fortur our focus eventually shifts to happier times, but it takes awhile.    I do want to address that Oynx knew he was surrounded by yiur loving presence as he transitioned.  He was home and with you.  He didn't need you to "look into his eyes" at all.   He was looking past his earthly journey and ready to ve released.  All he needed from you was to be by his side and ro know you WILL be okay.
Jerry always reminds us that the hours leadiing up to transaition is just a blink of an eye compared to the thousands and thousw of ahhpy times you and Onyx shared!!!
There's something that really touched my heart in your earlier post.  It was that Onyx had such a great day prior to him leaving his earthly clothes.  THAT WAS A GIFT OYNX GAVE TO YOU TO HELP YOU REMEMBER ALL THOSE HAPPY TIMES!!!   Oynx was excited because he KNEW he would soon be rid of his failed body.  He KNEW he would show you the signs the next day and you would release him.   But he gave you that WONDERFUL DAY OF OYNX BEING ONYX!!    Honor that gift!!! Focus on that gift!  It WILL help you through  this awful intense time of gut wrenching grief
We are all here fornyiu.  We also have the Tripawds helpline.  1'844 TRIPAWD.  Your world has stopped and the void is dark and breaks your heart.  We can't take your pain away, but we can tell you we understand like no others can.
ONYX WILL ALWAYS BE REMEW HERE!!!!  He shows everyone that BIG DOGS with a bit of frosty mug, can indeed handle life on three legs just fine!!    His legacy here will continue on, as well as the loving void the two of you share.
When you can, please share some more about Oynx with us.  Great Danes are so big because they need all that extra girth to hold their huge hearts!


Surrounding you with Onyx's eternal light
Sally and My Chunky Spiritual Being Happy Hannah and Merry Myrtle and Frankie
Happy Hannah had a glorious additional bonus time of over one yr & two months after amp for osteo! She made me laugh everyday! Joined April's Angels after send off meal of steak, ice cream, M&Ms & deer poop!

Green Bay, WI

Forum Posts: 831
Member Since:
18 May 2014

Offline
So sorry for your loss! Everything you are thinking and feeling are totally normal. I lost my heart dog Nitro July 25, so Christmas Day marks the 5 month mark. I spent a lot of time today, reflecting on his life and death; like you (and most folks I'd imagine) I relive the last day/moments of his life. "Why didn't I do *insert thought here*", "I wish I would've done *insert thought here*".  At the time, things play out how they play out….it's not like we can really rehearse what we will do in that moment. We do the best we can, at one of the most difficult times of our lives. Oynx knew you loved him with every fiber of your being, never doubt that. We are only human, but our dogs love us unconditionally anyway. Wishing you peace as you move forward……
Paula and Warrior Angel Nitro 
Nitro 11 1/2  yr old Doberman; right front amp June 2014. Had 6 doses carboplatin, followed by metronomic therapy. Rocked it on 3 legs for over 3 years! My Warrior beat cancer, but couldn't beat old age. He crossed the Bridge peacefully on July 25, 2017, with dignity and on his terms.  Follow his blog entitled "Doberman's journey"
http://nitro.tr.....27_2_1.jpg
"Be good, mama loves you".....run free my beautiful Warrior

Forum Posts: 1637
Member Since:
1 October 2017

Offline

Dear Onyx's Dad,
I am so very sorry for your loss. I'm also sorry it took me so long to respond, I am out of state right now visiting my family. My heart goes out to you, and fortunately or unfortunately (maybe a bit of both) I understand, and we all understand this horrible pain you are experiencing right now. I had to remind myself many times that even though I didn't go through all of the diagnostic testing with my Rose, we still treated her with the same meds and it didn't work. My girl was young and all of a sudden attacked by an awful auto immune disease. I had her then all of a sudden I didn't. It hit her heard and fast. I doubted everything about everything and cried many a night wishing I had been back in my home state with vets that I trusted treating her when she failed. I have seen so much in all the years I worked with animals, from wonderful to things that were so horrible I had nightmares for weeks. I had never seen what happened to my Rosie. It's been about 5 years now and I still and will always miss my girl. I think when we lose somebody that we love that much we all find ways to doubt ourselves. Just twisted human nature I guess. Please try not to second guess yourself. We all saw this coming and knew it wouldn't be long, even if you couldn't, or your love for him  didn't want you to accept it. He went quickly, he was ready. You didn't see his eyes but your lap felt wonderful against his tired head. He had his human with him during his last moments on this earth, and you were with him when he shed his earthly clothes and all of that pain to go romp with all of our loved ones. He is free, and he will watch over you now. That piece of your heart he will always own, and he loved you dearly. Please find comfort in knowing that you let him go before he suffered so badly that he couldn't see his way through the pain. Maybe if you can look at it like that instead of beating yourself up you can find a little peace. Your pain is overwhelming right now, but please remember that without love there is no pain, and some people are never blessed with the kind of love that you, me, and all of the special people here have been privileged to have in our lives. You are a wonderful pawrent, and don't you ever forget it.
Please take care, sending you as much healing energy as I can.
Jackie 
Hugs,
Jackie, David, Mitchell, Andy Oscar, and the coolest feral tripawd kitty Huckleberry


Here and Now

Forum Posts: 11432
Member Since:
25 April 2007

Online
Run free sweet Onyx…peace.
Thanks everyone for all the kind words.  I'm doing better now and starting to heal from all of this.  Onyx was my first dog, so this has all been a new experience for me.  While I will never forget him and will probably always miss him, I feel like now I can begin to move on, while keeping him close to my heart.  I appreciate all your kindness.
Hope you all have a wonderful New Year and that 2018 brings good things for man, woman and dog!
Thanks for checking back in.  I know it wasn't easy.  And we know you still have some sad times to get through and the waves of grief will hit you out of the blue  for quite awhile.   
You said it so well when you said you…. "felt like you could move on while still holding Onyx in your heart"

   Surely that makes him happy
Yes, Onyx is your "first dog"and, I have a feeling, certainly won't be your last.  In fact, he probably already has one picked out for you!  He'll reveal his choice when the time is right
   You showed Onux what it felt like to be loved, ro be cared, for, to be happy.  And he wants another dog to be able to feel all that too

Hugs
Sally and Alumni Happy Hannah and Merry Myrtle and Frankie too!
PS.  Has Onyx shown you any signs yet that hes still around?  Pay attention, because he will!
Happy Hannah had a glorious additional bonus time of over one yr & two months after amp for osteo! She made me laugh everyday! Joined April's Angels after send off meal of steak, ice cream, M&Ms & deer poop!
Forum Timezone:
America/Denver
Most Users Ever Online: 597
Currently Online: admin, teri, sprakos
61 Guest(s)
Currently Browsing this Page:
1 Guest(s)
Devices Used: Desktop (54), Phone (10)
Member Stats:
Guest Posters: 1005
Members: 12589
Moderators: 2
Admins: 3
Forum Stats:
Groups: 4
Forums: 23
Topics: 14969
Posts: 210765