Caring for a Three Legged Dog or Cat
Tripawds is the place to learn how to care for a three legged dog or cat, with answers about dog leg amputation, and cat amputation recovery from many years of member experiences.
JUMP TO FORUMS ↓
Join The Tripawds Community
Learn how to help three legged dogs and cats in the forums below. Browse and search as a guest or register for free and get full member benefits:
Instant post approval.
Private messages to members.
Subscribe to favorite topics.
Live Chat and much more!
Find out in Be More Dog: Learning to Live in the Now by Tripawds founders Rene and Jim. Learn life lessons learned from their Chief Fun Officer Jerry G. Dawg! Get the book and find fun gifts in the Be More Dog Bookstore.

Minneapolis, MN
Forum Posts: 97
Member Since:
23 May 2010
Offline
Today we said goodbye to our beloved Daisy girl.
Please see my post at http://daisy.tr.....ys-life/ 
Daisy, 12 years young, had left forelimb amp on 5/19/2010 due to osteosarcoma. She left her body behind and joined the other spirit tripawds on 7/16/2010.
So grateful for each day with her!
Lexi (Daisy's momma)

Forum Posts: 150
Member Since:
7 June 2010
Offline

The Rainbow Bridge
Forum Posts: 30590
Member Since:
25 April 2007
Online
Lexi, our hearts go out to you.
Our journey with Daisy was far too short, but she will forever live on here and in the hearts of all of us. Please take comfort in knowing that future pawrents will find inspawration and hope when reading about her brave fight. Thank you for welcoming us into your lives.
Many, many hugs coming your way.

Los Angeles
Forum Posts: 842
Member Since:
2 November 2009
Offline
Lexie,
I just read your post and and wrote you a note there but I wanted to say again how truly sad I am for your loss and know how much you loved your beautiful Daisy.  She was a brave girl who will be sorely missed by all of us.
Kami (Mackenzie's Mom)
My sweet golden Mackenzie.  She became my angel on Dec 29, 2010 at the age of 8 1/2  although she was always my angel from the time we brought her home.  She was diagnosed with osteosarcoma in Sept 2009 and officially became a tripawd (front leg) on Nov 5, 2009.  She will be forever in my heart and now she's running free with all of our other tripawd heroes.  I love you Mackenzie!

Forum Posts: 930
Member Since:
26 November 2008
Offline
Once more words are failing to express my feelings as I stare with disbelief and through tears at this horrible news, but we would like you to accept our deepest sympathy at this time. Your tribute is wonderful and like you I attempted to "celebrate" life when this time came. Know that like so many here in this community, we do understand how empty you feel now. You clearly have created many wonderful memories with Daisy and it will be these memories that will sustain you. You will never be totally without Daisy for the gifts that she gave will be with you forever.
In hope that the day when you can remember Daisy with a smile will be soon, you will be in our thoughts and prayers. Long distance hugs from a transplanted Mid-West boy.
Spirit Cherry's Dad

My heart lives at Rainbow Bridge
Forum Posts: 3754
Member Since:
28 November 2008
Offline
Daisy, sweet girl, you will be missed. Lexi I'm so sorry for your loss.  It always breaks my heart when an angel crosses the bridge, but being right behind you at 21 months, and reading some of the comments in Daisy's memorial, this is particularly sad for me.
Grieve your loss, be kind to yourself.  May your pain soon be replaced by only happy memories.
RIP sweet Daisy.  Run free at Rainbow Bridge .
Shanna & Spirit Trouble ~ Trouble gained her wings 3/16/2011, a 27 1/2 month cancer survivor, tail wagging. RIP sweetheart, you are my heart and soul.  Run free at Rainbow Bridge.
The November Five - Spirits Max, Cherry, Tika, Trouble & Nova. 11/2008 - 3/2013 An era ends as Queen Nova crossed the Bridge.


Forum Posts: 398
Member Since:
22 December 2009
Offline
RuthieGirl

Orange County, CA
Forum Posts: 226
Member Since:
2 January 2010
Offline

Wesley Chapel, FL
Forum Posts: 1104
Member Since:
13 September 2009
Offline
I'm so sorry to hear about Daisy...
 She was such a beautiful and sweet dog...
You are in my thoughts and prayers tonite... Rest in peace sweet Daisy...
Angel Jake and Wolfie's Mom
Jake, 10yr old golden retriever (fractured his front right leg on 9/1, bone biopsy revealed osteosarcoma on 9/10, amputation on 9/17) and his family Marguerite, Jacques and Wolfie, 5yr old german shepherd and the newest addition to the family, Nala, a 7mth old Bengal mix kittie. Jake lost his battle on 11/9/2009, almost 8 weeks after his surgery. We will never forget our sweet golden angel… http://jakesjou.....ipawds.com ….. CANCER SUCKS!

western Washington
Forum Posts: 207
Member Since:
7 June 2010
Offline
Oh Lexi, I am so sorry to hear about your dear girl, Daisy.
Always with a smile on her face. Always a happy happy girl.
I picture her now, smiling, happy, saying, "Look Mom, I've got all four legs again! Look at me run around!"
Always in your heart and your love in hers.
 Big hugs,
      Denise
Kona turned 9yrs on April 16, 2010.
Kona was diagnosed Memorial Weekend 2010 with osteosarcoma.
Right rear leg amputated on June 4th. First chemo June 18th 2010
Second chemo July 9th, 2010      Third and final (yea !!!) chemo July 30th, 2010
ONE TOUGH GIRL this Australian Cattledog !
***Kona's journey/fight ended late in the evening of December 22, 2010***
                               We Love you so much Kona….always   
  Bella 9yrs, albino lab/aussie shep/pit?(abandoned in mts as a puppy) deaf & blind (from birth) in one eye limited vision in other.(laid back, ok lazy 73 lbs)
Cotton, 5yrs, albino hound/terrier of somesort/???(abandoned in mts as a puppy) deaf & blind in one eye(from birth), excellent vision in seeing eye. (ball addict…destroyer of Kong balls…yes,etc), high energy 55lbs knots of muscle)
Kona Kai's pup brother and sister as well as her buddy and playmate cat, Shaymous 12yrs (like Seamus), miss her terribly.

Forum Posts: 49
Member Since:
9 April 2010
Offline
I am so very sorry for your loss.  I am absolutely stunned.  Daisy looks so much like my Etta I would swear they were litter mates... what are the odds....And if they were they are now reunited across the bridge.   What a very sweet and gentle soul and how very lucky that you both found each other.  Please know my thoughts are with you and may you find comfort in the memories of your  beautiful girl...  julie (angel etta's mom)
Our angel "Etta" amputation on 4-15-10 lost her front limb. initially dx'd with neurofibrosarcoma. However, after surgery they discovered histiocytic sarcoma a very aggressive cancer. After two full rounds of chemo our special angel lost her battle on 6-21-10. the sweetest and most gentle soul. Our lives are forever blessed for having known her...

Las Vegas, Nevada
Forum Posts: 4344
Member Since:
14 August 2009
Offline
Dear Lexi,
As you know, I loved your story of you finding Daisy at the shelter 1 month after Molly passing.  And then remembering you talking about the timing of some guy almost getting Daisy before you!  It was such a close call!  Poor guy.  But gosh, what a wonderful 21 months you had with her! 
As I've told you, bless you for rescuing an older dog and giving her the most love she could ever imagine.  I know she wasn't with you long enough and she certainly wasn't with us long enough.  But I hope you know that your pain is felt by all of us fellow tripawds.  And even though we didn't get to be together long, she was very memorable and so lovable.
I send you my deepest condolences.  I imagine she looks like this in dog heaven with the wind blowing her ears.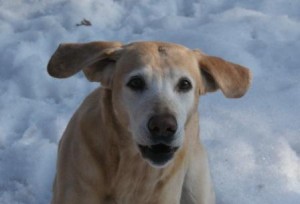 Many giant hugs to you and your family.
Comet - 1999 to 2011

She departed us unexpectedly  January 23, 2011 at the age of 12 1/2.

She was born with a deformed front leg and a tripawd all of her life.


Forum Posts: 40
Member Since:
10 September 2009
Offline
I am so sorry to hear about Daisy!  I just lost my Toto, and I share in the pain you are feeling.  You are in my thoughts and prayers at this time.
Kristin
And Toto, Too – fighting the good fight against hemangiosarcoma   http://tootswee.....pawds.com/      Amputation - 9/21/09      Earned his wings - 7/09/10
Forum Timezone:
America/Denver
Most Users Ever Online:
946
Currently Browsing this Page:
1
Guest(s)
Member Stats:
Guest Posters: 1154
Members: 13598
Moderators: 2
Admins: 3
Forum Stats:
Groups: 4
Forums: 23
Topics: 17187
Posts: 240537
©
Simple:Press
—