Caring for a Three Legged Dog or Cat
Tripawds is the place to learn how to care for a three legged dog or cat, with answers about dog leg amputation, and cat amputation recovery from many years of member experiences.
JUMP TO FORUMS ↓
Join The Tripawds Community
Learn how to help three legged dogs and cats in the forums below. Browse and search as a guest or register for free and get full member benefits:
Instant post approval.
Private messages to members.
Subscribe to favorite topics.
Live Chat and much more!
Find out in Be More Dog: Learning to Live in the Now by Tripawds founders Rene and Jim. Learn life lessons learned from their Chief Fun Officer Jerry G. Dawg! Get the book and find fun gifts in the Be More Dog Bookstore.
mcintosh@yahoo.co.nz
hi there, my fox terrior cross, Little Man, broke his front right leg when he fell off a balcony in July this year. He has had 2 operations and then was on cage rest for approx 12 weeks.  During that time, he was extremely depressed.  He is a very active dog, who loves his walks & running with me. His coat lost all it's shine; he got very skinny; and just wasn't his usual happy self (which is completely understandable) - so it was very hard, for both of us.
He has been going for walks now, but he will not use his leg.  He will not place it on the ground & squirms if I try to straighten it for physio exercises, like the Vet advised me to do. So he just hops around with the leg held up.  He seems very happy though - back to his normal self, loves his walks - although on 3 legs instead of 4.
Recently we had another xray done & the Vet advised the bone has calloused over abnormally.  The Vet said the outlook is not good and will most probably need more surgery and there is still no guarantee that it will fix the leg.  Of course, this would mean more cage rest & i really can't stand the thought of putting him through that ordel again. 
So i have been thinking of having the leg removed. I feel absolutely terrible even entertaining that thought, but I know he is so unhappy when hes not allowed to go outside for walks, the cage rest was a nightmare for him. He's turning 8 this year, so I really just want him to get on & enjoy his life.  He is fine on 3 legs right now, but the bad leg does flop around when he is running & that is causing him some discomfort. Also, he can't lie on his right side bec the leg hurts.
I would appreciate any advice on this. It's hard to look at this objectively bec he's my baby, but I want the best for him. So any feedback would be great. Also, how much time is needed after surgery before they are able to be up & about again?
Thanks very much
Lissa

Columbia, MO
Forum Posts: 483
Member Since:
10 December 2011
Offline
Poor Little Man.  It sucks having a leg there and not be able to use it.  If the bad leg is flopping around I assume his muscles have atrophied?  My Daisy had her front left leg amputated due to the elbow joint being destroyed by arthritis.  One day her joint swelled up huge and she refused to walk on her leg anymore.  I decided to amputate because as long as that leg was there she would continue to try to use it a little and it hurt her so much and hindered more than helped.  There was no surgery or treatment that could fix the damage.
Daisy is an 80 lb lab/wolfhound mix.  She has arthritis in her hips and spine but her mobility hasn't been hampered too much by losing her leg.  She's not as agile as most tripawds because of that.  I give her an NSAID (meloxicam) daily for arthritis pain and a glucosomine/chondrotin supplement for her remaining good joints.
Your Little Man will have his smaller size on his side.  The littler tripawds I have met at the dog park zoom around and you wouldn't even know they are missing a leg!
The recovery period for amps is around 2 weeks and activity is restricted to going out to do their "business".  Normally stitches/staples come out after about 10-14 days.  Daisy walked out to me the day after surgery when I took her home.  I was so amazed!
Hope our story helps you in deciding what will be right for you and Little Man.
Marla and Daisy
My Two Tripawds...Biscuit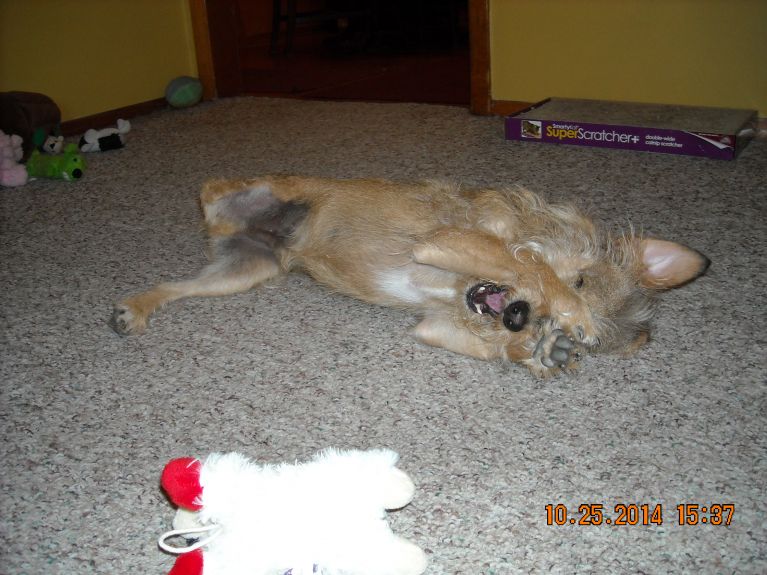 and Spirit Daisy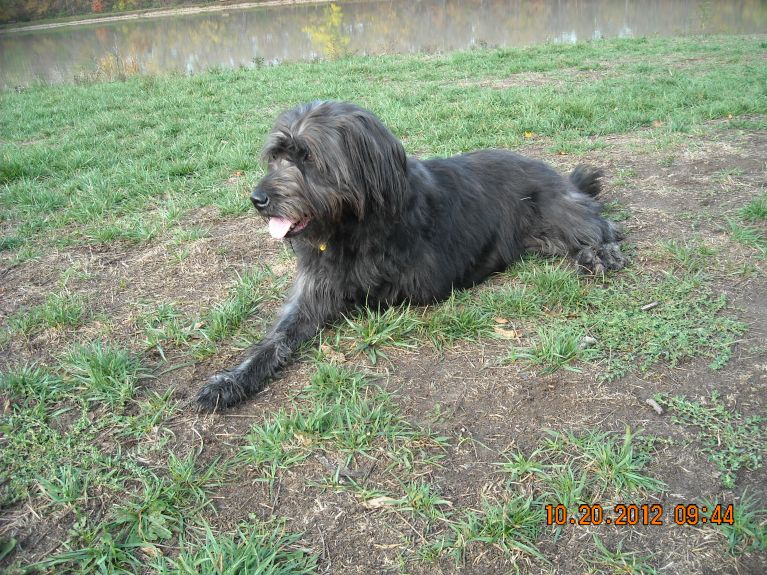 Madison, WI
Forum Posts: 616
Member Since:
5 December 2009
Offline
In my limited, non-veterinary, experience, sometimes amputation is the best option for an active dog who's limb isn't healing right.  I've met owners of two different dogs where I live who had to go with amputation because the limb couldn't heal right, kept rebreaking, etc.  They both happened to be miniature breeds, so may be more prone to that issue, but I expect it's just as possible with larger dogs.  I met my current dog Gerry while he was still in the shelter.  He was limping and they didn't have any info initially on why and had to have their vet check him out and try to guess what had occurred based on his x-rays.  The conclusion was his knee was injured in a traumatic event, like being hit by a car, some time ago and it hadn't healed right.  Their vet was committed to saving Gerry and had an orthopedic veterinarian surgeon friend do Gerry's amputation for free, because she and/or the specialist, felt a surgery to fix the knee was just too tricky, not likely enough to succeed.  Now, the shelter staff only suggested the decision was based on the x-rays, but I would not be surprised, and would totally understand if Gerry's behavior had a lot to do with the decision too.  He's not a hyper dog who needs to be super active, BUT he hated being crated so much that he broke out of like three or more of them.  I was shown metal bars that he had bent with his teeth at one point.  So they were looking for a foster ASAP, which ended up being me.  They were concerned he might have separation anxiety, but I soon learned he was an angel when left home alone - as long as he wasn't confined to a kennel, or even a room.  A claustrophobic dog, I guess!  (He also had trouble being inside a car, initially, but we worked through that with time and treats).  So, to wrap up my rambling about my pup, even if they thought they could have pulled off the knee surgery, I wouldn't be surprised if Gerry woud have wrecked the healing process by refusing to rest in a crate/kennel long-term as required.
I know it's hard to make huge decisions like this for your Little Man, but after you get all the facts from your vet, and any other sources you trust, then trust your gut, cause you know him best.
Here's a link to a video of Gerry about a month after his amputation.  Results vary, of course, but if Little Man is otherwise healthy, and already doing terrific holding his leg up, I bet you'll see him adjust at least as well:
http://gerry.tr...../dog-park/
Gerry has been a tripawd since 12/16/2009.
He was a shelter dog with a mysterious past and an irrepairable knee injury.
Videos and pics of Gerry's pawesomeness can be found at: http://gerry.tripawds.com

New Haven, CT
Forum Posts: 1193
Member Since:
27 December 2012
Offline
I'm so sorry to read Little Man's story.  I can also relate to how confinement for an active pup is torture.  While Jackson and I are new to this site and new to the Tripawd life, we can honestly say right now (10 days post op) that we believe it's better to hop on 3 legs than limp on 4 (or, limp on 3).  Jackson had torn his ACL before we knew about his cancer.  It was 3 weeks of limping on a busted knee before we knew about the tumor.  In those 3 weeks, he was medicated and comfortable, but there was a lot of atrophy in that injured leg.  It also looked really tiring to keep holding that leg up and not being able to rest on it.  Even though we're going thru rear-amputation post-op and its ups/downs, in the long run, he won't have an injured leg to cart around or deal with.  We WISH it was just a torn ACL, but now we get to fight cancer.  Your vet will hopefully have some good answers for you, but from this site and our story, I can honestly say that a chronically injured leg does cause pain and without it, our pups do amazingly well.  Thankfully, you wouldn't have cancer to deal with.  And, Little Man's recovery wouldn't be like cage-confinement....
Best of luck to Little Man and to you!  It's a tough decision.  We're here for you!
ACL tear in right hind leg 12/5/12 and scheduled ACL repair surgery 12/21/12. Pre-op xrays revealed osteosarcoma. Amputation 12/28/12.  Chemo (carboplatin) started Jan 10, 2013 and ended on April 5, for a total of 5 doses. He handled carbo like a champ!  No side effects.  We started metronomic therapy at his third chemo and have been also doing some holistic treatments.  He's a lively, playful 10 year old huskie-boarder collie and a very proud member of the Winter Warriors!  Our love. Our funny little guy!

The Rainbow Bridge
Forum Posts: 31072
Member Since:
25 April 2007
Offline
Hi Lissa, welcome to Tripawds. I'm so sorry that you're in this situation. Have you had a second opinion? When anyone is torn about what to do, a second opinion can mean all the difference in how comfortable they are with proceeding with any type of decision. 
I hope you don't mind but I moved your post here, in Beyond Cancer. This is where a lot of folks who are looking at life on three legs for reasons other than cancer will share their stories. I"m hoping you can find comfort in reading them. Please let us know what you decide to do. And oh, please consider registering so that your posts don't need approval. Thanks.

WYO
Forum Posts: 732
Member Since:
10 February 2011
Offline
Is your lil Man in pain?
I guess that would be the biggest factor in my decision.
Bud is had an amp due to a failed hip replacement/broken femur/failed healing.
He had been in terrible pain  for months of trying to save the leg. After exhausting our options, expensive surgeries with a "orthopedic specialist" and the second break....amputation was the only choice. The leg could not be saved.
Immediately after the leg was gone, Bud perked up. He was able to stand and hop immediately because in reality he hadn't the use of the leg for sometime.
I felt guilt and wished we had amputated sooner to eliminated his pain.
February will be his 2 year ammpuversary. He is hopping on 3 instead of limping on 4. He continues an active life with his family!
Forum Timezone:
America/Denver
Most Users Ever Online:
946
Currently Browsing this Page:
1
Guest(s)
Member Stats:
Guest Posters: 1167
Members: 14071
Moderators: 2
Admins: 3
Forum Stats:
Groups: 4
Forums: 23
Topics: 17330
Posts: 242005
©
Simple:Press
—