Join The Discussion
Learn about life on three legs in the forums below. Browse and search as a guest or register for free to take advantage of member benefits:
Instant post approval.
Private messages to members.
Subscribe to favorite topics.
Join the Live Chat and more!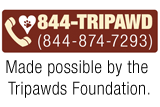 Want to talk with a friend who understands? Call the toll-free
Tripawds Helpline
!
A
A
A
I thought it would be a good idea to switch Yoda's dog food because he keeps trying to steal my roommate's dog's food, which is fish-based. He has always really really liked fish. I've been very gradually switching him over to one that has better ingredients, besides having the main ingredient as being fish (Pure Vita's Salmon and Potato, from Nutri-Source). I checked with the oncologist first and she thought that would be fine. But then things got complicated because Yoda also started Piroxicam around then and he has had some vomiting.
I stopped the Piroxicam after the first incident (Satureday night/Sunday morning), as I was warned to do if certain side effects occurred. He vomited a second time Monday morning (though just yellow liquid, rather than undigested food the first time). I called the oncologist that day and she said to keep him off the Piroxicam for a few days and we'd try again – since I suspected I had been to liberal with treats. No vomiting on Tuesday. Then today he ate a lot of grass, inducing himself to vomit right away with foamy white liquid. So, the oncologist said it's possible that it's the diet or he got into something that upset his stomach (and he's still recovering from it). Though she said (via e-mail) that it could be the diet, her only instruction was to continue withholding the Piroxicam until vomiting stopped and if vomiting continued over the next few days, he needs to be checked out.
Still, I'm wondering if maybe I should stop the new food, or not increase it? I don't really want to bug the oncologist again for a clarification on whether I should. I feel like maybe I should be calling one of his regular vets about the food issue, but it's hard to get a hold of them, especially when there's a lot of details that may factor into a question. The receptionist always wants to take a message on what it's all about, but she always sounds way too busy to actually take it down.
When switching over dog food is it ok if they have a little stomach upset? I am taking it really slow, I thought. It took four days to build up to making 1/6 of his meal the new food. Could it be that the food doesn't agree with his stomach period and never will?
I don't want him to miss out on the benefits of Piroxicam any longer than he has to. He doesn't seem to need it for any kind of pain yet, but the oncologist recommended it because it can have "anti-cancer activity."
There hasn't been any blood in his stool or vomit (as warned about with Piroxicam) and his appetite is still up and his activity level normal.
Yoda&Mom united: 9/5/06 …….… Yoda&Leg separated: 6/5/09……… Yoda&Leg reunited: 10/14/09 ……… ……………….………….………….……. Yoda&Mom NEVER separated! …………………….….……....….…… Though Spirit Yoda currently free-lances as a rabbit hunting instructor for tripawds nationwide
Oh, and I'm anxious to start him on K-9 Immunity asap, now that it has arrived, but I don't dare complicate these unresolved stomach issues any further by giving him anything else new.
Yoda&Mom united: 9/5/06 …….… Yoda&Leg separated: 6/5/09……… Yoda&Leg reunited: 10/14/09 ……… ……………….………….………….……. Yoda&Mom NEVER separated! …………………….….……....….…… Though Spirit Yoda currently free-lances as a rabbit hunting instructor for tripawds nationwide

Orange County, CA
Forum Posts: 1185
Member Since:
28 November 2008

Offline

Hi Yoda's Mom (and Yoda). Max is also on Piroxicam. We switched Max's food over to healthier brands several months ago. We give him a variety of food, so that he doesn't get sick of the same old thing. We gradually made the switch (mixing with his old food) over a 3 – 5 day period, just in case it upset his stomach. It never did, so that was good. As far as I can remember, Max never had any issues with Piroxicam or K-9 Immunity either.
Now, having said that, every once in a while, Max will go through a 2 – 3 day vomiting bout. It happened about 2 months ago, and he had another one this past weekend. When this happens, we stop all medicines and put him on a bland diet of white rice and grilled chicken breast. When the vomiting subsides, we slowly start mixing in his regular food with the bland diet until we're pretty sure he's "normal" again, then go back 100% to his regular food. We've checked with both his oncologist and his regular vet; neither one can ever find anything wrong with him (blood tests were done), and we know he didn't get into any type of poison or chemicals, because we don't have anything like that where he could get at it (actually we don't have any poisons at all). Our regular vet told us to add some Pepcid AC to his meals until his stomach settles down, and that has also helped. You might want to check with your vet and try that.
As for feeling bad about calling your vet, DON'T!! I'm sure just about everyone on this forum has put several of our vets' children through college! Remember, you pay them to help you. The receptionist can put the other line on hold to take down your message. If she says she's too busy, insist on getting your vet's e-mail, then you can send the message yourself.
Anyway, I hope this info has helped a little. Maybe try Yoda on the bland diet for a few days, and see if he doesn't get better. Max's barfing spells are a complete mystery to us, so who knows? Maybe it's just "a dog thing." http://tripawds…../', '

', '1');" src="https://tripawds.com/wp-content/sp-resources/forum-smileys/icon_lol.gif" alt="Laughing" />
zoes4life
Thats a tough call, is Yoda sensitive to food? Has he always been on the same food? Zoe's stomach is ironclad so I've never had to worry about being careful with food changes. Has Yoda ever had any trouble with other pain meds like Rimadyl or Metacam etc. they are all in the same class of meds (NSAIDS). They are like what we humans take Advil or Aleve which can be tough on the stomach. Was he taking the Piroxicam after food?
I'm sorry that his stomach is upset, but glad to hear he is feeling well otherwise.


Forum Posts: 1216
Member Since:
20 May 2009

Offline
I am also sorry to hear of Yoda's stomach upset. I also wanted to say that you should not feel bad calling your vet. If the receptionist seems to busy to address your concerns than let the vet know. She is not practicing good customer service.
Debra & Emily, a five year old doberman mix, who was diagnosed with an osteosaecoma. She had a right rear leg amputation on May 19, 2009. On November 10, 2009 she earned her wings and regained her fourth leg.
Yeah, I know, it's totally lame to worry about bothering the vets by calling. And as far as the receptionist for Yoda's regular vets, well that's just me being too lazy to deal with her when I'm not even sure if I need advice beyond what the oncologist already told me. (I should complain next time it happens too, though I'll probably have to leave the message with her to do it – haha!) Just to clarify, in case anyone who reads this currently or in the future uses the UW Vet School – their reception people are awesome! It's Yoda's regular vet where I've had the problem.
Yoda has periodically done the grass-vomiting thing since I got him. It got better after I switched him to his current food that his vet recommended a few years ago, and it's a "sensitive stomach" variety. He still does it, usually chows a whole bunch of grass down until he vomits (as he did this morning) and he might do it one more times between that day and the next, but then it's done and no other problems. Though he used to also lose his appetite for a day or two until he'd eat grass and throw up. The losing the appetite has rarely happened since he had that early food switch, though one those times it turned out to be some kind of bug he got from eating rabbit feces and he was put on antibiotics to clear that up. (I did tell the oncologist about this too).
And it seems he is sensitive to too much rawhide, but he loves it so I just ration it and it's okay if he doesn' t have more than a rawhide chip every other day. But guess what dumb thing I did Sunday afternoon? I let my sister-in-law give him one of those rawhide rolls, cause her dog was getting one. So yet another possible factor – though only for the last two vomits, the first came before that.
Alright, Pam, sorry to give you so much more to skim through! But thanks everybody though for keeping me company with your posts as I worry over a little stomach upset. We are still getting out there and enjoying ourselves, because cancer-wise Yoda is still doing awesome! Eating, drinking, running, jumping and generally showing off his mad tripawd skillz to the world every time I take him out of the house.
Yoda&Mom united: 9/5/06 …….… Yoda&Leg separated: 6/5/09……… Yoda&Leg reunited: 10/14/09 ……… ……………….………….………….……. Yoda&Mom NEVER separated! …………………….….……....….…… Though Spirit Yoda currently free-lances as a rabbit hunting instructor for tripawds nationwide

Winnipeg
Forum Posts: 1349
Member Since:
13 July 2009

Offline

Yoda
You do seem to be ASKING for trouble chewing crappy rawhide and eating grass – I mean we dogs eat that stuff just so WE CAN throw up. Tazzie suspects that your B.A.R.F. has nothing to do with your food but everything to do with your choice of R & R. Tazzie has definitely not been permitted a single rawhide since this entire OSA matter began. Amazing for Tazzie, he has not B.A.R.F.'d since the diagnosis.
But, having said that, I REALLY had to watch him after chemo to make sure he did not eat grass, because he sometimes wanted to when you could tell he was a bit nauseous (salivating, trying to eat grass). So keep an eye on Yoda and don't let him chew grass – You are not a bovid Yoda!
By the way, on the other thread, Tazzie spoke too soon earlier today – the stool is starting to get soft again after having consumed 4 fish oil capsules over two days. Not as runny as it was during the last attempt, but it is starting (we really have not had this particular problem at any other time). Darnabit – I really want to get the fish oil into that pup.
Woops – sorry for changing the topic! Just one GI problem led to another . . .
Tazzie & Susan

Forum Posts: 224
Member Since:
4 December 2008

Offline

Hi Yodasmom:
tika is also on Piroxicam as part of her metronomics and she goes through a pukey stage at least once a month. We just got through another. She's on Innova Evo large breed diet and she gets cheese and duck breast jerky treats. (Oh, yeah, McD's french fries once a week

)
My vet thinks its the Piroxicam and gives us Sulfracate in pill form to give her in the morning and the Piroxicam in the evening. The sulfracate is a stomach protectant and it really does the job. Of course, Tika just loves being the reverse Pez dispenser. AM–chemo every 48 hours. Noon-Sulfracate Evening–Piroxicam. Then add the fish oil pills and metronidizole when she gets a giardia flare up.
I don't know if that's something you want to talk to the doc about, you just have time when you give it so it doesn't interfere with the absorption of the other pills and we don't have it on her constantly, only when she shows signs of indigestion.
–Kim and Tika

Winnipeg
Forum Posts: 1349
Member Since:
13 July 2009

Offline



Forum Posts: 1897
Member Since:
22 August 2008

Offline
Sorry it has taken me a day to get back to you but I did not get online yesterday.
It is possible that the food is the culprit but in that case the dog usually vomits food and not just bile. I would also expect diarrhea. Just to be sure I would feed a bland diet like chicken and rice for a few days until the vomiting stops. Then I would add the Piroxicam while he is still on a bland diet and if he does not vomit for a few days then gradually introduce the new food. I would not start the K9 immunity until you are completely converted to the new food without vomiting.
Piroxicam is notorious for causing vomiting and some sensitive dogs can develop ulcerations in the GI tract which would cause dark tarry stool. It is the only NSAID that has been studied for its anti-tumor effects (studies were on people with bladder cancer) but some other NSAIDS have the same properties. Piroxicam often has to be compounded to get the proper dose so many oncologists use Metacam (meloxicam) instead or Deramaxx. My preference is Metacam because it seems to have a wider safety profile. I chose this one for Tazzie because she has a history of liver disease and her liver values have remained normal on it for 8 months and no vomiting. If your dog is on Piroxicam and not vomiting then I wouldn't change things, but any dog on a daily NSAID should have bloodwork done every 3-6 months.
Pam
Well, shoot, I did nearly the opposite of your excellent-sounding advice before I saw your post – doh! Yoda didn't vomit yesterday and I made up my mind after seeing others' posts about changing foods less gradually, that I would speed things up a bit. And I started him on K-9 Immunity , because I got too anxious, I suppose, about him not being on the Piroxicam all this time, and therefore not taking anything for the purpose of fighting the cancer. Fortunately, still no vomiting (or any other symptoms) today. As long as I've taken these reckless steps forward and things are okay, would you favor continuing with the new food changeover (rather than the bland diet) and the K-9 Immunity ? Or would it be wiser to pause on the K-9 Immunity now until he's switched completely to the new food?
Based on Yoda's oncologist's advice, if he's still not vomiting, I should restart the Piroxicam this weekend. I'd rather hold off until after the holiday weekend, when I have a better shot of getting in touch with her specifically, if there are problems. I'm wondering if that also would be good in that it would give me enough time to complete Yoda's switch to the new food and see if he has anymore vomiting without the Piroxicam as a factor?
Thanks for your input, Pam!
Yoda&Mom united: 9/5/06 …….… Yoda&Leg separated: 6/5/09……… Yoda&Leg reunited: 10/14/09 ……… ……………….………….………….……. Yoda&Mom NEVER separated! …………………….….……....….…… Though Spirit Yoda currently free-lances as a rabbit hunting instructor for tripawds nationwide


Forum Posts: 1897
Member Since:
22 August 2008

Offline
Since your dog is not vomiting I would continue the K9 Immunity and diet, and then if there is still no vomit add back the Piroxicam. I usually change things one at a time so that if there are problems you can ID the culprit but in this case Piroxicam is the most likely offender.
Pam
Forum Timezone:
America/Denver
Most Users Ever Online: 597
Currently Online: dobemom, jessiemurrenus, Bear
49 Guest(s)
Currently Browsing this Page:
1 Guest(s)
Devices Used: Desktop (48), Phone (4)
Member Stats:
Guest Posters: 1005
Members: 12756
Moderators: 2
Admins: 3
Forum Stats:
Groups: 4
Forums: 23
Topics: 15022
Posts: 211538