Caring for a Three Legged Dog or Cat
Tripawds is the place to learn how to care for a three legged dog or cat, with answers about dog leg amputation, and cat amputation recovery from many years of member experiences.
JUMP TO FORUMS ↓
Join The Tripawds Community
Learn how to help three legged dogs and cats in the forums below. Browse and search as a guest or register for free and get full member benefits:
Instant post approval.
Private messages to members.
Subscribe to favorite topics.
Live Chat and much more!
you are right Riley!! THAT IS what makes monkeydogs famous.... everyone needs the chafing powder cause they are such a pain in our A**!!
Coopsdad/ Kenneth Blackburn
http://cooper.t.....ipawds.com
the monkeydogs only THINK they have invaded the tripawd state

Monkeybutt-Bunny Vampire
they 're just selling it so cheap so EVERYPAWDY can afford it and drive the monkeydogs away!!
bwhahahahahahaaaaa!
Coopsdad/ Kenneth Blackburn
http://cooper.t.....ipawds.com
the monkeydogs only THINK they have invaded the tripawd state
Good one Monkeybutt!  There are two tripawds that visit the dog park here and I have 17 tubes of anti-tripawd gel.  Just waiting for my opportunity.
Viley Riley you better stock up on that inferior product, cause we monkeydogs got your number.  NYAGH!  MFM
PS.  Hi sweetie sweet sweetster, Rocket, monkeybutt dog.  I'm think' 'boutcha!

Monkeybutt-Bunny Vampire
Luvs and monkeykisses back at ya, my sweetness! smmmoooooooch!
YEAH!  Non-Smiley-Riley - the Monkeydog War has started!  Take note, we've already eliminated the "European Division" of the AMBF!  
BEWARE!  Monkeydog Ahead!
Okay, My babymonkeyface - look at how stoooopid tripawds are!  (found this doing some undercover monkeydog work)
Here's Weird Wyatt modeling it!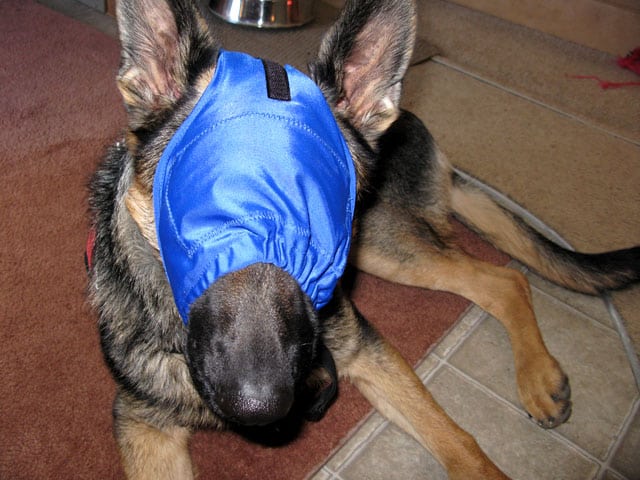 Tripawds Stress Less with The Calming Cap
 I KNOW! I was thinking the same thing!   It's a shower cap!!
I added some googly eyes!
Bwhaaaaaaaaaaaaahaaaaaa shut up Wyatt hhhhaaaaaaaaaahaaaaaaaaaa!

Leicester, NY
Member Since:
11 February 2011

Offline
OMG ! Wyatt has blue undies on his head! What DO they do at those tripawd pawrties???
Spirit Samson was Spirit Tripawd Daisys four legged "brother" and ruled as the self proclaimed head of the Monkeybutt Federations East Coast Division. Lady Chunky Monkey stayed from Oct 2011 and left for the bridge in Apr 2012. Miss Perdy is left and has some big pawprints to fill.
Do you have what it takes to be a Monkeybutt? Find out more at the Monkeybutt Federation

Member Since:
14 April 2010

Offline
Those aren't diapers, that happens to be Captain America of the A.M.B.F....Up, up, and away with the varmit monkeydog. Beware monkeydogs, a little dab WON'T do ya, tripawds are waaaaaaay smarter than that
My buddy Gus had a left front amputation on April 7, 2010 and lived a great life until July 26,2010

littlemanjake

Wherever the Wind Takes Me, Dude

Member Since:
25 July 2009

Offline

Well if I had that thing at least it would match my fur!
(Mom's laughing hysterically, she thinks she's going to get one to color coordinate my bad-dawg gear with my fur).
Wyatt Ray Dawg . . . The Tripawds Leg-A-Cy Continues!
Read all about my adventures at my Tripawds Blog
BWaaaahahahahahahahahah!  Stoopid tripawds!  Cover their eyes and they get calmer?  What?  They were reincarnated from canaries?  Ah Duh, I can't see anything, so guess I don't need to be ascared....uhm goofballs!  Be more afraid.  You've gone blind for pete's sake!  Now you can't even see us monkeydogs coming for you.  Sheesh!  Unbelievable.

betaman

Monkeybutt-Bunny Vampire
 Tripawd concentration cap
NUH-UH!  Bo-bo Brain Betaboy! 
that happens to be Captain America of the A.M.B.F
NUH-UH!  Bo-bo Brain Bockman! 
Do monkey dogs not recognize monkey diapers
NUH-UH!  Bo-bo Brain Riley! 
Igmo Isabelle - prove that is a monkeycat!  It could be you!!! (black nose and black ears is all I see - SAME AS YOU!!)
Mattie sweetsweet - I'm starting to worry about Tripawds pawrents not being very smart either!  Aren't they pushing the buttons to buy that stuff??!!
BWahahahaha!
Forum Timezone:
America/Denver
Most Users Ever Online:
946
Currently Browsing this Page:
1
Guest(s)
Member Stats:
Guest Posters: 1218
Members: 15985
Moderators: 2
Admins: 3
Forum Stats:
Groups: 4
Forums: 23
Topics: 17855
Posts: 247820
©
Simple:Press
—