Caring for a Three Legged Dog or Cat
Tripawds is the place to learn how to care for a three legged dog or cat, with answers about dog leg amputation, and cat amputation recovery from many years of member experiences.
JUMP TO FORUMS ↓
Join The Tripawds Community
Learn how to help three legged dogs and cats in the forums below. Browse and search as a guest or register for free and get full member benefits:
Instant post approval.
Private messages to members.
Subscribe to favorite topics.
Live Chat and much more!
Get the new book by the Tripawds founders for life lessons learned from their Chief Fun Officer Jerry G. Dawg! Download the e-book, and find fun Be More Dog apparel and gifts in the Be More Dog Bookstore.

New York, NY
Forum Posts: 605
Member Since:
24 March 2020
Offline
This is Nori and she came to stay with me on May 1st.  She is an almost 6 year old Airedale Terrier (likely a mix due to her size, which is currently 107lbs).  She has a cranial cruciate ligament (CCL) tear in her left knee and will undergo tibial plateau leveling osteotomy (TPLO) surgery to repair it on May 17th.  She was surrendered by her previous family to the NYC Brooklyn shelter and then taken in by Rescue City, an organization with which I volunteer and foster.  She was placed with an emergency foster family for a week before coming to me, so this poor girl has been through quite a lot in recent weeks.  I'm not sure how long I'll have her, but I hope I'll be able to see her through surgery and recovery, and give her a solid start down her weight loss journey.
Nori is an absolute dream in the house and walks reasonably well on leash.  She loves other dogs of all sizes, kids, and adults, though she is in more of a "say hello quickly and move on" stage with humans – not sure if that will change.  She enjoys lengthy naps after our leisurely morning and afternoon walks.  She is starting to show some interest in toys and loves bones/chews.  Her leg is clearly bothering her, but she is so sweet and acting more relaxed with each passing day.  I am supposed to be crating her overnight and when I leave her alone, but she is definitely not a fan.  Like Griffin, her favorite sleeping position is sprawled on her side and even the XL crate (currently taking up quite a bit of real estate in my living room) does not allow her to stretch out.  I left her loose in my bedroom when I went out for a few hours today and she was snoozing contently when I returned, so I'm not going to push the crate.  I am home full-time, so I'll be able to enforce rest and limited activity after her surgery without needing the crate.
Her pain seems well managed for now.  My Tripawd experience has given me the confidence to advocate for her to be appropriately medicated…and to know to use Velveeta for administering meds easily.   She came with prescriptions for Carprofen (200mg/once daily), Gabapentin (600mg/twice daily), and Amantadine (200mg/once daily), but the Carprofen has already run out and the Gabapentin will run out on Wednesday.  I know I have to go through the foster chain of command, but I really wish I could simply contact Rescue City's vet directly to get what she needs.  Fingers crossed that the meds issue is resolved promptly!
I am really enjoying having a dog in the house again and having a routine of caring for another living being.  And my Tripawd experience has ensured that our home is well prepared for Nori – rugs for traction , elevated feeder, and firm dog beds (although like Griffin, Nori seems to prefer the floor over beds!).  I am not certain I can lift Nori into the wagon at her current weight, and I'd like her to be a bit more comfortable with me before I try, but hopefully I'll be able to use the wagon during her recovery period.
Nori and Griffin are very different in a lot of ways – size and training are 2 big ones – but there are things she does that remind me of him which makes me smile.  And then there was this photo of Nori…kind of took my breath away how much the close-up resembles Griffin.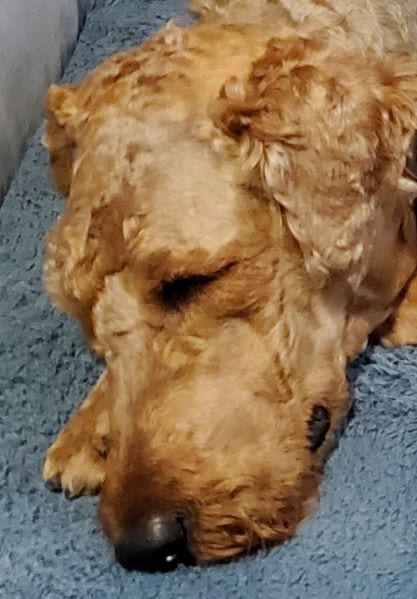 I probably won't post too often, but I'll definitely be back to provide a Nori update after her surgery.  In the meanwhile, please enjoy these videos and send healing thoughts her way!
Griffin lived an amazing life for 11 years! Diagnosed with osteosarcoma on March 17, 2020, Griffin's right forelimb was amputated on April 2, 2020. Ten days later he was running and playing fetch! Lung metastasis discovered in July 2020 did not slow down Griffin and he lived joyfully for the next 7 months, passing peacefully at home on February 11, 2021. https://griffin.tripawds.com

Virginia
Forum Posts: 20607
Member Since:
22 February 2013
Offline
OOOOOMMMMDDDDD!!!  THERE IS NO VETTER HOOMAN ON THE PLANET TO HELP SWEET NORI THROUGH RECOVERY!  As sad as these past weeks (months??) have been for her, she has ended up EXACTLY where she needs to be!!
Of course she  needs  healing and your exquisite care physically,  but you will also offer healing for her spirit and Soul.  You'll be able to bring out the best in Nori, even as she faces some upcoming  challenges.  I have no doubt she feels so uncertain  right now about what's going on and where her "home" is.  She will absorb your loving energy and confidence amd soon know "all is well" and safe and secure with Griffin's hooman
And the pictures…WOW!  Such a unique  looking pupper and she DEFINITELY  has some "Griffin looks" about her!  She's got some long legs too.  And I agree, that close up of her really, really, really has a lot of the Griffin mug in her😎
She really put a lot of effort into her "nesting" ritual.   I love the look she gave you once she finally plopped down.
  It was nice to visit Griffin's Park again with you.  Yeah, you can tell her leg hurts.  So glad you are on top of her pain med needs👍
She has such a sweet expression  as she poses with her toy's.  I wish every foster dog could have the care you are giving   Nori
I'm  so glad you have her in your home.  You are voth helping each other heal on so many levels.  P,ease keep us posted as you can, okay??  
Hugs 
Sally and Alumni Happy Hannah and Merry Myrtle and Frankie too-
PS..Shhhhh……Im sure I'm not the only one hoping  for foster fail🤗
Happy Hannah had a glorious additional bonus time of over one yr & two months after amp for osteo! She made me laugh everyday! Joined April's Angels after send off meal of steak, ice cream, M&Ms & deer poop!

The Rainbow Bridge
Forum Posts: 29607
Member Since:
25 April 2007
Offline
I can't think of a better person to help Nori right now. Sure looks to me like Griffin lined this up just perfectly for you. Not because yeah she does resemble him, but because of her needs and the journey ahead. You are absolutely ready to get her on track for a healthier, stronger life. What a gift! I'm so happy you are able to do this for a dog in need. Good job!!!
Thanks for sharing. Let us know how the surgery recovery goes. 
Forum Timezone:
America/Denver
Most Users Ever Online:
946
Currently Browsing this Page:
1
Guest(s)
Member Stats:
Guest Posters: 1139
Members: 12527
Moderators: 2
Admins: 3
Forum Stats:
Groups: 4
Forums: 23
Topics: 16925
Posts: 237686
©
Simple:Press
—