Caring for a Three Legged Dog or Cat
Tripawds is the place to learn how to care for a three legged dog or cat, with answers about dog leg amputation, and cat amputation recovery from many years of member experiences.
JUMP TO FORUMS ↓
Join The Tripawds Community
Learn how to help three legged dogs and cats in the forums below. Browse and search as a guest or register for free and get full member benefits:
Instant post approval.
Private messages to members.
Subscribe to favorite topics.
Live Chat and much more!
Get the new book by the Tripawds founders for life lessons learned from their Chief Fun Officer Jerry G. Dawg! Download the e-book, and find fun Be More Dog apparel and gifts in the Be More Dog Bookstore.
Oh boy folks, get ready for some fun! For the first time ever, Barney goes diving!
Here is the first of many photos to follow featuring Barney's amazing underwater adventure with Happy Hannah's mom, Sally will chime in soon to tell you all about it!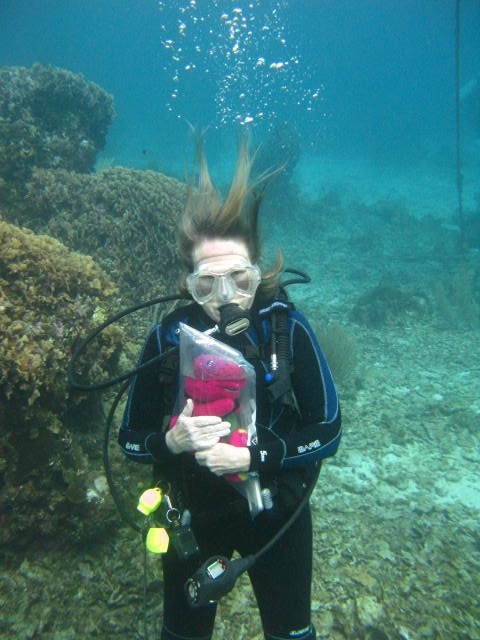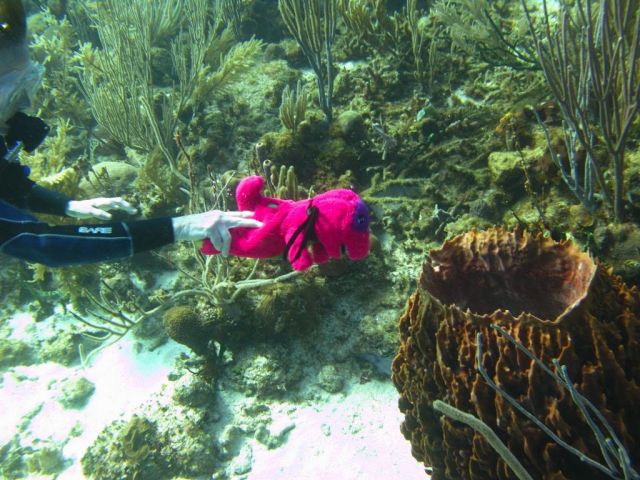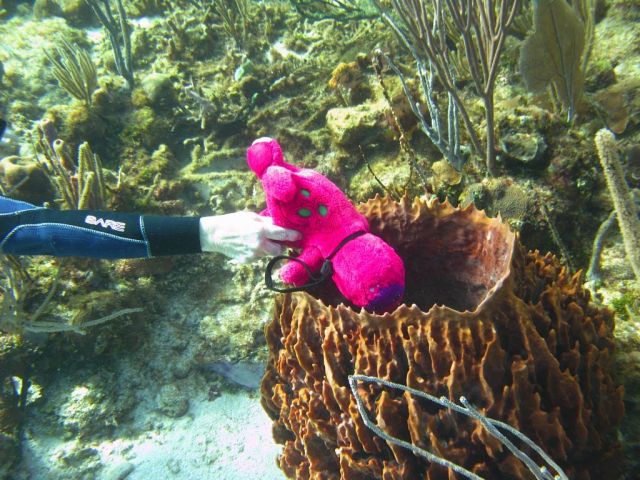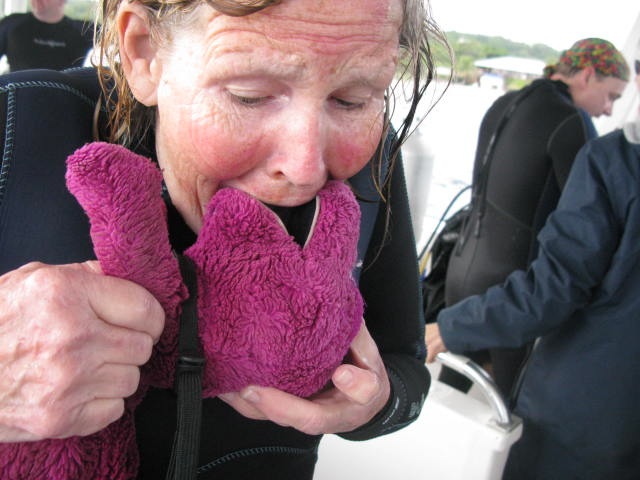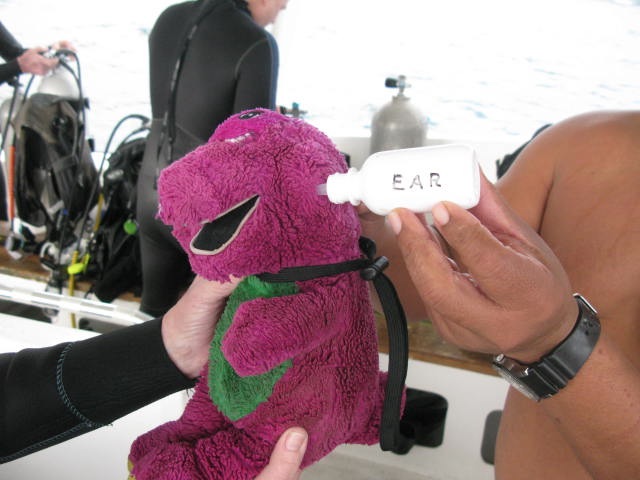 Southwestern Ontario, Canada
Forum Posts: 555
Member Since:
22 November 2012
Offline
OH MY DAWG!!!!!!!!!!!!!!!!!!
THAT made MY day!!!!
Love it.. Thank you Sally!!!!!
Christine… with Franklin in her heart♥
Franklin, he was the Happiest Dog on Three Legs! Diagnosed 09/26/2012 with Osteosarcoma, amputated 12/4/2012.  Had a wonderful 5 1/2 months painfree until he ran for the Bridge on 5/15/2013.  Always in my heart, and always a guardian angel of my pack...   You can follow his Tripawd Adventures, before and after, in my blog, Frank'n'Farter!

New York, NY
Forum Posts: 1412
Member Since:
3 December 2012
Offline
OMG I CANT STOP LAUGHING!!!!!!!!!!!!!!!!! I WISH I WAS THERE TOOOOOOOOOOOOOOOOO!
Jill is a 9-year-old tuxedo kitty. She was diagnosed with Osteosarcoma in June 2012 on her toe in her right hind leg. Her leg was amputated on 12/12/12 and she completed four rounds of chemo (2 of Carbo, 2 of Doxy) in April 2013. "Like" Jill's facebook page: https://www.fac.....tty?ref=hl Proud member of the WINTER WARRIORS!!!! Her blog can be read at http://jillsjou.....ipawds.com. xoxo

Forum Posts: 825
Member Since:
18 September 2013
Offline
So glad everyone's liking these! It was great fun taking Barney diving!
THANK YOU RENE for posting these……. with everything she has to do in her busy schedule (and sometimes very short computer access time), she's always so gracious and so willing to help us. Love tht soul!!
Coudn't get the first picture to pull up, so not sure what that was…..
The next two were of Barney trying to get into that big "sponge" to see if he could catch a turtle in there! He was warned a dozen times notto touch anything on the reef…it's very, very fragile…but that little hard head kept trying!
He got his "come uppins'" though…..We couldn't find a regulator to fit his dinosaur mouth, so he had to hold his breath…..for hours at a time!! So each time we brought him back up we had to frantically give him "mouth to mouth"…and that's one stinky mouth!!
Barney also had trouble with water gettingin his little dinosaur ears…..the Boat Captain took over that job…he really loved Barney!
Barney did quite a bit of PR for tripawds while he was there too. You should have seen the scuba divers stare and stare when theygot a glimpse of a Barney underwater…they were taking pictures too! But it gave me a great opportunity to explain about Barney and his mission and all about Tripawds. Several people either jad dogs or cats with this crappy disease, or knew of someone who did! Because of Barney, they feel like they now have options, or hope, or at the very least, a circle of compassionate souls who can offer them support.
BARNEY, you are a very good boy!
Glad we could bring some smiles…
Sally and Happy Hannah
Happy Hannah had a glorious additional bonus time of over one yr & two months after amp for osteo! She made me laugh everyday! Joined April's Angels after send off meal of steak, ice cream, M&Ms & deer poop!
Oh good! Jist saw the first photo!
That was Barney in : our first try at a "wet suit"……it was a zip lock plastic bag…..you'll notice he's almost "drowning' in the bag. I'm holding onto him trying to keep him from sinking…. You shoild have heard him…..he was screaming like a little girl!
Happy Hannah had a glorious additional bonus time of over one yr & two months after amp for osteo! She made me laugh everyday! Joined April's Angels after send off meal of steak, ice cream, M&Ms & deer poop!

Virginia
Forum Posts: 978
Member Since:
26 January 2014
Offline

Forum Posts: 3484
Member Since:
16 October 2012
Offline
I love these picture Sally.  Thank you for taking Barney with you & giving everyone a good message about the Tripawd nation.  We appreciate you & Barney being a great ambassador for us.  I sure am glad Barney didn't damage the reef trying to get that turtle.  We know he can be a little ornery sometimes.  I am sure glad you had a great time celebrating Happy Hannah & her 1 year ampuversary
Hugs
Michelle & Angel Sassy
Sassy is a proud member of the Winter Warriors. Live long, & strong Winter Warriors.
sassysugarbear.tripawds.com
07/26/2006 - Sassy earned her wings 08/20/2013
05/04/2006 -  Bosch, Sassy's pal, earned his wings 03/29/19  fought cancer for 4 months.
"You aren't doing it TO her, you are doing it FOR her. Give her a chance at life."

Los Angeles, CA
Forum Posts: 3554
Member Since:
13 June 2013
Offline
Love this!!! Thank you for sharing and thank you for spreading the word about Tripawds to everyone! It's great to get the word out there that these dogs (and kitties) can do JUST fine on 3 – much better than we would do if we had a limb amputated! 
Thank you for sharing your amazing trip with all of us!
Hugs,
Alison and Shelby 
Shelby Lynne; Jack Russell/Shiba Inu mix. Proud member of the April Angels of 2014.
October 15, 2000 to April 8, 2014
Our story: Broke rear leg in June 2013 - non-conclusive results for cancer so leg was plated and pinned. Enlarged spleen in September 2013 and had it removed and was diagnosed with Hemangiosarcoma and started chemotherapy. Became a Tripawd January 8th, 2014 and definitive Hemangiosarcoma diagnosis. Three major surgeries in 7 months and Shelby took them all like a champ only to lose her battle to cancer in her brain. We had 8 amazing extra months together and no regrets. #shelbystrong #loveofmylife

Idaho
Forum Posts: 1601
Member Since:
12 March 2013
Offline
These are great. Barney is one lucky purple dinosaur. Thanks, Sally.
Kathi and Murphy
Murphy is a five year old Lab/Chessie cross. He was hit by a car on 10/29/12 and became a Tripawd on 11/24/12. On 2/5/13, he had a total hip replacement on his remaining back leg. He has absolutely no idea that he has only three legs!
UPDATE: Murphy lived his life to the fullest, right up until an aggressive bone lesion took him across the Rainbow Bridge on April 9, 2015 and he gained his membership in the April Angels. Run free, my love. You deserve it!
Ohhh Jerry, I'm having THE best time re-living this through these ohotos! Hope they put a miles on everyones' mib! THANKS!
Okay..first e..he stole so e child's surf boad and grabbed the poor kid's sodad nd tried topaddle out to sea.
People were taking pictures so they coud report him to the Ho duran Authorities and the little creep MOONED them!! Realy showing his BUTT down there!
You'll see him in a little small child's yellow fin…he stole that too! Last we heard, the poor kid was still strying to swim back to shore…a freighter picked him up so eone in the Artic Sea. Brrrrrr…..
See the Lion Fish? Hope you press to make the picture bigger…he's a BEAUTIFUL brilliant orange and black fish but has a mighty harsh sting he uses to catch his dinner…Barney kept trying to get closer and closer…..it doesn't show up, but the Lion Fish was really eyeing Barney and NOT itimidated in tne least! I'm sure he'd never seen…or eaten…dinosaurs!
The next picture shows Barney trying to get my regulator and swim to the top. I'm making him stay derwater because he tried to touch the Lion Fish…Rule..no touch anything under the sea!
The bottom picture is him sleeping safely and securely in my arms after wearing himself out.
Love to all!
Sally and Happy Hannah
Happy Hannah had a glorious additional bonus time of over one yr & two months after amp for osteo! She made me laugh everyday! Joined April's Angels after send off meal of steak, ice cream, M&Ms & deer poop!
We are smiling from ear to ear, sea to shining sea!
Who wouldda though that little purple creep would get de-slobbered in the technicolor seas of Honduras? Who could ever imagine that he would survive a 10,000 leagues under the sea adventure and not lose his other eye?
He's so stinky even the lion fish didn't want to eat him!
And as far as that pic of his butt,  Haha I thought he was seasick and hurling into the latrine!
Oh I forgot to post this amazing pic
That's Barney waking up a very sleepy six-seven foot Green Moray Eel.
Jerry!! I REALLY like your Latrine version of the sea saga much better!! Yep! The story just got revised!
Happy Hannah had a glorious additional bonus time of over one yr & two months after amp for osteo! She made me laugh everyday! Joined April's Angels after send off meal of steak, ice cream, M&Ms & deer poop!
Forum Timezone:
America/Denver
Most Users Ever Online:
597
Currently Online:
74
Guest(s)
Currently Browsing this Page:
1
Guest(s)
Member Stats:
Guest Posters: 1046
Members: 9931
Moderators: 2
Admins: 3
Forum Stats:
Groups: 4
Forums: 23
Topics: 15788
Posts: 221301
©
Simple:Press
—