Caring for a Three Legged Dog or Cat
Tripawds is your home to learn how to care for a three legged dog or cat, with answers about dog leg amputation, and cat amputation recovery from many years of member experiences.
Learn how to help three legged dogs and cats in the forums below. Browse and search as a guest or register for free and get full member benefits:
Instant post approval.
Private messages to members.
Subscribe to favorite topics.
Live Chat and much more!
Although studies show 80% of vaccine associated sarcomas (VAS) are classified as fibrosarcoma, the remaining 20% are classified as osteosarcoma, chondrosarcoma, or other high-grade stromal sarcomas. Here is a fairly easy-to-read journal article on Feline Postvaccinal Sarcoma:
https://www.ncb.....MC3299519/
I suggest that anyone who has any of these sarcomas diagnosed discuss the possibility of it being caused by a vaccine with their vet. Ask for the vaccine records for the vet to pursue reimbursement for treatment from the pharmaceutical company.
Please remember yearly vaccines (unless regulated by law for rabies) are not necessary, generally every 3 years is now considered sufficient. Discuss your cat's life-style and risk with your vet. Do not allow vets to vaccinate anywhere but in the leg: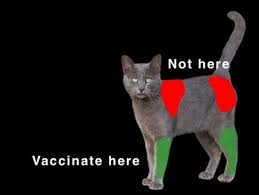 Kerren and VAS Tripawd Survivor Mona

Virginia


Member Since:
22 February 2013
Offline
Thank you dear Kerren and Mona!! Your contributions are sooo valuable and really do save lives!!! 🙂 Pretty special legacy you and Miss Mona have given us all! 🙂
Love
Sally and Alumni Happy Hannah and Merry Myrtle and Frankie too!
Happy Hannah had a glorious additional bonus time of over one yr & two months after amp for osteo! She made me laugh everyday! Joined April's Angels after send off meal of steak, ice cream, M&Ms & deer poop!
Thanks Kerren!!
Great info!
We did Titers before Purrkins got cancer. Now we do not Titer or vaccinate.
The fact that we have to be cautious of where we vaccinate is horrifying!
We vaccinate in those areas just so we can cut them off and that is still no guarantee.
Mona is our very special VAS advocate & survivor !

Just wanted to add some links to yours. I do think we are over vaccinating our cats,
ASK ABOUT TITERS!
Vaccines for Cats: We Need to Stop Overvaccinating
http://www.cati.....k=vaccines
Titer Testing In Cats
https://animalw.....r-testing/
SUPER DUPER information, thank you so much Kerren! This is really valuable for folks.

Member Since:
22 February 2017
Offline
Wow, I did not know you could submit receipts to the pharmaceutical company for reimbursement?  Please tell me more!  Our other cat, Junior, is almost 16.  Last summer he had a tumor removed that turned out to be malignant and it was directly from his rabies injection.  I had NO idea I could request reimbursement?  Is it too late to do so?
Junior is still plugging along.  15 1/2 years old, is in Stage 3 renal failure and has cancer.  The cancer, thank goodness, has not come back which was our biggest fear.
I am sorry to hear about Junior !
I do not see anything on time frame? Kerren might know.
I would surely call and find out!
The number is below.
Report all histologically confirmed VAFSs to the manufacturer and to U.S. Pharmacopoeia Veterinary Practitioners' Reporting Program. To make a report or request reporting forms, call 800-4-USP-PRN (800-487-7776) or visit the USP Web site at http://www.usp.org.
I am including website links
Vaccine-associated feline sarcomas
https://avmajou.....b_body=pdf
Vaccine-Associated Feline Sarcoma Task Force Guidelines - Diagnosis and Management of Suspected Sarcomas
https://www.avm.....d-sarcomas
Let us know what you find out please.
Chin & ear scratches to Bob & Junior
Holly & Purrkins

I don't think there is no timeline for reimbursement and please note that it is not guaranteed. It depends on the pharmaceutical company. It's really important that the vet send the information and request to the pharmaceutical company because the vet is the "customer". I didn't know about this at all until my vet clinic phoned me and said they had a cheque from the pharmaceutical company for 50% of my costs. Others have been reimbursed less and others more. Some were successful without the support of their vet but it was a lot of work and hounding the pharma company.
Along with the details of the vaccine type, etc, you may need a copy of the histology report on the lump.
Thanks to Holly for the websites. It's unlikely that you'll find information on the reimbursements because the pharma companies want you to sign something stating the payment is not admission of responsibility on their part but is "intended solely as voluntary support in appreciation of your clientele" (meaning the vet's clientele because the letter is addressed to the vet). I didn't sign the form, just cashed the cheque.
I hope you and Junior are successful.
Kerren

Michigan
Member Since:
2 April 2013
Offline

I will have to remember the vaccine sites .. thanks!  My cats all had their shots as kittens, but honestly, not since then.  I sometimes feel like a bad cat-mom, but we lost Midnight to what was more than likely a vaccine-related sarcoma, and I just don't like the chances.  Our cats are always indoor-only and not exposed to anything, especially since the dogs are on flea & tick preventative.  When Midnight had first developed the lump, I took him into the vet, but it was at a time when our regular vet was in the process of retiring and a different guy was there.  He did aspirate, but only got "inflammation," so I didn't know what I didn't know ... that it's not uncommon to not get into the tumor ...so annoying that I didn't pursue it more.  When the tumor got larger and started getting painful, I took him in and that time saw our regular vet, who told me that he could have removed it when it was smaller.  ugh ... I wasn't offered amputation, maybe he didn't realize it was an option, and Midnight was about 16.
Donna
Donna, Glenn & Murphy 
Murphy had his right front leg amputated due to histiocytic sarcoma at 7 years old. He survived 4 years, 2 months & 1 week, only to be taken by hemangiosarcoma at 11 1/2 years 6/12/17  
Read about Murphy's Life on Three Legs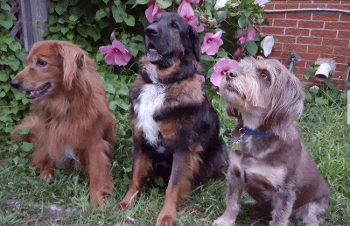 Member Since:
22 November 2015
Offline
I was researching this topic this morning and this info will be very helpful, Kerren! My cat was originally thought to have osteosarcoma, but tests came back with the diagnosis of chondrosarcoma and he needed his scapula and right front leg amputated. He lived happily and healthily for almost 2 and a half years after the amp, and succummed to suspected lymphoma over a weekend in Oct. of 2017. I have recently adopted a two year old cat from a rescue near me, and started researching this topic today because she will be due for her annual exam in a few months. My tripawd cat always received his vaccines in the shoulder area!!! And that is where the tumor was. I do not want to make the same mistakes with my newest family member so I will be talking to the vet about this as we move forward with her preventative care. 
Thank you for providing this valuable info to others!
Hattie
Hugs,
Hattie and Jerry Cat (right front leg and scapula amputation due to chondrosarcoma at age 14, lived 2 1/2 years post amputation, succumbed suddenly to suspected lymphoma at age 16)
10/2001 - 10/9/2017 R.I.P ~ Love you always
Here are two more helpful PDF articles about Feline Injection Site Sarcomas:
In this article, author Dr. Sandra Axiak DVM DACVIM (Oncology) at the University of Missouri writes:
Overall, the results for treatment of ISS are disappointing. Local control is difficult to achieve, with the best results incorporating a combination of aggressive surgery and radiation therapy. The role of chemotherapy is undefined.

The most important aspects of treatment for good results are early identification of disease and advanced imaging and surgery at a referral institution. Current research is focused on immunotherapy and targeted therapy.
and in this helpful report, author Jane Ladlow explains:
. . . one would hope the current practice of interscapular injections will change, perhaps using the hind limbs rather than distal hind limbs as vaccination at the level of the stifle is tolerated by many cats and still allows good surgical margins with amputation if an injection site associated sarcoma develops. As a number of FISSs have also occurred following the administration of long-acting corticosteroids and long-acting penicillins, it would be good practice to avoid injecting these drugs into the scruff of the feline neck. Once this message pervades into general practice, we will hopefully improve the prognosis associated with these tumours.
Thanks, those are good articles. I'm always surprised that vets inject anything into the scruff. They use that area because they are afraid the cat may bite them. Obviously these vets have poor technique because the many vets who only inject into the leg don't get bitten.
These are always good reminders, along with the need to vaccinate only core vaccines, many of which last much longer than one year.
Kerren
FYI, The American Animal Hospital Association just released the latest Feline Vaccination Guidelines for vets. There is a special Update on Feline Injection-Site Sarcomas.
Main findings are as follows:
The Task Force believes that there is currently insufficient research to justify recommending a single vaccine type. Since injection site sarcomas are a risk, the Task Force recommends vaccination in the lower distal limbs to facilitate clean margins if surgical amputation is required.
The Task Force makes the following observations regarding vaccination:
Neither vaccinating in the interscapular space nor decreasing vaccine volume is recommended.
Distal limb injection is recommended to facilitate amputation with 5 cm margins in two fascial planes in the case of injection-site sarcoma (Figure 1).
More recently, ventral abdominal subcutaneous injections have been used because of the perceived relative ease of tumor removal without the need for amputation.2 However, the need to remove two fascial planes and 5 cm margins would still necessitate aggressive tissue removal from the abdomen and abdominal cavity.
Tail vaccination has also been reported as well tolerated and elicited acceptable serological responses to vaccination in the distal limbs.57 To facilitate 5 cm margins in the case of injection-site sarcoma, vaccinations must be administered in the distal tail, something that may not be practical for most clinicians.
Follow the 3-2-1 rule for postvaccination swelling.1,55 Obtain incisional biopsies for appropriate diagnosis.
Forum Timezone:
America/Denver
Most Users Ever Online:
946
Currently Browsing this Page:
1
Guest(s)
Member Stats:
Guest Posters: 1225
Members: 16210
Moderators: 2
Admins: 3
Forum Stats:
Groups: 4
Forums: 23
Topics: 17945
Posts: 248812
©
Simple:Press
—